Windows 10 build 14942 for PC: Everything you need to know
Windows 10 build 14942 is now available to Insiders, and we dive deep into this release to show you the new features and changes, including improvements Microsoft didn't mention.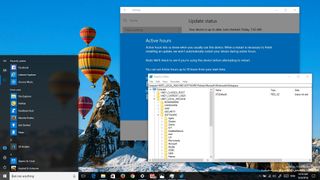 Microsoft is now rolling out Windows 10 build 14942 for PC as part of the Redstone 2 update. The new test build is available for Insiders enrolled in the Fast ring, and it includes a number of small features, fixes, and improvements.
In Windows 10 build 14942, we're now seeing Microsoft continues to incorporate new tweaks around the Start menu, Settings app, registry, and various under-the-hood changes to improve system processes on devices with more than 3.5GB of RAM.
Alongside the new features, Windows 10 is improving Narrator, the precision touch experience, and it's also adding various fixes.
Here's everything you need to know about the latest Insider Preview build of Windows 10.
Windows 10 build 14942
Start menu
In the new Redstone 2 preview of Windows 10, Microsoft is adding a few tweaks to the Start menu. On build 14942 there is a new option in the Settings app that allows you to hide the All Apps list on the Start menu.
However, you can't just remove the app list entirely. Once you enable the new option, opening the Start menu you'll notice two new buttons on the top-left corner, which lets you to quickly switch between "Pinned tiles" and "All apps" list.
If you use a tablet, this new change should look familiar, as tablet mode includes the same user interface.
Also, you will also see a badge in the All apps button letting you know the number of recently installed apps that you haven't open.
Currently, you can switch between Pinned tiles to All Apps with the two new buttons on the left rail, but you can't force to show the All Apps list all the time, as every time you open the Start menu will default to the Pinned tiles view.
It's important to note that the operating system will continue to present users the default Start menu view with the All Apps and Pinned tiles. If you want to enable the new view, you have to go to Settings > Personalization > Start and turn on the Hide app list in Start menu toggle switch.
Settings app
In the Settings app, Windows 10 is also adding a few improvements on the privacy and Windows Update settings.
Devices
On Settings > Devices, Microsoft is dividing the Mouse & Touchpad page into separate pages. Now there is one page for Mouse and another for Touchpad.
While the setting split can also be found in previous test builds of Windows 10, on this flight Microsoft is announcing new adjustments for gesture and click detection using a precision touchpad.
These new adjustments include making better detection and disambiguation of left and right clicks, and using two fingers to tap and click should be easier. Additionally, the new tweaks Microsoft is implementing reduces false positives on two-finger and improves pinch to zoom detection. Finally, there are new changes to reduce inadvertent zooming when panning.
Privacy
On Settings > Privacy there is a new Tasks page where you can now control which apps can access tasks. Apps such as Mail and Calendar always have access to your tasks, and you can't modify this behavior.
Windows Update
On Settings > Windows Update, the new test preview of Windows 10 Redstone 2 is adding a subtle change to Active Hours. Up until now, you're able to postpone an automatic restart to finish installing updates up to a maximum of 12 hours, which many users felt was too limited.
Starting with Windows 10 build 14942 and moving forward, Microsoft will allow users to extend the range up to 18 hours. However, the new change is only available for Windows 10 Pro, Enterprise, Education, and Windows 10 Mobile. Also, the settings can now be configured using group and MDM policies, and you'll also see a text message on Active Hours when the default range is set using policy. (Note that PCs running Windows 10 Home will continue to have the default 12 hours range.)
This release also includes a new Windows Update icon that you'll see on toast notifications and Action Center every time a new update has been installed on your machine.
Furthermore, you can now control Windows Update notifications just like any other app on Settings > System > Notifications and changing the settings for Windows Update.
Windows Registry
Build 14942 also includes an updated version of the Windows Registry. Now when you open the Registry Editor, you'll notice an address bar right below the file menu, which lets you navigate directly to a Registry key without having to expand each key, something that has been tough to navigate for years.
This change means that when the Windows 10 Redstone 2 releases, when you come across a guide to customize the operating system, you'll be able to simply copy and paste the path on the address bar to modify the Registry.
Also, the Registry now includes new icons for each key.
Narrator
On this flight, Microsoft is now introducing field navigation on Narrator. In Scan Mode, there is a new set of commands to jump to form fields:
F and Shift + F: Jump to next/previous form field
C and Shift + C: Jump to next/previous combo box
E and Shift + E: Jump to next/previous edit box
X and Shift + X: Jump to next/previous checkbox
R and Shift + R: Jump to next/previous radio button
B and Shift + B: Jump to next/previous button
Also, Form Fields have been included in the Search and Select feature on Narrator that you can enable using Ctrl + Shift + Enter keyboard shortcut. And there is also a new active view that can be configured using the Caps Lock key and using the up and down arrows to navigate the list of views on the keyboard.
System improvements
Service hosts
Another new improvement happening on this build includes a split of service hosts into separate processes on devices featuring 3.5GB or more of RAM.
This means that when it comes the time to install the Windows 10 Redstone 2 update on your computer, you'll notice a whole lot more service host processes running in the Task Manager.
According to Microsoft, when the number of services began to increase in the operating system, they got grouped into processes that we know as service hosts. One of the reasons was to save memory, but throughout the years the available memory grew significantly to the point that grouping processes are not longer effective.
Splitting the service hosts into separate services now brings additional advantages to Windows 10, including:
Reliability: The biggest issue grouping services into one service host is that when one service fails, the rest of the services participating in the service host will also fail, and now it'll no longer be the case.
Transparency: Task Manager will provide more information about each process, meaning that you'll be able to see more details about the processor, memory, disk and networking services individually.
Security: Process individual permission sets and isolation for services always improve security.
Servicing efficiency: Although this is a subtle change, computer technicians can quickly troubleshoot a problem and address issues promptly.
Microsoft notes that critical and a select number of services will continue to appear in groups.
Printers
On this flight custom printer and printer queue names should be preserved after the upgrade.
Microsoft Edge
Windows 10 build 14942 also updates Microsoft Edge from version 39.14936 to 39.14942, there is not new features, but the web browser includes various improvements, including:
Improved web page performance.
For RTC scenarios now H.264/AVC support comes enabled by default.
Improved Fetch algorithms in preparation for Service Worker Fetch interception.
Ongoing work to add support for CSS Custom Properties, CSP 2.0, WebRTC 1.0, and Service Worker.
Photos app
Microsoft also includes an updated version of its Photos app which includes a redesigned user interface and some additional features.
In this new update, the Photos app introduces a horizontal navigation bar, which aims to make it easier to jump between your photo collection, albums, and folders.
Getting into the settings page now requires clicking the profile menu, which also includes a new Send feedback option.
Picture thumbnails are now bigger and hovering over a picture with the mouse there is a new zoom in and out animation.
This new version of Photos includes a light viewing mode to open your pictures quickly. The new display mode also features a new set of controllers located at the bottom of the app that makes it super easy to move back and forth between images, alongside buttons to delete a picture, create a new album, and enter into full-screen mode.
In addition to these new features, Microsoft is also announcing that the Photos app is now available on Xbox One too.
Wrapping things up
While we're now seeing new features and changes finally coming to the operating system, we're still in the early days of the Windows 10 Redstone 2 update, and there is still a lot more features to come and many things that need to get fixed.
For example, I personally still experiencing the Settings app crashing from time to time, and I had to completely reset the Photos app before I was able to open it.
Alongside the new features and changes, Windows 10 Build 14942 brings several new fixes, improvements, and known issues you should know before jumping into this release.
Microsoft hasn't announced when exactly the Windows 10 Redstone 2 will become available, but the current plan is to have a final version of the operating system by the early months of 2017.
Also, remember that Windows 10 test builds released through the Windows Insider program will eventually expire. It's important that you update your computer enrolled in the program to the latest version. If you have a really old version, starting on October 15th, your PC will no longer boot.
If you're not planning to update, you can unroll your device by doing a clean installation of Windows 10.
What do you think about the changes Microsoft includes on Windows 10 build 14942? Tell us in the comments below.
More Windows 10 resources
For more help articles, coverage, and answers on Windows 10, you can visit the following resources:
Windows 10 help, tips, and tricks
Windows Central Newsletter
Get the best of Windows Central in in your inbox, every day!
Mauro Huculak is technical writer for WindowsCentral.com. His primary focus is to write comprehensive how-tos to help users get the most out of Windows 10 and its many related technologies. He has an IT background with professional certifications from Microsoft, Cisco, and CompTIA, and he's a recognized member of the Microsoft MVP community.
No waking from sleep. Blank black screen. Force restart only way forward.

Same here on 2 machines. No sleep/hibernation possible, system always shuts down and requires full boot (not even fast boot).

sleep has never worked as good as windows 8 for me

on last build it work very well....now no ..:s GG microsoft...

Same issue for me, always restarts (surface pro3)

I can download the update and it installed but after the restart it's still saying I'm on the old build

Mine got most of the way through the install, and next thing I knew, it said it was restoring my previous Windows version. No idea why. That's probably what happened to you.

Same here. Restored previous version. Laptop install went through, eventually, after a forced restart.

This build has lots of interesting and useful features Posted via the Windows Central App for Android

Arbejder med opdateringer stopper ved 81%

I can't read that but mine stopped at 81% for hours. Had to hold power button and hard reboot, undoing the update.

Mine also hung 2x at 81%. Had to hold the power button to restart. Going to hold off trying again until there is a workaround / fix ...

My laptop got stuck at 81% for hours three times. Each time, I had to force it to shut down which restored the previous build once it booted back up. I am now waiting for a fix. Interestingly, my Surface Pro 2 installed the update without a hiccup.

No transparent tiles in the start menu yet?

So far I have been unable to sign into my account in the Xbox App (Beta or public) and cannot launch any Xbox Play Anywhere games (Forza Horizon 3, Gears of War 4) - I suspect the two are related. It only started after I installed this build so something seems wrong. Other than that, the new features are welcome changes.

Check our what's broken post. That's a known issue and there is a fix.

Damnit really? I read (erm, skimmed) that twice, second time for this very reason... I'll go read it again! Ha, thats sneaky Dan! Anyway, thanks! Pretty sure there's going to be a lot of small stuff like this related to the service host separation change.

Lots of welcomed improvements, this may be the perfect Windows 10 we all have being waiting for! :)

Touch screen scrolling on my Surface Pro is way too fast with this build. The pages jump and tough to control especially Edge. Edge is definitely running faster. Also some freezing issues on all programs.

same here..... way to fast

Same. I missing all the good porn because of this

The only way to control touch screen scrolling on Edge is to keep my finger on the screen and move to where I want to go. Otherwise the page just jumps from one place to another. It's almost like there are built in page breaks, but they are bigger than a screen height.

Same here on my SP3. Its not only touch screen scrolling but also scrolling on touchpad. Spotify is also impossible to scroll, its back to using the old scrollbars on the sides, hello 90's. The only fix for webbrowsing is to go back to Internet Explorer which still scrolls perfectly, havent used IE since I switched to Win10, good job MS.

REGISTRY ADDRESS BAR FINALLY!

Great update. I only miss scrolling through pictures with my mouse scroll wheel.

Be nice to if there was a setting to use the scroll wheel for zooming.

If mouse stays over the scrollbar, the scrollbar should not disappear automatically after some seconds. Still haven't fixed

I must report serial installation failures on four different devices. The two weakest (HP Stream 8 Tablet and old Dell XPS15 laptop) after three tries each eventually made it all the way through and appear to be functioning under 14942 without a hitch. My old Surface Pro and my new Surface Book continue to lock at 81 percent or just bluescreen and go back to 14936. I am trying again with fresh downloads on both of them after using the Update Troubleshooter to clean up and reset the process. We'll see. I have previously had update troubles with one device or another, but never with every single one that I have enrolled in the Fast Ring.

Little chance, I did the update troubleshooter and didn't help.

Love it :) But still the photos app is lacking Face recognition :(

Really don't like this update at all. It completely uninstalled my profesional audio interface (Sound card) and has caused all of my Digital Audio Workstation software to crash. I not only rolled back but I also ended up leaving the insider program. I was in the slow ring but an update like this is too costly.

Are you sure you were in the Slow Ring?

Then how did you get this Fast Ring update?

Hardly, because you wouldn't get this build.

considering all of the other issues I have right now. It don't even surprise me something went wrong and I got it anyway.

Tasks? I hope that means Microsoft is working to integrate Wunderlist in to Windows.

Don't get too excited. There have always been tasks in Outlook. Never well supported. Sometimes they didn't sync between web clients and desktop clients. Some mobile versions didn't support them at all. Just making them consistent would be welcome.

THis build is a mess on my SP3 i3. 50% failure to boot (locks at SURFACE logo after the activity animation stops), scrolling in Edge is a mess and for some reason very fast, Messenger sopped working, and sleep mode is somehow worse than before. Rolled back to previous version.

Several tries to install, even did update troubleshooter, but it keeps hanging at 80%.

Same hangs at 80% then goes back to previous installed version on my SP3

Good to know someone else is having problems mine hangs at 87% at "Working on Updates" on any build after 14393 even after completely reinstalling W10 and formatting drive have also installed the so called fix. It still doesn't do it!

A little of topic. But is anybody's Lumia 950xl restarting on its own with the latest fast ring build? Was late for work today because my phone went to black screen and the alarm didn't go off

Mine is acting a bit off after the newest build, patiently waiting for a new build that will hopefully be more stable

I have been experiencing a few unexpected reboots too on my NL DS 950XL.

Yes, I have same issue with my 950XL. Several times a day, different apps and situations. Just restarts by itself.

Hopefully the new tasks' privacy setting means that Microsoft is finally bringing task management to Outlook.

Does anyone have an issue when trying to upgrade to build 14942. When I get to 75% of the upgrade, I had a BSOD giving me an error code klwtp.sys. I currently have Kaspersky Internet Security 2016 installed on build 14936 and Windows had to restore back to the currently version that i'm already on. Does anyone know how I can upgrade to the new build without Kaspersky stopping the upgrade or would it be easier to uninstall and reinstall after the upgrade?

Try disabling KIS from running at startup, complete the UG and the re-enable KIS

They've updated regedit?! I don't believe my own eyes it wasn't updated since the times of XP maybe even earlier.

Sweeeeeet - installing now.

Pretty good update so far, new features and fixes and seems like not much had been broken because of it. Waiting patiently for the new mobile build...

Was Edge not being able to launch one of the "improvments?" Becasue that is working just fine if it was.

Does anyone on this build on a surface pro 4 still have the handwriting bug and the surface pen pointer bug as well as the type cover not being recognized from wake up bug?

Did anyone else get the Windows DVD player app?

You only got that for free if you had Media Center.

Redstone 2 will be game changing. Posted via the Windows Central App for Android

This build doesn't fix networked drives issue.

Edge stopped working for me also. Rolled back.

What about the changes to the ink workspace :)

I had to do factory reset because it did not started after the two or three restarts and try to fix it in boot environment failed. I have found, that the cause was Samsung Magician and his performance tweaks, but that knowledge costed me another several factory resets. :D

Any improvements on Windows Backup? I'm having to rely on the Windows 7 version or whatever they call it because when I upgraded from 8.1 to 10, the modern Backup utility was horrible at managing storage/copies and kept making copies of unchanged files.

I upgraded to Windows build 14942 Friday night. It was easy to upgrade and I used my PC for a while. Since Saturday morning, it has been rebooting endlessly with blank black screen. This is day 2 of rebooting. Can't work with my PC now.

I have two laptops stuck at 81% for almost 24 hours... will have to stop and reboot. Why doesn"t the installer itself not advise you it is not going anywhere and recommend actions?
Could Norton Security be the culprit? I always have to troubleshoot it after every Windows Update.

I downloaded the update 100%, and installing the update up to 92%, and the system restarted automatically, and the next thing I saw was my system was up to date. I checked Settings>About, and it is still 14936.

For those stuck at 80% install, I removed my Norton Security and the install succeeded. So, try the install without a 3rd party firewall and/or AV. I reinstalled Norton Security on 14942 without problems.

Herbert's solution is the workaroud. Myself and others removed whatever AntiVirus or Internet Security software is installed and the update completes normally. In my case I removed my ThreatTrack Security's Vipre Internet Security. Do not reinstall your security software afterward, because Windows will hang on login, BSOD, or if you can get all the way to the Desktop, you'll probably find lots of things are broken. Use Windows Defender meantime.
Windows Central Newsletter
Thank you for signing up to Windows Central. You will receive a verification email shortly.
There was a problem. Please refresh the page and try again.