Windows 10 builds 16199 and 16193 for PC: Everything you need to know
We dive deep into the new features and changes for Windows 10 build 16199 and 16193, and we even show you those things Microsoft didn't announce.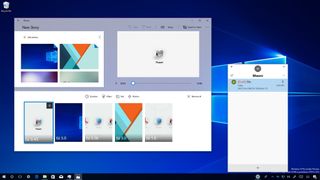 Windows 10 build 16199 is now available for Insiders with PCs enrolled in the Fast ring. The new preview brings a new set of exciting features and changes that will be part of the Fall Creators Update, expected to roll out later this year.
Although this test update is considered a minor release, it includes some improvements in My People, such as notification badging and easy file sharing support. The Settings app gets new options, tweaks, and more, as well.
Alongside build 16199, during the month of May, Microsoft rolled out Windows 10 build 16193 to the Fast ring. It's not a significant update, but it brought a few improvements, including an early preview of Story Remix.
In this Windows 10 guide, we take a closer look at the features and changes included in the past two flights for the Fall Creators Update.
Windows 10 Fall Creators Update new features and changes
My People
In build 16199, Windows 10 continues to improve My People, a new feature that lets users pin contacts to the Taskbar to chat and send files more easily.
My People officially debuted on Windows 10 in build 16184, and build 16199 brings several new improvements.
Starting with this flight, when you receive an emoji from a contact, it'll appear above the taskbar with animation.
If you want to give it a try, pin a contact to the taskbar and tell that person to send you an emoji using Skype.
Another exciting improvement is notifications badging. In this update, contacts pinned to the taskbar will display a counter, letting you know the number of unseen messages.
The idea of My People is to make it easier for you to connect and share files with other people no matter what service they use from a unified interface. And on this release, you can share files in two easy ways. You can drag and drop a file into the pinned contact to send it as an email attachment.
Or you can share it directly using the new Share experience.
Quick Tip: If you don't see the name of the person you want to share the file with in the suggested list, click "More People" to access all of your contacts.
Start menu
The Start menu in this update for the Fall Creators Update remains unchanged, but there is a minor tweak. Now when right-clicking a Live Tile or an app in the App List, you see a new icon next to each option in the More context sub-menu.
Cortana
Windows 10 build 16199 also brings improvements to Cortana. If you use an Android phone, Cortana can now show cross-device notifications for incoming calls. You even get buttons in the notification to send the person a text or decline the call.
In order for this feature to work, you must install and setup Cortana on your Android device, and then go to Settings > Sync notifications, and turn on all the Cortana cross-device features.
Settings
This Insider preview build delivers a number of changes in the Settings app, including updated pages, interface tweaks, and new options.
Two noticeable improvements in the Settings app are tips and videos. In an effort to help you have a better understanding of how the settings work, starting with build 16199, Windows 10 now features short videos and tips on the right side, where previously, you were only able to find related links.
When playing a video, you can use the video controls to watch it in full screen or use the Picture-in-Picture mode.
This is a work in progress, and Microsoft says more content will be added later, but as of build 16199, you can find these videos and tips in the "Notifications & actions," "Multitasking," "High contrast," "Magnifier," "Narrator," and "Windows Update" setting pages.
Notifications & actions
In Settings > System , the Notifications & actions page removes the Note button from Quick actions due to the fact that not enough people were using it.
Storage
In Settings > System, the Storage page is improving the recently added "Storage sense" feature. Starting with build 16199, inside the Change how we free up space page, you'll now notice a new option that allows you to delete files in the Downloads folder that you haven't use in the last 30 days.
The option is disabled by default, but you can come to this page and turn on the Delete files in my Downloads folder that haven't changed for over 30 days toggle switch.
About
On Settings > System, the About page has been simplified with a number of changes.
In this flight, you'll notice that the page is divided into three sections. The first section shows you health information about your system, including antivirus, firewall, performance, and apps control status using the Windows Defender Security Center.
Under "Device specifications," you can see an overview of your device hardware specs, including processor, memory, and system type. (Under this section is where moving forward, you'll also find the button to rename your computer.)
Finally, under "Windows specifications," you'll find the edition, version, and build number for your installation of Windows 10.
Data usage
In Settings > Network & Internet > Data usage, the Usage details page now includes a button to reset usage stats. While this isn't a big feature, in the past users resourced to complex workarounds to clear the stats, but this will no longer be the case with the Fall Creators Update.
Taskbar
In Settings > Personalization, on the Taskbar page you'll find two additional options for My People. Alongside, Show people on the taskbar, which allows you to disable the feature, you'll see now Show Shoulder Taps and Play a sound when the Shoulder Tap arrive.
Broadcasting
On Settings > Gaming, the Broadcasting page now allows you to choose Per-app audio to broadcast using only the audio from the game. Previously, this feature broadcast the audio of the entire system.
Game Monitor
In Settings > Gaming, you'll see a new Game Monitor page, but it's only a test page that may introduce new options in the future.
Story Remix on Photos
Starting on Windows 10 build 16193, we get a new version of the Photos app that includes Story Remix.
Story Remix is a new experience to make it super easy to create videos from photos and videos in your collection.
This new experience uses AI and deep learning to automatically find relevant content to create videos automatically with soundtracks, themes, and transitions.
When you first open the app, you'll see an entirely different user interface that uses elements of the new Microsoft Fluent Design System, a new design language. You'll notice the new animations, conscious scrollbars, blur (acrylic), and other effects.
Inside Explore, you'll find a list of your photos and videos with new options to change the thumbnail size, and at the very top of the page, you will see the discovery bar, which gives you quick access to actions and different everyday tasks. This option allows you to quickly create or edit automatically-created stories, and rediscover memories.
Clicking a photo, you'll notice that the navigation has been moved from the bottom to the top, the editing tools have been combined into a drop-down menu, and there is a new Add to story button on the top-left side.
Photos also features a new search box in the top-right corner that uses new search technologies to recognize people, places, and things.
Inside the Create tab is where you'll find Story Remix. In this new experience, and similar to albums, this section contains automatically crafted videos from your content in the Photos app with unique soundtracks, themes, and animations.
You can click a story to see its content and watch or edit the story.
From the Create tab, it's also possible to click the Create a new story button to pick the media you want and to open the editor, which is similar to Windows Movie Maker. You have your media collection on the left, the timeline at the bottom with tools to craft a story, and a video preview on the top-right.
Using the Story Remix editor, you can drag items from the collection to the timeline, reorder, change duration, or add filters, custom text, animations, music, and more. Once you complete your story, you can always share with other people using OneDrive or create a Sway project, but Microsoft says that you'll be able to share your stories on YouTube, as well.
Currently, the experience is a bit limited and buggy, but we're expecting more changes in the future.
Additional improvements
In Windows 10 build 16193, the Volume Mixer has been updated to allow you to control the volume for Windows Store apps (Microsoft Edge and Groove Music, for example) individually without affecting the entire system volume.
You can check out this new improvement by right-clicking the audio icon in the Taskbar and clicking the Open Volume Mixer, but note that you'll only be able to control Windows Store apps volume when they're playing sound.
In the recent preview builds for the Fall Creators Update, Windows 10 reintroduced Power Throttling, which is a feature that helps to improve battery life. In build 16193, inside the Task Manager, the column name has changed from "Background Moderated" to "Power Throttling," which more accurately describes the information in this column.
In the past two builds, Narrator received two new shortcuts. You can now use the Caps Lock + E + E keyboard shortcut while Narrator is running to launch the Feedback Hub app. And it's also possible to use the Ctrl + Windows key + N keyboards shortcut to open the Narrator settings page.
While you won't find new features in the Windows Defender Security Center, it's good to hear that Windows 10 will no longer show disabled drivers as an issue. In addition, the health logic has been updated so when using full brightness settings while running on AC power you won't see a warning in the dashboard.
Alongside the new features and changes, Microsoft is also working on a new experience called "Control Center", which will include the Quick actions and other functionalities found in Action Center. Apparently, Microsoft is planning to make Action Center a place for notifications only, and Control Center will be the experience to access system actions.
We were able to see a glance of this feature when the company mistakenly posted a screenshot in the announcement of build 16199, which was quickly removed from the post. But the feature doesn't appear in this preview.
Wrapping things up
Microsoft is introducing all these great improvements so early into the Fall Creators Update, and it's exciting to imagine what else the company is planning to unveil in the coming months.
It should be noted that as with any pre-release version of Windows 10, you should not run these builds on your primary machine. At this point, the OS is buggy, and it has several known issues, which may cause unwanted problems.
If you're planning to use the latest preview build of Windows 10, it's recommended to use a virtual machine or a spare PC.
What do you think about the new changes thus far? Tell us in the comments below.
More Windows 10 resources
For more help articles, coverage, and answers to common questions about Windows 10, visit the following resources:
Windows 10 help, tips, and tricks
Windows Central Newsletter
Get the best of Windows Central in in your inbox, every day!
Mauro Huculak is technical writer for WindowsCentral.com. His primary focus is to write comprehensive how-tos to help users get the most out of Windows 10 and its many related technologies. He has an IT background with professional certifications from Microsoft, Cisco, and CompTIA, and he's a recognized member of the Microsoft MVP community.
gaming monitor? Turning it off may limit the games you can play???? Seriously? Another snooping program, another limitation. No thanks. I wont update to W10 unless W8.1 is supported and my HW is not ancient. Damn Microsoft. Disgusting.

I would expect that this is simply an anti-cheat system that developers can implement in their games and you won;t be able to play such games if the service is not running. There are other similar systems already but they're just not built into the OS. If it is this then it's about protecting every honest player from cheats. Maybe you're a cheat and feel that this is a violation of your right to break the rules.

Not a fan of the new Control Center.

It can be just a monitor of the performance like Frame rate, GPU usage....etc.

Have you ever been punched in the head before? Honest question...

Be careful you will get a load of down votes, oh too late:) While i do not play games I agree with you, it seems like Ms want to monitor everything on Windows 10.

Your foil...you should loosen it...

Today's my birthday 🎂 Wish me 😊

Go to facebook & youtube comment section. BTW Happy birthday.

The cake is a lie. Happy birthday.

Installed for a day on SP4. Hello not working, lots of livetiles not updating, action centre not appearing. Only Insider Build that I have rolled back.

I know theres a possibility Whatsapp will be coming to the Store, if so they must get it to connect with My People, and Slack for that matter, I'm sure Teams will eventually but Slack too, because you know, Slack

It's not a possibility, it's confirmed

Then there's no excuse :)

Who is using Skype anymore!

Me and a lot of people I chat to, it have gone to pot since Ms got hold of it but is still one of the only multiplatform communication system.

I've never really used the Skype service for video calling, but I have started using the app for SMS relay since that feature was first introduced in Skype Preview.

Milions and millions and millions of people. Next time think before posting a troll post. Thanks.

Just abandoned rest messengers a few weeks ago (WhatsApp and Telegram) and made Skype my main messenger acroos all devices.

Hundred Million People...likely more...

Can't install. Rolls back to the previous build 16193 at 12%. Frustrating 😢
Please anyone in-house to help me out?

Yes, same here... Waiting for next build.

It not very much needed. Just okay to have a new... Compromise can be made.

What do you mean can't install? If it's an issue with it getting stuck at 32% this seems to be a random issue. I've been having this issue since 3 builds ago, and I've seen a few other reports. When its stuck at 32% it means its failing to install or update a driver. Now the best part is rolling back and applying the update again it works. I have no idea why but the ones having this issue report the exact same method works. If not could you explain more what your issue is?

I mean after the update installation, when my machine restarts to complete the build upgrade, it won't go past 12%. After which it will roll back to 16193. I'll wait for the next build anyway

I can confirm. On my SP3, the update history shows some 15 unsuccessful attempts to install 16199. Patience ....

Drag-and-drop for My People reminds me of Infinit.

I have Windows 10 Insider Preview 16199.1000 and I live in Canada and have not see tne "new" remix photo app.

Go to Dona twitter or windows insider website... Read the blog of the new build and shoot them an email for them to give u access to story remix. It's still in beta, not available to every insider yet

I think it's time the Volume Mixer and the Taskbar Manager get an interface overhaul to look more like Windows 10

This! I believe that is their goal for the whole explore side of things this update with the neon project. We've seen some glimpse already and I pray they hit those area too. Would make everything feel like one and flow together instead of feeling like things are all over the place in design.

I recall emoji appearing on the desktop as being one of the more annoying features of msn messenger, hopefully they won't bring that annoying screen vibrating nudge msn messenger had.

I did not get story remix

Check for updates in the store.... For photos app. It did not come to me with the build as well.

I have the update but I can't get it

Strange, but has no luck with pinned people. No badges, no emojis on SP3. Are they enabled by default? Tried to launch Skype and minimize it, unpin and pin people - no luck. Skype version 11.15.580.0.
Anyone has this feature working?

can Microsoft solve the screen flickering on surface pro 4 at first?

Try uninstalling and reinstalling the video driver.

Hmm still no Story Remix for me, that's really what I'd like to test out... Don't really wanna do a full wipe though. Ah well.

Delete files in my Downloads folder that haven't changed for over 30 days toggle switch. GPO (ADMX) as soon as available. Keeps the UPD small without redirecting. Nice.

I think Microsoft is missing an optimization opportunity of "clicking on volume" showing only the volume for the main sound. Cornett (sp) has the right idea of showing all different apps and master volume right away. This would save some headache as not all users think about "RIGHT CLICKING" and that Volume Mixer might show more volume controls.

I have the newest build and I don't have any of these features. Am I missing something?

New Photos App with Story Remix not available in Store yet!!! Downloaded latest version two days ago, with build 16193, and it did not include Story Remix.

It seems it is released in stages. I had it on my PC 2 days before it appeared on my SP3.

They are adding a bunch of stuff to the UI with every single update. Windows 10 starts to get really bloated. Instead of making the Settings app better to understand, they add videos. Ohhkayy. Also, how will the separate Control Center and Notification Center work in Tablet mode? I really don't like this to be separated. Also, the My People features are very welcome, but why another app? Why not integrate them into the People app? Microsoft has very good ideas but they are always shy to integrate them into the system, all they do is adding stuff on top or in separate "apps".

1) My people is not an app. It's more of a feature. I like it. I can see people using it and it looks handy. You can easily contact the people you care about most. 2) I hate the control centre too. They should be working on the volume flyout. 3) The videos in the settings app would be great for older people who don't know what functions do. Does anyone know if they store the videos on your device or if its on the cloud?

"If you use an Android phone, Cortana can now show cross-device notifications for incoming calls."
Will it work with Windows Mobile?

Drag and drop reminds me of United Airlines.

Shouldn't that rather be Drag and Remove? .

I would like to see Power Throttling on older chipset. My SP3 is waiting.
Windows Central Newsletter
Thank you for signing up to Windows Central. You will receive a verification email shortly.
There was a problem. Please refresh the page and try again.