Windows 10 build 16215 for PC and 15222 for Mobile now available for Insiders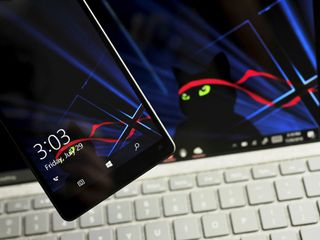 Microsoft is finally rolling out a new Insider Preview build today, packing a number of new features and enhancements! Today's build is 16215 and is rolling out for PC Insiders in the Fast ring, and build 15222 for Mobile.
What's new for PC?
Start & Action Center bring elements of Fluent Design
Pin your favorite websites to your taskbar: Pinned sites are back! We heard your feedback, and are in this build you can now pin a website to the taskbar from Microsoft Edge! We'll use the site's icon to give you quick access to your favorite sites right from the taskbar. Simply select "Pin this page to the taskbar" from the settings menu in Microsoft Edge.
Full screen mode (F11) in Microsoft Edge: This build introduces a new Full Screen experience in Microsoft Edge. Simply press F11 or choose the new Full Screen icon in the Settings menu to take your websites full-screen. You can exit Full Screen view by pressing F11 again, or by clicking the Restore icon in the top-right corner.
Annotate Books in Microsoft Edge: We've added the ability to annotate EPUB Books by highlighting in four colors, underlining, and adding comments. To get started, select some text, and choose an option from the menu.
Microsoft Edge PDF improvements: We've added more highlight colors and the option to Ask Cortana in PDFs in Microsoft Edge.
Taking Cortana reminders to the next level through vision intelligence: Most of us have experienced taking a picture of upcoming event poster or bookmarking an event site for future reference, only to forget about it later. With this build, we're rolling out two new features starting with the en-us market to help you never again miss an event you're interested in!
Cortana camera roll insights: With your permission, Cortana will now prompt you to create a reminder when she notices event posters in your camera roll! To try it out, make sure you're signed into Cortana with your MSA or work account, and then give Cortana permission to access your camera roll via Settings > Cortana > Permissions & history > "Manage the information Cortana can access from this device". The next time you take a picture of a flier for an upcoming event, Cortana will reach out asking if you want to create a reminder for that time.
Cortana Lasso: Are you a pen user? If so, Cortana can now help keep track of future events on your screen! Use the new lasso tool to circle the relevant information and Cortana will recognize the time, and offer suggested follow-ups through a context menu. Keeping track of upcoming events has never been easier! To try it out, go to Settings > Device > Pen & Windows Ink > Press and hold, and select Cortana Lasso in the dropdown picker. Find a website with upcoming event info, or an event poster someone shared in social media – once you have the event on your screen, just press and hold the pen back button, circle the time information, and watch Cortana do her magic. That easy!
Using your feedback to evolve the handwriting experience: We've been hard at work incorporating your feedback, and with today's build we're introducing a new XAML-based handwriting panel – with more gestures, easier editing, emoji, and more!
Find My Pen: Don't know where you put your pen? The pen doesn't have a GPS, so we can't help you there, but what we can do is tell you where you were when you last inked on your computer. Which is what we've done! Head over to Settings > Update & Security > "Find My Device" to see what it's all about.
Entering emoji on your hardware keyboard just got easier: We've heard your feedback, and today we're happy to announce the new Emoji Panel! Press Win + period (.) or Win + semicolon (;) while focus is in a text box and the Emoji Panel will pop up for you to quickly scroll through and pick the emoji you want.
Enhanced Text Prediction: We've made a bunch of improvements to our text prediction engine to make it more intelligent. For example, you now don't need to type anything other than "Text " to complete the frequently used message, "Text me when you get a chance" using the suggested words. If you're using a UWP app, you can also now enjoy Emoji suggestions!Try it out! Type "birthday ", "coffee ", or "dog " and see what happens! Prediction is currently only working with the English US keyboard, however we're working on enabling more languages
Shape writing with the one-handed touch keyboard: One of the most powerful phone keyboard features for fast and easy text input involves swiping over the keys without releasing your finger on the screen. We call it shape writing. Today we proudly announce the first shape writing keyboard on PC! Because it's works just like your familiar phone-style one-handed keyboard, you don't need to do anything to learn it again. Just use it as you would use your phone's touch keyboard. Bonus: it also works with pen! Shape writing is currently only supported for the English US keyboard, however we're working on enabling more languages.
Dictation on the Desktop: Our keen-eyed Insiders may have noticed a microphone button in the touch keyboard pictures above – that's because you can now use dictation to input English or Chinese text on desktop! Simply tap the microphone button in the top left corner of the touch keyboard or handwriting panel, or press the new dictation hotkey Win + H to start dictating. Currently only available for English (United States) and Chinese (Simplified) input methods.
Enhancing your Share experience: We want sharing to be easy and natural. With the last build we added people-first sharing, and with this build we're bringing another new Share feature to your desktop:
Copy Link: Don't see the app you're looking for in the Share UI? If you're sharing a link – like a website in Microsoft Edge, or an app from Store – we've added a new option in the Share UI to copy that link to your clipboard, so you easily can paste it into your app of choice.
New local media folder detection for UWPs: Photos, Groove Music and Movies & TV all have one thing in common: exploring your local content based on the folders you provide. We've heard your feedback that sometimes local media is missing as a result of folders not being included, so with this build we're adding new logic to address this. After a storage scan, we will now detect relevant media folders you might want to include in your collection when looking at the files via UWP apps, and suggest them to you when you go to add new folders. Want to try it out now? Add a new folder with 30+ pictures, songs, or videos to your desktop. Go to Storage Settings and press the refresh button to trigger a scan. The next time you go to add a folder to your favorite UWP (such as Groove Music), you'll see this new experience:
My People improvements
Night light improvements
New Video Playback Settings: Head to Settings > Personalization > Video Playback and you'll now find some additional controls for media enthusiasts. If you have an HDR monitor, we'd love to hear your feedback on how video streaming feels when these new options are enabled. We've also added some battery settings for you to decide whether you'd prefer to optimize video streaming for battery usage or video quality.
A new HDR and Advanced Color Settings Page: If you have at least one connected display that supports HDR, you'll now see some additional information! Go to Settings > System > Display > "HDR and advanced color settings" to find more details about the HDR settings of the currently selected display.
Per-App Defaults Settings Page: In the past, when using Settings you had to start with your file type or protocol if you wanted to make a change to the default app. That's changing with this build, and you can now start with your app, and then see the available options for what it can handle. To see this new option, go to Settings > Apps > Default apps > "Set defaults by App". Choose an app and click 'Manage' to see all the file types and protocol associations for which the app is the default. This page takes the place of the one that had been available in Control Panel, as part of our ongoing effort to converge the settings experience.
A new context menu for Wi-Fi networks in the View Available Networks flyout: To get you where you need to go faster, we've added a new context menu full of quick actions when you right-click one of the listed Wi-Fi networks. Options include Connect, Disconnect, View Properties, or Forget Network.
Understanding your updates: We now list out the individual update status and progress in Settings > Update & Security > Windows Update. So if there are multiple updates pending (for example, a new build, a driver update, and a definition update for Windows Defender), you can see and track each different status, which wasn't as obvious with the single progress bar used in prior builds.
What's new for Mobile?
This build also includes all the improvements from KB4016871 and KB4020102.
The copyright date is correctly showing 2017 now under Settings > System > About.
We fixed an issue where WhatsApp would not launch after updating to the latest Mobile builds.
We fixed an issue with using the Japanese 12 Key soft keyboard where the "right arrow" key did not input a space
We fixed an issue with the Bulgarian keyboard localization for the HP Lap Dock in Continuum.
We have further improved the reliability of notifications for apps with a paired Bluetooth device, such as Fitbit.
Improved the Time & Language settings page UX for Speech and Keyboard language downloads. Previously, the status would show "Downloading" for speech and "Installing" for keyboard. Unless, the user tapped on the language or navigated to the Update & Security settings page, there was no indication that a restart is required to complete the installation. Now when the update reaches the reboot pending state, a "Restart Required" is displayed under the language.
We fixed several enterprise device management issues.
We fixed an issue where notifications and Cortana's cross-devices settings on your device were not being mirrored to your PC.
Windows Central Newsletter
Get the best of Windows Central in your inbox, every day!
Zac Bowden is a Senior Editor at Windows Central. Bringing you exclusive coverage into the world of Windows on PCs, tablets, phones, and more. Also an avid collector of rare Microsoft prototype devices! Keep in touch on Twitter: @zacbowden.
Cortana notification improvements are nice. Keyboard improvements are always welcome - MS has the BEST keyboard in my opinion. But, look at that PC list!

Agreed, Dammmmmm that PC list. One day mobile will get there again(when we receive CShell 😉)

Totally agreed, Windows keyboard is the best

Can you hear the haters?...... "Ummm, duuuh Windows Mobile is dead, duhhhhh🤓🤓🤓🤓🤓🤓"... "Mooom! Can you make me a sandwich?" (picks nose, and sharts on himself).... SMDH

Well windows Mobile IS dead, but its being replaced with Windows Mobile.

"Well windows Mobile IS dead, but it's being replaced with Windows on Mobile." Fixed that for you.

But we have to buy new devices, the thing old like as 950, 950XL will be not supported to Cshell, When alot of people will said: Damn Microsoft, what the hell, what the ******* Microsoft, sorry everyone that just estimate😂

By 2018 you should want to replace your 3 year old Lumia... This is a non issue.

Exactly my plan. It so ties in my contract would have ended by then 😉

Sneaky little devil you are.👹👹👹👹

Some things just work out...😁

@rodneyej Really? Why should I want this?
The only reason can be to be forced to.
You have a none-argument and got no point here.

Sorry, the layout of comments make it hard to see exactly what you are replying to? Why should you want what exactly?

Considering we have seven phones, lots of kids, that is expensive. BTW, what is going on with cortana dictation and text predictions on 8.1 lately? They've been getting progressively worse over the past year, but this past week is extremely bad. All the phones and all users are experiencing the problem. It's nearing a 50 percent incorrect word rate at this point.

Problem is people (me included) still hang on to the Lumia for the awesome camera and Glance etc and the new breed of W10m or future decides show no sign of continuing those features which is a bit sad

why? My Nexus 4 is over 4 years old and does what I need, so if a Windows phone still does what a person wnat why do they have to update it?

Maybe we don't know that for certain. Given how MS reacts to feedback id suspect that if(and its a big if) they didn't support current continuum devices, then we as insiders/users could have that decision reviewed and potentially overturned. Also, given the speed at which tech changes, to keep expecting MS to have such a long feature support for older devices will only stand to work against them.

I agree. I had a 1020 and admit, it couldn't run Windows 10 well I switched to my 950. But if it runs as the 1020 did for RTM, I can't be reaching for a pitchfork.

Full screen Edge...FINALLY

It was always there. But you had to use a shortcut, which I have forgotten. Ah. I remembered it before typing this comment.

It actually wasn't. What you were using was the full screen shortcut for all UWP apps (Win+Shift+Enter). Edge couldn't do a thing about it and there was no address bar or anything.

Actually, this is the same thing, but it's just a button

Well that's disappointing.

But how do you do that on a touch screen with no keyboard attached?

The touch keyboard has an emoji button between Ctrl and Spacebar.

One of my suggestion, MS should include offline dictionary to Cortana that would be wonderful and it will give edge a chance to compete with kindle because it has inbuilt dictionary.

Are you saying you want an offline dictionary for your internet browser?

No, I am saying I need a dictionary for a e-book reader.

I agree with everything said, EXCEPT...wow Windows 10 keyboard is brutal! Windows 8.1 keyboard was the bomb

And it's now much, MUCH worse in Windows 10. The entire build is chaotic and unpredictable on all my machines now, but it's clearly the worst on the SP3. As soon as I remove my type cover the ridiculous "fun" begins. The virtual keyboard is a complete mess, Start Menu crashes or pops on and off by itself, File Explorer is starting to come up with all sorts of errors and OneDrive keeps crashing and insisting I have to sign back in and setup my OneDrive folders. VERY unstable.

Would like a detailed video of this build either from Zac or Daniel.

already available, check their youtube

More importantly, when is your company making the Band 3..??

Edge update really sucks. On full screen mode, They have removed the address bar, so you cannot navigate back & forth. You cannot enter a web address, so what's the advantage of a web browser. Is this really a browser MS?

I really like the sound of most of those improvements in desktop. Tempted to jump back into the fast ring

Is anyone ever going to trust a fast ring update after last week..?

Fast Ring since December has been nearly rock solid and last week wasn't a Fast Ring it was several releases before that. TBH, the bleeding edge of builds are just as stable as some pre-release builds years ago. Also, what's the point of being a tester if your not testing or developing software?

You don't need to test or be a developer...With millions of user in the insider program, Microsoft can collect enough data. Imagine if Microsoft has to install Windows 10 on thousands of different hardware configuration…

I updated my surface book to the fast ring and it resulted in green screens of death every few hours. Then after a full reset back to RS2, my WiFi driver crashed while on RS2 and I had to reset my computer once more. Not going back to fast ring for a while

never heard of this one before "green screens of death" What does that even look like?

The green screen replaces the blue screen for fatal system errors.

The ring isn't the issue. In all seriousness, it's one thing: A failed update is unable to roll back. I don't care if the update told it to write all zeroes; it's supposed to allow a failback scenario.

Yes. Has been 99% great, but one wrong move and you want to hang them?

>New features
I got my hopes high for phones but then I saw the build number, 😢

Yes, complete and utter disappointment can't even describe how I felt...after seeing the build number for Mobile and then scrolling through a million words of updates for PC and then finally reaching the bug fixing for Mobile at the bottom of the list. Zac...you are a fortunate fellow. Enjoy your HP Elite in the 16xxx branch as the rest of us look on...while being destroyed. It is a shame...a real shame that even in the insider program, the neat features in 16xxx are being withheld for now without ANY clarity if they will actually come to any current devices. With the accidental leak and Brandons tweet, https://twitter.com/brandonleblanc/status/872938210850095105 I don't think the 16xxx builds are coming to any current phones, including the Elite X3 and Alcatel Idol 4S. Having seen CShell on Windows 10 Mobile and Microsoft doing its best to not mention anything as if it doesn't exist, as if it didn't happen, we are either in for the greatest reveal later in the year or our devices, including the HP Elite X3 and Alcatel Idol 4S and all other devices are about to be left in the dust due to a decision to make CShell only available on SD835 equipped phones. This leads me to the question: If CShell Continuum is the future of Windows 10 Mobile, does that mean that full Windows 10 on ARM is truly NOT for phones...since Microsoft has never said the WOA will be on phones. I hope Microsoft doesn't allow this to be a missed opportunity. I'd personally rather have CShell on Windows 10 Mobile be the last Windows 10 Mobile update and then move to full Windows 10 on ARM than for CShell to never hit ANY current phones, Elite X3 and Idol 4S and THEN Cshell rolls on to be the future of Windows on phones. If we are not heading to full Windows 10 on ARM in a phone form factor, Windows on phones will never capture the marketshare that it could. Coming from a career in IT, if it is not full Windows, it will not get fully funded and will be seen as a wast of time, money and man hours. We shall see what happens when Mobile folds back into the main branch and Feature 2 disappears.

They already invested a lot with HP and the Elite x3. That phone is already being used by businesses. It would be a disgrace to just abandon W10M. They will probably upgrade the X3 to full Windows 10 when it's ready.

If they demoed full windows 10 on ARM with that same Snapdragon processor it should run Windows with CShell which its lighter than Full Windows 10

No necessarily full Windows 10 due to performance issues but I can see the X3 getting the Cshell continuum improvements

Definitely will in my opinion. The HP is one great device that has plenty of power. I think it will easily cope with shell etc. So glad I got this phone. Best phone ever. Don't even miss glance now or double tap because I use the fp reader when I pick it up.

If it wasn't so darned big I would've gotten one.

I think the voting system is broken because I was pressing the buttons randomly. And I got it from -8, to +7.:/

In the app... Only visible to you.

I think we can all agree that the next big update for mobile will be the release of CShell and its not ready for fast ring yet. Till then MS seems to be fixing the little things that will tie it altogether. Not going to lie, I too had hopes of something bigger, then I remembered the bigger picture and am less disappointed.

True....*snaps out of severely disappointed mode*

Dude, what's up with my picture on your profile??

There's a bug with the profile pics getting jacked

MSPOWERUSER app doesn't have this problem

Sorry. It seems WC app is high on drugs..

The bigger picture is W10A...SD835 and above. There's no 'bigger picture' for anything below that key CPU requirement, other then the EOL.

MS won't leave devices only a year old out. X3 and Idol will be supported. Probably all continuum class phones will get the update. Either officially or through insiders.

I agree. The whole point of insider programme is that we provide MS with direct and pure feedback. We have in many ways shaped win10, why exclude us now.

Yes, they need to collect feedback data to improve the OS and they know not everyone has either a Windows 10 Mobile Phone or Continuum capable phone, so they need to allow the Lumia 950's , HP Elite and Idol 4s

they must not downgrade it for the sake of enabling it to run smoothly on SD820.
maybe a buy back option for those with x3, idol.


Not 100% agree on that. Considering the number of Enterprises that would have adopted the X3 as a all in one solution for users, to drop support foe these users with such a useful update would be a mistake by MS. As we seen, the current CShell test device is the x3. They show it working(and well I might add) so it would make no sense not to release it.

Fitbits get notifications on Windows 10 Mobile?

Yeah. And have done for quite a while now. 😉 👍

Is it only for insider? I can't seem to find the option.

Fast ring and make sure you have the latest fitbit app, they launched the notifications public beta in the last app update. The settings for notifications are on the device settings page in the app.

This is good news since my band 2 is litterally hanging on by tape!

There are some interesting updates to PC, the events thing is awesome. Almost everything being US only, less so.

Did anyone get an update to the windows central app?

Yes, on both my PC and phone. Version 1.3.6.0

It's weird Windows central didn't tell us about the update

It doesn't help switch you to crApple or Samsung

They posted it on Android Central, and iMore.. Even on Crackberry.. 😂😂😂😂😂

Good. I thought Windows Central dropped support for Windows, and only supported iDroid.. Lol

Yep, but it stills lags at start up while it is trying to refresh(?). It is really annoying and seems to last longer than previous update. If I could still scroll and open up a previous story while it is doing it's thing, then that wouldn't be so bad. The fact that the app is just seemingly frozen for 5-10 seconds at start up is just plain bad. Besides that, it is a nice app.

Reset the app. You'll have to login again after that but it's worth it. No more lagging.

Wow that helped a lot! Thanks for the info Edit: Now it instantly opens from the background without crashing

Awesome, thank you for that. I have reset in the past with no luck, but I guess this last update did the trick. Thanks again.

Thank you! The difference is night and day!

Is it installed on device or SD card

Amnesiality's suggestion of resetting worked. All of my apps are stored on device.

I didn't. Public build here. The app is crashing a lot.

" Start & Action Center bring elements of Fluent Design " what does it bring to start i see action center but what does it do to start o.O

Will wait to see if or what issues might occur, but glad to see a new build

Hey I updated my HP Elite X3 windows phone about a week ago with the most recent update at the time. It seems to have screwed up my phone. I left the phone in the cradle with power during the upgrade. Now all I get is the hp logo. The phone powers up showing the logo and a minute or two it powers down then in a minute or two it powers back up. It is a constant cycle, I have had it on the power for about a week now. I have tried hard resets and nothing changes it. Does anyone have some advice? Thank You Paul

Go and download Windows Device Recovery Tool and re-flash your device. That'll fix it.

Install Windows Device Recovery tool on your PC first, then plug your phone to the PC, launch the device recovery tool and download software available for your phone. That will reinstall windows to your phone.

Use the device recovery tool. You got a botched update that bricked phones.

Same thing happeded to my Lumia 950 XL, have to use Windows Device Recovery Tool to re flash it.

I had that experience with my x3 too -- Release Preview ring. The other commenters here are corerct: get WDRT, plug in your phone, and let it run.

I deleted my Older version of windows Device Recovery Tool. Reinstalled the newest version. I followed everyones instructions. I opened the program before connecting my phone. The recovery tool would not recognize my phone, so I had to manually identify the phone. The the program says no software for the the phone. How do I install the software so the recovery tool can reflash my phone? Thanks Again

I managed to recover it this morning after a two days of trying. I said to myself: "Ok, if this try doesn't work out, I'll throw it in the garbage and buy the cheapest phone with physical keyboard till I buy a normal Android phone. It'll cost me almost nothing"! So, I turned on Recovery Tool, connected phone to PC, pressed volume up and off and kept it that way till it worked out! It needed somewhere about 2 minutes of holding it that way, and then the resetting started and the Tool recognized it!
Now it's on 8.1 denim, and I'll keep it that way.

So, very few features I'll ever use on the PC, and nothing but fixes for mobile. Splendid. One of the few features I'd use is word shaping on the tablet, except it sucks so horribly on the Windows 10 Mobile phones that I don't have any confidence it will be any better on the tablet. Meanwhile, it works almost flawlessly on my Lumia 1020

I had that same conclusion that MS ruined the WordFlow keyboard in Windows 10 compared to Windows 8.1. It was my biggest gripe about Windows 10 mobile. Recently, I redid my phone from scratch using the Device Recovery Tool. WordFlow worked Great again even in Windows 10. It seems it can get corrupted, not that it's fundamentally worse in Windows 10.

Except on my 950 I do a hard reset after every build. My Lumia 1020 is my daily driver, so I'm not worried about losing anything on hard resetting the 950. It does NOT improve WordFlow. It never has.

Interesting. I wonder if there is some obscure bug that doesn't appear in all cases. Before my reset, it seemed that WordFlow couldn't get words right that were even slightly rare, no matter how carefully I swiped them. I was even keeping a list of words it wouldn't ever get right and submitting through Insider feedback. At the time, it didn't occur to me it was a bug, because the keyboard and WordFlow "worked" (no errors) and it did get a lot of words right. It just appeared to have a really poor recognition system, so I concluded that Windows 10 mobile ruined the WordFlow keyboard, compared to what we had in 8.1. But following the reset, it's back to being just as accurate and gets virtually every word right. I tested most of the words in my list of words it would never get right before and it got 100% of them right. The problem is so subtle, it may be hard track down. If it matters, my Lumia is the Icon (basically the 930), and when I reset it, I don't mean a phone hard reset, I mean a full scorched earth clearing through the Device Recovery Tool. Maybe it's worth trying the DRT even for the 950?

I want a way to completely disable emojis. I hate them and I ignore friends who use them.

Sounds like you don't want to accept where we are with the times. Also you're not a very good friend if you'll ignore someone over a simple emoji.

Well, it shouldn't surprise you after seeing how he conducts himself on this board.

When they will give Us VOLTE on LUMIA 950 XL , and FLIP TO SILENCE, ANOTHER thing is What's new in TODAY'S Gestures And Touch Update. I Want answer Mr RUBINO. BY The Way I AM A BIG FAN OF YOURS.

Mr Rubino is an anti-trumper.
He is probably in fetal.position after hearing Comey say there is no Russian connection.

Big City UltraLib... never been outside his bubble and does not understand reality.

Seriously, why bring politics into an entirely different discussion? Who cares what his political views are? The guy puts out good articles on this site, he is the best out there. If only, people paid attention to what he writes. What he and Zac say in the podcast, there is a lot of information they slip out about mobiles future and where Windows is headed. We just have to read between the lines. Zac and Dan keep this site alive and kicking, they sure know a whole lot more than they can divulge.

He and Zac do great work. No doubt. However, Rubino brings politics into his twitter feed on a consistent basis. ;)

Pretty sure that is on his own personal twitter feed. That is not the windows central twitter feed. Two separate issues. He is entitled to his own opinion, on his twitter account. Likewise, we are entitled to our views. Aren't we all lucky, we still have freedom of speech and expression?

Yeah but it's normal to not support a retard like Trump so.... Yeah.

And it's not normal in this day and age to refer to people as retards even if the man is a complete idiot

He's a citizen and he's allowed his opinion on his personal Twitter feed. But on this site, he's always steered cleared of politics. Not sure why *you* and others sought to make it an issue. What, we can't have personal political opinions outside of our jobs now? It's gettting ridiculous.

That's funny, as the exact opposite was said ;) Regardless, no need to bring that here.

It made the double tap to wake more accurate and faster. It's almost instant now on my 950xl. It probable fixed the black screen during calls.

Edge, Cortana & Pen not used so mor much use here. Just pray fixes for CU version are not undone & mobile email notification sounds are not messed up again.

oh wow x3 think I my put this on my tablet

Nothing to be excites about on mobile, while pc packs a whole bunch of new features. Great work Microsoft

Mobile incluldes fixes for copyright date, Japanese and Bulgarian keyboard. Apparently Windows 10 Mobile is so advanced now that it need not any new features.

so the errored build has been replaced, can just go back to fast ring right?

Update not showing up on PC. System is configured for Fast ring. Suggestions? I have tried unlinking and re linking the system.

We should all come out of insider ring for Mobile, as Microsoft is only using us and the OS for Mobile will never get better. Currently the creatures update is the worst bill i have ever used, and yes i did a hard reset. Even to wipe the phone completely back to Windows 8.1.

Did you miss the leaked build for mobile?

Is it just me or is it installing the actual build while the system is running, without restarting? The settings app indicates "Installing updates" and has been going about as fast as a normal build installation! :O

Sorry but all those design changes are awful :/ Fluent design have some serious design logic mistakes - why active window is transparent, not those in the background? Also that changes now in Action Center, hope it's all now just made by some nerdy devs and UX specialists will have a look on that later on! :)

Apply for a job at MS, since you seem to have the grasp on design logic, you might to able to help them sort it out.

I actually like it the way it is. It has never really distracted me from anything. What's the point of having a non active window be translucent. It'll most likely be overlain by another app and you won't see the beauty of it all. Try the mytube app with dark translucent mode. Lovely. Can't help but want to use all the bloody time.

I totally agree. I always hated Aero and I disabled that mess on the older OS. I can't stand Fluent on W10.

Are you ever happy with anything?

anybody installed on mobile yet? wanna know if the build is stable enough for daily driver. i.e if there are battery drain or other major issues..

I guess I will need the ISO. Would someone please point me in the right direction.

There are more changes than listed in this article. See https://blogs.windows.com/windowsexperience/2017/06/08/announcing-window... for more details. This is all so awesome, I was tempted to install on an SP3 that I depend on and would be really sorry if it got messed up - until I read the list of known issues.

Please can i know how to install this build? I'm on the Insider program since one year. The version i'm using it's 15063.332 and i don't know how and when i can get the next i mean the version 15215 and above. Thanks for helping me

Uhhhh where is my People, Alarms & Clock and Messaging apps? lol

As stated in the list of known bugs, you have to do a reset app for these to show up in start. They're still on your system, but they get removed from your start menu until you reset them.

Hey thanks for the heads up. I didn't even see that in the list.

Anyone else getting errors on updating PC?

Same, I did disk cleanup and removed all update files, now trying again.

Failed to install. 0x80070643

Keeps rolling back here...

Massive update. Lots of new features to try. My update is stuck on 59% though.

I'm totally happy with bug fixes for mobile! It makes me sad to see people live just to bash mobile. There is a lot people who put a lot of time in to the mobile we have now.

Haha, really? My 1020 with WP8.1 is miles better than W10M on my 950. All they are doing is patching W10 and it will STILL be missing features and performance capability compared to WP8.1.

My 950XL is miles better than my 920 on AU. It is not missing any features the 920 had.

*Ahem* You can't pin particular documents, such as a Word or Excel document, to your start screen any longer, like you could on 8.1. Also, Spotify and Here Maps have a working app on 8.1 and not on W10, so there's that as well. Sure, they won't see anymore updates, but they still work, which is fine.

The ability to log on as different users on the app i use the most (Groove) makes W10 a worthwhile upgrade for me.

Is it worth going to this build on Mobile over production for stability given it only seems to be bug fixes at present? Tempted as my Cortana is fubar on my 950XL but it was only recently reset so I don't want to have to do another if I can help it...Alex

So nothing new for Mobile

More fluid and more stabile OS is something very important. And long time WhatsApp problem finally solved.

Okay, finally dedicated key for full screen mode in Edge.

Seems like the mobile update is just a fixer update.

The action center and start is so grainy. I hate this thing.

Well I'll take what I can get on the mobile build. The last build was horrible on mobile.

I thought this build had cshell? Was totally looking forward to this...

The 16xxx build does have it, which is why the phone keyboard moved over but they're not ready to release it to phone insiders yet

Hmm. I figured since the last build (the borked one that Zac managed to install) had it that we were gonna have it in this one. My 950xl is my sole device/computer, so I'm definitely looking forward to this!

Its on a different branch altogether. If somebody at Microsoft hadn't fallen asleep on their keyboard we never would have known that it even insisted.

I hope they have fixed the issues with Edge and PDF files. I have not been able to open a PDF in Edge for the past two builds at least.
And I am still hoping that one day we will be permitted to add eBooks we already own to the eBook library instead of only the books we buy from the Store.

I use a real app for pdf files. I'm not going to rely on some browser to do this.

This build looks really nice for PC. When are we getting a video Zac?

Yay!!! Win10M has the correct copyright date...AND tells you when the phone needs to be rebooted!! How much excitement can I take so late at night?? Ok, I'm going to bed now.

I think this is kind a developing kind of thing. Maybe a kind of notification for the next tasks. Unfinished tasks mean os need a new build.

Fluent design for mobile's action center would have been seriously updated!!!😔 Such a huge disappointment !!

They aren't developing Windows 10 Mobile anymore. They are ONLY doing bug fixes. Don't expect to see anything new for W10M from here on out.

Actually.. Do expect it... As shown by the leaked build released last week...

Cortana no longer l launch when I Call her out.

Did you nick my avatar? Edit that was weird it had you showing the same pic as me! How odd.

It happens all the time. Don't worry about it.

Edge Fullscreen Mode is weak. I want the mode from Modern IE.

My 950xl battery bloated last week and now I'm rocking back my beloved 1020. Oh man, this phone with AU feels more stable and polished. My 950xl was full of weird issues. I'm happy for this phone not able to get the CU.

The list of reasons why my 1020 with Windows Phone 8.1 remains my daily driver is endless. I merely tolerate my 950 for testing how bad they keep making W10.

Did anyone install this on SP4? Previous builds made the pen lag and skip some strokes in many apps like onenote

I'm unable to install the build 16125 on my laptop. During the process of upgrading, I'm getting green screen and the build is being restored to current version of 16199. Also, when I checked the update history, "Failed to install on ‎6/‎8/‎2017 - 0x80070643" message is displayed...Does anyone know how to fix this?

Same here... Frustrating...

I've checked the feedback and looks like a lot of people are facing the same issue...

Does This mean that PCs with physical keyboards can use the shape writing keyboard by touch pad!?

They made the Cortana windows SHORT. I HATE THIS! I submitted an Insider Hub complaint to have it put BACK to the full height of the screen. They keep making the user experience WORSE with each update.

Can't you resize it yourself?

"Great".
On Mobile now, I have again to start Cortana first after a restart that Cortana reacts to my voice.
And the new feature of the Maps app no longer works for me (to get voice navigation over the internal speaker while hearing music over a connected Bluetooth speaker).

Fixing bug is a good thing. But fixing only bugs in update after update is not good. How much time it takes to have cshell in our finally existing list of Lumia phones? Anybody knows?

I think we will never see it on existing Lumias, sadly...

The 950 series should get it given they both run continuum. Makes no sense not to in running insider program tests.

It can take months. The rumors about cshell started before 2016 ended and it is still not ready to leave internal testing. Should give you a hint about how monumental this task is.

Was able to finally download an ISO, and during the install I get the 0xC1900101-0x30017 FAIL FIRST BOOT error. Had something to do with an inaccessible boot device. Running a Samsung 960 EVO M.2.

Seems that this build does not like Samsung SSD's. Tried on our desktop with a 960 EVO M.2, and on our laptop with an 850 EVO. I have yet to see anyone who was successful in updating to 16215 with a Samsung SSD.

Thanks for saying this. I tried 3 times to update and I couldn't understand why.

Ok, can't get the update finished either. System does a rollback each time. And yes, Samsung SSO Evo 840.

Same here. What's so peculiar about Samsung SSDs?

I got lucky then, a pic of my devices and settings/system/about screen https://1drv.ms/i/s!AkG6_LvJpkR7jfggl9h7IrGeEZWAQw

Finally there's only one address bar in Edge

Yup there were 'Where to next' field and adress bar field Search google photos for 'Edge new tab'

What about the File History backup system ? Is Microsoft killing it (like a rumour showd a few days ago)?

Probably just moved to the timeline.

Just a word of caution. This build for PC breaks my WiFi and cause weird UI glitches causing some elements to be unable to work or even get to. I had to roll back to a previous version.

Pin website in taskbar is great but why open to edge. That's stupid

If you pin from IE then it will open in IE

A multi-trillion dollar company cannot input the correct date on the copyright note.
How the might have fallen.... Google takes us now with your shjt software, we're all sitting ducks waiting on you.

Not that simple. It's a procedure about task/build development (mantis)

What procedure? The procedure was 1703 should've been copyright © 2017.
They cocked it up.
It's the second time in fact.
In 1511, they put copyright © 2016 before we even made it to that year.
They then told everyone not to install the build because it had serious bugs instead of saying Nadella has no leadership qualities and so we cocked up the software date.

Unfortunately, it caused my WiFi to stop working on my original Surface Pro. Fortunately, I picked up an Ethernet to USB adapter before Radio Shack closed.😀

read the blog, it warns you about that problem

Unfortunately, I didn't read it before hand.

You are very unfortunate person

I read the warnings, but my wireless stopped working properly on my Surface Pro 4. It registered as working, but wouldn't see any networks to connect. I gave up and just reverted.

It's sad knowing that (most) Windows 10 Mobile devices may never hit RS3. While I should certainly hope that Microsoft aims to upgrade the 950/950 XL, I am concerned about how much longer RS2 devices will be supported with patches. On PC, they can cut folks off pretty early under the pretense that the vast majority of systems would be compatible with the newer updates if the user chose to install them, but on Mobile, folks may be stuck. It's especially sad, given that this is the number one reason I'd sooner buy a $600 Windows Mobile device than one running Android, which will generally only get regular (much less major) updates if it is Google-branded, or sometimes Samsung.

On which build are we going to see the C shell in mobile.....?????

Will it be in 16xxx series mobile build...???

Maybe cshell is only for high end phone or new so called surface series

I'm loving this one Windows plan, how there is a perfect synergy between desktop and mobile.

Love the advanced Cortana features for this Windows 10 build 16215!

People app is missing on 16215.

Someone posted earlier that this is a known bug and that you will have to reset the app.

Installed on my Surface Pro 4 - it worked for a while, then the wireless adapter would refuse to see any networks at all. Ended up reverting to the prior build and all is well again.

Update fails with errorcode: 0x80070643. And Yes I've a Samsung SSD too in my Desktop

Will this build offer compatibility support for ZTE USB modem equipment for data Internet?
Bec mine have ceased to work after the Anniversary update

no, that is the issue I am facing while installing my mediate wlan driver since the last hourbut with no luck, it is not recognising wlan driver of mediate.

Srry that is mediatake driver

Wlan driver of mediatek not getting recognised and supported in build 16215.

not even after Disabling driver signature enforcement. so cannot use Wifi now.............WTF....???????????

Wow. I'm finding now that the PC build is really unstable. I am seeing my devices running into various random behaviors. The most frequent one is the Start Menu keeps crashing. It will go away completely or sometimes show me the desktop and then pop back on again. The Mail app crashes randomly, too. All sorts of strange things. And it takes insanely long to boot up now on all devices. I sure hope they're getting solid telemetry on this so they can fix it next build. Yikes.

Same here, rolled back, first time for ages I've had to do that. Oh well, shouldn't be long until the next build. :)

Cortana detecting posters is amazing, as is finally having swipe keyboard on Windows 10 tablets, and dictation too. The future looks really bright!!!!!

The future is indeed bright.

For those of you having trouble installing with a SSD. I had the "green screen of death" issue, uninstalling Acronis fixed it. I believe uninstalling Samsung Magician will yield the same result.

I removed the SSD, attempted to update the old drive. Same result. Even disabled all non MS services. Same result.

My best updated features are in the edge browser, it is a complete joy to use the edge browser. It is fast, smooth and secured.

Any Edge improvements? I am on .215 and keeps crashing, sticking on reloading the pages and so on.

Anyone please help me........i'm unable to get the fast ring preview builds beyond b.15063.........i did the hard reset, but still the device shows that ur device is up to date........i'm in the insider fast ring.........

If you are not in supported device list then you can change registry to get update

Bro can you pls tell me how to change the registry of the device.

I can't wait for the Cshell Update for mobile😍

Why in the hell hasn't MS acknowledged this issue? They had all day Friday to not only acknowledge it, but to pull the build as well. Do they think the issue will magically go away?

This update bricked my 950XL. Popped up with a message " need to reset to configure 16215" and it never turned on again. I really don't understand that, since there isn't a 16215 release preview build for mobile. Luckily, I guess, a couple days ago before this happened, I got fed up with the mobile data connection only working half of the time and bought an LG G6. I wasn't a big fan of Android, but looks like it was meant to be.

How can we change the registry of the device

interop tools: https://forum.xda-developers.com/windows-10-mobile/interop-tools-appx-wi...

Cant get 16215 on my PC. Keep getting a error message and ask to retry later. This has been going on for 2 days now. Disappointing as I would have thought that MSFT knew they stuffed up with an incorrect update 2 weeks ago and would have instucted "Insiders" who were at various stages (after the update) on how to resolve/fix/recover from the mistake that MSFT sent out. Makes you feel like you are dealing with a "call centre" mentality - which MSFT is slowly but surely progressing further towards!

Does not install for me, eit reboot 3 times, then revert to 16199 with error 80070643