Windows 10 build 16237 now rolling out for Insiders in the Fast ring
A new Insider Preview build is upon us with more fixes and changes! Let's see what's new.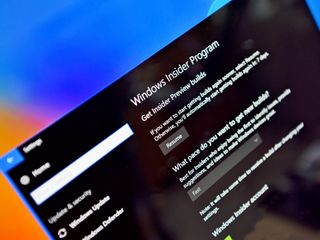 (Image credit: Windows Central)
Microsoft is rolling out a brand new Insider Preview build for desktop users in the Fast ring! Today, build 16237 is the build in question, and is packing a whole bunch of new changes and features worthy of note. This build is only for PC, and there is no Mobile build being rolled out today.
What's new for PC?
Microsoft Edge Improvements
Read aloud with word and line highlighting for all websites: With the read out loud feature for web, users will be able to read aloud any webpage with word and line highlighting.
PDF read aloud: With the read out loud feature for PDF, users will be able to read aloud any PDF document with word and line highlighting.
If you click Share in Microsoft Edge, the Share UI will now match the Microsoft Edge theme if it is different from the rest of the system. Share UI will also now launch under the Share button, rather than in the center of Microsoft Edge.
When you add a favorite, you will get a delightful animation now that indicates where users can find their most important websites in the future.
We fixed an issue where copying double byte characters (for example Japanese or Chinese) out of Microsoft Edge and pasting into another app wouldn't show the characters correctly in the second app.
We fixed a Microsoft Edge issue from the previous flight where opening links in a new tab might cause a new window to open with the link instead.
We fixed an issue from recent flights where the Print dialog in Microsoft Edge would show a blank preview page and lead to printing a blank page.
We fixed an issue resulting in the Microsoft Edge context menu not showing up on pen barrel button tap.
We fixed an issue when returning to Edge after a crash. Your tabs will be automatically restored for you.
Windows Shell improvements
No more logging out to fix blurry desktop apps: Hey, do you hate having to log out and back in to Windows to fix blurry desktop apps after docking, undocking, or remoting? We do too! In this flight, you only have to relaunch these apps in order to have them render crisply.
We've adjusted our notification buttons to now span across the bottom of the notification, rather than being right-justified.
We just made it easier for you to take action on your notifications by auto-expanding the first notification in each notification group in the Action Center. Now you can quickly triage your emails, snooze your reminders, reply to your texts, etc. without the need to expand every single one of them.
In response to feedback about the X to "dismiss" notifications being confusing, we've adjusted it to now be an arrow to make it more clear that the notification is actually being pushed to the Action Center to be reviewed later.
We fixed an issue from recent flights where if you received 20 notifications from a specific app, then received more (without ever clearing them from the Action Center), ShellExperienceHost would start crashing repeatedly in the background.
We fixed a recent issue where tapping on the chevron of an expanded notification in the Action Center wouldn't collapse the notification.
We fixed an issue from recent flights where opening the Action Center might not clear the badge on the Action Center icon, leading one to later believe there were new notifications when there weren't any.
We fixed an issue where Notifications and Actions Settings might have unexpectedly had a number of unnamed apps listed at the top in recent flights.
We fixed an issue where Windows Defender notifications might include unparsed parameters (showing a % sign).
Notification badges for people pinned to the taskbar will now be consistent with the color of your theme if you've opted into showing color in Start, Action Center, and other places on the system.
When you receive emoji from people pinned to the taskbar, we now refer to this as a "pop". You'll see this terminology reflected under Settings > Personalization > Taskbar.
Input Improvements
Type to search with the new Emoji Panel now supports emoji 5.0! We also added a bunch more keywords along the way.
Have you ever wondered "What the heck is this emoji supposed to be"? Wonder no more! If you hover your mouse over any of the emoji in the Emoji Panel, you'll now see a handy showing you the exact Unicode character name. Bonus: we've added tooltips to the categories so they're no longer a mystery.
We fixed an issue for our dark theme lovers where the X to close out the Emoji Panel was black on black.
We fixed an issue where the touch keyboard was passing the wrong window size information when shapewriting with the one-handed keyboard, leading to accuracy issues. Please try it again in today's build and let us know if it seems improved.
As you type with the touch keyboard, you will now hear a sound with each key press – much as you did with the previous version of the keyboard before we introduced our new one.
We fixed some issues in learning your typing style, so you should find text predictions improved now the more you type and correct using the touch keyboard.
Since we now will relaunch the keyboard where you left it, we've decided to remove the left and right docked modes from the one-handed keyboard. As a refresher, if you want to move the keyboard, simply drag the candidate bar.
We improved the reliability of the Japanese one-handed 10-key Kana touch keyboard.
We fixed an issue from recent flights where the touch keyboard and handwriting panel would unexpectedly appear sometimes.
We fixed an issue where the text candidates would appear using unexpectedly small font.
We fixed an issue where only the one-handed keyboard was available on PCs with small screens.
We fixed an issue where if the text in the handwriting panel shifted while you were inking, it could result in an unintentional ink stroke across the panel.
We fixed an issue where a word might be inserted twice if you dismissed the panel by changing focus to somewhere else on the screen.
PC Gaming Improvements
GPU performance updates: We've made a few small changes in this build to the GPU performance tracker in Task Manager. We've updated the UI layout, and added more details like DirectX version and the physical location of your GPU. Only hardware GPUs show up in the list, and the software-only basic display adapter is hidden. More improvements coming soon!
As always, you can check out the full changelog, including a list of known issues at the Windows Blog!
Get the Windows Central Newsletter
All the latest news, reviews, and guides for Windows and Xbox diehards.