Windows 10 build 16273 for PC now rolling out to Insiders in the Fast ring
A new Insider Preview build is now available for PC with new fixes and improvements.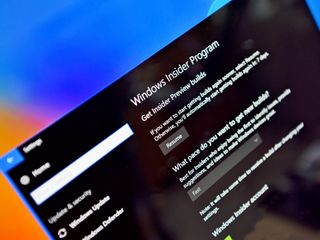 (Image credit: Windows Central)
After two weeks without a new build, Microsoft is finally rolling out a brand new one for Insiders in the Fast ring for PC! Today's new build is 16273 for PC and includes mostly new improvements and under the hood changes as we're at the tail end of development of the Fall Creators Update.
What's new for PC?
Introducing the Bahnschrift font: Our new first OpenType Variable Font Bahnschrift is now included in builds. This new font industry standard enables us to pack an entire typeface family into a single file with infinite variability. No longer are you constrained to simple weights like Light, Regular, and Bold. Now you can have an infinite range of font styles, with smooth interpolation from Light to Bold and beyond. Better still: because a single, efficient variable font can replace several static fonts, variable fonts save a lot of space.
Windows Shell
We fixed an issue resulting in Start, Action Center and notification toasts at times having a background that was 100% transparent.
We fixed an issue from recent flights where the Action Center icon might show it had some number of notifications but when you opened Action Center no notifications were displayed.
We fixed an issue from recent flights where suggested apps were visible in Start despite the related setting being off. For now, if you encounter this please try toggling Settings > Personalization > Start > "Occasionally show suggestions in Start".
We fixed a recent issue where removed placeholder tiles in Start might come back after explorer.exe restarted.
We fixed an issue resulting in certain live tiles not updating in the last flight, including the Weather and Money apps. If you were impacted by this you may need to unpin and repin the live tile for it to work again.
We fixed an issue from recent flights where typing immediately after opening up the Start menu would sometimes not switch to Cortana, even though if you tapped the Cortana icon Cortana was up and running.
We fixed an issue where notification groups in the Action Center couldn't be dismissed by swiping across the app name. We also fixed a recent issue where notifications in the Action Center couldn't be dismissed with pen.
We've fixed some timing issues so that swiping to dismiss a notification toast should feel more reliable now.
You can now middle click to dismiss a notification toast!
We fixed an issue resulting in no "Safe to Remove Hardware" notification after following the device removal process from the "Safely Remove Hardware and Eject Media" tray icon
We fixed an issue where it wasn't possible to tab to the quick action area of Action Center if there were no notifications visible.
We fixed an issue where the network flyout might become unresponsive when Bluetooth was enabled.
We fixed a deadlock resulting in Start, the network flyout, and other Shell UI elements becoming unresponsive after tethering certain Android phones.
We fixed an issue that could potentially result in Start not launching after installing a 3rd party IME.
We fixed an issue where if you started dragging a tile on Start just as the flip animation started in the tile, it could result in the tile becoming invisible under your finger until you released it.
We fixed an issue where right clicking on an image file in File Explorer would show "Next desktop background" instead of "Set as desktop background" in recent flights.
We fixed an issue where desktop icons sometimes couldn't be drag-and-dropped to certain places on the desktop, even though the desired spot appeared to align to the same grid as the other icons already in place.
We fixed an issue where desktop icons could become unexpectedly spaced out when logging in after the primary monitor's DPI had changed.
Microsoft Edge improvements
When using Find on Page, pressing F3 will now go to the next result. Shift+F3 will go to the previous result.
We fixed an issue resulting in certain websites not rendering correctly when used in inPrivate mode.
We fixed an issue resulting in Microsoft Edge sometimes getting into a state where after right-clicking a website the context menu would immediately dismiss.
We fixed an issue which resulted in the video element defaulting to a black background if the size didn't match the aspect ratio of the video.
We fixed an issue where right-clicking and selecting "copy link" would sometimes not work as expected.
We fixed an issue where copying bitmap images from Microsoft Edge wouldn't work.
We fixed an issue where pasting Chinese, Japanese, or Korean text into Microsoft Edge in recent builds would result in question marks instead of the expected characters.
We fixed an issue where misspelled words in input fields were sometimes not updated when a correction is selected from the spell checker.
We fixed an issue from recent flights where a session cookie might unexpectedly get overwritten, potentially resulting in login issues on certain websites after a page refresh.
We fixed an issue resulting in status updates to Facebook.com sometimes being erased during input.
We fixed an issue causing certain controls such as calendar widgets to break on some sites.
We fixed an issue for websites with images added using source-set where the height would sometimes unexpectedly be computed to 30px.
We fixed an issue where clicking Run on a download in Microsoft Edge that required elevation would result in input no longer being received in that window until switching focus away and back to it.
We fixed an issue resulting in the tab bar sometimes drawing incorrectly after dragging the window between two monitors with different DPIs.
We fixed an issue from recent builds where you couldn't use the letter 'x' when renaming a favorite.
We fixed an issue resulting in a crash when using drag and drop to rearrange favorites.
We fixed an issue resulting in not being able to type @ using the Hungarian or Czech keyboard in recent flights.
We fixed an issue where PDFs containing xref streams might have rendered as blank pages in the last few flights in Microsoft Edge.
Scrollbars in Microsoft Edge will now be the correct size on secondary monitors where the DPI differs from the primary monitor.
We fixed an issue that resulted in words sometimes being input twice when using the handwriting panel in certain websites using Microsoft Edge.
We fixed an issue where you could end up with multiple underlined words when using shapewriting in a text field then switching focus away from and back to that text field and shapewriting some more.
We fixed an issue in Win32 apps where a space wasn't automatically inserted if you used shapewriting to write a word then tapped a letter to start a new word on the touch keyboard.
We fixed an issue with the Hebrew touch keyboard where tapping certain keys didn't produce the expected character. Please take a moment with this build to try out the touch keyboard in your language and let us know how it feels for you.
We fixed an issue where the Full touch keyboard layout was unexpectedly not available at certain screen resolutions.
We fixed an issue when using the Emoji Panel with Narrator where using tab to switch sections would resulting in Narrator repeating the old section name for each emoji instead of the current one.
Changes to pen behavior in recent Insider builds have been met with positive feedback, however also caused drawing in certain apps to work incorrectly. In this Insider build we've made a change to address this feedback pertaining to Adobe Photoshop, Adobe Lightroom, and Clip Studio Paint.
What's new for Mobile?
There is no new Mobile build today.
As always, you can check out the full changelog at the Windows Blog!
Windows Central Newsletter
Get the best of Windows Central in your inbox, every day!
Zac Bowden is a Senior Editor at Windows Central. Bringing you exclusive coverage into the world of Windows on PCs, tablets, phones, and more. Also an avid collector of rare Microsoft prototype devices! Keep in touch on Twitter: @zacbowden.
Wondering if they fixed the Edge issue where extensions would all get disabled pretty regularly, too?

No sign of a fix to my issue. Using SP3, with DPI scaling @ 150%, Edge renders webpages with 100% DPI scaling, making it impossible to read.

There is no new Mobile build today.

...uggghh I feel like that person in the relationship that keeps holding on hoping things will get better.

That's just because it is so solid there is nothing to fix. Yea that's my story and I'm sticking to it.

When are they gonna skip ahead then?

most likely next week by dona sarkar

Wait... I have hated some of the recent changes in pen behavior...

Where is the fix for 'every download contains a virus' in Edge?

There is a fix. It is called Firefox.

Anyone having issues clicking on Windows Update in Settings? I cannot click on it. Evereytime it freezes the Settings dialog and I have to manually close it via Task Manager.

Tried installing on a desktop with an SSD and a SP3. Failed on both and rolled back. Anyone else experiencing this?

For me installed OK on an SP3 but rolled back on an Huawei Matebook.

Funny how no comments are allowed on the article below this one. Typical leftist media. It's their view only and no other. Stick to the technology articles and stay out of politics. This site needs to be a break from the BS.

Actually there are several articles where there is no commenting available. So take your own advice and keep your stupid political opinions and blaming everyone else for the world's problems to yourself and out of here.

For jimm69, It is Windows Central website so they can publish whatever articles they want in whatever way they want it. If you don't like the article, just don't click on it. You also have the right not to visit this website. I do agree with you that I don't want to see this kind of article on a technology website. However for Choderus, have you ever engaged in a discussion without resorting to ugly personal attack? Are you showing your hyper sensitivity about opinions on certain subjects?

No, rooster, that is just the level on which people like jimm deserve to be addressed. The opinions that my political party never does anything wrong, the other political party never does anything right, and I am better than anyone else who supports the other party are stupid opinions, so I just called it like it is regarding this subject. And, personally, I think I was spot on.

The author seems absolutely clueless that people from both "sides" were bussed in and paid $25 per hour to "protest".

I am also in this conversation....

That was the fastest install of any build I got

Although the update to this build seems to run smoothly *), after the update both my PC and my Surface Pro 3 roll back to 16257. It's another perpetual update that never ends where it should ...... *) except on the Surfae Pro 3 where the first attempt ended with an UNEXPECTED_KERNEL error.

Same here, smooth install but rolled back to 16257 after restart at ca 20%.

19% to be exact, but windows central does not allow me to correct my previous comment.

I also have the issue that it rolls back to 16257.

Looking to potentially update my surface book to this build. Should I?

Same issue. I have a SP3 on the previous Build and this is the 3rd time it is trying to install but upon reboot, it restore the previous version.
Any tip?