Windows 10 build 17682 for PC (and earlier): Everything you need to know
Here are all the changes you'll find with Windows 10 build 17682, 17677, and 17672.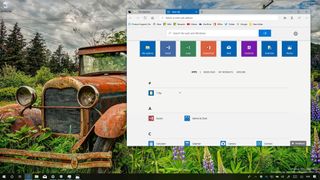 Microsoft has just made available Windows 10 build 17682 for PCs enrolled in the Fast ring and on the Skip Ahead lane. This is the fourteenth preview that testers are getting as part of the Redstone 5 update coming later this year. In this release, you won't find a lot of significant changes, but there's a good number of welcome additions.
This flight includes a few new changes for Sets, and Microsoft is also improving the projection experience. In addition, you'll find changes on Settings, Microsoft Edge introduces Web Authentication support to make it easier to sign in to websites, post-upgrade setup gets updated for older installations, and a lot more.
Also, there have been several other builds during May, including build 17677 and 17672, which even though, they didn't introduce big changes, they incorporated some minor improvements.
In this Windows 10 guide, we'll highlight the latest features and improvements that Microsoft is working to release with the Redstone 5 update.
Windows 10 Redstone 5 latest changes
Here are the most important changes that Microsoft has been working on the last three Windows 10 Insider Preview builds:
Sets
Starting with build 17682, Windows 10 is adding a new change to Sets, a feature that allows you to group apps into tabs just like the browser.
In this flight, you'll find an updated new tab page experience that now shows your most frequent applications in the destinations list.
Furthermore, it seems that Microsoft doesn't want you to reach the Start menu to open apps when using Sets anymore, as you'll now find the all apps list integrated into the new tab page. (Of course, you can always use the search box to find and open apps.)
In order to see the list of apps, make sure to click the Apps link at the bottom of the page.
Also, starting with build 17677, when using Command Prompt with Sets, running the
start cmd
command will open another Command Prompt window in another tab. This also works for other apps, such as Notepad, when running the
start notepad
command.
If you want to open an app on a separate window, you can use the
/newwindow
switch. For example,
start /newwindow cmd
.
Timeline
In Timeline, there is not a lot going on this time around, but since build 17677, you can now cycle through the tabs without having to open the Sets activity.
File Explorer
In File Explorer, since build 17672, when using Shift + right-click combo on a folder, in addition to opening the folder location on PowerShell, you'll find the "Open Linux Shell here" option regardless if a Linux distro is installed on your device.
Alongside the improvements to the dark theme, you'll now notice that the File Explorer ribbon changes color depending on the color scheme you use, but using a light shade of the color.
Settings
As usual, the Settings app is getting updated with build 17682, 17677, and 17672, including tips and suggestions in the homepage, which you can opt-out clicking the "…" in the top corner, and a lot more.
Project to this PC
On Settings > System, the Project to this PC feature has been updated to include a new banner at the top of your screen to let you know when you're wirelessly projecting to another device. Also, you'll find additional options to disconnect or reconnect as well as settings to optimize the screen latency based on three different scenarios, including:
Game mode: minimizes the screen latency to optimize the gaming experience.
Video mode: increases the screen latency to make sure that video plays smoothly and without glitches.
Productivity mode: balances game and video modes to make the screen latency responsive enough that typing feels more natural and prevent frequent glitches when playing videos.
Shared experiences
On Settings > System > Shared experiences, the Nearby sharing section now includes an icon to make the feature a little more obvious.
Bluetooth & other devices
On Settings > Devices, the Bluetooth & other devices page, in addition to showing battery level for supported Bluetooth devices, you'll now see a notification when the device is running low on battery.
Apps & features
On Settings > Apps, the Apps & features page includes an updated Manage optional features section that allows you add the ability to install the Remote Server Administration Tools (RSAT) within the Settings app.
Once you add the tools, the next time you upgrade, Windows 10 will install those components again on-demand. This new change removes the additional work of adding the tools manually after a new version release.
Sign-in option
On Settings > Accounts, the Sign-in options page, you'll now notice that Dynamic lock now includes an icon to make the feature a little more obvious.
Talk to Cortana
On Settings > Cortana & Search, the Talk to Cortana page now adds the option to change the name that the assistant uses to call you. Previously, this options was in the Cortana's settings experience.
Permissions & History
On Settings > Cortana & Search, the Permissions & History page, under "History," you'll find a new Activity recommendations option, which allows Cortana to show notifications of activities that you can resume when switching between devices.
System
As part of improvements under-the-hood, since build 17677, Windows 10 includes support for IPv6 to KDNET.
On build 17655, Windows 10 introduced a new Mobile Broadband (MBB) USB class driver for devices with SIM card and USB modem support based on the new Net Adapter framework stack, and starting with build 17677, the USB NetAdapter driver becomes the system default.
Microsoft Edge
In the past three builds that Microsoft released to Insiders, Microsoft Edge has also been introducing several new changes.
Starting with build 17672, in the Hub experience, the Books section now supports pull-to-refresh gesture.
Those books you pin to the Start menu will now display live information about the book, including cover and progress.
Microsoft Edge now includes support for same-site cookies. (This is also available for Internet Explorer 11.) And when printing PDF documents Edge will let you choose the scale of the print job.
On Windows 10 build 17677, Microsoft Edge introduced a number of visual tweaks and improvements. For example, the main menu (...) now shows icons for every icon on the list, the list is better organized in groups, and New tab, Reading list, Book, History, and Downloads are new items in the list.
When hovering over the sound icon for tab playing sound will now light up the icon.
If you set tabs aside, now the experience makes it easier to organize the group of tabs by letting you rename each group. (While in the Tabs you've set aside experience, click the group title and type a descriptive name.)
In the Hub experience, the Downloads section has an updated context menu when you right-click a download with options for "Show in folder" and "Copy link."
Additionally, right-clicking the Microsoft Edge in the taskbar or Start menu now includes jumplist support with your top websites.
In the case you need help using Microsoft Edge, now pressing the F1 key will open the support experience, instead of just tips to use the browser. Also, files stored on your device that you open with Edge, such as PDF documents, now will appear in the browser history too.
On Windows 10 build 17682, Microsoft Edge introduces a preview of Web Authentication that developers can use to make it easier for users to sign in to websites securely replacing passwords with stronger hardware-bound credentials.
Using this new technology, users can sign in to websites using a PIN, biometrics, and external authenticators like FIDO2 Security Keys or FIDO U2F Security Keys.
Windows Security
In the Windows Security app, inside the Virus & threat protection settings, starting with build 17682, you'll find a new feature called "Attack Surface Reduction (ASR)" that prevents apps actions that might infect your computer.
Also, since build 17672, the Windows Security Center (WSC) service requires antivirus product to operate as a protected process. If the antivirus doesn't comply with the new requirement, it'll not integrate with Windows Security, and it'll cause Windows Defender Antivirus to remain enabled even when another security solution is running.
If you're having problems with this new change, you can use our guide to keep Windows Defender Antivirus disabled when using a third-party antivirus product.
Finally, the settings page for Windows Security no longer shows options to manage notifications. However, you can still control these settings by clicking the Manage notifications link.
Additional improvements
In addition to the new features and improvements, with build 17682, 17677, and 17672, you'll find a number of other minor changes.
For example, on Windows 10 build 17661, Microsoft introduced a new experience to take screenshots separating the Screen Sketch feature from Windows Ink and making it its own app, and on build 17682, when using screen snipping the rectangular snipping will be used by default.
Microsoft is also making some changes to the post-upgrade setup with build 17682 for users with older installations. The new improvement will give users an opportunity to complete the setup configuring new features that were not available the first time they installed Windows 10.
If you see this new experience when upgrading to the Redstone 5 update, click "Let's go" to complete the setup, or click the "Skip for now" to go back to your desktop.
On build 17677 and build 17672, Task Manager is also getting a few tweaks as well. While in the Processes tab, when hovering over a leaf icon in the Status column, you'll notice that the icon now shows a tooltip describing the process.
In addition, those suspended Universal Windows Platform (UWP) apps will no longer show memory usage to reflect the system behavior more accurately.
Finally, the scan mode in Narrator now supports content selection from virtually any surface, including from Microsoft Edge, Outlook, Word, Mail, and more. (You can always use the Caps + F1 keyboards shortcut to see the complete list of available commands.)
Wrapping things up
Although we're still in the early days of the Redstone 5 development, these builds give us a good picture of some of the improvements we're expecting to see this fall.
However, these early previews are still very buggy, and it's not recommended to install them on your primary machine. Also, remember that installing pre-releases of Windows 10 can cause data loss, errors, and many other problems. If you're thinking on testing the latest build, make sure to use a spare computer or virtual machine.
What do you think about the changes that Microsoft has incorporated in the last three previews? Let us know in the comments.
More Windows 10 resources
For more helpful articles, coverage, and answers to common questions about Windows 10, visit the following resources:
Windows 10 help, tips, and tricks
Windows Central Newsletter
Get the best of Windows Central in in your inbox, every day!
Mauro Huculak is technical writer for WindowsCentral.com. His primary focus is to write comprehensive how-tos to help users get the most out of Windows 10 and its many related technologies. He has an IT background with professional certifications from Microsoft, Cisco, and CompTIA, and he's a recognized member of the Microsoft MVP community.
Looks like this one's going to be feature heavy.

Looks like Ms is running out of ideas, which is not a bad thing, maybe we can get back to a operating system instead of Ms finding ways to spy on us and giving us stuff that is not needed. Every time Windows 10 does a major update there is something else that needs to be disabled.

This is one big failure on my PC as are the prior 2 builds. They are unworkable. Never had these kind of problems with fast or skip ahead builds before. I've now gone to the slow ring

On this build and the last couple, I routinely see my CPU useage spike to near or at 100%, which never happened before. Cortana is especially bad - useage will spike to 30% or above. I can no longer use it reliably to text through my phone or anything like that.

I've had problems with the fast ring. I switched to slow a long time ago cuz I want to use my pc.

Why not run the preview builds in a virtual machine? It's not recommended to run them on a production device, as they are BETA versions and can have problems

You now need a license to do that (actually, since 1506). I would be running an unlicensed Windows 10 copy with annoying banners if I were to install it on a VM.

It should be possible to add eBooks to the books section in Edge. I can't buy eBooks in my region from the store but I have a bunch of free eBooks.

Are sets still on limited release, or am I looking in the wrong places for it?

Still limited, I believe. If you have it, it will be in the Multitasking section of Settings, inside the System section.

still A/B testing it's still in development and may not make it to the official release. You can enable it doing tweaking in registry

This is pretty cool. This update has a lot of nice things to make Windows easier n better. Really impressed with the features.

That "shared experiences" page looks like a demo of UI elements 🤦

As someone who has to constantly switch between app windows for his line of work, I'm excited about the Sets feature, which would let me organize my desktop more.

Xxx82 build has been very stable for me. The previous build I had to roll back from. Kept getting GSOD and device drivers not autodetecting and installing.

I hardly use sets & timeline. Surprised that they are pushing this feature without a way to turn it off via settings. Reading list in Edge is sorely missing some kind of folder or search management solution. My reading list is getting longer and longer and scrolling is taking longer and longer……. Folder support has been there for years in microsoft's homebaked reading list app back in windows 8. Somehow this feature has been lost in translation in windows 10.

Why am I on 18 something?
Windows Central Newsletter
Thank you for signing up to Windows Central. You will receive a verification email shortly.
There was a problem. Please refresh the page and try again.