How to keep Windows Defender disabled when using a third-party antivirus on Windows 10
By Mauro Huculak last updated
If you're running the latest Windows 10 Insider Preview build, this is how you can keep Windows Defender Antivirus disabled after installing another antivirus product.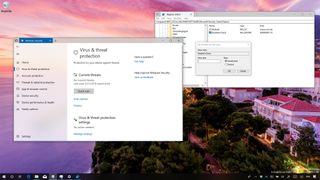 Up until the Windows 10 April 2018 Update, when you installed a third-party antivirus, Windows Defender Antivirus disabled itself automatically to prevent conflicts and performance issues. However, starting with the Windows 10 Redstone 5 update, Windows Security Center (WSC) service will require products to run as a protected process to register. Otherwise, the built-in antivirus will continue to run alongside other third-party security products, and it'll not appear in the Windows Security interface.
Although it's expected that security companies will update their antivirus products by the time the Redstone 5 update releases later this fall, if you're a participant of the Windows Insider Program running build 17672 or later, you can use the Registry to disable this requirement.
In this Windows 10 guide, we'll walk you through the steps to ensure that Windows Defender Antivirus stays disabled as you install a different antivirus product that doesn't run as a protected process.
How to keep Windows Defender Antivirus disabled on Windows 10
If you're using a third-party antivirus on Windows 10 build 17672 or later, you can make sure that Windows Defender Antivirus stays disabled by making changes to the Registry.
Warning: This is a friendly reminder that editing the Registry is risky, and it can cause irreversible damage to your installation if you don't do it correctly. It's recommended to make a full backup of your PC before proceeding.
Use the Windows key + R keyboard shortcut to open the Run command.
Type regedit, and click OK to open the Registry.
Browse the following path:HKEY_LOCAL_MACHINE\SOFTWARE\Microsoft\Security Center\FeatureQuick Tip: On the Windows 10 Creators Update and later, you can now copy and paste the path in the new Registry's address bar to quickly jump to the key destination.
Right-click the Feature (folder) key, select New, and click on DWORD (32-bit) Value.
Name the key DisableAvCheck and press Enter.
Double-click the newly created DWORD and set the value from 0 to 1.
Click OK.
Restart your computer.
After completing the steps, Windows Security Center will no longer require the antivirus to run in a protected process to register keeping Windows Defender Antivirus disabled when a third-party antivirus is installed.
At any time, you can revert the changes using the same instructions, but on step 6, make sure to change the value from 1 to 0, or delete the DisableAvCheck key.
If you're looking to disable Windows Defender Antivirus permanently on Windows 10, you should be following these instructions.
More Windows 10 resources
For more helpful articles, coverage, and answers to common questions about Windows 10, visit the following resources:
Windows 10 help, tips, and tricks
Mauro Huculak is technical writer for WindowsCentral.com. His primary focus is to write comprehensive how-tos to help users get the most out of Windows 10 and its many related technologies. He has an IT background with professional certifications from Microsoft, Cisco, and CompTIA, and he's a recognized member of the Microsoft MVP community.
Good post. In the past I had some problems to both windows anti-virus and third-party anti-virus working side-by-side.

I say disable 3rd party AV & leave Windows Defender enabled.
I have not used any 3rd party since win10 was introduced and still no virus and or malware issues on entire family devices (6 of them) Note:
The author is showing you how if you want to (As such.I am not arguing against the instruction). I am saying if you need help deciding, don't consider these 3rd party AV, use or keep using free windows defender. MS knows their OS more than 3rd party. Also, don't forget, most of these 3rd party and MS gets common AV definition files for all new found viruses. It is the monitoring, detection and containment/Fix methods that are different.

I agree with asoyemi, I've been using the native Windows 10 Defender ever since the debut of Windows 10 and it never fails to impress me, Microsoft wouldn't surely want their consumers to be exposed to threats so I doubt they would think any less of the safety for users, now we have even better features and functionality, as for performance I don't see any bad side effects from the new features and there are no slowdowns so far, the Defender threat scanning process works seemless in the background with next to no adverse effects on my work/performance which wasn't always the case in previous builds.

So that's why my gaming performance took a hit with the April update.

Have you turned on gaming mode for your game? press Windows+G and turn on gaming mode which is the big icon located on the right corner, however, i do think that you need to close the game once after setting the feature, I recommend a restart just to make sure. if this isn't the case then make sure you are on the latest version of drivers for your GPU/CPU, if this isn't the case either, then you might be having a corrupt installation if so I'd say try a fresh install.

Do we need 3rd party anti virus programs or is Windows Defender enough for the average, non thrill and risk seeking internet browser?

Leaving Micrsoft defender to keep an eye on our computers is like leaving a fox to guard the hen house. 3rd party for me every time.

1. Like 3rd party knows Windows better than MS right?
2. MS wants to eliminate virus for its OS, why wouldn't they? But 3rd party... how to keep selling AV to consumers if there's no virus? Don't forget, MS's doing it for free.
I'm with asoyemi and WandowsTan. With some common sense about internet and computer (stay away from untrustworthy win32 and files, stay away from dodgy sites and links), WinDef is enough.

Windows Defender is highly rated in recent AV tests, why would anyone disable it especially if their on an Insider build? As a security professional I would strongly advise everyone against following the instructions here unless they understand the risks. First off, you're running beta code and if you install a third party AV product, its probably not but ready to run on the insider builds anyways. It really defies any sense of logic to do what's being recommended here IMHO. I have a lot of experience here, and security is my primary role at work. Strongly suggest sticking to Windows Defender and avoiding other AV builds unless their beta code that's specifically designed for these Insider builds. The article is very poor advice, but I only work in IT security fulltime for a living, so what do I know?
Windows Central Newsletter
Get the best of Windows Central in in your inbox, every day!
Thank you for signing up to Windows Central. You will receive a verification email shortly.
There was a problem. Please refresh the page and try again.