Windows 10 build 18312 rolls out to Fast ring Insiders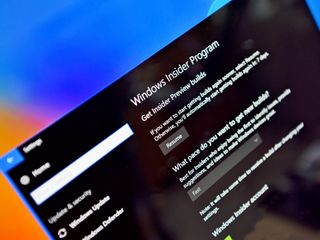 (Image credit: Windows Central)
Microsoft today began rolling out another Windows 10 preview build for Fast ring Insiders. Today's release pushes the build number up to 18312, and it includes several new features to check out, including improvements to the "Reset this PC" UI and the subsystem for Linux Command Line Tool.
What's new
Reserving disk space to keep Windows 10 up to date: In 19H1, we're making a few changes to how Windows 10 manages disk space. Through reserved storage, some disk space will be set aside to be used by updates, apps, temporary files, and system caches. Our goal is to improve the day-to-day function of your PC by ensuring critical OS functions always have access to disk space. With reserved storage, updates, apps, temporary files, and caches are less likely to take away from valuable free space and should continue to operate as expected. Reserved storage will be introduced automatically on PCs that come with 19H1 pre-installed or on PCs where 19H1 was clean installed.
FLS Slot Limit Increase: As PCs get more powerful, musicians have created increasingly complex projects with more tracks, more instruments, and deeper effects chains. As a result, some of those musicians were running up against a FLS (Fiber Local Storage) slot allocation ceiling that prevented them from loading into their DAWs (Digital Audio Workstations) as many unique plugins as they'd like. This build greatly raises that per-process FLS slot allocation ceiling, allowing loading potentially thousands of unique plugins. Beyond musicians, this change will positively impact any application that dynamically loads hundreds or thousands of unique DLLs that have statically-linked Visual C++ runtimes, or otherwise allocate FLS slots.
Reset this PC UI Improvements: We added new UI for Reset this PC as part of Settings > Update & Security > Recovery. The new UI provides a more consistent experience across devices with different configurations and requires fewer clicks to complete.
Windows Subsystem for Linux Command Line Tool Improvements:

Consolidated command line options – The wsl command line tool now includes options to manage your WSL distros that are included in the wslconfig command line tool. We intend to only update the wsl tool with the latest management options moving forward.
Import a distro for easy sideloading including to non-system drives – Use the "–import" option to imports a tar file as a new distribution. You can specify the distribution registry to the location of your choice including non-system drives.
Export your WSL distribution for simpler environment management – Use the "—export" option to export a distribution to a tar file. Your distro will export to your default downloads location.
General changes, improvements, and fixes:
We fixed an issue where the Network shares page in File Explorer used black text in dark theme.
We fixed an issue impacting Microsoft Edge reliability in the last few builds.
We fixed an issue where USB printers may appear twice in Devices and Printers under Control Panel.
We fixed an issue where the console would lose color when spawning a new Command Prompt.
Following up on our work earlier this release to make the console scrollbar dark when dark theme is enabled, the title bar will also now bar dark (if you haven't chosen in Settings to use your accent color in the title bar).
We're adding a group policy for disabling acrylic on the sign-in screen. This can be found in Group Policy Editor under Administrative Templates > System > Logon > "Show clear logon background".
We fixed an issue where custom desktop/Lock screen images deployed by a runtime provisioning package would be removed after Windows Update.
We fixed an issue where the shadow behind a flyout might zoom in after the flyout appeared.
We fixed an issue where, if enabled, the Windows Start Up Sound might not play after turning on from shutdown or after updating.
We fixed an issue where the File Properties dialog wouldn't show the full timestamp if "Conversational format" was selected for the Date Modified column in File Explorer.
We fixed an issue where the hyperlink colors needed to be refined in Dark Mode in Sticky Notes if Insights were enabled.
If you were experiencing Sticky Notes stuck on Loading with Build 18309, please check the Microsoft Store for Sticky Notes version 3.5.4.
For more on build 18312, you can check out Microsoft's full release notes at the Windows blog. Otherwise, Fast ring Insiders can download the latest build via Windows Update now.
Dan Thorp-Lancaster is the Editor in Chief for Windows Central. He began working with Windows Central as a news writer in 2014 and is obsessed with tech of all sorts. You can follow Dan on Twitter @DthorpL and Instagram @heyitsdtl. Got a hot tip? Send it to daniel.thorp-lancaster@futurenet.com.
First, I hope I can actually install this build--18309 kept error dumping on me going from 18305. Second, FINALLY an improvement that I actually care about--FLS Slot Limit. I have a home music production studio and I have had resort to some creative track bouncing to get around the limitation. I'm anxious to try this update out.

ScubaDog - I had the same problem and figured out this morning that by removing the patch file to version 1003 I think it was, the installation went just fine. However, this new build runs for about 15 minutes and I get a GSOD.

I'm not sure I'm following....remove the patch file to version 1003?

Hi - It was the small update to make it version 1003. It was listed as a K number under the view update history.

Hmmm. Is there another way to see further back in update history? I only see 12 Windows Defender updates in the history. OR, if you can tell me the K number for that update, I might be able to figure out how to uninstall that.

Nevermind, I found it. The offending update was KB4483214 (meant to fix an IE vulnerability). And you, sir, are brilliant. I cannot thank you enough for this info. I went into the old Control Panel, looked at Installed Updates there (since these don't show up in the modern Settings menus) and there it was. I uninstalled it, rebooted and now the update is installing. I REALLY appreciate it. I'm going to update my posts in the Feedback Hub to let Microsoft know. THANK you!

Still can't install any 19H1 build on the HP Spectre x360 (original version). Installation hangs on the blue screen at 48%.

18312 is horrible to install. It needs restarts to get it done. It will be interesting to see what that is all about.

Don't all Windows Insider /builds/ need restarts to complete? Do you mean once it's seemingly finished?

No. I mean it doesn't finish on some devices. It just hangs and has to be restarted to get installation going again.

And I've left plenty of feedback, contacted windows insider on twitter, they know about the problem, and yet still no fix, and not even much of an acknowledgment that it exists.

Jason is exploring RPC collisions as a cause. Whatever those are.

Really love what info you are giving to us windows insiders! The build is pretty interesting too.

Why there wasn't any 19H1 build in Slow Ring ??????

I've been waiting for long now!
Windows Central Newsletter
Get the best of Windows Central in in your inbox, every day!
Thank you for signing up to Windows Central. You will receive a verification email shortly.
There was a problem. Please refresh the page and try again.