Windows 10 build 18922 (and earlier) for PC: Everything you need to know
This roundup highlights all the new features and changes that Microsoft is currently testing for the Windows 10 20H1 update.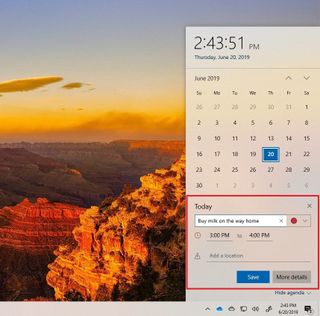 As part of the 20H1 development, Microsoft has already rolled out seventeen previews with Windows 10 build 18922 being the latest release. In this update, Windows 10 still isn't getting a lot of significant changes or new features, but it delivers a new small set of improvements.
For instance, this flight ships with an updated Language page that makes it easier to see and set the correct settings, and the Feedback Hub app allows you to link your suggestion or problem with similar feedback. Also, build 18922 introduces some subtle improvements for the Windows Ink Workspace and input experience.
Along with build 18922, throughout the development of the 20H1 update, Microsoft also made available a number of smaller updates, including build 18922, 18917, 18912, 18908, 18898, 18895, 18894, 18890, 18885, 18875, 18865, 18860, 18855, 18850, 18845, 18841, and 18836, and even though they don't include many changes, some of them introduced several tweaks and visual improvements.
In this Windows 10 guide, we'll dive into the most exciting changes expected to arrive sometime during spring 2020.
Windows 10 20H1 changes up to build 18922
Here's everything that Microsoft has been working in the last 17 Insider preview builds for the next version of Windows 10:
Start menu
Starting with build 18917, the Start menu includes a new top "Start typing to search" section with options to quickly search online, apps, and documents, which is meant to help users understand that they don't necessarily need to open the Search experience to search the device.
Taskbar
In the taskbar, you won't find a lot of changes at this time, but when opening the calendar flyout from the bottom-right corner, you'll be able to create a new calendar event or reminder without the need to open the Calendar app.
When you start a new event, additional options will appear to select the calendar, set time, add location, save the event, and the More details button will open the Calendar app for further edits to the entry.
Cortana
Cortana is also getting a new interface (via @Albacore on Twitter). On Windows 10 build 18922, a number of testers are seeing a new Cortana experience similar to the one available for iOS and Android.
The new interface correctly integrates with the system color mode (light and dark) and encourages users to interact with the assistant using typing instead of voice commands. Also, it ditches the sidebar for the drop-down menu which activates from the top-left corner.
It's currently in beta, and it's unclear if the app is ever going to make it to the final version of Windows 10 20H1.
Windows Ink Workspace
The Windows 10 20H1 update is also expected to ship with a new Windows Ink Workspace experience, and starting with build 18917, you'll notice a new simplified interface that ditches the previous feature in favor of the Microsoft Whiteboard and Snip & Sketch apps to work with a digital pen.
Of course, the new experience retains the settings button to access the Pen & Windows Ink page in the Settings app.
File Explorer
Although you're not getting a new modern version of File Explorer, since build 18894, the file manager app includes an updated search box that is now part of the Windows Search feature, which means that searching with File Explorer now also surfaces OneDrive content. In addition, when you now click the search box, a new drop-down list will appear with the most recent searches.
As expected, the search box also integrates with the dark system mode, so when switching color modes, the search box will follow the color scheme you're using.
Also, since build 18890, File Explorer no longer includes the Friendly Dates view. This option was originally introduced with the 19H2 development to show dates in a friendly conversational format ("3 hours ago," instead of "6/20/2019 2:15 PM), but for some reason, Microsoft decided to pull the feature.
Task Manager
Since build 18898, Windows 10 also ships with a slightly improved version of Task Manager that includes an updated Performance tab that now displays the storage type for every drive. This change means that you'll now see labels like SSD or HDD for if the storage is a Solid-State Drive or traditional hard drive respectively.
Settings
As per usual, in the last 17 builds of the 20H1 development, Windows 10 has been introducing several tweaks to the Settings app and starting with build 18922, Microsoft will continue the rollout of the new Settings header design in the homepage.
Sounds
On Settings > System > Sounds, the App Volume and device performances page is getting some subtle tweaks to make the settings more usable.
Language
On Settings > Time & language, the Language page has been updated to make it easier to understand your settings. Starting with build 18922, the page includes a top section with an overview of your current settings, including for Windows display, Apps & websites, Regional format, Keyboard, and Speech.
If you're using the incorrect language settings, you can click the icon to update the setting with the correct option.
In addition, when you're adding a new language, the wizard includes changes to improve the usability. For instance, the available features for a particular language pack now have a better organization, and there are tooltips with descriptions.
Narrator
On Settings > Ease of Access, the Narrator experience receive a few improvements with build 18894 and build 18917, including:
Improved efficiency when reading tables.
You can use the Narrator + S command to give a website a summary.
Magnifier can keep the text cursor in the center of the screen to improve the typing experience.
When navigating a table, Narrator can now read the header data first, and the cell data, and then the row/column position for a particular cell.
Deliver Optimization
On Settings > Update & Security > Delivery Optimization, the Advanced options page now allows you to limit bandwidth using absolute values for foreground and background downloads, instead of percentage values, which according to the company should help to throttle bandwidth on low-speed connections.
Input
In the early days of the 20H1 development, Windows 10 is also expanding SwiftKey (the feature that provides accurate autocorrections and predictions based on your typing habits) to 39 additional regions, and dictation to 12 other languages.
Microsoft Input Method Editor (IME)
If you use the Microsoft Input Method Editor, since build 18875, the experience has been updated for Japanese users to be more stable and accurate, and more compatible with games.
In this new version, Windows 10 is also improving the Chinese Simplified input method editors for Pinyin and Wubi, and the editors for Chinese Traditional (Bopomofo, ChangJie, and Quick).
Other changes include the ability to configure the Microsoft Input Method Editor from the Settings app, improved reliability and security, and interface tweaks for the candidate window.
Also, the experience offers tips for the Bopomofo settings, and you can use the Ctrl + Space keyboard shortcut to toggle conversation mode, and the Chinese Pinyin IME settings to now refer to Default mode, instead of the Input mode.
Windows Subsystem for Linux (WSL) 2
The next version of Windows 10 is also expected to include the Windows Subsystem for Linux 2. The first preview of the new subsystem is available since build 18917, and it runs on the ELF64 Linux binaries.
The new version uses a real Linux kernel, and it manages to provide the same experience as the first version, but using new Linux binaries that interface with Windows 10 and hardware differently. As a result, the version delivers improved performance and compatibility with system calls, which will also result in support for more applications.
In addition, this new version brings some new commands, including:
wsl --set-version DISTRO VERSION: Converts a distro to use the WSL 2 architecture, or use the WSL 1 architecture.
wsl --set-default-version VERSION: Changes the default install WSL version for the new distro.
wsl --shutdown: Terminates all running Linux distros and the WSL 2 lightweight utility.
wsl --list --quiet: Lists the distribution names.
wsl --list --verbose: Details information about all the distros on your computer.
Windows Subsystem for Linux 2 is still in the early days, and Microsoft plans to continue improving the experience and adding new features.
Notepad
Since build 18855, Windows 10 includes an updated version of Notepad that now is capable of restoring unsaved content after installing an update.
Feedback Hub
On Windows 10 build 18922, the Feedback Hub app includes the new "Find similar feedback" feature. Once you update to this new version, when making suggestions or reporting a problem, the new feature will look for similar feedback. If there's a match, then you'll be able to link your comment to it or ignore it to create a new post.
Also, after logging your feedback, you'll now find a new "Share" button at the top-left corner to making it easier to share the problem or suggestion with other people.
YourPhone
Although the YourPhone app is available in the stable channel of Windows 10, in the development channel is where Microsoft usually tests new features, and since build 18908, the app includes a slew of new features and improvements.
Screen reading
In the latest preview, the YourPhone app ships with the YourPhone Companion accessibility service to use Narrator from your computer.
Focus tracking
Focus tracking is a new feature that allows you to interact with the apps on your phone using custom magnification when using the mirroring functionality. (This feature requires you to use the Phone Companion and TalkBack services on your Android phone.)
Keyboard language and layout
When using the screen mirroring feature from your device, you'll now find a new language icon in the top-right to change the layout and language of the keyboard.
Support for more Android phones
Windows 10 build 18908 also adds support for more phones, including:
Samsung Galaxy S10e, S10, S10+, S9, S9+, S8, and S8+.
Samsung Galaxy Note 9 and Note 8.
Samsung Galaxy A8 and A8+.
OnePlus 6 and 6T.
YourPhone messaging
As part of the messaging changes, the latest release of the app introduces several new features, including:
Ability to send and receive images and GIFs.
New visual indicator to alert you of unread messages.
Contact thumbnails synchronization.
Ability to reply to a text message from a Windows 10 toast notification.
Support for emoji from within the YourPhone app.
Sync over mobile data
Under the YourPhone Companion app settings, you'll now find an option to sync your photos, messages, and notifications over a mobile data connection without the need to connect to a wireless network to synchronize the contents.
Wrapping things up
While these changes are expected to arrive next year with the release of the Windows 10 20H1 update, remember that Microsoft is always testing new features, and it's not guaranteed that every change will ship in the final release.
As always, if you plan to install any of the previews available through the Windows Insider Program, you should be aware that these are not stable releases. This means that bugs, errors, and broken features are expected.
It's always recommended to install new builds on a spare computer or using a virtual machine. If you are using your main computer, you should at least make a full backup to rollback to the previous installation if something goes wrong.
Although, up to this point, Microsoft has released 17 builds for the 20H1 update, remember that only a few of them include noticeable changes, which is why many of the builds are not mentioned in this guide.
What do you think about the features and improvements for Windows 10 20H1? Tell us in the comments.
Mauro recommends all these affordable accessories
Hi, I'm Mauro Huculak, Windows Central's help and how-to guru. I wrote the post you're reading now, and I know the Windows OS inside and out. But I'm also a bit of a hardware geek. These are some of the affordable gadgets on my desk today.
Logitech MX Master Wireless Mouse ($72 at Amazon)
I know mice, and this is the one I use every day. The MX Master is a wireless high-precision mouse that's very comfortable to use and has many great features, including the ability to connect with multiple devices, an infinite scroll wheel, back and forward buttons, all of which you can customize.
Ktrio Extended Gaming Mouse Pad ($12 at Amazon)
If you spend a lot of time typing, your palms and mouse will leave tracks on your desk. My solution was to start using gaming mouse pads, which are big enough for you to use the keyboard and the mouse comfortably. This is the one I use and recommend.
Supernight LED light strip ($20 at Amazon)
You could just use a regular light bulb in your office, but if you want to add some ambient lighting with different colors, an RGB LED strip is the way to go. This one is Mauro-approved.
Get the Windows Central Newsletter
All the latest news, reviews, and guides for Windows and Xbox diehards.
Mauro Huculak is technical writer for WindowsCentral.com. His primary focus is to write comprehensive how-tos to help users get the most out of Windows 10 and its many related technologies. He has an IT background with professional certifications from Microsoft, Cisco, and CompTIA, and he's a recognized member of the Microsoft MVP community.