Windows 10 Fall Creators Update's most common user problems and complaints
Windows 10's biggest refresh is already here, but it's causing some hiccups among users — Here are the top problems and complaints with the Fall Creators Update.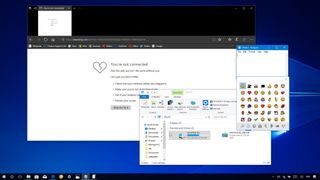 The Windows 10 Fall Creators Update (version 1709) has been out for a few weeks now, and it's already installed on over five percent of devices — making the this one of the fastest Windows rollouts yet.
In this new version, you'll find a lot of features and changes, such as Fluent Design implementation, improved input experience, support for emoji, OneDrive Files On-Demand, a new version of Microsoft Edge, and much more. But not everyone has had a smooth upgrade; there are plenty of reports about problems during and after the update, in addition to numerous complaints. When you're updating millions of computers, not everything will go perfectly and not everyone will be happy.
In this Windows 10 guide, we'll highlight some of the significant complaints and problems users have experienced with the Fall Creators Update.
Windows 10 Fall Creators Update problems and complaints
Installation problems with the Fall Creators Update
Although upgrading to a new version of Windows 10 is a straightforward process, it's very common to come across errors and different problems during the early days of a new release.
With the Windows 10 Fall Creators Update, there have been already some reports of the update failing to install, or least some type of problem during the installation process — especially using the Media Creation Tool and Update Assistant.
Some users also have complained about the Fall Creators Update failing to install when using a particular hardware configuration causing error 0xc00000bb.
At the ASUS forums, Superbowl warns users to be aware trying to upgrade using ASUS and Samsung hardware:
A similar issue can also be found on the Microsoft forums, where AaronOppedyk reveals:
On Windows Central, reader FabioRJ noted a specific error trying to upgrade using the Media Creation Tool:
And this wasn't the only report. On Windows Central, reader kevin lamarche said that he had the same issue that also caused the installation to roll back to the previous version:
Also, some users have been feeling the frustration of not being able to install the new version using Windows Update. According to a post on Reddit, the Windows 10 Fall Creators Update downloads successfully, but upon restart, the update never installs.
Alongside these problems, there have been reports across the internet complaining about the installation taking more than two hours, and in some cases more than 10 hours.
Microsoft Edge problems with the Fall Creators Update
In the new version of Windows 10, you're also supposed to find a vastly improved version of Microsoft Edge with new features and changes, but unfortunately, many users have found more problems than improvements.
And KhaotikDream wasn't the only one, yingpao also notes:
Drivers problems with the Fall Creators Update
After installing version 1709, a number of users have been experiencing some driver problems with network adapters and graphics cards.
For example, on Reddit, many users have complained that after installing version 1709, Windows 10 changes or resets the monitor color profile.
In the Reddit PCGaming community, many users also complained about the new version resetting the RGB color range to limited on NVidia graphics.
On graphics, some users even reported losing the ability to set the native screen resolution on their monitors.
Razer laptops have experienced some hiccups with the Windows 10 Fall Creators Update too, and according to users, after installing the new version, the keyboard, trackpad, and USB ports became useless.
Some people noted that simply rebooting or reinstalling the drivers fixed the problem, but it's not always the case. The good news about this problem is that Microsoft is actively working with Razer to permanently resolve these issues.
Experience problems with the Fall Creators Update
While everyone expects a new version to be better than before, a small number of users have come across several problems with the experience, including issues with apps, performance issues, missing features, and bugs with the user interface.
Missing apps
Perhaps one of the biggest complaints reported about the Windows 10 Fall Creators Update is the problem with missing apps after installing the update.
After the upgrade, a lot of users noticed app entries missing in the Start menu, and they won't appear in the App list or the Live Tile section. Additionally, searching for the app will only show the result to get it from the Microsoft Store, but the Store would say that the app is already installed on your PC.
The same problem has been reported many times in many forums, including at the Windows Central and Microsoft forums.
Fortunately, Microsoft has already acknowledged this problem, and while it's actively working on a permanent solution, the company is offering a workaround for affected users.
Interface bugs
There have been various complaints filed regarding bugs in the user interface as well. For example, in File Explorer, after the upgrade, items inside "This PC" don't have the proper width adding a significant empty space to the left side.
Although, the Settings app in the Fall Creators Update gets a lot of changes, it's been found that trying to see the list of updates getting installed causes the scrollbar to misbehave.
from Windows10
Some users have even complained about problems where after right-clicking on the desktop, the context menu will appear, but without any available option.
According to users, it happens consistently and randomly, and restarting the computer fixes the problem in some cases.
OneDrive Files On-Demand
OneDrive Files On-Demand is a new feature that allows you to access all your files stored in the cloud without having to download them first and waste local storage.
Although the feature is available with the Windows 10 Fall Creators Update, after the upgrade many people found out that the feature was missing. However, this is not a bug with OneDrive or Windows 10, Microsoft simply had a communication problem with users. As it turned out, the real issue is that the company is just rolling out Files On-Demand slowly, and it'll just take some time to reach every device.
Apps reopen after reboot
Short after installing the Fall Creators Update, a few reports have been filed, including on the Microsoft forums, complaining that after shutting down or restarting a device certain apps from the last session will reopen automatically.
While many users have been categorizing this behavior as a bug, it's actually a new feature with the new version that aims to make the sign-in experience faster.
Windows 10 already includes a feature that allows using your sign-in credentials to finish setting up updates, and now the same functionality expands to regular restarts and shutdowns. In addition, supported apps (e.g., Chrome, Task Manager, and Registry) will restart automatically during sign-in.
The good news is that you can always disable this feature using the Settings app.
Missing emoji
Another great feature included with the new version is native support for emoji using a hardware keyboard. However, after the upgrade, various users have complained that the emoji picker is missing from their installation.
Unfortunately, this is not a bug with Windows 10. The issue is that the new emoji support is currently only available for users located in the United States.
If you can't wait to use this feature, there is a workaround that involves changing the keyboard settings after the upgrade.
Performance problems
Although Windows 10 is getting a number of enhancements, there are some reports describing that the Fall Creators Update is actually affecting performance.
Digitoxin on Reddit describes the new version as "horribly broken," and notes:
After a few tries, Digitoxin gave up and said going back to the previous version was the only method that fixed the problems.
Other reports suggest that the Fall Creators Update is making computers slower.
At the Windows Central forums, user Mehrdad Aria, reveals that the "update increased boot time," brightness will change without user interaction, and some parts of the experience don't look correctly.
On Reddit, users have complained of a similar problem, as ItsKittay says:
Also, user ryivan shares his reaction after seeing noticeable performance issues on a Surface Book packing an Intel Core i7 processor and dedicated graphics:
You can read his full experience here.
GhostEchelon, a Windows Central forum member, also notes slowness after installing the Fall Creators Update saying:
Mobile Hotspot not working
The Windows 10 Fall Creators Update seems to be affecting the Mobile Hotspot feature, as users in different forums have struggling to get it to work.
On Reddit, user decaaring_egg says:
A Windows Central forum member also shares a similar experience with Mobile Hotspot:
Wrapping things up
The Fall Creators Update is the fourth major update that Microsoft is making available for Windows 10 with a slew of improvements, and even though it might seem like there are a lot of problems with the new version, it's actually the opposite.
Since the original release of Windows 10, we have been seeing the number of bugs and issues reducing with every rollout to the point that it's becoming somewhat hard to find significant problems.
It's all suggests that Microsoft is getting better releasing more stable versions of Windows 10, but even with development and rollout process improvements, plus Microsoft proactively blocking the update on devices that are not compatible, there is still a lot of work to be done.
Yes, of course, some people continue to see problems as they move to a new version, but this is expected, especially during the early days. Also, you need to consider that building software that runs across many hardware configurations is not an easy task.
In this guide, we're highlighting many issues with the new version, but it's worth noting that most of them are only affecting a small number of devices, and in many cases just on devices with particular hardware and software configurations.
Getting the new version of Windows 10
If you haven't installed version 1709, remember that the best way to upgrade is to wait until it's automatically offered through Windows Update. Otherwise, if you use the Media Creation Tool or the Update Assistant during the early days, you're likely to come across some hiccups.
You can always defer the new version and wait a little longer until Microsoft pushes out a few quality updates to make Windows 10 more compatible.
However, if you can't wait, and you want to upgrade immediately, at least make sure to prepare your device to reduce the chances of coming across any issues. You can do this by creating a backup, uninstalling conflicting apps, disconnecting unnecessary peripherals, or performing a clean install when everything fails.
During my time researching the Windows Central forums, Reddit, Microsoft Community, and across the internet, I've read reports from many users, and not surprisingly, most problems were caused by drivers, apps, bugs with the release, and from users who opt to upgrade manually.
How is the Fall Creators Update working on your device? Tell us in the comments.
More Windows 10 resources
For more helpful articles, coverage, and answers to common questions about Windows 10, visit the following resources:
Windows 10 help, tips, and tricks
Get the Windows Central Newsletter
All the latest news, reviews, and guides for Windows and Xbox diehards.
Mauro Huculak is technical writer for WindowsCentral.com. His primary focus is to write comprehensive how-tos to help users get the most out of Windows 10 and its many related technologies. He has an IT background with professional certifications from Microsoft, Cisco, and CompTIA, and he's a recognized member of the Microsoft MVP community.