Windows 10 Fall Creators Update's most common user problems and complaints
Windows 10's biggest refresh is already here, but it's causing some hiccups among users — Here are the top problems and complaints with the Fall Creators Update.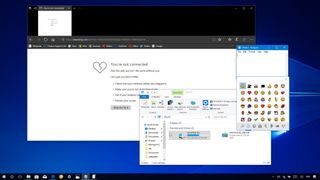 The Windows 10 Fall Creators Update (version 1709) has been out for a few weeks now, and it's already installed on over five percent of devices — making the this one of the fastest Windows rollouts yet.
In this new version, you'll find a lot of features and changes, such as Fluent Design implementation, improved input experience, support for emoji, OneDrive Files On-Demand, a new version of Microsoft Edge, and much more. But not everyone has had a smooth upgrade; there are plenty of reports about problems during and after the update, in addition to numerous complaints. When you're updating millions of computers, not everything will go perfectly and not everyone will be happy.
In this Windows 10 guide, we'll highlight some of the significant complaints and problems users have experienced with the Fall Creators Update.
Windows 10 Fall Creators Update problems and complaints
Installation problems with the Fall Creators Update
Although upgrading to a new version of Windows 10 is a straightforward process, it's very common to come across errors and different problems during the early days of a new release.
With the Windows 10 Fall Creators Update, there have been already some reports of the update failing to install, or least some type of problem during the installation process — especially using the Media Creation Tool and Update Assistant.
Some users also have complained about the Fall Creators Update failing to install when using a particular hardware configuration causing error 0xc00000bb.
At the ASUS forums, Superbowl (opens in new tab) warns users to be aware trying to upgrade using ASUS and Samsung hardware:
A similar issue can also be found on the Microsoft forums, where AaronOppedyk (opens in new tab) reveals:
On Windows Central, reader FabioRJ noted a specific error trying to upgrade using the Media Creation Tool:
And this wasn't the only report. On Windows Central, reader kevin lamarche said that he had the same issue that also caused the installation to roll back to the previous version:
Also, some users have been feeling the frustration of not being able to install the new version using Windows Update. According to a post on Reddit, the Windows 10 Fall Creators Update downloads successfully, but upon restart, the update never installs.
Alongside these problems, there have been reports across the internet complaining about the installation taking more than two hours, and in some cases more than 10 hours.
Microsoft Edge problems with the Fall Creators Update
In the new version of Windows 10, you're also supposed to find a vastly improved version of Microsoft Edge with new features and changes, but unfortunately, many users have found more problems than improvements.
And KhaotikDream wasn't the only one, yingpao also notes:
Drivers problems with the Fall Creators Update
After installing version 1709, a number of users have been experiencing some driver problems with network adapters and graphics cards.
For example, on Reddit, many users have complained that after installing version 1709, Windows 10 changes or resets the monitor color profile.
In the Reddit PCGaming community, many users also complained about the new version resetting the RGB color range to limited on NVidia graphics.
On graphics, some users even reported losing the ability to set the native screen resolution on their monitors.
Razer laptops have experienced some hiccups with the Windows 10 Fall Creators Update too, and according to users, after installing the new version, the keyboard, trackpad, and USB ports became useless.
Some people noted that simply rebooting or reinstalling the drivers fixed the problem, but it's not always the case. The good news about this problem is that Microsoft is actively working with Razer to permanently resolve these issues.
Experience problems with the Fall Creators Update
While everyone expects a new version to be better than before, a small number of users have come across several problems with the experience, including issues with apps, performance issues, missing features, and bugs with the user interface.
Missing apps
Perhaps one of the biggest complaints reported about the Windows 10 Fall Creators Update is the problem with missing apps after installing the update.
After the upgrade, a lot of users noticed app entries missing in the Start menu, and they won't appear in the App list or the Live Tile section. Additionally, searching for the app will only show the result to get it from the Microsoft Store, but the Store would say that the app is already installed on your PC.
The same problem has been reported many times in many forums, including at the Windows Central and Microsoft forums (opens in new tab).
Fortunately, Microsoft has already acknowledged this problem, and while it's actively working on a permanent solution, the company is offering a workaround for affected users.
Interface bugs
There have been various complaints filed regarding bugs in the user interface as well. For example, in File Explorer, after the upgrade, items inside "This PC" don't have the proper width adding a significant empty space to the left side.
Although, the Settings app in the Fall Creators Update gets a lot of changes, it's been found that trying to see the list of updates getting installed causes the scrollbar to misbehave.
from Windows10
Some users have even complained about problems where after right-clicking on the desktop, the context menu will appear, but without any available option.
According to users, it happens consistently and randomly, and restarting the computer fixes the problem in some cases.
OneDrive Files On-Demand
OneDrive Files On-Demand is a new feature that allows you to access all your files stored in the cloud without having to download them first and waste local storage.
Although the feature is available with the Windows 10 Fall Creators Update, after the upgrade many people found out that the feature was missing. However, this is not a bug with OneDrive or Windows 10, Microsoft simply had a communication problem with users. As it turned out, the real issue is that the company is just rolling out Files On-Demand slowly, and it'll just take some time to reach every device.
Apps reopen after reboot
Short after installing the Fall Creators Update, a few reports have been filed, including on the Microsoft forums (opens in new tab), complaining that after shutting down or restarting a device certain apps from the last session will reopen automatically.
While many users have been categorizing this behavior as a bug, it's actually a new feature with the new version that aims to make the sign-in experience faster.
Windows 10 already includes a feature that allows using your sign-in credentials to finish setting up updates, and now the same functionality expands to regular restarts and shutdowns. In addition, supported apps (e.g., Chrome, Task Manager, and Registry) will restart automatically during sign-in.
The good news is that you can always disable this feature using the Settings app.
Missing emoji
Another great feature included with the new version is native support for emoji using a hardware keyboard. However, after the upgrade, various users have complained that the emoji picker is missing from their installation.
Unfortunately, this is not a bug with Windows 10. The issue is that the new emoji support is currently only available for users located in the United States.
If you can't wait to use this feature, there is a workaround that involves changing the keyboard settings after the upgrade.
Performance problems
Although Windows 10 is getting a number of enhancements, there are some reports describing that the Fall Creators Update is actually affecting performance.
Digitoxin on Reddit describes the new version as "horribly broken," and notes:
After a few tries, Digitoxin gave up and said going back to the previous version was the only method that fixed the problems.
Other reports suggest that the Fall Creators Update is making computers slower.
At the Windows Central forums, user Mehrdad Aria, reveals that the "update increased boot time," brightness will change without user interaction, and some parts of the experience don't look correctly.
On Reddit, users have complained of a similar problem, as ItsKittay says:
Also, user ryivan shares his reaction after seeing noticeable performance issues on a Surface Book packing an Intel Core i7 processor and dedicated graphics:
You can read his full experience here.
GhostEchelon, a Windows Central forum member, also notes slowness after installing the Fall Creators Update saying:
Mobile Hotspot not working
The Windows 10 Fall Creators Update seems to be affecting the Mobile Hotspot feature, as users in different forums have struggling to get it to work.
On Reddit, user decaaring_egg says:
A Windows Central forum member also shares a similar experience with Mobile Hotspot:
Wrapping things up
The Fall Creators Update is the fourth major update that Microsoft is making available for Windows 10 with a slew of improvements, and even though it might seem like there are a lot of problems with the new version, it's actually the opposite.
Since the original release of Windows 10, we have been seeing the number of bugs and issues reducing with every rollout to the point that it's becoming somewhat hard to find significant problems.
It's all suggests that Microsoft is getting better releasing more stable versions of Windows 10, but even with development and rollout process improvements, plus Microsoft proactively blocking the update on devices that are not compatible, there is still a lot of work to be done.
Yes, of course, some people continue to see problems as they move to a new version, but this is expected, especially during the early days. Also, you need to consider that building software that runs across many hardware configurations is not an easy task.
In this guide, we're highlighting many issues with the new version, but it's worth noting that most of them are only affecting a small number of devices, and in many cases just on devices with particular hardware and software configurations.
Getting the new version of Windows 10
If you haven't installed version 1709, remember that the best way to upgrade is to wait until it's automatically offered through Windows Update. Otherwise, if you use the Media Creation Tool or the Update Assistant during the early days, you're likely to come across some hiccups.
You can always defer the new version and wait a little longer until Microsoft pushes out a few quality updates to make Windows 10 more compatible.
However, if you can't wait, and you want to upgrade immediately, at least make sure to prepare your device to reduce the chances of coming across any issues. You can do this by creating a backup, uninstalling conflicting apps, disconnecting unnecessary peripherals, or performing a clean install when everything fails.
During my time researching the Windows Central forums, Reddit, Microsoft Community, and across the internet, I've read reports from many users, and not surprisingly, most problems were caused by drivers, apps, bugs with the release, and from users who opt to upgrade manually.
How is the Fall Creators Update working on your device? Tell us in the comments.
More Windows 10 resources
For more helpful articles, coverage, and answers to common questions about Windows 10, visit the following resources:
Windows 10 help, tips, and tricks
Windows Central Newsletter
Get the best of Windows Central in in your inbox, every day!
Mauro Huculak is technical writer for WindowsCentral.com. His primary focus is to write comprehensive how-tos to help users get the most out of Windows 10 and its many related technologies. He has an IT background with professional certifications from Microsoft, Cisco, and CompTIA, and he's a recognized member of the Microsoft MVP community.
I'm also experiencing the Edge lag. Even after turning off Flash in the Advanced options, which is 1 recommended fix, it's still laggy as hell to type in the address bar. So using Chrome it is.

You could use Opera. Or Firefox.

You have many 1000 times better alternatives...stop tormenting yourself with that junk

Could you name at least 3 please? Hmmmmmmmm?

Same here along with even worse lag in firefox. Like you, I am using Google Chrome. It also screwed up many of my games which are now unplayable. This is the worst update I can remember. The writer of this article is uses the word "hiccup" to describe problems associated with this update. "Hiccup" is far too kind a word...

I'm kinda annoyed that the new Emoji picker is limited to US users as this was not comunicated to everyone, neither was the fact that the One Drive client needed to be updated before using OnDemand Sync. The only issue i seemed to have encountered was with search and accompanying errors in Event Viewer (1000 error entries) There was no clue as to the cause and Event Viewer was (is) useless to determine a fix however it seemed that all that was needed to resolve the issue was to rebuild Indexing and now it's working fine. It appears that despite all the 'testing' performed by insiders little or none were done by Microsoft otherwise everything would work after/during updating.

MS has no testers left...why do you think insider program exists?

It appears I was lucky, windows update gave me the upgrade on release day and I have had no problems with the new version. Running on a Lenovo Thinkpad Yoga 14 model 20fy.

I was lucky as well. I updated 2 gaming PC's and a surface pro 4 with no issues at all, in fact it fixed some issues I was having. To be safe I did use the free version of macrium to image the ssd that windows and only windows lives on. It's odd that some SSD's are giving issues because I have the following and all work just fine... Intel pcie nvme SSD Samsung m.2 pcie SSD Micron SATA3/express SSD 2 Western Digital blue sata SSD's I was worried about the surface but everything went perfect. It updated all the drivers, it updated the firmware and now it runs faster. It has the i7 in it so there is Intel iris540 graphics and it actually runs games better now. My wife plays the Sims and the new south park game on it. Before the update the sims3 ran at 30fps with dips and settings to low or medium. Now it runs at 60fps with settings on high and medium. South Park runs at a solid 60. I can't remember the resolution off the top of my head but it's high enough for games to look good on the surface itself. I'm assuming the firmware update fixed an issue with the CPU/GPU, I won't pretend to know what exactly but the boost in performance is significant.

I do see hesitations before some apps open after clicking a live tile on my Dell XPS 8500. I did not see this in the Creators Update.

I now have problems with restarting: I always get a blue screen then (System Service Exception) and it takes to revert to start up in safe mode. No issue with sleep or cold start though ...,

I had zero issues after upgrade, the only issue I'm getting is crashing of the color setting when choosing custom colors. Make sure you keep your drivers update.

I have had three problems:
1) I have seen the context menu missing items. A reboot fixes this, and it usually seems to be related to low resources after running some resource intensive tools (handle leaks?).
2) The keyboard shows after reboots. I use the Surface Ergo Keyboard, and it may be that it has not yet connected over Bluetooth, the OS does not see a keyboard so it shows the OSK. A bit of a pain to dismiss it every reboot, but not horrible.
3) I am wasting a lot of time because of Mixed Reality, having all kinds of fun with it, writing apps, etc.

Two issues so far: 1) 'Open in new tab' is slow. Opens a blank then loads the page. 2) Can't name a new favorites folder in Edge. It always sticks on New Folder then I have to go back into Favorites and rename it.

Cannot even install. It says restoring previous Windows version. Anyone know the fix?

@WinOMG Count your blessings that the FCU update failed. Stop the install. Stick with CU. Go into the software updates downloads folder in Windows and delete the cached files. Then, refrain from ever clicking on the Check for Updates button until you are good and ready and Microsoft has released at least two major fixes to the FCU. It's that pesky Check for Updates button that will get you stuck being one of Microsoft's beta testers.

I am expereincing battery drain on my dell. There were a few buttons like screen brightness in the action center that were not responding...they have since been fixed. but the battery drain is still there.

I experienced that latest version of desktop OneDrive app slows down system performance dramatically, until set up. I ran the wizard from opening it for the first time from the taskbar, and suddenly performance was outstanding.

After the 10/2017 Windows 10 Fall Creators Update my HP Envy 4500 All In One Printer is not printing when I am on my desktop and want to print something. On troubleshooting it will never print a test page but it does print a diagnostic report & wireless network test results and no problem has been found. No solution that I have received from HP has worked I've tried so many and the printer still will not print.

XPS 9560 here. I have the problem with no update occurring after restart or shutdown...

I have been having the issues noted here. Sometimes a reboot fixes most of them and sometimes they just come back. This seems to be an overall glitch update that must be fixed very soon or else please give us a way to roll back.

Installed update on Surface Book w Performance Base and a gaming laptop. Now, neither can play games. Performance is so slow and terrible that the games are unplayable. Reinstalled nVidia drivers on both computers and still terrible performance. I regret installing the update!

I have some weird problem with my laptop after the update, when going to sleep my machine its ok when I log on again, but for the second sleep, when I log on back again it always get a BSOD :-( MEMORY MANAGEMENT. Before i do the sleep, i always close all the apps and programs before i put to sleep my machine.

memory management stop error here as well

I spent days juggling between NVIDIA drivers just to get audio/video playback to work properly. Chrome seems the most affected.Youtube streaming would just be stuck buffering. Audio service sometimes doesn't get started (red X) but sounds work ok. VLC wouldn't play AAC audio. Driver version 387.92 is the one I am settled on. Versions 388.00 and up are just too broken.

Not sure if this issue was created by the Fall update, but it did appear after the update. Groove music has become unusable for me one day, it's basically unable to read any tags from my files and it fails to apply tags to music files. I tried all sorts of fixes, such as preventing Groove from searching for missing meta information online, but it still didn't fix the issue. Then one day, the entire library got the "Unknown artist"/"Unknown album" tags and that was the tipping point for me. Uninstalled it, went back to older programs that can do such a simple thing as reading a file's tags.

Installed a completely fresh version of the FCU on one device for testing. Ran into loads of problems. Luckily that device is rarely used so the problems aren't a major PITA, but, if you do work on your computer, stay far, far away from FCU for now. Wait. Stop yourself from ever clicking on "Check for Updates". Clicking that button will start the FCU download and install process :(. There really isn't any point to that button if Microsoft is going to use it as an excuse to put you on the beta tester track after you do.

Don't listen to this. Fall Creators Update is a great update. There are some issues here and there, but one person having problems does not mean that it will happen to everyone. But the lack of description of what "loads of problems" means, what computer it was, was it a machine that had non-standard hardware, were drivers installed, was the problems from poorly written 3rd party software, what was the severity of the problems, etc. all that means is that there is no way of knowing if it were something wrong with Windows, or the user's setup. I am not saying that Ed did not have problems, but a lack of description should not mean that all users should stop from running the latest update. But since we don't have mass protests because of wide spread failures - and we know that even if there was the slightest problem the trolls would be out en masse to exploit it - not to install it would mean missing out on a lot of great new features.

i'd love to install it but it keeps freezing during install and never finishes

I'll bite. The reports around the internet are not isolated incidents and repeat observations of problems on different types of hardware. The install was completely fresh on a completely wiped disk without any special hardare and no third party software. The only software the computer ran was Microsof'ts very own default applications. It was as pure Windows 10 FCU as you could possible hope for! I intentionally started with a completely fresh install so I could fairly judge the difference between FCU and CU on it. A mid-rangeHP ElitePad 1000 G2 tablet. As for the advice that FCU (say that out loud quickly :) is a "great update"; that seems like classic hyperbole (not including the rather defensive slander of "trolls" to imply that people who do not gush glowingly of Microsoft's every move are out to troll discussions on a Microsoft-oriented site (if you're a fan of any for-profit company with a checkered past you deserve to be trolled :-)). What major "features" have been added? The one thing I was really looking forward to failed inaspiciously. When it worked, Swype was a disappointment. Its implementation is so mediocre compared to what it was on iOS and Android it's sad to see what Microsoft's consumer software division does with the good software it buys. The other opportunity Microsoft had--to remediate Edge's well deserved reputation for mediocrity--also flamed out. Edge has gone from mediocre to even more irrelevant. With some understanding of how software development works I understand why Microsoft did what it did with Edge, but, any developers who were using the internet in the 1990's could likely tell them why their approach wouldn't work. Edge has gone from rendering and displaying the webpage in stages to doing it in one big go. On a really fast computer (which is what all the developers will be on ;) it works great and gives the impression of speed. But, on machines that are not the latest and greatest it does the opposite. While displaying a page in stages makes Edge look slower on fast hardware it has the benefit of making the page usable before it's completely finished rendering and gives the perception of speed on slower hardware. So, on the HP ElitePad (no crazy i5 speed demon :) that is obvious. Type a search engine query into Edge and it freezes solid for many, many, many, many seconds. And, then suddenly the page appears. And, that's a simple, basic search engine query. Load a page. Same story. Takes forever to render whilst looking at blank screen. And, it's not the hardware. After I'd noticed that behavior in Edge I downloaded and installed Chrome. What a world of difference. It would have searches completed and rendered before Edge would've even finished accepting the typed input, let alone start downloading and rendering the searches. This tablet may not be the best choice to develop in Visual Studio, but, it's quite zippy when it comes to browsing the web (in Chrome :). And, general flakiness: I noticed many half-done screens after a few reboots. I didn't even bother looking at them because I'd already decided against installing FCU on any other devices until at least one, if not two updates had been made--why should I be the guineapig for what Microsoft should've caught before making it available to little old grandads! Is this better in terms of descripition? Am I still a troll?

Nope, you're a realistic user having issues with another poorly made update. Don't mind the blind fanboys here...they would eat any crap thrown by Nadella & co.

you don't have mass protests because MS fanboys are too busy licking Nadella's boots and they don't see the issues with every damn update

I've upgraded three devices so far. A Lenovo laptop, a Dell laptop and a Asus Mini Transformer Tablet. I had no problems with the Lenovo. The Dell kept failing the install saying there was a Windows Defender update that wouldn't install which was already installed. That took a week of googling to finally find a solution that finally worked. Once it installed though, I haven't experienced any issues. The Asus installed fine and the only issue is with the Hello fingerprint reader. I have to do the fingerprint twice before it finally logs on to my user. So really the Dell was the only one that caused much aggrivation for me.

Turns out on the Dell that my Office 2013 installation lost it's registration key. Of course I can't find it anywhere now that I need it again. So I have deleted Office 13 and installed WordPerfect Office in it's place. Much cheaper and does all I really need.

I couldn't even get the Fall Update to install. I kept getting an unsupported app error for "Windowblinds". I don't use Windowblinds and have never installed in on my computer. The update refused to allow me to continue no matter what I tried. Finally gave up and did a clean install. Windows is too much code. Even Microsoft needs to admit that it's growing beyond their control.

If you don't know, Windowblinds is a tool (written by a company that also owns a web site that is a competitor to Windows Central) that allows theming windows, alternate start menus, etc. Some people have downloaded it, but never installed. Windows detects it in their downloads folder, and simply deleting it is enough to make setup work. There have also been some downloads that include libraries from WindowBlinds that are detected. "Windows is too much code." No, it is checking for this component and not letting Windows install because of it. Imagine if Windows found that library and disabled it during the install. People would be screaming about disabling software without their permission. We have seen this happening in the past, where 3rd party software was not done correctly, Microsoft changed it, and then there were calls for anti-trust investigations for Microsoft removing software from other companies. Also, if Microsoft did start trimming out code, the people on this site would be having a fit about removing features, not caring about the consumer, and all the usual complaints. No matter what Microsoft does, if they do disable code then people complain, if they don't and tell you to remove it before installing, then you complain. If they don't remove features, then it is bloat. If they do remove features, then it is not caring about the consumer. Damned if you do, damned if you don't.

Ubiqiotus computing comes at a price and one that cannot be solved with telemetry. There is no easy fix as some people just don't bother reading...

"People would be screaming about disabling software without their permission. We have seen this happening in the past, where 3rd party software was not done correctly, Microsoft changed it, and then there were calls for anti-trust investigations for Microsoft removing software from other companies." Wait a second, Microsoft very publicly reversed course and apologised for how it surreptitiously would disable third party anti-virus software and leave the impression that the software was running. That doesn't seem like "people screaming about disabling software without their permission". That seems very much like the Microsoft of old which was dragged into successful anti-trust suits on multiple contintents because of their anti-competitive behavior. I like what Microsoft has done with Windows 7 and 10, but, now that I'm immersed in the world of Windows I see how truly anti-competitive Microsoft is when compared to Apple and its desktop OS. Apple is far more open about their software than Microsoft (I suppose it's because Apple works from a position of strength since it controls the hardware and software while Microsoft only controls the software).

ON my mother's computer it reconfigured or loaded a wrong video driver, I don't know yet as she lives over 100 miles away and I need to go there and see. She has tried more than one monitor and the last at least gave the error message, "outside of device limits" or similar. I'll have time to go next week and slap it into shape. I hope I don't need to install a new video card, but I will see. My guess is that the update dialed the resolution up too high for her ancient monitors. She WANTS the lower resolution, everything looks bigger she says, she's 80 years old and it's her computer, if that is what she wants she can have it. I don't need Windows installing something that it needs to "adjust" the video to make it work. It has taken me years to get her to use the computer at all. I'm the one who said to go ahead and do the update when it popped up... I'm not used to Windows totatlly disabling a computer. So, it's a day off from work and 6 hours of driving to go fix it.

That really sucks, what is the machine running windows 10 home or windows 10 pro?

LizMarr, I'd recommend TeamViewer. It's a really great FREE tool for helping people remotely and simple for them to run. All you'd have to do is install TeamViewer on your device, sender her a link to the QuickSupport app then all she has to do is give you the ID number and password. Seconds later you'll have access. Then install the full application on her PC. https://www.teamviewer.com/en/download/windows/

I guess I was lucky, the new update is running butter smooth on all three computers in my house =)

The updates list changing size based on items text width (scrollbar changing position) is a bug present since 10240. So nothing new, except that 2 years later with new UI, it hasn't been fixed.

I couldnt install it.. reinstalled Windows and 30 minutes after I was running 1709. No problems so far..

"I couldnt install it.. reinstalled Windows and 30 minutes after I was running 1709. No problems so far.." Out of curiosity, what did you gain from doing so? The ability to spend an hour or two doing something else that wasn't on a computer. I suppose that was useful in and of itself. Chances are, had you waited for Microsoft to iron out the bugs it would've installed itself and you wouldn't be Microsoft's free guinea pig ;).

My problem is when installing it freezes during the install messes up it tries at least a few time I have to turn my computer off and on only for it to fail each time and then revert to the last version that successfully installed. Only to have it start re-downloading it all over again never completing it.

I experienced the missing Apps bug so I rolled back to the previous build. A few days ago the update downloaded again and installed itself and the problem was resolved I never saw an official announcement from Microsoft but I know a lot of other users who had the same bug that posted on the Microsoft forum, are now reporting they also ran the update again and the problem was fixed

And MS wonders why we do not trust them anymore. Kill off stuff, drop support and then stuff up updates. Seriously, you could not write a script to destroy a company's reputatio any better. Time for Nutella to go. Sack him!

"And MS wonders why we do not trust them anymore." Odd, I don't recall electing you to be a spokesperson for me, declaring that **we** do not trust them. Every major software release has problems, Apple released iOS 11 mis-September, and has had 4 updates to fix bugs. Bugs such as not being able to send mail from the mail app, unable to listen to phone calls because of a "crackling earpiece", no audio on the iPhone 7, and removed features. They even broke the calculator, it can't add properly! What would you rather have? A context menu missing items, some missing emoji, or not being able to use your phone because it garbles audio? "Time for Nutella to go" Racist.

It's Vista revisited nophone and the reference to Nutella is not racist. It's an attempt to show him as having as much substance as nutella, the product, has and that's sweet FA. What I would really like is my apps back. My laptop was essentially unusable and it took MS more than 8 hours to admit that they could not retrieve my system and rolled back to the previous version. Nutella presided over the Trump-Obama version of computing .... destroy anything that his predecessor did. That is, if not racist, then certainly myopic.

As indicated in an earlier article in regards to the issues with fall creator's update, "a smattering of bugs" was a understatement lol. For many it's turned out to be a very dreary "fail creators update"... far too many issues and bugs for an RTM release. I guess someone sneezed and clicked the release button by accident or fell asleep on the keyboard thus pressing the enter key by mistake... lol.

There is no RTM anymore. Windows is a service now. A broken one.

I've had no major problems but there are constant annoying niggles everywhere that really make me wish they'd hurry up and polish this thing up.

Upgraded using an ISO from the media creation tool. Worked first time, no major issues here.

I have downgraded back to the previous Creator Update 1703 on my SurfacePro4 (not on my PC), this update is a disaster!!!
1. the most anticipated feature was files on demand for onedrive. great. neither my PC nor my SurfacePro4 got it. I had to search on Google to find out that many other people were in this situation and I had to download manually the latest version of Onedrive...
2. Cortana disappeared on the Surface... are you kidding me??? do I have to set it up AGAIN???
3. Edge is the same disaster. I import favourites from Chrome, after a while or if I Sync with other devices, most favourites disappear.
4. the most important thing on my Surface is the virtual keyboard. with this update we have 4 step backwards:
01. to make the keyboard float I have to press 2 buttons instead of 1;
02. the anticipated swipe function doesnt work; 03. when I long press to have a number number appears on top left or right and it s confusing compared as before when the number appeared right on top I could close my eyes... 04. keyboad appears each time I am on the start menu in tablet mode, sooo annoying!

The only major issue I am having (and it's a major issue) is that the update has somehow caused the search function in Outlook to not function properly anymore. The error message that appears is: "Something went wrong and your search couldn't be completed." Thanks Microsoft.

Reads like Beta, if not Alpha Software to me. No items in the ******* popup menus? Are you ******* kidding me? The underlying architecture is as old as Windows 95 and worked flawlessly until Windows 10. Heck it even worked in Windows 8, which most of the tech press dismissed as being "non productive". Happy productivity now with empty popup menus, folks! I can only re-iterate: Windows 8 was a shining, polished product when it was released. Most complaints it got (from the Tech press) was about the missing start menu, which for most people who wanted to work with the system was not a problem at all. They undestood the start menu has just gotten bigger. And it went out of the way in Windows 8.1 The tablet experience on Windows 10 FCU is still miles behind Windows 8.x. It seems like the whole Windows 8 UX team vanished and Windows 10 was designed (in very aspect) by total noobs.

The start screen in Windows 8 was awful Even the awkward kludge they introduced in 8.1 was a welcome relief. As for the tablet nature of 8--it was ahead of its time. There were so few tablets it was pointless and all it did is buy Microsoft a lot of well-earned bad press. Windows 10 is trying to have their cake and eat it too and it's obvious the approach is not working. Desktop users use a desktop for a reason. And, the master of the UX/UI, Apple, has stayed away from introducing touch into their desktop OS with a 10 foot pole for good reason--desktop and touch just aren't a natural fit. UWP is a failure. The interface is made for touch and does not translate well to the desktop paradigm. For that reason, the WIndows Store apps that are appearing are uninspired. Developers of note spend their resources developing mobile apps for iOS and Android. Anything for Windows is an afterthought and invariably must also support Windows 7 since so many people are still on Windows 7. And, you can see that UWP is a failure because Microsoft is now devoting considerable resources to bringing WPF into its recently-acquired cross-platform IDE, Xamarin. Xamarin wouldn't have to support WPF if developers were actually developing for UWP, but, instead devs are using Xamarin to develop for iOS and Android and completely ignoring its WIndows side... what's the point of writing a touch-based UWP app when no one uses UWP apps? Best to devote your resources to iOS and Android and a web presence if you're going to go that route ;). By opening up WPF as an option, I suppose Microsoft is hoping that it'll act as a trojan horse to get developers to develop for UWP as well.

Why nobody seems to discover about the Action Center bug which is unusable on scrolling using touch. It's actually a well-known problem posted on Feedback Hub: https://aka.ms/Hysr6c This is a really unacceptable problem, especially when Microsoft has Surface devices that all have touchscreens. In general, Fall Creators Update is bad for tablets with Action Center issue and Touch Keyboard just plain broken.

Nobody wants to admit that the FCU is a rushed piece of crap, that's why. If you mention that there's a problem with Windows 10, the braindead fanboys here come hammering down on the downvote button. Hopefully Microsoft fixes the touch scrolling bug in the action center in the next cumulative update.

I have the same issue and it's really annoying, they still haven't fixed it even through the update's been out for a month and it's been reported (along with a number of other issues, such as with the new 'improved' touch keyboard) numerous times. Also, for some reason, when I try to view that feedback, it says my account does not have permission to view it.

Remote desktop on my Surface Pro 3 doesn't work, but I haven't experienced any other issues with this update.

I seem to be the only one without any issues. Update went through perfectly, and Edge is working well.

Biggest issue for me is the touch keyboard. Its always showing up at boot and its so tiny on my 4K TV.

You can try the fix listed here: https://www.windowscentral.com/windows-10-fall-creators-update-common-installation-problems-and-fixes#fix_touch_keyboard_pop_windows10

An old bug re-introduced with the Fall Creator's Update. On the Surface Pro 3 Windows keeps on rebooting instead of shutting down. The only way to get around this is to , reboot instead of shut down en let the SP3 reboot, after the system reboots you can shut down. Not a showstopper, but kinda annoying. Yes I have all the latest drivers an updates installed.
Anyone else who noticed this?

The only problem I am experiencing is when I boot up OneDrive for Business opens up. I even took it out of Startup. Oh, one more thing is that Outlook sometimes opens also, but not everytime. Both of these Apps run from my Office 365 program suite. I may try to remove then reinstall to see if it helps but that will be a big PITA.

The only long standing issue i have is that the touch keyboard becomes way too tiny when my computer is connected to the TV & absolutely minuscule when trying to resize it in keyboard.

I had bad problems installing on one of my computers. It kept giving me a "Windows Setup could not configure Windows to run on this computer's hardware." error message at about the 42% mark of the installation (during all the reboots.) Thanks to some help on the Microsoft communities, found that it was IIS that was causing the problem, so I just uninstalled the app and the update worked fine. I thought it was interesting that not only is Microsoft having problems conflicting with their own software, but blaming hardware for it.

Anyone else have problem with microphones not working after the installation?

Sounds like a driver issue, which was mentioned in the article.

After this "Update", Cortana wont show up on my Lock Screen. All settings are correct. Also having loss of internet after a restart, and system in general is slow in waking up.

I have not installed FCU yet and I have that context menu problem.

When l boot up each day the on screen keyboard pops up. I have gone through the settings as well as Task Manager/Start up to no avail.

Hmm, I don't seem to be having any issues. i5 NSP

I upgraded both my wife's and my own Thinkpad 11e... No issue. At work, my boss, and 2 of my coworkers updated without any issues (shy of having to reboot). Me, on the other hand, made sure to take a full backup... And I'm glad I did... First attempt, after finally completing on my Dell 7559, broke Internet Explorer's Enterprise Mode. Our CRM system depends on that. And while nont of my coworkers had this issue, I did... Also, Outlook 2013 was having fits... So I reverted, no harm, no foul. I made another attempt on Monday... Upgrade completed more easily, but I had the exact same problems... But this time, Windows 10 FCU would not let me revert... Ugg... Luckily I had that full system image, albeit 2 weeks old... Otherwise I'd have needed to do a clean Windows install... Which I just didn't have time for... So mad... I really wanted some of those features! I set Windows to not update for a couple of months.. Hopefully It will be sorted out by then...

I don't know why they thought making Edge a part of the operating system was a good idea.

It's to do with issues in would have being part of the Store atm from what I've heard from a friend on the Edge team.

Updated my Yoga 2 Pro; install went smooth, but my touchpad/mouse went all wacky; CTR+ALT+DLT stopped working; cursor kept freezing; eventually it 'disappeared'; i finally went to Lenovo support and reinstalled my touchpad, and now everything works great again....

new owner of a yoga 920. after the update i had tons of issues with video when in tablet mode. just rolled back the update today and it works fine again. i suggest against the update for any yoga 920 owner

Upgrading to fall update is a big challenge and now after that browsing through edge is like hell

1709 was available on my Windows Tablet on day of release. No problems except it did take about 4 hours. My tablet is a very cheap 2GB RAM 32GB device. The graphics are actually better. The speed about the same. The only thing that was even remotely an issue was the Bluetooth connected but no sound. I had the Bluetooth enabled on my iPad which was on and as soon as I disabled the iPad Bluetooth all was OK. Never had that happen before and have had both devices enabled and in use at the same time many times before. After that one time all is now back to normal and both devices can stay enabled. Whichever one has audio connects automatically again.

i'm glad that my low end pc Acer Spin5 running on i3 cpu is running smooth after the FCU.
it takes only 1-2hrs for update and after update didn't make any trouble to me, and instead make the edge run better, and with more features.

I updated my HP X360 and my sons HP 15. On the X360 the only problem so far is Edge doesn't want to respond and a cpl minor things. My sons for some reason it keeps deleting or hiding the Wi-fi and bluetooth drivers. It doesn't even list them under device mngr. It looks like it never had wifi or bluetooth capabilities when it was manufactured. I have had to reinstall FCU 3 times. This last time I set the connection to metered so it won't download updates but I'm not sure that will work either since it only stops feature updates and I think this is a security update causing it.

I've upgraded quite a lot of PCs, laptops, MS Surface(s), Intel Compute Sticks, etc. So far only 2 out of 10+ couldn't be upgraded due to driver issues which crashed the OS upgrade during the crucial system file update stage. Of the upgraded PCs, 1 had to revert to an old 2015 version of the Broadcom or Qualcomm NIC driver. My Surface 3 had audio breaking issue which was solved by reinstalling the 2 Audio & Intel graphics driver. After that it was super stable. I have had no data loss or account issues (black screen during login) like Win10 AU & CU. Bluetooth seems more stable now. BUT ETH mining seem to suffered a 10% drop in performance. I'm using AMD Mining drivers, maybe I should reinstall that. Gaming seem alright. OneDrive OnDemand sync works pretty well although the sync status icons in File Explorer can show erroneous status. Programs and Apps waits patiently while online files stream down (with status) to the HDD. Edge became a bit more fickle. IE11 fare slightly better (coz it's slower anyway.) I think the DNS client Service seems to be a bit stuck when resolving domain names. This happens from the lowly Atom Baytrail to my Core i7, so I suspect DNS is the culprit. Chrome has its own DNS built-in so isn't as affected by Win10 DNS Service. This affects both IPv4 & IPv6 traffic. I also updated my Lumia 950XL(s) & Elite x3 to FCU and I honestly can't tell the difference. Except Skype really sucks doing SMS now. But it's Skype, not the OS. OK, maybe Continuum works a bit better. Other than the above, this is the most trouble-free Windows 10 upgrade I had ever. The oldest PC that made the update was the Fujitsu T4210 TabletPC, which is around 10 yo now. The newest is an Atom x5 Intel Compute Stick released last year.

After I updated to the FCU, my 'Favorites' in Edge became totally hosed! Some of my 'Favorites' folder were duplicated and the actual bookmarks were split between the two, but most of the bookmarks were DELETED! :-(

I have upgraded several computers, including 2 dell laptops and one desktop and didn't have any issues. I can't comment on the mobile hotspot bug as my phone 950XL, with the service I am using, Cosumer Cellular, doesn't supoort mobile hotspot. I will test the Edge lag issue toight and see if I can duplicate it.

I think there is a soft keyboard problem in table mode. The new shape keyboard only inputs when tapped and not swiped. The larger keyboard disappears when using Onenote but still occupies the space as 'white' space obscuring the area underneath. It will not launch or close by tapping the taskbar keyboard icon and can reappear again sometimes when all the apps are closed as if was behind them and still running somewhere. I run a spec'd up Surface Book. PD

Recently, my mother's laptop updated itself through Windows Update and now the Bluetooth radio doesn't work. I contacted HP technical support as the device is still under warranty, and through a remote desktop connection, the technician eventually came to the conclusion that the device doesn't have a Bluetooth radio. Well, I know that this is not the case as I recently purchased and connected a Bluetooth mouse for Mom as her old USB wireleess mouse was defective. Anyway, I had had the same issue with my HP Envy TS17 notebook when updgrading to Windows 8, 8.1 and all it took, for a while at least, was shutting down the notebook and booting in to the BIOS upon restart, exiting the BIOS setup without making changes and when the device restarted, all was well. I don't know if it was HP or Microsoft that eventually caught up but this problem went away. However, this did not solve the problem with my Mom's notebook. I don't know but suspect the issue is with drivers for the hardware. The Bluetooth radio does not even show up in the 'Device Manager' as an unknown device.

Apart from all the problems listed on this page, the biggest pain for me is that I use a Sage Accounting program, and am asked for a password each time I start it. There never was a password, but the program thinks that there is. I followed all of the instructions on the Sage site, including activating .NET Framework 3.5, uninstalling and reinstalling Sage Accounts, and nothing made a blind bit of difference. After wasting my time for two days, I restored my pre-Creator Update image, and turned off Windows update to prevent the crap downloading again. I'm sure that we're all getting more than annoyed at being part of Microsoft's huge team of unpaid software testers. I've never known so many problems with an update, and I'm only sorry that I can't send them a bill for all the time wasted.

I am having two of the problems listed here, the missing apps (none of the workarounds help me to get the maps app backs), and the slow shutdown. In addition I have a third problem, and is that if I untick the "Show the lockscreen background in the login screen" setting, the background of the lockscreen isnt showed when I turn on/restart the computer. In addition i have another complaint related to fluent dessign, and is that the apps using it, or have a transparent title bar or a grey title bar, but not longer have a coloured title bar. A big back step here.

It also borks the full size touch keyboard (you know, the one that's actually usable). Sure you get it to log in with, but that is the last you ever see of it. In userland, it's toast - regardless of if you had it set to use it or not previously. Unless you copy back the relevant files from build 1703, and tweek the appropriate section in the registry (both 32bit and 64bit areas if you're on 64bit).

I hated the new touch keyboard so much that I copied the old files back from build 1703. The new one's a mess, it's hard to type on, missing features, full of bugs and just incomplete.

🤣🤣🤣 another mediocre update tested by the ultra professional insiders. Pathetic!

Well I can tell you that windows Event Viewer can show you were your problems might be after the 1709 Update.
It won't help you completely resolve those problems though. Microsoft and Hardware Vendors really need to keep up with each other,especially with these large updates. I suspect Driver Issues causing most of my issues with almost all my games now crashing or freezing up after updating to 1709 . Try Alt Tab out of game then back in and see if that helps temporarily . I have an AMD RX 460 video card and it had no problems with Windows 10 and games before the update.A Brand NEW Installation of Windows 10 within the past month on a new hard drive and then this Update to 1709 which seems broken. I also had my computer tell me it was out of memory or hard drive space when i went to open an email on my PC i had previously looked at with no problems .Checked in task Manager/nope plenty of memory and still have over 500gb on my drive :)) lol wth This thing Eset is spamming my Event Viewer also after update. Using google chrome to write this.

Amazing as I read all the supposed problems with the new update again. If I have seen anything I thought was a bit annoying, it was after a reboot (or a cold start) Outlook starts up by itself but only periodically. But now I read this is normal. Sooooooooooooooooooooooo ... I'm taken back to see so many problems but then again I'm not. I only wish I could enjoy some of these griefs on either one of my three machines. I don't. Start up speed is as fast or faster and no smoke coming out of the back of my computer(s) yet because of the supposed bad update. Yes indeed!!!

After i updated to the Fall creators, most of my games will run worse and i before they would run smooth without any hiccups, most of the time its only minor frame drops, but its enough to mess with my gameplay, i want to see windows fix this asap, cause i know im no the only one having this problem, some of my friends are having the same problems. SO MAD MICROSOFT!!!

I'll be honest, this has been the worst update for me and I have contacted MS about my issues in hope to have them resolved by the next patch. - I have issues with the audio devices. The default playback and recording devices will change by themselves. I have disable the devices I do not use which prevents the issue 90% of the time. - Minimizing / Maximizing full screen games such as GTA V will cause both of my displays to turn black for about 5 seconds. This shows up in stream too. Both of those issues also occur on a fresh install of Windows. It could be driver related or a Windows bug however I've had a few driver updates since the release of the Fall creators update and the issues were not corrected. Prior to the update, the Window Switcher would crash when tabbing out of GTA V displayed as borderless window. The only thing that functions during the crash is the movement of the mouse. It requires a force reboot. Unsure of the issue but driver updates plus clean installs didn't fix the issue. MS did inform me last month that they were working on an update to fix the known bugs by mid-November. I'm hoping it fixes my issues.

My guess is that it ought to be safe for most to install by March 2018. No joke, except on us. I've been using and working on computers for about 45 years, and nothing scares me more than a major update from MS.

My browsers were extremely slow after applying the Fall Creators Update. My 70 Mbps download speed went to 1 to 2 Mbps (per speedtest). It turns out FCU reassigned my Virtual External network switch as the default network connection (I had loaded Hyper-V for several VMs I use). I used the "Reset Network Connections" option and I'm back in business. Of course, I had to recreate a new Virtual External network switch for my VMs, but that was no big deal. I hope this helps someone save some time because I wasted a couple hours trying to figure this out.

I also experienced a serious problem where I could only get around 1-2MBps, which translates to >95% decrease in my internet speed. I only resulted in rolling back to 1703. So you're telling me that a Winsock reset will fix the problem, right?

I tried to update to 1709 but after 1HR it says Can not configure for this computer and it automatically restores back to 1703 so since then everytime I turn my machine on, it starts to download the 1709 update again and asking me to restart/update but I choose not by click shutdown and it keeps waiting for me to make a mistake by click shutdown/update or restart/update. I am so tired like being raped by Microsoft. I am using W8.1 now, glad I did not update this W8.1 to W10. I don't even want Cloud/OneDrive or log into MS account. I just want to keep 1703 as the way it is for all of my Apps. As my experiences the more I update the more my machine will run more slow no matter I have W3.0 or XP or Vista etc. When it is good without problems I keep it that way. Thanks God is giving me a nice day without worrying about more updates

I Update my PC OS to Creator to Fall Creator Update after I have ,
" The user account you are operating under does not have permission to disable this task " this error message .
How to Fix this

After installing the Fall Creator's update my system performance has actually been improved. Boot time has been reduced and getting booted just in 25 sec. which seems pretty cool to me. The welcome window stays only for 2 to 4 sec. and then boom.. desktop is displayed. I am satisfied with this version :)

The terrible performance with games is still there. For me I didn't have an issue with the original creator's mode update, but this new one makes game unplayable about 15-20 minutes after they are running. It's a known issue on the Nvidia forums and reddit but there's no fix other than going back to the previous version which I can't do. What i've done and everyone else having this issue - i tried 10 different nvidia drivers, settings like changing the performance in the nvidia control panel and other various settings in there. changing all that has zero impact on the problem it just keeps happening. turning off gsync doesn't fix the problem. Setting games to the lowest settings still keeps the awful performance, borderless, windowed, changing fullscreen optimization mode, compatibility mode none of it fixes anything. All the temperatures are fine. Using and older SSD with a previous build removes the problems 100% with no Fall Creator's Update. People posted they reinstalled windows and disabled updates and all the games work like normal again. The odd thing is with game mode disabled and dvr when i start games I still see the process " GameBarPresenceWriter" running. I can kill it but it doesn't improve performance. This update is going to wreck christmas for gaming.

Since last week i've got silent upgrade of Fall Creator,my laptop is acting wierd, constantly have critical structure corruption BSOD, FPS Drop Gaming, can't change some of pc game resolution,laggy Interface,start menu is glitchy and not responding...bad thing is i can't roll back to previous version.Last resort is backup my data and do clean install from flash drive. tbh this is the worst upgrade i've ever had since WXP. microsoft is adding some **** but dind't fix the problem before they release it. i paid the licence for full version not the one of your servant to test beta version..Geez.

1) My desktop was replaced - some of my former icons (prior to the upgrade) are there but many are missing. I was wondering if my old desktop was saved somewhere and I could still get to it? 2) I lost all my STICKY NOTES content. 3) Some 'OEM' programs lost their registration key and (in some cases) associated files; i.e., they behave as if I just installed them and will expire in x days unless I provide the key. Who knows what else I'm about to deal with, but if anyone has thoughts on these issues please reply. Thanks!
Dan

This offered to me last night and was installed on my PC this morning. Since then I have had to do a forced reboot twice. In my opinion it takes longer to boot up now and something keeps grumbling around in the computer forever. Why did I have to do a forced reboot? On both occasions I left the computer to do something else. Normally it plays my screensaver slide show and, when I want to use it again, I simply click and it comes back to life. On these occasions it didn't play my screensaver and eventually the screen went dark. When I went to get it going again I ended up with a screen full of very fine pink/green check flashing madly. I could see the cursor as it was lighter (and square). I don't know how else to describe it. Reboot fixes it until the next time. Was wondering if it was a similar issue to @Jean-Luc Tallis above. I haven't got round to checking everything else yet.

I have Windows Pro running on a desktop and a laptop. After installing 1709 both devices were left with all restore points cleared and System Protection turned off on both machines. It was definitely on before the update. Not happy about that at all as it meant I couldn't roll back the update. My laptop has an SSD drive for the system with the user folder redirected at the point of install to the internal hard drive. Before the update I could access my laptop user folder from the desktop but now it can only see the Public folder on the laptop C drive. The laptop can see the desktop User folder as before, which isn't redirected. The desktop lock screen picture also was changed, and claims a group policy was preventing me from changing it, which was not true. To gain control of that I had to use gpedit to force it to 'Disabled' then back to 'Not Configured'. A minor irritation but there was no reason for it. My desktop continued to allow me to change the lock screen without that bug intervening and the picture didn't change. Once again it looks like a lack of real world testing was done before the rollout. Does anyone have any suggestions for fixing the lack of access to a redirected User folder? I've tried switching the Network setting from Private to Public and back to Private but nothing changed. I can set up a share on the target folder as a workaround but the reality is I shouldn't have to. It worked just fine bore this update, which btw delivers absolutely nothing of any benefit to me.

After installing Win 10 Fall Creator version I was unable to re-start my PC because the Start button would not work and I had no icons in my task bar. I re-imaged my machine back to a previous version and read on-line that I was not the only one with this issue. Since then I have pressed the Snooze button four times to avoid loading Win 10 update. Today I received a message telling me that I should "Strike this off my list and get the update insatlled." I'll try it again tonight to see if there is any improvement, and report back tomorrow with results. Anyone else had this experience? Canukos

I cannot connect VPN directly from internet panel at the right bottom corner. I must have to go on network panel in the settings then I am able to connect my internet, how can I fix it ??

I use an HP laptop. I dont want features focused for touchscreens and tablets. I dont want to go to the store for apps like this is a phone. It hasn't been a week so there may be more issues I haven't discovered. Aside from a slightly slower performance/start up, I have some serious "I may need an Apple" moments. 1. The power icon is gone. Ive lost computer use because there was no indication the battery was about to die. (its a laptop, made for not having to keep it plugged in, otherwise Id use a desktop) Ive done all the steps found across the net that I could do but still cant get it back. 2. The Taskbar Settings>Select which items appear on the taskbar ---- are not working. This means I cant control what I see. Its random. 3. The Taskbar Settings>Turn Icons on or off ----has a grayed out power icon. Which means I cant do the obvious fix to get the icon back. 4. Device Manager is showing several warnings which I cant fix. 5. The Event Log is full of errors and warnings. Again, I cant fix Ive been all over the web, trying the solutions but theyre for ppl who can actually access those buttons or files. I cant. Something happened with this update that feels like a stranger coming in and reorganizing my refrigerator and throwing away my favorite foods.

I also have a HP laptop & started getting a "power adapter" nag screen after the update. My power adapter is plugged in & just stops charging the battery. I have to unplug it, shut down, disconnect the battery & hold down the power button for 30 seconds or so. Reassemble everything & even then sometimes I have to unplug the adapter & plug it in again to get it to begin charging again. Some days I can go all day without a problem, other days, it's a struggle all day. My BIOS also updated on the same day. One of the updates is the culpret. I just haven't had the time to back everything up for a claen install.

I've been putting of the FCU for as long as I can get away with it <grin>. . What everyone, including MS seems to be forgetting is the scope of Windows 10. Recently I was reading a MS blog. They say that the FCU is a success. . oooookkkkaaaay ... . But a little farther down they mentioned the number of users that had a specific video problem (that was part of a larger similar issue with other causes). That number was 1 in 600. Statistically "good", only 0.1666% failure. "3 9's" quality. Until you translate that "1" back to the over 1 million people it represents in real life. . I realized (with a quick google check) that is just a little under the total population of the province I live in! That is as if every single person I pass in the street, and all of their friends and relatives (and the enemies they wish Windows on! <g> ) have been affected by this one bug. Everyone who lives in this 250,000 square mile geographic area has had their computers disabled BY THIS ONE (of many) BUG! Sure globally and corporately, that 3 9's quality sounds good. But when you make it local, and personal the impact of that "only 1 in 600" is HUGE. . Corporate MS has lost sight of that personal impact in their big business numbers game. That is the "advantage" the various Nix distributions have. Their numbers are so small that reported bugs are personal for the developers. Individual users can still contact the developer who is working on their problem.

Pretty much 90% of the users on Nvidia's site have this problem. It's a huge amount of people on Steam too. I'ts safe to say gamers in general are having lots of problems with FCU, and the only people I've met who don't either still have 7 or 8 installed or didn't update to even the original creator's update. Microsoft is a garbage company like EA. We didn't need a gamer mode for PC.

Terrible! Lag, can't high light, cant't drag, can't drag and drop, color problems. Can't use Wacom Intous Pro. Why does Microsoft have a right to create all these problems?

Ok I can't deal with this update anymore. The update keeps failing and then forces my programs to close. I just left my computer for 10 minutes to take out the dog and it closed all my open programs without saving recovered files. I returned to a mess. I can't turn off this update and I am almost ready to switch to Apple. I don't know where to complain my stress levels have increased because of them.

This update has managed to break MathCAD 13. What happened is that the program no longer is capable of starting up from double-clicking a file with its registered extension. It reports an error and comes up with a blank screen. On one of my computers it also crashes on files that I had created a year earlier with an earlier version of Windows 10. Since this program was not cheap and no longer available the damage is quite severe. Attempts to change compatibility settings did not work. The latest MathCAD prime versions from PTC cost thousands of dollars. The net results is very bad from this point of view. Otherwise I have no other issues with the update.

Creator's GAFFF!!!! After the latest Win 10 update, I couldn't get past the blank screen that came up after pressing passed the log-in screen. Sometimes it seemed like everything was running super slow. After re-booting many times I got to the browser through a pop-up by malwarebytes to Upgrade. There was no Start button, no list of programs, nothing, just a blank screen without even a graphic backbround. The curser had the hourglass for a few seconds, off and on, but nothing showed. Now that I think of it, on the last Win 10 update, I lost many of the included programs (which I don't use, like Weather and Calculator) on the Start menu. They were greyed out. After trying a fix, they were then blacked out. If clicked, I'd get a loading white line along the bottom which would stop near the end, and they wouldn't materialize. Would that be part of a compounding problem? I reverted to a previous build and it worked fine, BUT I DRED HAVING TO BE FORCED TO UPGRADE TO A DISFUNCTIONAL BUILD.

How is the Fall Creator Update 1709 working on my PC? It´s not. However, it did download and install on my HP Laptop and it appear to be working fine. On my desktop, I have the exact same problem as registered by Selereth on Reddit: I was able to download the Windows 10 Fall Creators update to my computer, however when I restart the computer to finish installing the update like it tells me to it doesn't update.
— Selereth on Reddit I almost used the Microsoft Media Creator but changed my mind after reading about the problems it created for people who used it. I will now try to delay the update and still get the security patches. I will attempt to do the delay using your instructions. Let´s see how that work. Stand by. I have read, researched, and tried solutions in different forums and on YouTube all to no avail. I have been at the task since December 2017. I hope you can understand that I am extremely frustrated.
Windows Central Newsletter
Thank you for signing up to Windows Central. You will receive a verification email shortly.
There was a problem. Please refresh the page and try again.