Windows 10 Mobile 10149 oddities: Missing Glance, Call History, Quiet Hours and Error 0x80070003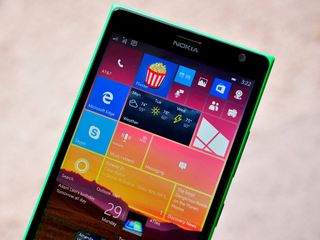 Microsoft's Windows 10 Mobile for Insiders saw a substantial update late last week with the release of build 10149. I called it a "turning point" for the nascent OS as this is the first build I would consider for daily use (albeit with some quirks, it is in development after all).
There are four issues that are affecting some users and as usual, our forums tend to have the right answers. Let's take a look!
Missing Glance Screen controls
In my write-up on build 10149, I noted that turning off Glance may save some battery life particularly Glance Backgrounds. Regardless if you want it on or off some users do not have a choice as the settings (Settings > Extras > Glance Screen) are just not there. I have them on my Lumia 1520, but lots of users are noticing they are missing the option.
What's the deal? According to some users in our forums, the issue comes down to whether or you not you upgraded and then performed a hard reset on your phone. As many people have figured out, hard-resetting Windows 10 Mobile tends to make it much more reliable with fewer flukes.
Ironically, this time hard resetting backfires. If you hard reset your Windows 10 Mobile you lose those Glance Screen settings. This explanation is why I and others do not have this problem: we did not hard reset (I did for the 10136 build but not for 10149).
Unfortunately, even reinstalling the apps through the store (using something like SysApp Pusher) does not seem to fix it. As of now, there is no known workaround.
The rule of thumb here seems to be to set Glance how you want it before you hard-reset as that will 'lock in' that setting. This advice is assuming you want to hard reset your phone (my Lumia 1520 is running just fine without doing so).
Missing Call History? Nope.
For some users after upgrading to build 10149 tapping the Phone Tile brings up a dialer, but there is no call history. At first this appears to be a major omission but it is just another oddity, and luckily there is an easy fix pointed out by Mattman86:
Unpin the Phone Tile
Browse your App list and pin Phone back to your Start screen
Now you should have the full Phone app that includes History, Speed Dial and Dial Pad.
Quiet Hours Do Not Work?
A few users have noticed the blinking Quick Action item for Quiet Hours. Even worse, tapping the action button does nothing.
Are Quiet Hours not working? Actually, they are but you need to access them through Cortana instead. To do so, follow these directions:
Open Cortana
Tap the hamburger menu (upper left)
Choose Notebook > Quiet Hours
From this menu, you can enable Quiet Hours right now and add and adjust the Automatic rules.
Microsoft's Gabriel Aul even chimed in on this one, and it is an obvious bug in 10149 that will be fixed in later builds.
Store (Beta): Error 0x80070003
Finally, another issue some users are experiencing is when they try to download an app from the Store (beta) the download fails with a 'Try that again' and Error 0x80070003.
Some users have had luck with using the old Store to download or update apps while others suggest soft-resetting. However, there does not appear to be a reliable and consistent way to fix this just yet.
Gabriel Aul has told one Insider that the "Store team is working on this" implying this is on their end and not your device. For now, you can hop into the discussion forum to see what others are trying but for now it looks like we may have to wait until Microsoft fixes it from their side.
Wrap-Up
None of these issues are deal breakers although they can be frustrating. Luckily, there are a few workarounds and fixes available, and things will only get better from here. I am still using my Lumia 1520 with Windows 10 Mobile build 10149 and for the most part I'm very happy with the results.
Have you found other bugs and fixes with 10149? Let us know in comments.
Do you need more help? Jump into our Windows 10 Mobile forums and see what is going on!
Daniel Rubino is the Editor-in-chief of Windows Central, head reviewer, podcast co-host, and analyst. He has been here covering Microsoft since 2007 when this site was called WMExperts (and later Windows Phone Central). His interests include Windows, Microsoft Surface, laptops, next-gen computing, and for some reason, watches. Before all this tech stuff, he worked on a Ph.D. in linguistics and ran the projectors at movie theaters, which has done absolutely nothing for his career.
Stable builds queue starts from here...build 10149

Maybe it was just me I've had this same issues with all builds, every problem happened to me except Phone one. Maybe MS doesn't like me :(

Relax buddy! Things are going to get better from here...Jus be patient.

I was prompt to update my phone after the build 10149 was installed but then, the spinning gears were stocked at 99% for 7 hours until this drained my phone's battery. when i turned it back on, it does not progress. zzz,

One little bug I guess... The battery icon is too small (little) :D

It shall remain as it is...Its not a bug i guess!

Actually it is microscopic.. And I can barely see the charging sign on that little thing (battery icon) :P

The leaf and the plug look the same, it's that tiny.

You are not the only person experiencing this problem.

At least they fixed the Store icon (tile). The size of that bag was what really bugged me.

Give us more customization options❕
.......
We should be able to select multiple images, and edit them, for the start screen.... After we choose our increment the start screen should cycle through the images we choose.... W10 does this, and so should WM10.
......
Heck, why not be able to not only cycle through start screen Image's, but also cycle through themes as well❔ That would be cool.. They need to make some bolder moves.

I was thinking of a feature in settings that will periodically change the wallpaper automatically..

We have it in W10 desktop.. Lets hope for a mobile version as well

But it'll definitely eat more RAM...let's see if its coming or not.

Well.. If MS can smoothly run those same desktop apps like outlook mail , calendar , music, films & tv apps in my 512MB device.. I think they can also bring that feature without using more RAM..
Remember? We can set Bing images as background.. Which will change every day... Similar feature know

we have rotating wallpapers even on windows 8 desktop , 8.1 desktop and start screen

Exactly!.... MS could even open it up to developers like they have with the lock screen.

Or do it by themselves... I don't prefer 3rd party developers inside the OS basic features :)

I do believe that is going to need a lot of System resource, like use up much RAM

It's 2015, man... Please quit with the same old sayings.... "Dual core will kill your battery" "720p is overkill"..... SMDH.. When will some of you ever learn.. Just demand more, leave the engineering to MS, and don't overthink everything... Lol❕:-)xxx

It will, but they can flatten it out..
Even my very old Symbian phone could cycle wallpapers.. And it just had 128MB of RAM.. And it ran fine

HOW exactly is this relevant to the topic? Can you please keep your whining to relevant topics? Thanks.

Yeah right! Need more customization options like in the lockscreen we can set bing images. similar to that start screen should also have bing images :)

Transparent notification-bar and customisable keyboard like IOS would be nice to see, my mom always ask me is she can change that black ugly keyboard.

I tried it on the HTC ONE it works great but strangely it doesn't let me setup Cortana. Does anyone have a solution for this problem?

Try changing location to US or UK & speech settings to English(US) or English(UK) resp.

I was not able to find a work around for Cortana.. Tried those.. Still no luck

I had the same problem I had to roll back and start over without using a backup

Since we can't download any language or speech packages , Cortana can't be used atleast till next build ..

I had the same problem on Htc 8xt. You have to go to Settings, Ease Of Access, More Options, lower the Text Scaling alot. Then go back to Cortana and allow access should now be visible.

Sean1robertson, Thank-you! Perfect solution; it was driving me crazy.

build 10149 = problem with SMS. So nothing special for me without working sms app

My problem is MMS, I cannot send or recieve pictures.

i have this problem too. and it happened on older builds as well... It seems like some cache problem with "replying from notifications" and the Messaging App. Ive noticed if i soft reset the messages i sent that dont show up are there. or they get sent to the recipents upon soft reset. this needs some testing. I have submitted feedback on this issue. hopefully its fixed in the next build. i wonder if maybe the sms backup is causing the issue.

I had that same problem with no SMS after the upgrade. Nothing I did would solve it until I restored Win8.1 and upgraded again. Now it all works, but the battery life is almost non-existent.

Big trouble in all SMS applications at Lumia 925, it completely passing away!

It was hard for me to resist. I reverted back to 8.1. No issues as it is TP. Microsoft has done a great job. Was happy to see many new features n hoping for more In the future.

Same here to hard to resist and because Daniel was so positive about without even a hard reset i decided to install it in my daily driver (1520), my 925 works as it did on 8.1 (no issues, but also no sim in there so I can't test everything), my 830 really is doing better with 10149 but still sluggish on resuming and opening apps (no battery drain btw) my 1520 runs so much smoother on resuming and opening apps but has some serious issues. Keeps crashing when there is no good connectivity, sharing photos or files is impossible (on the moment I touch the screen to get to another app to share with it opens the app I touch). Battery drains within 6 hours ( on 8.1 14 hours easily) pull down notification screen is a hour and miss and in some apps does not work at all, the 1520 gets hot in the top left corner (never had that). I also received another update this morning (from which i believe my phone got worse). When I first installed 10149 yesterday I was really impressed but after that update things got worse. Also I am not liking the outlook app I prefer to have separate icons so I don't need to switch accounts to see what arrived where. Besides all of my issues I do like where 10 it's going to. I will keep it on my daily driver for now hoping a new build will come soon

Good to know the 925 fairs well on this build! Will update from 8.1.2 to this build tomorrow morning over Wi-Fi.

I didn't get any SMSs.. couldn't send either... rolled back to 8.1

if you install 'Internet APN' and 'MMS APN' manually, they (sms/mms) will work. Method: All settings>Network&wireless>Cellular&Sim>Tap&Hold "SIM/Your Carrier">Properties>scroll down and enter your info. (get info from carrier/web before you start)

too late now :D allready on 8.1 it is strange however.. i had no problems with sms/mms on previous builds (136 was the best for my L920)

Anyone on Verizon get it working? I didn't even see an area for MMS APN on my ICON I rolled back but, I would reinstall it if picture messagign would work, that was a deal killer for me.

My Icon never worked for picture messaging or Group messages through Verizon. Scared the hell out of me. I rolled back to 8.1. Haha.

Worth to mention that you can download every paid/iap containing app via old Store to keep your purchases. Store Beta doesn't handle iaps and paid apps as for now.

It's been mentioned earlier, I think.

I can only use the old store. Store beta does nothing. It doesn't show that any of my apps are installed

Weird. It works on mine except that I don't seem to be successful in installing few apps. Did you make a hard reset after getting the build?

any ideas on how to fix error 0x80080005? i get this at the download/install phase when coming from build 10136 Tried hard reset and not restored the backup - so looking like a new phone before re-installing windows insider app and choosing the fast ring again. Still no luck. Lumia 521, MetroPCS

Bad photo app. F**k microsoft

Apple computers are white. Seconded to Apple

Odds are you have a large OneDrive collection. That will render the photo app really slow. For now turn off the show OneDrive photos.

Quit complaining. At least wait until it's released. People like you should not partake in the beta testing.

Beta testers who don't complain until the product is released aren't doing their job.

Photos app is way better than wp8.1 photos app

Stop trolling.. The photo app is fine. You can turn off the OneDrive sync if you don't like it.. Or just your phone that are shitty

Can anyone confirm if Kids Corner is still a feature in W10? It's one of the best features of Windows phone.

It's still there, as is Apps Corner.

I'm missing my Windows Feedback app and I still have the Insider Hub app. It's supposed to be the other way around.

Briefly hold "Power and Volume Down" to activate "Feedback App"

Its not in my app list and yeah every time I try to open or access the feedback app it says Download From Store. When I click ok it crashes. The feedback app is just not installed.

No mention of the gmail bug with SMS? It was listed in the known issues for the build, the reason i didn't go for it, but haven't heard anything about it since?

It hasn't affected me at all, not that I can tell anyway.

Yup. I was afraid to update to this build due to this and a bug that's lock you out for couple of hours. But could not resist and updated to this new build and from that time in loving the new build.
1. Animation on the start screen when we launch a new app from live tile.
2. All the fonts and logo are better. (except the battery icon)
And many other small change from the previous build 10136.
The previous build had many bugs which was irritating sometimes.
1. The phone history does not show the incoming calls, so if it's unknown number there will be no history to call them back.
2. Use to freeze often and have to soft reset.
3. Settings did not have extras.
4. Not able to update or download certain apps from store(Beta). The issue is still there with me build.
Till now my L730 is doing great support from small bugs like the store and certain apps like Fantasia crashing or not working properly. I also didn't hard reset it or revert to 8.1. Simply updated from 10136.

to fix Store (Beta): Error 0x80070003, open file explorer, delete wudownloadcache in sd card. it works for me on most downloaded apps

Oh my gosh, this background wallpaper is just amazing! If you've got a link to share, I'm taking it!

Did you observe Cortana is like a raising sun in the pic?

That "try that again" error is really annoying. I get it often on my pc on 10130 and it has wasted so much of my data. MS should at least provide some details and help on how to fix it.

this time I did not hard reset my phone and everything is working great, tiles look sharp and crisp, store downloads seems to be one of my biggest concerns, sometimes they work and sometimes not... The only thing I am having trouble with my phone is the wallpaper, I can not seem to change it, it is stuck in the picture I had before upgrading, is someone experiencing the same and have found a work around??

I have same experience like yours. The only way to fix it you need to soft or hard reset. On the first boot don't fill your Microsoft account, just skip this step do it later. Don't worry about your saved file like phonebook or text message, you can restore later. I thought that happen because when you enter with your Microsoft account they restore all your backup include setting on your previous OS.

Soft reset won't work. Won't do an hard reset over this. Any other solution?

I found that if you cancel all the updates that aren't working, then turn on airplane mode then off makes it work when I went back in to the beta store and checked for updates it downloaded just fine

Hmm, that didn't work me. Too bad, I have 6 apps stuck in this app pergatory.

Will my current apps work???

almost every app works fine now.

What's the use of Sysapp pusher????

It lists System Apps that are not searchable in the Store like Glance or Display.

Making a search with the search button, Glance screen appears...

Thanks Daniel, I haven't heard of the app before today....well it worked for me, now I have those nokia system apps back (except "glance background") in the extras settings.
Also after using sysapp pusher, glance settings will only work/showup if you launch it from cortana.

Blurry background for start screen
Gmail - sms bug

Store error 80070003 also happened to me on PC.

E-mails dont give banners/ sounds and info in action center! They work ONLY if you open mails, and let them in backgrounds!

I wish quiet hours was not linked to Cortana.

Me to, but most of all I wish I could use Cortana without changing the region/language thing from Norwegian to USA. That way I can use some of her functions, like quite hour.

How about disappearing keyboard. My letters just disappear as I type or misfires so that i see H but not see the rest of the alphabet.

I would upload a screenshot but this comments place does not allow it.

That happened to me on the first day I've installed this build.

Daniel, Can you give me the link for that Damm wallpaper......?

I'm still on 10149, but battery life and crazy heat are ruining it for me.. (L930) But I won't roll back to 8.1 this time, the OS is finally coming together and I wanna be a part of it :P

Been back to back testing against 8.1 and the battery life Is no different to me

Check the touch sensitivity options.. That was eating my battery.. And better go through every settings you have... And find what's causing the battery drain.. I hope that will help :)

I think that 4G plus location services activated is what causes the heat and battery drain, I now keep battery saver on all the time and location off...

Any mention of photo editing apps not being able to open photos? That's the big thing that got me to revert back to 8.1

I think it works now. Are you talking about the edit button when viewing a photo in gallery?

No. Like opening a photo from a 3rd party app. EDIT: But I get what you're saying. It'd be a workaround if the same apps showed up in the edit menu like they're supposed to, but they don't for some reason.

I'm having the download error issue making it doubly as annoying since i had a German language 1520 and downloading the language packs/keyboard etc gives the same error. This means I can't get Cortana or stop the blinking quiet hours action. Once the store issue is sorted then I guess all will be fine :)

HTC One M8 - tried a "hard reset" after hearing about how fast it is vs migrating from 8.1 which was running okay but slightly laggy. As soon I got back into the OS (without restoring a backup) emails would NOT show up in the notification area. When going into the notification area, it would only show Phone and Messages as options with toggle switches, never email. Any ideas? Migration worked flawlessly (only slow)... Hard Reset with no Restore lost all notifications.

Have you installed the "outlook mail" component in the beta store? Mail is no longer built in to the OS (for good or ill) and you need that new Mail app in order to get mail. You also may need to update - they've released a couple of updates for Mail since 10149 came out.

Yes - althought I thought it was labled as "Outlook Mail and Calendar" maybe? Everytime I got into the Store(beta) it would show that I previously owned it and could install it, never indicated it was installed. Not sure if that's how it normally shows up or not.

I enjoy the new build. Though the things I miss is the ability to block callers, a unified inbox, and set ringtones for contacts. Other than that I haven't had many other issues.

I'm with you there on the "set ringtones for contacts". I hate not being able to aurally know who to ignore when they're calling/texting me just because I recognize their ringtone/text tone. LOL.

i think you will stilll be able to set the ringtones by each contact via the people hub - edit

Many thanks. Few fixes helps a lot

Not a bug but a plus...the ability to slide your finger from the"&123" key up to a now open #row. Something little but I missed having it on the previous builds. Thanks for the call history tip!

I've been going on and off with these Insider Builds, but this one looks a lot better so I'm trying it out this evening even though I have reverted back to 8.1 like 4 times already :)

On the lock screen I have the missed call icon stucked , I deleted the call but the icon will not disappear,and help .solution

It's not gonna bite you man... Let it be there... Will be fixed in next build...

Quiet hours deemed "too quiet", replaced by "whisper time"...

Battery life is HORRIBLE but I'm optimistic. Can anyone connect to Bluetooth? Microsoft Band and speakers are useless for now.