Windows 10 Mobile Preview build 10149 is now live for Fast Ring!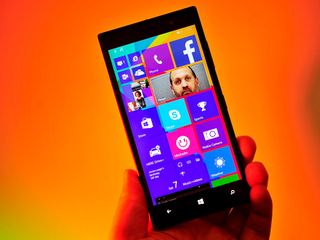 Despite last week's release it appears Microsoft is upping its game for Windows 10 Mobile. Today, build 10149 is now live for those on the Insider program enrolled in the Fast Ring.
Once again, this build is missing the 'post-upgrade migration' status, so you need to sit tight after the update for that to take place. Otherwise, here is the big list of what is new and improved!
Windows 10 Mobile build 10149
Microsoft Edge: The first thing that you'll notice in this build is that the Microsoft Edge branding is now included in this build. This build also has the address bar at the bottom – this is a change that we made based on feedback we heard from Windows Insiders. The option to view websites in mobile view or desktop view is also included in this build as well.
IMPORTANT NOTE: The result of the naming switch from "Project Spartan" to Microsoft Edge means that the Microsoft Edge app has a new app ID. This will cause any favorites, cookies, history and Reading list items that you had saved in the Project Spartan app to be lost after upgrading from a previous Windows 10 Mobile Insider Preview build.
General UX improvements and refinement: You'll see a lot of UX improvements and refinement in this build. We've fixed an issue where many Live tiles pinned to Start would appear blurry – so your Start screen looks much more clear and crisp. You'll also see a lot more refinement of controls with updated icons and visuals (such as the volume controls). Overall, you'll find the OS more responsive to use. We've got more work to do here but we're happy about great progress made in this build.
Improvements to Cortana: Cortana's Notebook is in its final stage with a combined Profile and Settings experience now. You also now set up Quiet Hours in Cortana's Notebook as well.
Flashlight quick action: One of the top pieces of feedback we heard from Windows Insiders for Action Center in Window 10 Mobile was to add a Flashlight quick action so you can quickly turn your phone's flash into a flashlight. And we've delivered this little feature in this build. Just open Action Center, and expand quick actions to check it out for yourself. You can customize which quick actions are always shown in Action Center without having to expand.
Check out the updated Photos app for Windows 10: We've published an update to the Photos app via the Windows Store Beta. This update includes general performance and reliability improvements, as well as new capabilities such as support animated GIFs (works on phones with 1GB of RAM or higher). This was a top request from Windows Insiders! And now links to your saved photos, screenshots, and camera roll are available on the Albums page.
Automatic camera upload via OneDrive: Automatic camera roll upload is now managed directly with the OneDrive app on your phone. Make sure you open the OneDrive app and go to settings to set camera upload to be turned on or off depending on which you prefer.
Update your apps: Make sure you check the Store Beta and download the latest updates for apps. Many of our first party apps such as Outlook Mail and Calendar, Music, Movies & TV, and the MSN apps (News, Weather, Sports, and Money) are updating independently of builds so we can get changes to you faster. Make sure you have the updated versions of these apps to get the best experience on your phone.
Things Fixed
We have fixed the issue first reported with Build 10051 where Call + SMS filtering would not work after upgrade.
We have fixed an issue where text notifications weren't appearing for incoming messages.
We have fixed an issue where the Podcast app wouldn't work.
We have fixed some issues where apps were having trouble installing or updating via the Store Beta.
We have fixed an issue where the navigation bar couldn't be hidden.
Overall, this should give a shot in the arm to those Insiders who are patiently testing Windows 10 Mobile. For those losing faith, this build looks to go a long way in restoring that confidence. Windows Central will try to do a hands-on video later this evening after we have had a chance to explore and play around, stay tuned!
Source: Windows Blog
Daniel Rubino is the Editor-in-chief of Windows Central, head reviewer, podcast co-host, and analyst. He has been here covering Microsoft since 2007 when this site was called WMExperts (and later Windows Phone Central). His interests include Windows, Microsoft Surface, laptops, next-gen computing, and for some reason, watches. Before all this tech stuff, he worked on a Ph.D. in linguistics and ran the projectors at movie theaters, which has done absolutely nothing for his career.
may i know does windows 10 mobile have internet explorer or they replaced it with microsoft edge completely

Now on the preview both of them are available but the final release will get rid of ie

@mary beth hale: "soumya" is a women name ;)

Its actually used for both . Difference comes in pronunciation.

This is waht happens when you write Hindi names in Roman Script :P ... His name is actually सौम्य .... सौम्या is a female name.... :/

let's hope she never says that, ok guys

They are nearly done on the pc front so are concentrating more on mobile.

Wonder how soon they will drop a relatively stable full functioning release for those of us who aren't so daring?

Wooooow!!
And the end of July still faar away

Windows Phone 10 Final won't be available at end july we will wait more longer

I mean that they started showing some progress for WM sooner than they said

I think people lost a bit of faith on MS when they heard the mobile build would release later but i think it wont be too far off from the PC build. Its clear the patterns we saw with the PC is being followed with the Mobile builds. Mobile builds are about to go on rapid flight mode. Most of the core is finished. Who wants to bet Mobile gets released late September :D

Let's just hope they will optimise the OS to work with the infamous Snapdragon 810 without overheating before the loooong overdue flagship finally comes out...

Or better yet, we don't get a 810 at all.

That would be the perfect scenario. Why even bother to risk the launch of such important and highly anticipated device after EVERY single device that came out with that processor has been subject of heavy criticism from both consumers and press?

Do you think the overheating problems is more likely due to the power hungry android OS and less about the processor. W10 may not be as hard on the 810 as android.

I am not eager to find out. It's not like Lumias are heat resistant and Windows is the coolest of them all. Had plenty of heat issues with 920 back in the day, not keen to go back there. Besides, 925 is not a saint either...

You should see an icon "in action" to talk about heat issues. I can't play asphalt 8 without burning my hands, also drains the battery very fast, and yes i know maybe is the app itself, but the phone itself have some heating problems.

I'm pretty sure the processor is causing it.

no idea i dont have heating issues on my 930, does it get warm yes, just like my iphones and galaxy phones did.

The problem with the Snapdragon 810 is not the o/s where the soc is being used, it's the soc itself. So, I will never buy a phone, be it Windows or Android, with an 810 as it's powerhouse.

Apparently there is an updated version of the 810 that does not have the same thermal problems.

Version 2 as the same problem.

Supposedly version 2.1 does not

They have a newer cooler running version of the S10 which is going into the OnePlusTwo.

This update two which is in the new Sony? Because that comes with a warning in Japan.

No. The new Sony phone has still the older version. With glassgate Sony phones is heading downhill fast..like the rest of the company..

What the fuck is glassgate?

If I was on the phone team right now, following that internal email, I'd be calling Qualcomm and insist the have the 820 ready for inclusion in the October flagship. Be a shame to use an already known turkey.

Update 2 has shown to make a big difference. Anyway, how long for the 820/620 to arrive? I guess too long. To me: not worth the wait.

are you kidding? we have been waiting for so long that another two to three months will make no difference whatsoever. Jumping on Snapdragon 820 means Microsoft gives us bleeding edge technology, sticking to the infamous Snapdragon 810 will make the new flagship totally irrelevant after the flood of negative articles and costumers' complains. By the end of the year no one will care.

Is the Snapdragon 820 proven to be better than the 808 and 810?

I dont think they build flagship with 810 because there sd 820 available at that time... lg g pro announced with sd 820.... Posted via the Windows Central App for Android

To download or not to download hmmm

I'd say wait until August, the builds should be stable by then

If you have a spare phone, go ahead. If you only have one phone, don't. Still too buggy for daily use.

At this point, its not the OS that's unusable, as it is Outlook that is horrible. Is it just me, or am I like the only person that uses email on a phone these days. :)

By the way, a new feature I've noticed on my Lumia 1520 with W10m is if you hold down the Windows Button the screen will slide down for easy access to items far from your thumb when using the phone with one hand. :) It is similar to what iPhone has.

Yup. We posted a video featuring that very feature :)

How is it on the 1520? Stable enough?

All I want to know is can I update my daily driver yet ? I love living on the bleeding edge (been using Win10 on my desktop for months now), but to date it didn't seem stable enough.

I would wait. Been using it for several builds on my 930 daily, and many things still ain't resolved to make it viable

I would not wait. Updating my 1520 right now. Even the current build i've been using on my daily driver so this one should be fine. The only really anoying issue I had was when trying to save a new contact it would always crash the app, hope that is fixed now.

You can get locked out of your phone for hours with this build, so no. "There is a very rare situation where you are unable to unlock your phone after entering your PIN and it keeps letting you type even though you entered your pin correctly. If you hit this – leave the phone alone 1-2 hours before trying to unlock again. This is caused by a TPM issue that could get worse and require you to reflash if you get into this state and power off the phone."

Solution: Don't use password :)

Wazhai, Thanks for highlighting the info. I made mistake of keeping my phone securely locked with 4 digit code on previous build. So after upgrading my Nokia Lumia 720 to this new build version 10149, I was asked to enter the password. I did the 4 digit code but phone just showing the same screen and I can input any number of digit and erase them. I played for a while like erasing and retyping the 4 digit code finally no success and force restarted mobile. Now my only solution is to use the recovery tool from MS website. Downloading package of 1.52GB... I was able to see the notification panel. WOW all useful stuffs sticked there like torch, data on/off, notes, and 9 more items. Much eager to recover my mobile faster. Lesson learnt: Not to use security password in alpha versions anymore!!

if you have a 1520, go ahead use on daily driver, if you have any other phone, I would think twice. When it comes to problems the 1520 do not have as much problems as the other phones. I would stay away from the 930 and Icon if you have one of those phones, they just seem to keep having problems. I am glad the 1520 is built differently from it.

Being on the bleeding edge for a phone is very different to a PC. PC's are super easy to troubleshoot and fix yourself, and Windows 10 is much, MUCH closer to RTM on PC. So, no, I don't think it's ready for daily driver use. I still knob around on a spare phone with Win10 and this build doesn't change that.


Scaling issues on 930 as before? ​

I want to know this too. No-no for super tiny bitsy tile icons haha.

Thanks but no more builds for me... The issues of not being able to view PDFs from emails, notifications not showing, many apps became unusable since last build etc etc.
I know bugs will happen, but when you get the same issues after several builds; I've gone back to Ol' fateful til full release

Too bad I dropped and broke the screen on my 920 last night. I would have like to give this build a try. There will still be a good 4-5 months before there's a new flagship, I either need to fix my 920, or get a 635 to tide me over. I like the advancements of Windows 10, but I'm more than tired of the wait. I got my 920 the week of release - to wait another 4-5 months will make time between new devices, 3 years.

Don't get a 535. I bought one and sold my 1020 to sit on the cash and wait for the next flagship, but man did I choose the wrong phone. 635 SUCKS.

Lol! Coulda gone 640 at least? :)

635 and 520 are available as ATT gophones - I don't want anything that will stick me with a new contract or payments, so those are my choices if I don't go with fixing the 920. I am really just tired of waiting - even being the MS fan I am, my ability to wait is wearing exceptionally thin.

Get the cheapest of the two options, wether it is fixing your 920 or getting a temporary replacement, and if the cost is to your liking (( I am not sure wether this is the right term in English or not so please excuse my English )) may I suggest the L640 or the L540?

The Lumia 540 or 535 isn't available in the U.S. yet. Currently anyway there's only a Dual SiM option for the Lumia 540

So, can we update from build 10080, or is that bug still persistent?

"Those of you who chose to stay on Build 10080 and not go back to Windows Phone 8.1 to get Build 10136 will be happy to know that you'll be able to upgrade directly to this build – so you won't need to flash your phones back to Windows Phone 8.1."

Step 1 - Read the title of the article. Step 2 - Ask a question in the comments. Step 3 - Wait for someone who has read the article to quote the bit that applies to your question. Step 4 - Repeat.

So there is some method to this madness.

Wait.. What if I cant be bothered to read the title? Can I just ask when is the flagship/update/app/whatever else coming to India?

Has anyone tried this yet? Is Onenote working in this build?

OneNote worked great in 10136

It hasn't worked for me on the past two builds. Lumia 635

The carrot was always off for mw in OneNote

Topping off my battery then down-loading. Already liked 10136

If they release the builds this fast from now on, i'll be happier testing. But many things still need to be fixed if i would use it. So hows the build? Daily-driver usable? First and formost the device should be reliable, also not as buggy and slow as the previous one. And when are we getting unified inbox?

Gifs for only 1 gb + , oh why cruel MS ? :p , seriously though , on 512 mb once you click the gif does it animate or not ?

Dude, time to move on from 512 Mb.

512 MB of memory is like owning a BlackBerry pre-BB10. You really want something more, and the industry has moved forward, but some people just make do with what they have.

Cooool now panorama interface when?

You can directly update from build 10080.Sometimes its good to the Windows blog ..

I think that WIndows 10 mobile will realease officially earlier than i thought! Just WOW!!! Really impressive Microsoft! (This is not irony or sarcasm)

I'm sure it will be available in October.

I wonder if Cortana reads text messages over aux jack in this build. Main reason why I didn't stick with the last build combined with the music player stopping playback until soft reset and other apps crashing.

I have to ask if MMS has been fixed? This was a deal breaker for me before.

It was reportedly fixed last build. So I assume its still working on this one.

Is this a dream come true?? Well my lumia 920 is now getting ready. And in a few secs i will pass ou from excitment

Dammit, literally just rolled back to 8.1. Literally like an hour ago

Do you mean that literally? I can't really tell.

it shows at my lumia 1020 as 10.0.12648.133 update , is this the rigth one??

yea me too.. was wondering the same thing

Top insider requests, huh? I'm very happy they FINALLY moved the address bar in Edge. But if they're really listening they need to give us the option to use square avatar photos... EVERYWHERE.

Do we have a list of known issues?

seemssssss fassssssttt!!!

Still colour profile and brightness setings are missing. I love very high saturated colours on my OLED screen !!!

what is the total size of update..???

My phone shows Windows 10 Technical Preview for phones (10.0.12648.133) as the available update. Can someone please explain if this the 10149 build? If so, why does it say 12648?

Yes, that is the 10149 build. Build number is not the same as OS version number. The previous OS version number for build 10080 was 10.0.12562.84

Anyone tried OTG with this build? Does it work?

can the the navigation bar be hidden in windows 10 in the lumia 630/635 ? because of the extra 54 px, it can't be hidden on windows 8.1 please respond

I'm not sure it can, because I think those 54 pixels are specifically designed for the navigation bar, and so apps are still limited to 480x800, because that's one of the supported Windows Mobile app resolutions. Maybe they'll change it later on, and enable the OS and apps to use the extra pixels, but for now: They're limited to the navigation bar on devices with extra pixels specifically for that purpose.

It's very annoing that only the stock video player can use the full screen even the xbox video app can't hide it

to make it standup from other comments :D

Anybody having an issue with starting the update? I press install and it says preparing to install then it goes back to the install button screen.

I have the issue. I finished downloading the update and when I click install it very quickly shows the progress bar and then goes away. I'm on 10136 right now using an ATT 1520

I have the issue as well. Any ideas?

I charged my phone and everything worked with the update. For some reason, it installed 10136 again and it then got updated to the newest one. In any case, i suspect that they still haven't added the please charge your phone before updating. So try that.

Had the same issue, could try a reboot but if that does not work roll back to 8.1. Thats what I did. Just have a backup

LIterally rolled back to 8.1 on my daily driver yesterday. I'll put this on my sim-less lumia 635 to decide whether I want to put it on my 830 this time.

If u r updating new build, pls giv me the feedback.. Am also using Lumia 830
Rolled bak in the first release itself!

Am using my L830, awesome build to try, don't wait, jump in

After updating my L830 I have gone through all the apps.. That time photos hub was working nicely.. Then I have gone through all the settings options..some changes also made.. Now photos tile/app not responding while selecting it.. Any solution friend?

I had two photo apps, one worked okay, the other did not. So I unpinned the one not working....

How is the lock screen in WM10 guys???

Still no HTC 8X support!! Come on Microsoft!! Get something going for other windows phones! Let us test windows 10, too!

No kidding. Getting frustrated about the 8x non support

No you don't get it... You bought a 8x... If they were going to give you 10 they would have named it a 10x.

It will be updated. They have 4 month to go on this thing. Please don't spread false information.

My wife really doesn't like the live tiles, wish they could make it so you could just have normal icons if you wanted, just like a theme.

lol, it is time for you to look for a divorce lawyer. ;)

They do.. its called iOS/Android....

Can anybody confirm whether or not Motion Data and Folders work on the 1520 on this build?

Anyone seeing this on the AT&T 635 yet? I'm on 10136 and not seeing any updates yet. I assume it's still migrating out for some devices though. My 920 is in the process of updating though. Edit: Never mind, I think I forgot to reenroll in Insider after a reset.

wow very very fast and nice ....WAY TO GO

Have the Edge (Spartan previously) start Icon changed yet? :P

For anyone who has installed this, does it bring back a VIBRATE ONLY function with an alarm? Sounds like a small thing, but a nice feature.

When the slow ring is already broken, it makes sense to be on the fast ring.

This is a HUGE improvement, especially excited for flashlight and animated GIF support, since we've been waiting for this for YEARS! Now they just need to make it universal across the OS (I haven't upgraded to the new Build yet, but this article makes it sound like it ONLY works in the updated Photos app) so apps like Messages and stuff can use it. But still, it's fantastic they're listening to our feedback, and Windows 10 Mobile is starting to pick up speed (Just like Windows 10 for tablets/desktops a matter of months ago), and it should be fantastic by the time October/November rolls around.