Windows 10 Mobile build 10586.338 now hitting Insider Release Preview Ring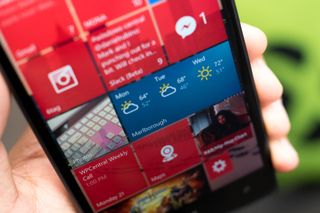 If you happen to be on the Insider Release Preview Ring for Windows 10 Mobile, you should now be able to pull down a fresh update. Build 10586.338 is now pushing out to the members of the most stable Windows Insider ring.
At the moment, it's unclear what is new in this build, but it likely contains a number of bug fixes, tweaks and performance improvements. If you happen to notice anything astoundingly new that we've missed, be sure to let us know in the comments below. Otherwise, you should be able to start pulling the update by checking in your phone's Settings menu.
As for those of you who aren't participating in the Windows Insider program, this build's appearance on the Release Preview Ring likely means it will roll out more widely after some initial testing and feedback.
Windows Central Newsletter
Get the best of Windows Central in in your inbox, every day!
Dan Thorp-Lancaster is the former Editor-in-Chief of Windows Central. He began working with Windows Central, Android Central, and iMore as a news writer in 2014 and is obsessed with tech of all sorts. You can follow Dan on Twitter @DthorpL and Instagram @heyitsdtl.
No way it should be at least on the 950

Kwajr, does your Nick refer to a small island in the Marshall islands?

Sweet! Will fire up my old Lumia 925 and download it!
Posted via the Windows Central App for Windows 10
Using the Alcatel OneTouch Fierce XL for Windows 10 (Redstone

Same Posted from Windows Central for Windows 10

Sweet. How has the last build been on your phone?

So, how's it going? I only get an error on my Lumia 925.

Mee too on my 535 Posted with the Windows Central app for Windows 10 on HP 250 G1 notebook. It is a scary old monster, I think :D

How is the performance in 512 mb ram device..

Made me wonder yet again, for the 20th times, why I even tried.

Start screen freezing is the only big prob for me to roll back all the time. this build fixed that issue?
Posted From Windows Central Universal App For Windows 10

W10M on 512 MB RAM is just not a pleasant experience. Don't torture yourself.

windows 10 on 520 with 512mb ram is ok its not bad the new phones that comes with 512mb seem to be just as good once you have set it up you need to clean install and do a custom , not express install. custom you can untick what you dont want. i then turned on flight ,mode and then went into my settings you then disable anything your apps dont need and go through all categories including location, camera, microphone, feedback, device history, etc., you can turn off some suggestions in cortana that might be in the way. you can turn off customer experience data collection you can turn off feedback sent to Microsoft all of which shouldn't be enabled and takes up resources.

others you need to go into individually e.g phone and messaging

onenote and outlook mail have customer experience data enabled under their settings option hidden in the dropdown menu which every app now has. cortana also has device history and flight info that can be turned off if you dont need them. live tiles can also be turned off for example maps tile is boring doesn't tell you much ,that can be turned off, windows store tile can ,go and xbox tile can go off aswell (if you want them to !) they'll still work, they just won't dance around but obviously you can change it back again.

C'mon, it's an obvious answer. High end devices can't even handle it, what are you expecting from a crap end device?

L1020 rolled backed to 8.1 when it found that it can't be upgraded to WM10 poor 1020 ):

I'm downloading .338 right now on my 1020 through insider program

I wonder how many phones yous have there!

a dozen or two (not all smartphones)

Can anyone confirm if this update removes the built-in FM Radio app?

FYI, The phone's FM radio will still work, you just need to get an app from the store. I use "Radio FM Phone" it works great and doesn't have any adds. I use it every morning to listen to my local radio stations. The only featrue I miss is the play to speaker option.

you can connect a cable from your phone headphone jack to a powered speaker (i.e., a bluetooth speaker) and listen to FM Radio. The cable acts as antenna.

Just installed "Radio FM Phone" app to several Lumia phones with W10MAU1

It's still there Posted with the Windows Central app for Windows 10 on HP 250 G1 notebook. It is a scary old monster, I think :D

I am waiting for the build that doesn't crash and drain battery on my 950

None of the current builds available cause draining or crashing. Maybe it's time for a hard reset? Posted via the Windows Central App for Windows 10
Using the Alcatel OneTouch Fierce XL for Windows 10 (Redstone)

Yes, hard reset and check for wayward apps. The last few builds have been rock solid on my 950 with battery lasting more than a day.

Are these new builds fixing issues with Cortana? I feel like Cortana is still a bit buggy.

I agree so much. It was bad on my 950 and my 640

I agree so much. It was bad on my 950 and my 640

Tested fine on my mom's Lumia 1520 with W10M

Goes ok with my big brother's Lumia 930

Hella buggy. And missing many many features. She got REALLY dumbed down since Win10. Must more robust on 8.1

She works great on my 930 but entirely unreliable on my 950

Cortana is also working fine on my 920.

Cortana works on my Lumia 520 with W10M

how about performance on your L520?

Sluggish all over, buy useable.
Some earlier builds were snappy, but since they dirched the old phones the optimizations are gone.
WP 8.1 also works ok. I suggest going back to it. Also: it's time to buy a Lumia 550.

My cousins husband has a Lumia 1520 with no problems

A bit is an understatement

no broblems on my bother's wife's Lumia 930

Hey Cortana has really been an issue for the last 3 or so builds IMO. Lumia Icon.

On 8.1 she's like WOW on 10 she's like WHAAATTT

Actually in 8.1 she looks fine and with brain. In 10, she got a makeover and now like a bimbo without a brain.

A make over? She looks awful in ten. Just a web wrap for Bing searches, and these stupid scaled down white boxes that only have info on 60% of your screen. What a waste.

Didn't say it was a good makeover. Hahaha.

No complains from my male cousins Lumia 1520

Works fine on my Lumia 435 with W10M AU1

On ny 930 it works fine, try resetting your device. Im about to reset my 950 cuz Cortana is currently being a ho on it.

It's great on my Lumia 1520 with W10M AU1

The only problems with my female IT collegues Lumia 1520 is that she needs use UK English because of her accent.

Can't say that I've had great experiences with Cortana the last few builds either - after the initial 8 teething problems, she ran pretty good.

downloading ... hope battery drain and crashing app issues resolved 950xl ....

Got it 950 in Canada. Unbelievable. How blood hard is it to fix phone numbers so they are links!!! Seriously I am NOT complaining but this is just silly. Is really only me or are other experiencing this as well?

In what? Messaging? Email?

In email and calendar. It is the most annoying thing. WP8.1 did not have this issue. I have a 930 on Redstone and looks like this issue is there too.

Yeah, the Cortana "regression" is unbelievable. In 8.1, dates in e-mail messages were converted to links, too, so I could immediately add an event from an e-mail. Gone in W10M. Similarly, when adding event, location was getting auto-completed as I started typing. Gone now.

I get links for phone numbers in mail and calendar and have for some time now. At least 2-3 months. When I select a phone number in a message or calendar invite it pulls up a contact screen without a name unless it matches one in my address book in which case I get the matching contact. It also allows you to save a contact record if you desire. I am on 10586.318 release preview.

My wife and I found out (after warranty phone replacement) that the crashing and rebooting we were experiencing on Lumia 950's purchased in November was solved by replacing the batteries in both phones. While most phones loose hourly life though the day, it seems the Lumia 950 begins to reboot uncontrollably.... NO issues since replacing battery.

by chance where did you get a replacement battery I've been looking but can't find one

AT&T has the batteries....

That doesn't help 950XL owners....

Dammit, had the same issue with my 950XL, device would just randomly reboot, get really hot and sometimes didn't turn back on. All started after installing build 332 but it seems that it may have been the battery all along as the device never had any issues when plugged in. Anyway got both the battery and device(system board) replaced and all is well again. Had there been ms store in uk, would have tried to only replace battery as mine had bulged. Edit... Link to issues: https://onedrive.live.com/redir?resid=2EF0900A3169A7BC!484407&authkey=!A...

Is there by any chance that if I also change my Nokia Lumia 830's battery, the occasional crashing would somehow be resolved? Is it somehow due to a worn out battery?

I do not know Matt, but if the battery is old, I would give it a shot. I haven't had a single crash since replacing my battery. I have thought though, that this was a 950 issue.... but who knows. I've always thought the 830 was a very reliable phone...almost bought one!

Downloading on my lumia 1020..dont know what is waiting for me..

Prior build ran great on my 1020. Looking forward to this update to see if there are further improvements.

How is it on L1020...my 1020 suffered with severe battery drain and had some camera issues on WM10...so it stepped back to 8.1...I wonder how the latest build is working on L1020...

L1020 works great with build .318 no issues only i dont text messaging notifications. other than that bettery feels better smoothness is better. no prob with cam. quality.

Battery was on par to 8.1 with prior build. That being said the1020 really has never been strong in the battery department to begin with though. Over night running .338 I left the phone off the charger and woke up to it only having 5% left which I didn't have that issue with the prior build. Could be due to me falling asleep with a pod cast app running, though I did set a timer for it to turn off within 1/2 hr. Anyways performance wise the OS feels very snappy. I did a hard reset for the first time after installing the prior build and that made a huge difference. I'm still using the Lumia Camera app which loads up on par with 8.1. Quality wise I believe it is on par as well but there is no reframe option. I couldn't go back to 8.1 at this point.

Installed on my 920 an hour ago. Seems like a pretty smooth build.

Let me know if the 'Battery Drain of Death' has been fixed for the Icon, then I'll download it.

The battery death was an issue on Redstone. I never experiences it in release preview. (not to say it doesn't happen).

The latest fast ring build fixed the Battery problem on my ICON (14342.1004). I was only getting 2 hours of standby before. Now it's back to normal.

I still have mixed results on my Icon. So hard to nail down, but some thing/app sets the battery life into a tail spin on occasion.

Try turning off motion data and not allowing MS Health to run in the background.

If thats the fix I'm less than thrilled. I depend on both on both for fitness tracking. Thanks for the suggestion though!

Turn off location and turn on battery saver...turn off unwanted background apps in battery saver mode...this might save some battery...i guess

The last update was helpful for my ICON, though still a bit of a battery drain. Hopefully they have that fixed. Installing it now.

Anyone with L640 got this update?

Just updated my T-Mobile L640. It installed fine and no problems so far.

I still haven't seen the notification for my AT&T L640!

I'm hoping that this is the build that finally fixes Cortana. She crashes 9/10 on my 950XL. Sometimes when running a query, sometimes while typing/dictating a query, but most frequently when she's launched. Typically, when she crashes, she enters a long "crash cycle", wherein it takes MANY attempts to get her to run stable again. Same issue occurs on my partners 950XL, as well.

Same problem here. Crossing my fingers.

is it normal now to call your girlfriend or boyfriend 'partner' now? Why? I have a girlfriend... does saying that piss off hippies or PC lunatics?

I dunno, but sure sounds like people using "partner" pisses you off. It's a word, who cares. We don't have word police here.

(turns on lights and sirens ) word police at yer service !!!

My 928 seems faster after the update. Not that it was slow anyways. Lumia 928 on build 10586.338

NO but you do have some questionable calls made by the moderators. I got banned for saying how my windows phone was better than a rooted custom romm'ed android. I don't understand that one!

It's probably means they are living together. Much more serious term than the glib bf or gf. Posted from my Note5/950XL

It can also mean he is a detective, and has an amazing partner who'd take a bullet for him.

Cortana is unable to understand my accent and also 'Hey Cortana' options are not available. Hoping for 'Hey Cortana' is activated on this build. 'Ok Google' works so efficiently and whatever I speak it most of time accurate...even I speak mix of three languages!!!

Rotating gears on my trusty 925. Hopefully tomorrow an update for my 950 in the fast lane. It's what I love about Microsoft, updates weekly!

Not a single random reboot on my (girlfriend's) 950... or even on 1520... but my 950XL suffers from that issue....I think my 950XL has hard time handling W10P It's strange how variable experiences everyone having even though owning the same model of phone!

Glad I'm not alone in that..my brothers XL does the same thing too

This is why this OS behaves like a forever beta. Same phones same firmware and yet varying results. What gives? I'm just glad to not be plagued by random reboots. Cortana is a mess though. Posted from my Note5/950XL

Maybe, but probably different apps... That's the real problem with W10M. Badly written or older apps. The OS seems to work fine across all my phones. 640XL all the way up to my 950XL. No problems, just a Groove Music bug... No biggie!!!

As I always ask, does this build fix recurrent Cortana crashes?

I used to have recurrent Cortana crashes, but after a hard reset, the problem is gone.

I used to have them, did a hard reset, and I still have them. Both on mobile and PC. She's completely unreliable...

I'm reluctant to just hard reset because of reports I've seen from people that did. Besides I think it's either an app coding issue or server side, seeing that in W10 desktop she also crashes a lot. They must be related.

Ooh, going to test this on my media 435. Lets gooo Probably going to do it with the 640 too, but lets see how this goes first.

Well, hopefully this will fix the numerous freezes and hang-ups.

im having trouble here.. download stop at 88% and jump to 100%, then starts to prepare to install and crash at 2% with the error(0x8018830f) pls help

Same here on Samsung ATIV S

Hopefully it'll be available for me next week! (non-insider)

Hopefully it'll improve battery life a bit and solve random reboots...

Guys, all I did was move back to production ring after the win10 came out and later returned to preview builds and I've not had any issues again.

So is this the Release Preview ring build and it has not yet rolled out for the Production (Public Release)? The previous build .318 was for both....

It would be nice to get this on my HTC One M8, but I guess it is now abandoned.

Just download from the release preview ring, you will get it.

Post install... Most of my apps are pending. Haven't seen that before.

Just leave the phone alone for 10-15 minutes....

It (pending) will disappear in minutes

Some have claimed certain apps need to be reinstalled after an update. Not from the Store but from local storage. I've not seen an official explanation, but it seems plausible. I've noticed this only recently myself. I don't always go through the phone right after ask update but mostly will let it sit for some time... 30 minutes or so.

Error 0x8018830f on Lumia 1520 with 8gb free space on memory and 20gb on sd card memory. Donwload all the up-date but after 100% star again to download the update anfter the second time appear this problem (installing updates). 10.010.586.338 Any Idea for fix Thanks

To fix the issue reboot the device, try clearing the temporary files and offline maps stored in the Phone Memory and try installing the updates...this might help...

Tried 5 times but not solved...pls help

There really seems to be a problem. Maybe only with older phones? https://www.reddit.com/r/windowsphone/comments/4lxxbl/windows_10_mobile_build_10010586338_is_out/d3ri3p6

Groove Music got an update today, for non-insiders. Update now! New Changes!

It installed on my 735 but froze then rebooted. Now I am finally getting the Spanish (Spain) keyboard to install. It rebooted and is migrating data for a second time. Ah yes, it worked.

我的Lumia735还没充好电,希望升级后能解决闪屏的问题。

I noticed that Cortana launches quicker on my phone. I haven't noticed anything else though. Anyone else seeing it?

Are the new updates to Microsoft Phone and Microsoft Photos apps related to build 10586.338?

This is that official update from Ms???

This update bricked my 950, sat at the Windows logo for an hour after the install, tried soft reset twice, left it for another 30 minutes each time, nothing. C'mon Microsoft, your OS, your phone, this is ridiculous. I await the "it isn't production ready", then why have a Fast & Slow ring before Preview, it just appears they push to more vs fixing what is wrong with the build.

No issues here on my lumia 950xl. Smooth installation

Seems the update will brick my Lumia 930, it's been on Windows Logo for over 45mins, haven't soft reset yet, I'm just hoping it'll sail through. I already used the recovery software for a friend's Lumia 540 this morning. MS just don't always get these done right.

Hope this fixes the random reboots I've had on my 930 with the past two builds. Before that no issues at all.

Would be nice if this update contained the feature to manually personalize the order and which quick action buttons we want on our action center. Can't come soon enough.

Redstone. Sent from my Lumia 550 using Redstone fast ring.

Whats new in this built ???

Is this good for daily drive?

If you are on Win 10 it is about to be on your "daily driver". Once it hits this ring, Production release is not far behind.

I am already using this built on Lumia 822 as i am the member of fast ring !

Unable to download it on my Lumia 635..why? windows insider shows my phone is up to date. No update is available. Why ?? Why?? Why???

Re-apply for the preview ring. Sent from my Lumia 550 using Redstone fast ring.

What 'model/version' of 635 do you have? If your 635 is 512mb, you might as well pack up your gear, move to the woods and become an off grid spoon whittler...., try re-installing insider app

So far so good. Pretty smooth and fast on my 620...

Personalize Quick action buttons, edge forward and backward swipe option, some start screen icon fix, Cortana fix, thats what i expect from future production build

Still i can't update lumia motion data for some reason..

Desktop as well? Posted via the Windows Central App for Android

Windows 10 mobile becomes more and more like "The young amd the restless": A story that has begun and it is not sure when it will finish. It is kind of stupid what Microsoft is doing, given their history and experience in the software department. I reverted back to Win 8.1 because it is more easy and pleasant to use. It's fast, responsive, doesn't have that mich of a lag and so on. Yes, it lacks many features and apps when compared to Win 10 mobile, but what good is it to have features that don't work properly? I understand the problems they encouter(ed) with this whole hardware part, but what about the software? They have been there for decades and should be the best in the world, including the mobile software and, somehow, they aren't. Compared to iOS and Android l, they start to look more and more like beginners. They're probably 'gods' on the PC software, but on the mobile OS they have become more and more mere 'mortals'. I hope they change the course of thing and start delivering on the promises they made!

You have to remember that iOS and Android have only issued reworking's of previous OS's. The only 'real' change in Android is switching from Dalvik to Art. Most releases have have improved the speed of either OS's, but many introduce more bugs that have to be fixed with another release or continual patching. Win10M is a 'new' OS, not a rewrite of 8.1. Pretty much everything is new. Win10M along with Desktop, will never be a finished release. W10 will be continually updated with cumulative updates. MS stated, when 10 was released, that there wont be another out of the box finished article along the lines of 8/8.1 or 7. To be honest, I think we are lucky to be getting builds at the rate we are.

Indeed, it is a new OS. But what bugs is that they don't seem to polish it. I'm not a software engineer, so I can't speak much of it, but the comparison I made between Win, Android and iOS was to show that the other two have polished the look and feel of the OS. True, that can be seen better on mid to high specs phones, but it can be seen. Windows, with it's resources and experience, should definitely succeed in making this new OS stable and running smooth. Perhaps I'm just fixated on certain things and miss others. Anyway, most people complain of various issues with the mobile version of Win10 amd I think Microsoft should listen more often those complaints and fix them first, then inovate later :)

"Polish" does not come overnight. Android and iOS had to go through many buggy iterations to get to this point. Microsoft IS listening. Haven't you been using the Feedback and Insider programs? Some of the issues/features that I have logged have been resolved. I'm actually digging this update!

I did use the feedback hub quite a lot, actually :) As I said, it may be that I focus on some things and miss others. I also requested to change the shutter sound on the camera and, in a Redstone build, that actually was changed :) Anyway, if Microsoft really is pushing to get things through, then I hope they keep the rhythm :)

Is camera360 sight app fixed with the resolution bug in windows 10?

Hi! Can anyone please tell me how do I stop downloading updates automatically over WiFi?

The updates can only be downloaded over WiFi.

Is the update for the 640Lte pre pay

Answered my own question, this update is for desktop users on Release preview too Posted via the Windows Central App for Android

No problem with my 928 loaded no issues on preview ring

I'm still having issues with turn by turn gps navigation on my 925. No matter what app I use, it won't follow me or update.

Glance is still too dark to read.

Available on my 830 in France...

Hope it fixes the random dimming issue and no GPS on Lumia 730

No problems with glance on my my 928 seems normal.

Blah! Why won't they add any new things to this branch?! It's really getting boring now :/ not going to Redstone.

Perhaps I'm wrong, but with tile transparency set to 100%, the lock screen as well as start screen behave differently in this release. Within the lock screen, the date and time now float over the background as if on a separate pain of glass as you swipe up. The background picture (Bing) remains stable until the floating date/time fade out as you swipe up. Previously, the full background image with the date and time would disappear integrally. On the start screen, the tiles also seem to float more as if on a separate pain of glass. I wish that I could say that I'm sure of these observations, but I only joined the Windows Insider program about two weeks ago. These observations come from using a Lumia 1520 as well as 920.

Having problems getting Windows insider app do I need to go back to Windows phone 8 or do I need to do a factory reset.

There must an option in navigation bar.because wher the game is played most of the time navigation bar does not hide that why most of the key cannot press due to static navigational bar.

Even though I am on the Preview Fast release ring, my phone says that there are no updates. Still stuck on 10.1.14342.1004, At&T USA 950XL Dual-Sim model. Thoughts?

There is no such thing as "Preview Fast release" ring, there is Fast, Slow, & Release_Preview ring... If you're currently on the Release_Preview ring, then you won't get anything, given you're clearly on RS1 build ATM (x.14342.x). If you want TH2 builds (which are the only builds you get on RP ring ATM), then you need to be on a TH2 build x.10586.xxx.

318 running on HTC One. Like the battery % in notifications.

This build bricked my L925, and you don't support us poor guys on WPRT.

It's piss-easy to find the right 8.1.x fw image, & then flash via a CLI, don't need WDRT (other than to have it installed)...

I can get the right image file, but how can I flash it via CLI. Is there a thread for that in the forum?

I'm surprised you're that clueless, the info's been out there for many many years now, & been explained many many times, if I have time later I'll outline it all.

My L925 updated without a single problem. Performance seems really good now without a single screen flicker. Battery looks normal so far.

I cannot buy expensive phones to download windows 10. I was afraid my battery was dead. I rolled back to 8.1. Lumia 1520 is not inferior in configuration. Windows 10 really sucks. I don't know why Microsoft use customer phones as their testing subjects. Poor poor poor. I still don't like to use android. But I hope Microsoft will find a good solution and advancement

You have a great phone. You just have to lower your expectations, in that way, you will be happy. Works every time! And just sit back for the awesomeness that awaits! :)

What's the download size of this build? just around a hundred MB like 10586.318 or more??

950 updated, running sweeet!

SMS notifications are not working when screen is off...

Unlocked Lumia Gophone....updated with no problem. Only changes that I can see are Flashlight toggle now missing in Action Center and slightly increased battery usage!!

Has anybody else had the issue with thier MMS? I can't receive pictures or group texts...

All this update has done is lockup my 950xl. Any answers to getting it back up.

Can't see any update available. Using Win HD lte

After the update I can choose to save the message or discard it . Didn't find this feature in the previous build . Posted via the Windows Central App for Android

which one is better preview insider build or non-insider official OS ?

Insider release preview is safe to use as a daily driver.

After update the new xbox uwp app was downloaded and installed.

When are we getting it here in the Philippines?

already in the Philippines via insider preview program

Can you elaborate on that? Because I've been checking it on my Updates using my Nokia Lumia 830. I have the .318 as of the moment. How can I get the update.
Thanks.

Flash light is not working on my Lumia 640 (build 10.0.10586.338). Release Preview ring.. Anyone else had this issue?

Is this update available on Lumia 820 ? whenever I open the insider app ,, the preview for windows 10 is available under any of the rings (fast slow etc.) but when I check on the lumia models that is upgradeable to windows 10, my model is not upgradeable that's why I am undecided if the preview is okay with my Lumia 820 . any comments please ?

Hi is this update also available on Lumia 820 ?? Whenever I open the Insider app, my model is available for windows 10 preview under any of the ring, but when I look unto all devices that is upgradeable to windows 10, Lumia 820 doesn't belong to them, that's why I am unsure if the windows 10 is really available for Lumia 820 and if it is okay if I choose any of the ring. Any comments please ?
Windows Central Newsletter
Thank you for signing up to Windows Central. You will receive a verification email shortly.
There was a problem. Please refresh the page and try again.