Windows 10 Mobile Insider Preview build 10586.71 now available to Slow Ring members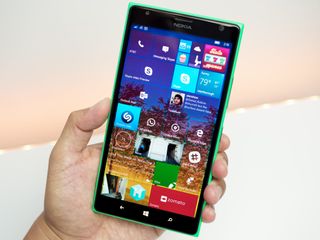 Microsoft has now released the latest Windows 10 Mobile Insider Preview build to the Slow ring, bumping users up to build 10586.71. This is the same build that was released earlier in the week for the Fast ring, and it brings improvements to the Edge browser and more. Here's a recap of what's fixed in this build:
Windows Update performance and reliability improvements
Improvements in migration of data profiles and messaging settings when upgraded from Windows Phone 8.1.
SensorCore API's are now upgraded correctly from Windows Phone 8.1; allowing applications, including many fitness applications, to correctly access movement data.
SD card detection has been improved on boot and after insertion; File Explorer now handles the removal of an SD card when the default for apps or photos are set to SD.
Improvements in the Edge browser, including PDF rendering.
Bluetooth improvements when re-connecting to all ready paired devices and cars; turn by turn directions, and when using Cortana with the Microsoft Band.
Improvements in Settings when downloading Maps or changing Quick Settings.
Reinstalling Groove Music from the Windows Store no longer causes DRM music playback issues. Groove Music local song collections are now more quickly imported within the application
Device power improvements after listening to music, after missed phone calls when iris detection is disabled, and when downloading updates.
In app purchases now work correctly when cellular data is disabled.
Improvements to the reliability of Kids Corner.
If you're on the Slow ring for the Windows 10 Mobile Insider Program, you should be able to pull the latest update down now.
Source: Microsoft
Dan Thorp-Lancaster is the Editor in Chief for Windows Central. He began working with Windows Central as a news writer in 2014 and is obsessed with tech of all sorts. You can follow Dan on Twitter @DthorpL and Instagram @heyitsdtl. Got a hot tip? Send it to daniel.thorp-lancaster@futurenet.com.
Hey everyone. Has anyone ever been able to uninstall Groove Music from Windows 10 mobile? When I saw that bullet point about Groove Music, I got confused as I thought it wasn't possible to get rid of that app.

You can't uninstall it as far as I know

You can't, but that refers to reinstalling core apps following a hard reset or fresh firmware load.

Hey there. That makes a lot of sense! Thanks for your comment!

Call and text blocking still ain't working for §hit!

In fact they used to work fine with .36 and .63 for me. Today with .71, a blocked number got through and I do not know why. Maybe I have to readd them ... when testing with my wifes phone this evening, it worked fine (for me). Forgive me my comment but you are aware that you must not use the former WP 8.1 System App anymore but that it is a function of the MS Phone App?

Blocked numbers gets reset after a system restart. First thing you have to do after a restart is to go and block all those again! Nasty lil basic bug!!

I have reported this bug several times with no fix even after three OS updates. Once you restart your phone, all blocked calls and messages come through. This is why we say MS isn't serious about getting things done when simple feature like that can't be properly implemented.

If I am right, blocked numbers are not stored on cloud and its stored locally on the phone. So, a hard reset will erase everything on the phone. How do you expect the data to magically appear on the phone after a hard reset?

Well, I have only updated the phone and did NOT do a hard reset. The phone numbers are still listed when I check the list but obviously at least one number did not work. I deleted and readded it (that was what I meant when I mentioned readding them). It is my expectation that calls from numbers visible in the blocking list ARE actually blocked ...

Thought i was a rare case! I block a number, I still get msgs from that number in my messages, check to see if I blocked it and it indeed shows me that the number is indeed blocked ...they had this working perfectly in 8.1 -__-

That's ok. Trucaller is far better anyway.

Sounds like MS may be aiming to release this build on Patch Tuesday next week.

You mean for non-insiders?

I don't "know" any more than you do but the fact that they were quick to release it to the slow ring and that Patch Tuesday is just a few days away may indicate that.

I've confirmed with my sources this is true. My sources: my butt

How many butts do you have exactly?

Na, one more build before everyone gets it.

If you ask me (but you're not) Windows 10 mobile still hasn't reached RTM stage..

Exactly what I was thinking, I hope they deliver to Lumia 950(XL) and 550 non insiders, like previous time with .29.

Cortana is still not working on my phone in India. It hasn't been working since build 10586.29. Seeing everything to US makes Cortana alive!

Cortana is working well for me

Cortana was creating a mess to get activated... Al though a reboot worked.

This could be the one to go GA

Judging by the slow progress still adding basic features and fixing the bugs introduced by each update I think it will be well into 2017 before W10M moves beyond catchup releases and on to updates that actually move the OS forward.

LOL haha it's funny but true!

What a positive outlook. XD

General Assembly? Georgia?

Lets hope so getting tired of waiting

So many bugs still... It's crap, especially Edge.

What about battery consumption, does the battery drain more compared to windowsphone 8.1?

The last update has caused a huge battery drain on my 635. Windows 10 mobile isn't consumer ready

Ohh, thanks. Since this Lumia 720 is my daily driver I'll have to wait for another couple of months then.

WM10 will never be ready for daily drivier, it will always be a work-in-progress. I know my comment has negative overtone, but just install this on your Lumia 720. The basic UI is not yet finished yet.

Anyone else have a problem with alarms not working on .71 or just me?

No problem with alarms yet, but problems with OTG, and my keyboard on the band 2

Which phones have OTG support?

Alarms always mess up following a new build. First thing I do is go into each, change the time, save then change back and save again. Little unnecessary workaround but it clears the problem.

Only issue so far is excel crashing before it even starts.

I have this issue with several apps, where the app is supposed to open but instead it just shows the background ...it's frustrating.

No, this is my only alarm.....lumia 1520 build 10586.71...works fine. I also user the timer and stopwatch when running and riding my spin bike the located under alarms & clock without issue in this build.

Alarm is 2 minutes late. So do outlook calendar reminder.

It made me over slept for work 3 days ago.

No problems here at all. I have 8 or so daily alarms that go off exactly when they are supposed to and use Cortana to set other one time alarms throughout the day.

Same for me. The alarm goes off.. just no sound which makes it pretty useless.

Hello! Just got a Lumia 640. Wondering when if at all the expected update for windows 10 will finally arrive Africa.... Anyone? The information would be reassuring. Cheers!!

Just go insider. Latest builds are great on Lumia 640.

I second that. Insider builds on the 640 are really good.

Agree with everyone on this.

It's really great on Lumia 640

Its like that other passage in the book, nobody knows when the OS will arrive..... 640 xl lte

Even the guys up there at Microsoft don't know when it'll arrive.

Bros, always remember to do a factory reset once you have a new build on your phone when using insider builds

My phone won't debug or allow apps to be deployed through VS after this update...

Maybe it changed your "Developer" setting and you need to set it again?

Check your developer mode settings...make sure those setting weren't changed by accident

I dont get how this build has been approved. As far as stability, .63 was hell of a lot better. On my Lumia 950 .71 has random reboots, app crashes, and huge battery drain. At times I get an alert of 40%+ per hour from my battery monitor. (that of course is while in use) at least on .63 I was getting about 6-8 hours from one charge. On .71 i'm pulling 4-6. Anyone on a Lumia 950 having a better experience? Lumia 950 Build .71 No firmware update ATT Branded

"ATT Branded" is your problem. Random reboots and battery drain indicate not optimal firmware.

ATT branded Lumia 640 doesn't have such issues...so ...

Agreed but till firmware is approved by ATT all you can do is speculate. there is no certainty in saying that will fix your problem as there are many varients of the 950 out there

You just made me consider something, if I make a request to AT&T to unlock my phone, and assuming they approve, would I get firmware updates then?

I have an at&t 950 and havent experienced any of that. Maybe it will happen, but it hasn't happened yet

Gotta love this, one person speculates this might by the build released to the public and all of a sudden it's the gospel :)

@andrew Fratkin I was just seriously confused as to how it got approved. I could care less who its released to but i'm seriously having issues with this build when these issues weren't there for me on .63. Also, Its nice to hear other's experience

950 here and seems very stable on .71. Didn't really have an issue with .63 though

Using the Att 950 as well and have only experience one reboot and 2 maybe 4 app crashes. So no more than what I got with 8.1, battery is a little better though.

I think its crazy that we are so used to having our phones randomly reboot and what not where we think it doing it isnt too bad. LOL I'm hoping the build released next week makes it better... and that ATT releases the firmware updates soon.

My 930 on 8.1 reboots itself...

Thats what happening to me but on lumia 1520!!!!!

AT&T Branded 950 and the battery life is really the only concern I have. Seems.to drain fast, but no reboots and don't recall any app crashes. I did a hard reset just for the heck of it to see if battery life improved throughout the week because .63 battery life didn't impress me either.

Same issues for me. Xl, unbranded, single sim, new firmware. .63 was much better stability wise.

ATT 950 here. No issues before and just updated to .71. I don't expect any other issues to arise

I have the ATT 950 with .36. No random reboots. Battery drain is great at 0.5% per hour. Drain and heat up is worse during use.

Yeah. Battery is still **** in 950xl. I think i will sell it. Using this and my mothers 640. Is like crazy things don't mach. That baby has 87 proccent after 14 hours and is used moderatly (yeah, my mother got into social media) this **** is 12 hours whit very les usage and am at half of the battery. I am just sick of the so called high end. Give me fu""ing battery to rely on!!!

That's the reason I am happy with 640, tried several high end of windows and android...nothing is too good like 640. It's the best phone for me since battery is most important to me than worthless high resolution...

Thank you. Finaly somebody saying the same:). But for real now. Don't tell me you have the 87 percent left after 14 hours of use cause i freaqing sell this crapp. Am as tired as an 120 years old man of lavk if battery!

Why would you sell superior hardware for something that can be fixed with software? Go ahead and sell it and then they will release a new build with the battery drained fixed and then what? You will have NONE of the awesome hardware of the 950XL. You're comment doesn't line up to how software development works. Nothing is wrong with the hardware on the 950XL. Sell it and it is your loss in hardware.

You don't get it. I have no battery drain. This phone just eats on battery when using it. I mean, properly eating. Never had battery drain (though, sometimes gets hot while using and eats battery even worse). This can't be fixed with any software update. Amoled plus high resolution and a hog cpu sais them all. My 1020 was the same. A battery hog and that's about it. Never got one day of that device no matter what: In use, no use. Just touching it would claim 10 percent after 20 min and that on the dimmes light. The same with this one. Am just sick and tired of lame battery.

Seem like I hear this all day...why cant Apple, Samsung, Nokia make a battery that lasts all day.

I would like to buy yours. I understand your points. My 1520 has great battery life yet my 930 drains out its juice in no minutes.

So, then why would you buy it?:))

My 930 on W10 has great battery life.

2tomtom did you do a hard reset after upgrade ?

I don't hard reset for the upgrades usually but did for this one. I have experienced big battery drain on the first few hours only. Then it settles down and returns to normal. I do the updates before going to bed and leave the phone connected to wifi overnight. Next morning it's ready to go.

EDIT that comment - it was the previous build I did a reset - this build no reset.

what apps are you using? I have found some apps eat the battery quiet fast, I charge my phone evey morning Before I leave so getting a good 24 hours on my phone with medium use. last few updates have improvedthe battery life for me or maybe it's been the app updates that have made the difference. AS for ever thinking about getting rid off this phone no chance here. best feature of the new phones for me is that they can read fro usb and hard drives.

Well, i grew over those things. Now i just want a phone i can rely on when abroud. And this one, for sure ain't one. I know how to manage my apps and systems al around and really, none that doesn't need background is alowed to use it's background abilities. The most battery eater is the screen/cpu and well use it self.The rest Has nothing to do with battery. I mean. At least the first 10 percent of the battery. I mean, from 100% to somewhere between 85 and 87 flyes while 25-30 min. Of browsing. This is not bad, this is ****! After this, it temperes for les consumption but well. Today i charged it. Was 14:00 hours when i unpluged. Was at 98: Percent. Didn't used it but just a bit for some short calls. Got to work. Their i can't use it. After 6 hours of none use was at 92%. Played for one hour. Was at 70%. After anotger two hours now i am at 40. Remember, i have done nothing to agresive. Just basics. Browsing, and some social crapp...

Your phone is good compared to mine. My 1520 literally eat 60% battery everytime the battery indicates 60% and shuts itself down. I literally cannot use the phone unless I have a power bank. Very frustrated.

60% and then a shutdown is a sign of battery failure. You will need a new battery. If you are unable to get a new battery cheaper than a replacement 1520, you will need a new phone. The same battery failure happened with my red 1520 and black Nokia N82.

And this is why i am tired of flagships. I mean. That freaqing 640 is fast and one can use like crazy and my mother still forgets to charge it. This means good battery life. I don't see the puropse of making tasks faster if one is unable to make to many, cause the **** crapp battery is over. I bought the 1020 for it's camera. Well never used in that matter cause i could not take more then 40 shuts till batteru died on me.... So, that camera was used just for basics. Which is SAD. The 950xl i bought just cause i readed on gsmarena that browsing reaches 10 hours. I don't know where the hell had they got that 10 hours. I see no diference between this one and the 1020. 5 hours...tops

925 gets 12 hours with moderate use and it's old. Maybe you should clean up your background tasks and not allow some apps to run in the background that you don't have pinned to the start screen and/or that you don't use often.

And 12 hours is good? Anyway, you should read the entire responsens, you would learn that i already did that. I am a tech guy, i know what i'm doing;). Still, comparing this with 640 is light years behind. Doing the same tasks (mostly browsing cause is the only thing i do intensivly) at about same speed you got: 1 hour of use. Lumia xl battery droped from 100% to about 78%. Lumia 640. Same usage, from 100% to about 93%, tasks complate 5 minutes later... For five minutes, is it worthy??? Now, people stop advising me af battery drain in background. I have no background battery drain. I have use drain...

You think you know what you are doing

Well, how can i contradict the smarties? Yeah, i don't know, i just think i know...

try to check out firmware update on windows recovery tools.

Everything up to date;). .71 software build and latest firmware (the second).

don't sell your mobile, the next built will be good for your phone, review the list of builts u'll find out that each time MS have battery problem issues, the next built is a perfect fix concerning this issue.

Any difference in this build fast and slow? Or the same?

.71 certainly feels faster and more responsive but i think thats what attributes to the high battery consumption... at least in my experience.

Heading home from work my 928 is 62% with moderate use. This is the best I've seen since 8.0 days.

Besides battery life, I don't have any issues with W10M anymore... It seems fine to me after the last 4 updates..
......
I think peoples issues lay with apps, and we need to remember that the majority of apps are detached from the OS itself... .71 isn't perfect, but it's (the actual OS) isn't bad at all,,,, now... Besides battery life... WTF!.. Lol.

I think thats an interesting point of view but the app crashes are happening with Microsofts own apps. Like Photos, Settings, Groove Etc. "this is just my experience" and if Microsofts own apps dont play nice with the OS then there is a disconnect.

True.. Everything is still worlds better than in October/November... If they keep progressing at that rate....

Groove is the worst with crashing and bugs

What bugs do you have? I don't seem to have any issues here

I'm getting great battery life from my 950 XL after update .71. It's been over 12 hours now without charging, watching videos, surfing the web and reading news articles, and I'm still at 41%. I thought I would need my charger but I haven't yet.

I've found a bug in Storage setting on L640XL. Storage>Phone/SD Card>Pictures>View pictures doesn't open Picture folders. Reboot doesn't solve it. Has anyone seen it?
What's this"File explorer handling SD Card removal when storage set to SD card? Nothing like this is seen in File explorer.

Hey, its at least something! Im just glad W10M is still being worked on and not abandoned :). If they had a tap and pay option...

Awe man that would be awesome. I really want them to have something like Android pay!

When there would actually be places where you can use it. Still have to see the first one here. Microosft still has some time.

Finally just getting my .71 update in the fast ring. I had to restore my 950 with the WDRT back to 10586.0

Mobile hotspot stop running when the screen goes of

I've tried to do my due diligence on researching before posting this, anyone else have a Lumia Icon and have downloaded the latest previews(s)? Thoughts, issues, etc? I want to but this is my primary phone and waiting for Verizon for anything, well....

I have 930 which is the same .. The main issue was battery life during the past updates .. Its improving .. But still aint as good as 8.1
If you are near a charger .. W10M will be good for you.

Upgraded, a little sluggish with edge bur I've read to expect this. Thanks all... Will see it goes the next few days

Omar, did you do a hard reset your phone after upgrade ?

Works fine on my lumia 930. Some screen flickering in older 8.1 apps. Battery life is reasonable with my 930, no issues and same as 8.1. Hard reset after upgrade is necessary for good performance.

My mom has the Icon with .71 and couldn't be any happier.

This build enabled me to use AT&T Carrier Billing on my unlocked 950 XL. FINALLY!

Hopefully, this update will include more fix that what it is being mentioned.

Anyone else having Bluetooth issues on their 640 w/ these last two builds?

I'm still having Bluetooth issues on my L830 with this build. At first, my Bluetooth headset and the voice-to-text feature worked. Then, it stopped. I consider this somewhat of an improvement because it didn't work at all on previous builds. The random disconnecting of the headset hasn't changed, though.

Official release? 2017 it is then!

I hope it is stable by the time they release firmware update for older 8.1 devices. Still not confident enough to opt into insiders build.

How many hours are displayed when a full charge is done. I have a 640 and I was getting 1 day after a full charge on .63 after a hard reset. Now I am only getting 17 hours on a full charge. May do a hard reset to see if it works.

I can't get any updates at all. ATT 950 and I'm still running 10586.36. I have tried slow ring, fast ring both multiple times yet checking for updates says the phone is up to date.

Same thing with me, I was stuck on .63 for the last two days and tried everything, even a hard reset and no update. I just restored to 10586.0 with WDRT and enrolled in the Insider Fast Ring, now .71 is showing up.

Why don't Microsoft go and steal somebody from Apple that knows how to build operating systems for telephone and have them work for Microsoft.

Why don't you go from here and never come back?

Why don't you get an education like every normal person.

You're joking, right? I mean... half of ms stuff work to keep that crappy apple alive and you come here with this nonsense?

Yeah, they could learn how to break https and wait 10 months to fix it, while ios and mac os users think their data is encrypted when going through the internet. LOL

Because microsoft wants an awesome OS and user experience. Not an os that came from the leap pad. IOS/APPLE/OSX SUCKS!

does anyone even use slow ring? I figure if you're gonna dive into previews, you're likely not going to do so for the 2-3 builds per year

Got a feeling 10586.104 maybe the one

Has anyone not received it even on fast ring? I can't find it on my 640 Posted via the Windows Central App for Android on my Lumia 950 XL

I don't see the update yet. VZW Lumia 928. (Slow Ring.)

I signed out of the insider program after .36 and now this is downloading even though I signed out. Any way I can stop the installation?

No, you are getting cumulative updates, not new builds

If it downloads, is kind of to late. Well, you can delay the update as much as you like...

Does this include firmware?

Guys anyone suggest me everytime when I install windows 10 in my Lumia 1320 after 1 or 2days my phone screen goes blank and screen goes pattern

Lumia 1320 started doing something strange - lines. The screen went blank and at first I couldn't see anything, and then all I could see were lines that changed as I scrolled

Thos can be caused by a restore of backups. Maybe you have an app that's acting wierd? Anyway. If you go from 8.1 to 10. I definetly recomand to start from scratch...

return back on 8.1 using windows recovery tools and then if you want rolls back in windows insiders for the latest upgrade .71 on the slow ring.

This build has alarm clock issues.

None here. Have 7-8 daily alarms that go off just as I would expect them too. Using Cortana to set new alarms also has no issues.

I can't get my Hotmail set up. I go to add account, it says it was successfully added and I click done but when I click into outlook app again, it still asks me to add an account.

S anybody facing this issue? Wen the screen times out the mobile hotspot turns off automatically...!?

Store is not working in this built...

Another update, another new bug.

Guys my glance is crashing whenever i open it .. Not able to use it..please anyone help...

Close all apps. Then try a soft reset once, twice or three times. If this doesn't help...you may want to do a hard reset. What device are you using?

Does anybody else experience blackedout screen on playing halo assault specialy in srage D, and also with little bit high graphics games.

Please any one tell me how its works on Lumia 540..

None here on my T-Mobile US branded 925

So, I just upgraded my 1520 and I still can't get SensorCore to work - no steps! Also, try as I might, I can't pin a tile for the phone app like I always have before. (Groove still has an empty icon in the list, but I don't care too much about that.) Anyone else having these issues or know of some solutions?

Don't know about sensorcore because I have a 925. But I do not have any issues with pinning or unpinning tiles. Some (3 to be exact) core apps have empty icons in the app list for me too. I've heard a hard reset fixes this issue, but it doesn't bug me at all so I'm not doing a hard reset just to get icons for Groove, News and Weather

Hey guys is it safe to use insider preview in lumia 640?

If you're not tech savvy and are not patient with bugs, or don't want to chance having to hard reset your device....you shouldn't install it.

Yes buddy insider build is best on lumia 640

Its only 282.36 Mb file ..

Guys does it have a good review?

I like it alot on my L925

Does it void warranty of phone upgrading to insider builds??

i think warranty is on hardware only. u can go to insider preview and if anything goes wrong recover ur windows 8.1 via windows recovery tools.

It could, but microsoft (and nokia before, even with custom roms installed) have never been so stupid to deny warranty

I just joined the Windows Insider program on my Lumia 1520 yesterday, and W10M is amazing! I am really enjoying it! Though I think for now I'm going to stay with the slow ring aha.

Downloaded the .71 update .. It seems to work brilliantly on the device L730

Still cortana and ambient light sensor didn't working on my 730

Microsoft is working on improving Windows 10 Mobile. I hope they continue to correct problems people are having with this new OS because Folks Windows 10 is on over 180 Million Computers of various types not counting it being on the Xbox and other devices. Windows 10 mobile smart phones are the BEST smart phones that can interface with Windows 10 Computers, Win 10 Xbox's ect that alone is a great reason for Microsoft and it's OEM partners to continue to make Windows 10 Smart phones !

Upgrading to Insider and my lumia 535 doesnt charge. It does charge with some slow charging cahrgers. Is it FW or OS issue?

Many irritating bugs hav dissappeared.Agood improvement from.36, Action center works fine. But needs more refinment,still having screen freeze and app list ui bugs. these are Somethings that should be solved before the release. Losing time is bad for the os.

Equaliser hasn't been working since .36 update. When i upgraded to .71 , it continues to do so .. Apart from this no much issues .. Agree to Alang1991

guys, how are your expirinces with 10586.71 on Lumia 930 ?

When official wm10 update will begins for old *2* Lumia mobiles

Just downloaded the new slow ring OS today....on Lumia 735. Seems to be much more responsive in general with lots of apps, not just the OS. Great stuff.

can't update to this build in my lumia 925

Anyone having Kindle reader and willing to try connecting it to a hotspot created by your mobile with W10M? Doesn't work for me, neither with stock Lumia 550, neither with insider's Lumia 925

Hi, Does anyone else have a problem with the alarm clock? When it goes off and you wish to snooze the alarm unless you press exactly on snooze the alarm turns off (i.e if you touch the blank grey area above snooze / dismiss). Any help appreciated as it has happened on every build so far and it never used to do this with Windows 8.1. I've got a Lumia 735. Thanks.

I love WP and have owned them through WM, WP7, WP8, and now giving WP10 a go on my 950. Am I the only one that is starting to get discouraged at the fact that each new release on Insider fast ring does not seem any closer to being a ready-for-the-masses or polished product from the last? While the rest of the world has had firmware updates for the 950, and in some regions even a second update, there has been no FW update or even news of one for the AT&T variant. Even more frustrating as these FW updates are supposed to correct my experienced battery issues, random daily reboot, overheating, and other performance problems. I understand that this is a total reboot of the software for the third time and they are essentially starting over yet again but at some point we should be seeing some sort of light at the end of the tunnel. I am not at the point where I am ready to jump ship but it is becoming increasingly harder to justify this platform to Droid and iFans and sometimes even myself. Maybe M plans to keep my 950 in beta until the Surface Phone. If this is the case, I would have just hung onto my 920 longer as it did not perform much worse than my AT&T 950.

Slow ring update has fixed my Bluetooth connection problem with my Ford Edge Sport, Sync System...was getting ready to throw the phone out the window but all is good NOW!

Hi everyone. I just install 10586.71 build in my Lumia 625 from 8.1. This is my first Preview install. I can't connect to my cellular data, even when the toggle is on in action center. Cellular data settings is blank, it is just display 'Learn More' link. Anyone experience this bug?

Still issues on camera shutter really slow

I also facing data problem

Guys any idea about when Windows 10 update release in india for 640 xl lte for non i insiders.. Thanx in advance..

so can you install this on old lumias or just 950s and 550?

Lumia 925. Alarms don't work!!! Even after a hard reset!!!

now i can't change my wallpapers, doing it from the settings crashes the settings app. and from photo's it just says i can't use this image for a wallpaper, or it doesn't say anything at all

Hi, in my windows 10 mobile videos are not played (Error code: 0x00d36c4), Even whatsApp videos also not played, kindly help me to resolve the issue, (Microsoft Lumia 535 Dual sim - Widows 10 Technical preview 10586.71)
Windows Central Newsletter
Get the best of Windows Central in in your inbox, every day!
Thank you for signing up to Windows Central. You will receive a verification email shortly.
There was a problem. Please refresh the page and try again.