Windows 10 Mobile preview build 14371 now rolling out to Fast ring Insiders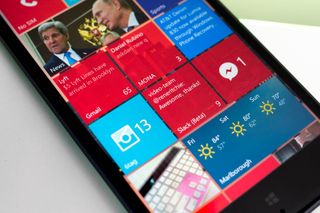 Microsoft is now pushing out a fresh preview build of Windows 10 mobile to Windows Insiders on the Fast ring. This latest release comes in at build number 14371, and includes a number of fixes and improvements.
Along with the new Wallet app that's available to the Lumia 950, 950 XL and 650 on build 14360 or higher, Windows Insider chief Dona Sarkar announced the following list of improvements and fixes in this build:
We fixed an issue where the icon for Settings was missing from the Background apps and Data usage settings pages. We also fixed an issue where the Add (+) button was be clipped on certain pages, such as the Speech settings page, and also fixed an issue where Battery settings page would crash if the "Usage by apps" time interval was changed while the apps list was still loading.
We fixed an issue resulting in a possible pitch change after an automatic track change when listening to ALAC files streamed from OneDrive in Groove Music.
We fixed an issue where tapping a notification in the Action Center wouldn't do anything if Action Center had been opened above the Lock screen while "Enter Pin" was already showing. We also fixed an issue resulting in some notifications having an unexpectedly large amount of blank space.
We fixed an issue that could result in the Start screen becoming green or kaleidoscope-like in appearance for a few seconds after quickly opening Action Center, closing it, then panning the screen.
We fixed an issue that could result in the first word of spoken directions over Bluetooth getting clipped. We also fixed an issue that could result in no sound being heard over certain Bluetooth speakers despite seemingly functioning media controls, and improved general reliability of Bluetooth connection with cars.
We fixed an issue where active keyboard after rebooting would be the last keyboard listed in Language settings page, as opposed to the preferred keyboard (first in the list).
We fixed an issue where switching cellular data off while there's no internet connectivity could result in the device freezing.
We fixed where the ninja cat emoji was not displaying correctly when received in a notification.
We fixed an issue where when using commands with Cortana above Lock screen, instead of saying "Please unlock your device", Cortana would just say "Please" followed by a pin prompt, and upon entering pin, would not complete the command. We also fixed an issue where Cortana might prompt for a pin after sending a message using only voice above the Lock screen, despite it not being necessary.
We fixed an issue where manual time and date overrides might not be preserved after a reboot and connecting to Wi-Fi.
We fixed an issue where the Microsoft Edge page area might stop responding to touch after tapping a website's "print this page" option if it had been implemented in JavaScript.
We fixed an issue where apps weren't removed from the taskbar displayed over Continuum if they crashed, leading to possible duplicate app icons being shown.
We fixed an issue resulting in certain apps not being able to set the Lock screen or Start screen background. We fixed an issue resulting in a slight stutter or a few out of order frames after rotating the phone while watching a video in Movies and TV app.
We fixed an issue where the camera button was active in the navigation bar instead of the back button in certain cases on the Lock screen where the back button is necessary, such as when the emergency call page, the shutdown curtain, an expanded interactive notification, or when Action Center is visible.
We fixed an issue resulting in certain UWP apps not scrolling up quite far enough after setting focus to a text box at the bottom of the screen, thus leading to the text box being covered by the app bar.
We fixed an issue where Narrator spoke at an unexpectedly accelerated rate.
We fixed an issue where icons displayed on an app's splash screen could be unexpectedly large when opened on a second monitor over Continuum.
We fixed an issue resulting in the un-pairing of certain Bluetooth devices never finishing if attempting to un-pair after rebooting the phone while the device is connected.
We fixed an issue where an underlying crash could result in playback of an entire playlist in Groove Music to fail, rather than just the current track.
And, of course, there are some known issues to be aware of in this build as well. Here's the breakdown:
We are changing the backup format for Windows 10 Mobile devices to reduce the size of the backup stored in OneDrive. As a result, if you do a backup on a device running the latest Windows 10 Mobile Insider Preview builds and move back to the released version of Windows 10 Mobile (Build 10586) and restore from your backup – your Start screen layout won't restore and remain the default Start layout. Your previous backup also gets overwritten. If you need to go back to Build 10586 temporarily, once you are on Build 10586 you should disable backup so it doesn't overwrite the good backup from Windows 10 Mobile Insider Preview builds.
We're investigating decreases in battery life on older devices such as the Lumia 830, 930, and 1520 (devices with SoC 8974 chipsets).
We're investigating Wi-Fi disconnect issues – if you are experiencing an issue with your Wi-Fi disconnecting, please see this forum post and make sure to upvote Wi-Fi disconnecting issues in the Feedback Hub.
Once you download and install the latest build, be sure to let us know what you think in the comments!
Windows Central Newsletter
Get the best of Windows Central in in your inbox, every day!
Dan Thorp-Lancaster is the former Editor-in-Chief of Windows Central. He began working with Windows Central, Android Central, and iMore as a news writer in 2014 and is obsessed with tech of all sorts. You can follow Dan on Twitter @DthorpL and Instagram @heyitsdtl.
No Word on the dual sim problem. Is it fixed ?

That's exactly what I need to know. I went back to TH builds after losing the ability to send text messages about 3 builds ago and want to come back to Redstone but not at the expense of weird dual sim bugs that may or may not affect my Lumia 950 XL DS. At this point, I'll probably just wait until the Anniversary Update is released.

I think this is the issue: We fixed an issue where switching cellular data off while there's no internet connectivity could result in the device freezing.
At least for my experience that issue was related to using two sim cards

I think it's fixed. For me, I would restart my 950 XL DS up to 15 times before the data connectivity showed up. Any attempt to switch off cellular data freezes the phone, not even airplane mode is left out. It's working normally at least for now. Now waiting for the other big issue where my phone seems to continue charging even after disconnecting charger, seems to drain my battery faster than normal while phone becomes very hot. I hope this ends with this build. Still checking....

This happens even in build .420 for official releases too. Been happening with last three official releases to 950xl

My 640XL was having the same issue, i had to restart for countless times. Lets see if this new build fixes it.

To fix this just remove one sim and use single sim for a while and put it back, you'll be fine

Yes, this is related to dual sim but it's not all that. When that problem arise u can't receive text, cellular & network option in settings app doesn't open and so on... I will test this to see if it's completely fixed. I figured a way to solve it when it happens

So, has this problem been fixed, anyone?

It happened to me on single sim 930

Waiting for this to be confirmed, if dual sim bugs fixed, I'll download this buid,

Lol!!! Funny, because in the last build they said there was two lingering issues, then they say they fixed 20 issues in this build, with about 4 more lingering issues...
.....
I know, I know... They aren't saying those are all the issues, rather the ones with the largest priority... Still funny doe

Really Funny......it's just copy paste of the same posts.......very easy :)

Bipolar rodneyej: "it's funny" "no it isn't! here is the explanation" "no I said it is funny!"

Looks like people here don't like your candidness and sarcasm
(it means you are doing it right :)

The issues are fixed. I have installed it and till now everytjing looks good except the dual sim tiles phone and messaging lavels are missing.

Yay! I called it, as soon as the new Wallet was out. Lol.

"We fixed where the ninja cat emoji was not displaying correctly when received in a notification." ​I can die happy now!

Yes, sssoooo glad they focused engineering resources to fix that horrible bug. The Interwebz can now resume normal operation... [/sarcasm]

well.. someone had to restore the balance of the universe sooner or later.

You'll always get the one sadly haha

It's not exactly that they was boasting about it or anything. They're only telling people that they have fixed the bug. With how small it was, it would possibly have not too long to fix it. So yeah engineering resources were wasted /s Bare in mind they are coming up to the big public update. No matter how small, any bug fix is valued.

I fully know the Anniversary Update is coming and they are working through bugs. Was just being sarcastic. Did you not notice the [/sarcasm] ???

He's a ninja cat, what do you expect? Sometimes you see him, sometimes you don't..

"We fixed an issue that could result in the first word of spoken directions over Bluetooth getting clipped." "We fixed an issue resulting in certain apps not being able to set the Lock screen or Start screen background." Yay! These have been bugging me for the longest time. All in all this is a very nice update.

Are we getting skype as promised anytime soon? Lol

In fairness, there's still time for that and it will happen. The app is coming along very nicely, but the calls part needs work. Last I checked, they were doing two builds a day internally, at least.

The link that was there in the Skype uwp article doesn't work for me. I cannot download from mega (I suppose, it was it), I had uninstalled Skype due to some reasons and now cannot install it fron store either. Any solutions?

New skype is awesome and you can still sideload it, if u want. Check windowsblogitalia site for details...

yea the sideloaded app even with some problems might not notice them too :P is far greater than the official wp 8.1 app for me xd
i like how ms goes with uwp skype its nice compact you have everything where you need it fast and beautiful. So yea i cant w8 to have it for main skype app when they add options on pc to choose speakers from inside the app :D

No new features but is always nice to have improvements and fixes

New feature >> Check out the "Continue App Experiences" under the privacy settings.

"We are changing the backup format.. blah blah" my 928 last time was successfully backed up somewhere in 2014. Now it reaches 97% (or 98, 99) and fails

I think I remember WC doing an article on that last year. I think the solution was to go to the backup settings, delete all your current backups (I'm assuming if its from 2014, it shouldn't be too much of an issue), them reboot and re-backup. I think I remember them saying it was because of a corrupt back up already on the Onedrive that needs deleting for it to be overwritten with a working one. It had worked for me, hopefully it works for you too.

I tried everything WC (+forum) suggested including deleting old backup. Never worked

Try to disable a specifc app from being backed up, until you find the one that's causing the problem.

this is something new, will check this. thnx

I had that problem, I did delete all backups like the comment recommended and it worked. Posted via the Windows Central App for Android

Why don't you delete you back up. It's probably corrupt

My wifi has been wonky lately on my 950. Maybe this build will fix it.

Nice list of fixes! Glad to see the Microsoft acknowledging the WiFi disconnect issue, too. That's been a huge nuisance.

It hasn't been disconnecting for me... Just saying there's no wifi networks until I restart.

Same for me that's exactly what I'm experiencing

Usually it's working fine and then just disconnects from WiFi. I can see some networks, just not mine (hidden network), and it won't reconnect until I restart.

My 950xl can't handle any of Fast/Slow ring previews... have to wait for Release Preview build.

I wouldn't wait for the official release. There's something wrong and I'd fix it now. I'm not sure what version of 950 XL you have, but most people (including me) have no issues updating the 950 XL DS.

So is this causing issues with battery life on older devices or are the investigating issues on the current build 14367?

I don't have a problem with battery life on build 14367, I will pass on this new build. Don't wanna deal with unexpected issues atm. Build 14367 works fine for me for now.

Yeah I don't really have issues atm. Don't want any more battery issues lol

nah 14367 is a great build on battery life my lumia 535 finally breathes its battery out and doesnt lose 30% when i sleep at night its just as it was good a rough 5-8% since i have it for a year now and lasts as it should 1 to 2 days depends on cellular data usage

Then forget the 14371 build, my 535 DS was drain (>0%) during the night while being at 99% when I went to bed. My Band 2 has more autonomy...

They are having battery issues on older devices that contain a certain chipset that is in the 930, 1520, 830, etc. That includes last build and this build. They are acknowledging it and working on it.

Battery life sucked on 1520, 30% to 2% in a few minutes. Charging the phone full battery was fast, but draining was faster.

Having similar issues with my 1520 thought it might have just been getting old good to know It's an os issue :)

I've been seeing this occasionally for about 4 builds now. it's not all of the time... but when it happens... it is fast.... fine at 30-50%, then minutes later.. phone is saying Goodbye.

I have similar issue, if i use the adaptor to charge it drains more than it charges, USB is faster than adaptor. Also it does not recognize as original one asks me to use the original charger. Funny

I also have the charging issue

Mine too, but if I switch off cellular data, it lasts for days like a flip phone lol

I have a 1520 on the current build and so far battery life has been great. 5 hours in and the battery is down only 16%.

14367 has issues with battery. I see them firsthand on my icon. This appears as if they are recognizing that issue and have not put any fix into this build for it which seems true so far tonight for me, battery still draining quickly and device is warm/hot

My 640 Dual SIM finally lives for more than a day. Feels like I am back to WP 8.1

Wait for Redstone 2. They need to get this one ready for the anniversary update.

There probably won't be any. This is all fine tuning before anniversary update goes GA

MS said will do that for phones at the Redstone 2 now its for pc and phone gets polished on the way and i can say that from 10586 to 14367 wp has gone and keeps going a great road and a long one too and its far greater than the official release it had!

"Continue App Experiences"

Let's wait together for the next major update, for me the best new feature would be split screen multitasking for Redstone 2

Fast ring finally feels truly fast.

Pretty Sure photos app bug is still there on mobile It's funny that i've never seen anyone complain about the photos app bug. I submitted feedback about it too but never even got one upvote Open Photos App
Go to "Albums"
Select any album there
Open a picture, any picture.
Hit the back button .
Look at the bottom right hand corner - The "Select" option is gone. This does not happen in collection view or in folders.. Only in albums.

I just tried this with an album and it was fine. Select was still there.

Yeah, works fine for me on mobile.

I haven't tried albums since my initial attempt to create and upload an album failed and then wouldn't go away for several builds. It works fine on desktop/Surface, but it was definitely flaky when it was first released. I'll need to try it again to see what happens now.

It's not just the select button, the refresh is missing too. It looks like the wholle toolbar is messed up. I'll upvote your, if I can find it. :)

Had never noticed that before, but yeah you're right - both refresh and select disappear on my 950XL after hitting the back button.

And we still don't have light theme for Photos app. SMH

Photos app is the worst right now. It needs attention.

You're right, I never noticed this.

My pictures have been disappearing...videos won't load etc...etc...had a great day on the water the other day for Father's Day took pics...they all disappeared and didn't get uploaded to Onedrive it was pretty cool...

Yep. You are right. Thats a bug there.

Seems fine for me too. Maybe its because the "Album" view does not have the "Select" button initially, only an "Add" button.

My photo app issues are zooming the pic disappears, and the app always force close on 640 and 1520. Sharing also is hit or miss, as well as just looking at pics.

Still problem with double tap to wake up the phone on L1520.....fix this.its ultra annoying

Working fine on my L640. Maybe you should have bought a 640? [/sarcasm] I really can't imagine living without double-tap to wake at this point. That would be more than ultra annoying for me. I'd go back to production build over that.

This feature on Windows phone can't compare to double tap to wake on an Android LG G3 based phone. It is slow and clunky on my Lumia 1520.

Xx20 phones screwed up by ms. 640 and 540 works even better than those

Lol I tried double tap on that phone, it lags just like the rest of the "os" pure crap

With the battery issue being stared for older models and .e being on an 830 I think I might hold off. Battery on 14367 is actually pretty good

Pretty sure ths bug will still be present... It's funny that i've never seen anyone complain about the photos app bug. I submitted feedback about it too but never even got one upvote Open Photos App
Go to "Albums"
Select any album there
Open a picture, any picture.
Hit the back button .
Look at the bottom right hand corner - The "Select" option is gone. This does not happen in collection view or in folders.. Only in albums.

It's not. At least on my 535. Not sure if it was ever there for me, because I don't use albums too often.

I have left Windows 10 Mobile for Android (FOR NOW) but I have to say I'm impressed on what I've seen on my test Lumia 640. I so wish Verizon would have a new flagship phone.

I left a while back for a Nexus 6P.... Stayed with that for about three months, then tried my 1520 again to make a video showing how much better the WP was than Android for hands free bluetooth and decided to go back to WP so I sold the nexus on Sunday. Don't miss it AT ALL. Love my windows phone.

I might consider it if I had a working, new ICON. Doubtful Verizon will ever get a Windows Phone again. The 730 is just too "medium range" for me.

Dynamic background app now works in this build

Is that what's causing my homescreen to take forever to load...and then be frozen once it has loaded?

every time i am at 40% :P i hope battery life stays as it is tho or becomes better since at build 14367 it was great :D !!!!!! better for me than the 10586

Hopefully this fixed the WiFi cut over issue.

Did you even read the article?

the battery life isnt all that bad actually. phone heats up considerably less as well... only issue i am facing is connecting to wifi networks at times

That's great for you ... i get max 2 hour battery life on this and the previous build

So, no more dual sim data issues?! I finally don't see it in the bug log with this build, yay!

It's not been addressed that I'm aware of. They didn't note it as being fixed though.

Yup i m facing this wifi connect lost issue on build 14367...to get reconnect i has been restarted my device...

14367 works like 10586 branch build do...everything is faster than before...hope this build makes things even better...but i want "hey cortana" feature on snapdragon 400 chip...for lumia 640...

For "hey cortana" on the 640, the battery would last for about an hour before you have to recharge, seeing as how the chipset can't do passive listening. You'd have to get a new chipset.

If hey Cortana gets enabled on my Lumia 640.... That would be one of the best days of my life

Hey cortana is not so important why do you want it. It will affect battery

The more hands-free they can make the system the BETTER. "Hey Cortana" needs to work easily and consistently.

The wide tiles are still screwed up!

Yeah, the images on them are stretched out. It looks weird :D

For me only on Instagram, messenger and new Facebook, and I don't think it's a windows problem rather than apps problem.

Photos tile is skewed as well. But I agree, not all apps have the problem.

Oh God, I hated 67 so damn much. This one seems to have fixed most of the issues that build brought upon me. Edge works again <3

Haven't been on WP in a while, but I'm assuming the m8 is a dust collector now in terms of updates? Posted via the Windows Central App for Android

Not sure, thought you could get Insider builds on the release preview ring (10586.420 or whatever the current release is). But you won't get Redstone after even if it could run it just fine :(

Can anyone tell me if the problem not allowing you to deploy apps from visual studio for debbuging is fixed?

Yup. That's one of the bigger fixes of the 14367 release. For all of my fellow devs: you should now be able to deploy an app via Visual Studio 2015 Update 2 to a phone running this build. Thanks for being patient!

I hate to sound negative, but I can't even connect my phone to my pc now. It charges but won't let me browse the files

I think you need to remove the phone from Device Manager and let the whole driver installation thingy run again.

Installed on my Lumia Icon, install went through quickly and smoothly and now my Lumia Icon is running hot and battery seems to be draining fast. I have rebooted twice after the update and will see if the battery drain stops.

I'm having same behavior on my Icon. Battery not charging.

Just what i Needed to Lighten up the week? it has become a neccesary thing to have a new build in a week, seems odd otherwise :P

Yeah, after the Anniversary Update hits Production/Release, the rapid release of builds will cease and all the Insiders will go into withdrawal. LOL

Lol yea!, but i dont think it will stop all together. whose gonna test RedStone 2 for msft :P

Yeah, after the Anniversary Update hits Production/Release, the rapid release of builds will cease and all the Insiders will move back to Android/Apple. LOL. (Fixed for you)

Nah, why should the start playing with toys?

Its my another issue that is of Corse issue with photo app even i delete a pic sometime it came back i have to repeat the process again ...it works really slow...fix the photo app bugg....whole photo app fully buggy release a build for just photo app fully fixes...

Does Hey Cotana work with this build

Still not workig for me on my Lumia Icon, it says "You'll need to turn on Cortana first" but then Cortana is on and always was on. :-(

same message I'm getting but Cortana is turned on

I thought the Icon didn't have the hardware for Hey Cortana.

you wil have to do a clean start, thats how i got it working, back to 8.1 then upgrade to the Win10, train cortana and then get the insider fast build, dont restore back up. i have a L1520 BTW

I've found Hey Cortana works better than Hey Cotana.

I couldn't get the new Groove Music no matter how many times I tried doing the update. After this 14371 is installed, check for updates updated me to 2205, which is still a version behind the supposed 2244. Weird.

"Continue App Experiences" is in, was wondering if PC need to be on the same build for this to work? Can this work on two W10 phone of the same build?

Just installed this build on my 535, and it seems pretty good. The music played in the Deezer Music Preview app finally doesn't stop every 10 seconds. It was annoying as hell :D (Btw does anyone know why it needs to be reinstalled after every OS update, be it insider or production, to make it work again? :D ) But there is one thing that annoys me a lot. Or two, if you see it that way. Firstly, some apps just crash on the splashscreen (like OneLocker, 8Zip Lite, the new FB beta app, the Inside Out Thought Bubbles game, Hill Climb Racing, and one of my favorite games, Bricks Crash 2 :D ) The other half of this, is that some other apps can't even be installed from the store, they show an error, and stop downloading after getting licenses. (Wings On Fire and many other games for example). And the same is true for some app updates. The updates for Photoshop Express, My Boo and Tournament in Tavern are stuck in my store for like ages now :D And it's so, since i joined the fast ring 2 or 3 builds ago. Is anyone facing similar issues? Please, help me :D

Unfortunately this build has resolved the issue brought in by 367 where I cant use the default camera app because it has no permission to the camera hardware. It's actually quite annoying now as I have to use 3rd party apps to take pics.

We fixed WiFi connectivity on 5GHz frequency. Nope. We fixed SMS texts being read over the vehicle Bluetooth hands-free system. Nope. We added USB Audio Class 2 support as many of our beloved Windows Phone users have requested. Nope. We added Double-Tap-to-Wake functionality to our Lumia 950 & 950XL handsets as many of our illustrious customers have been requesting since the beginning of time. Nope. Instead we fixed a bunch of stuff that 90% of W10M users would have not noticed was broken in the first place. Have a great day!

You are spot on, my friend. Spot on.

I dunno what phone or car your using, but your first two points are false, using an asus 68u and my wrx bt radio and both work without issue (the Cortana read text is now fixed, was broken in all previous builds) and my wifi is in 5ghz no issues, even on the gfs 640... Either way I will have to say I disagree on those points but everything else I cant comment im using a Lumia icon...

Is it a new battery bug in the 930?

Hi I am trying to get the update but when I search for updates it does not come up. I am on the fast ring. Help please!

The battery life problem occurred to me (L830) 2 builds earlier. Probably the cause was Edge (opened in background). On previous build battery life was ok again.

My 830's battery life is not so good already on current build, so if it's noted to be worse with this update, so I will pass.

Guys ... any news about the problem of touch with gloves ? (on screen space it works nice, but hitting the 3 buttons at bottom, has no effect with gloves. :(

Yeah this and double tap to wake.... I'm starting to wonder if they will ever be added :(

Updated my 640, but the touch response was slow and scrolling was lagging until I rebooted. Now its good as the last build. Nice to see the list of fixes growing, the minor bugs are harmless and won't affect my daily usage,

Yes please fix the battery drain on the Lumia 1520

Hear something funny, my lumia's wc app was acting all weird but wc app on the g5 no prob. I wish on any ring my lumia/s ran like this g5 did. It's becoming increasingly harder to pick one up and use it. Posted via the Windows Central App for Android

Well..i really like wp, but I wouldn't recommend it to anybody right now.

How bad is the battery draining on Lumia 1520 in this build?

I've never had a battery drain on the last the builds on my 1520. The in car Bluetooth clipping being fixed is huge for me especially when using their map solution.

Why am I not getting the update?

I'm afraid to download the update. Cortana finally worked reading incoming texts consistently for the first time in FIVE BUILDS.

Dude worth it shes fixed no more pin prompts when sending texts

They should investigate flickering screen in lumia 830 with windows 10 builds

This might be related to your brightness setting in extras -> display

Uhhhh.... I wonder if I should go to this build. 950xl. I was happy reading all the fixes till I get to the battery part. I'm curious if that's been an issue for them all along or of they broke it w this build coz it makes me wonder what else they broke.

What about automatic updates of the apps in store?

This issue was fixed about two days ago. Dona tweeted saying that they had the problem fixed. It's working for me.

Has anyone had an issue where your pc won't recognize your phone?

"We are changing the backup format for Windows 10 Mobile devices to reduce the size of the backup stored in OneDrive." I like that! Of course the problem associated with it is unfortunate, but my back-ups take forever so this is nice to hear. One undocumented bug that was fixed for me was pressing the camera button in standby mode wakes up the phone now to take pictures. Surprisingly this stopped working last build, cant recall the build before that. Someone mentioned how Deezer now stops its random stopping in this build and I am affected with this problem in iHeartRadio, so I hope this problem is alleviated for me in that app also.

After second reboot, phone has cooled down and don't see the battery draining yet. Been half hour since I took the phone off the charger at 52% and now it is at 51%. Will monitor without using the phone much to see if it is draining or if it seems normal.

No, I have not done hard reset since last 4 builds! Battery is holding up better on this build so far but it did require couple of reboots after the update.

On 14367 battery life on my icon is finally acceptable. so is: We're investigating decreases in battery life on older devices such as the Lumia 830, 930, and 1520 (devices with SoC Is this a new issue or confirmation of an existing issue.....

It is an existing issue. I'm using a Lumia 830, the battery life s just 10-12 hrs max

Ok. This build is the best so far on my 950xl. Everything is faster, and runs cooler, batt life seems better. Blue tooth is way better, car, gadgets. Everyone on the fence you won't be disapoonted

Thanks for the input :) will update!!! 950xl

Is the Gadgets app working now? Can it connect to Microsoft Wireless Display adapter now? Thanks.

I know this might sound anal, but: Try opening settings--->notifications and actions... And once the window opens, try swiping down right away. It won't scroll, or it will lag for a second. The problem? It did not lag on a previous build of the slow ring... (lumia 950)

Hey Windows 950 folks, has anyone else have problems with the tile transparency?! If so, how do you fix it? It is just showing a solid color! It is for my ladies phone. Mine works fine! Thanks!

I've got no problem like that. This is a weird bug. What problem exactly do you have with tile transparency? Did you try setting a background?

It is my girls phone and not mine. It will not let me do anything. I even tried to hard reset just to see if it will change. It will not let me change the tile background like on my phone. It worked before but ever since 2 updates ago, it just solid blue.

I will try setting a background when I get home to see if that will do anything.

Last build was pretty awful, some tiles would freeze up the whole home screen. More random restarts, etc. Hopefully this will be better. It was really quite good for awhile

Last build was actually pretty good on my Icon

I had that exact problem. 75% of the time the Homescreen was frozen. Drove me to the Slow Ring. Now, they put that terrible build to Slow Ring so my phone freezes again. Hopefully this FR build fixes it.

Justed noted a new bug, People tile is no longer showing pics! Just blank round circles moving around.

Do a soft reset....open the App and open a contact, then close the app.

Tried, still showing blank. Was working in previous build. Tried removing the tile and pinned it again, still showing blank.

Damn. I dont know if this is a bug but thecbattery is improved tremendously ! Its great . And my problem with my dual sim where i cant send and receive sms dont appear yet. Its too early to say that it is solve but i hope so.

New update not showing on L635

New update not showing on L635

I opted out of Insider builds on my 950XL once I got build 14295 as it was just about 100% stable everywhere. Glad I did. Seems like even with all of these fast updates there are still some issues that could really break the experience throughout the day. I need to put my phone into airplane mode or quiet hours at least once or twice a day at work. If these two features aren't working or causing a crash, I'm at a real loss.

They have finally acknowledge that there is a battery issue with the 930. It's been ongoing since a few builds now.

didn`t see any issue about it ... tough I hate how fast the phone heats when using Facebook Beta / messenger Beta.

I never had any issues except the battery drain.. Using Lumia 830.

Same cellular data on off problem device is freezing. Its sow bad

My groove music don't seeing albums from one drive on my mobile Windows 10 from Redstone!

Fixed ninja cat emoji.. !! That's very important in this situation.

Fixed ninja cat emoji.. !! That's very important in this situation.

It is. They discontinued PDF Reader, FM Radio and Kids Corner in order to make it happen.

Yeah thats what they did... do you even read your posts... you are such a dolt!

My Lumia 1020 is stuck at "10586" version. I tried installing windows insider and choosing Fast Ring. It says device configured but whenever I try to check for update, it says, latest version is already installed. Any Solution?

It's not on the list of supported devices for Redstone builds

Any method to install it?

1020 is not supported and won't receive win10. 1020 is EOL. Buy a new phone.

http://forum.xda-developers.com/windows-10/windows-10-mobile/windows-mob... If you have updated Extras + Info, you're out of luck.

Why is my outlook or any live tile for the matter needs to take time before it updates, I would see notification on the tile and when I read it, it needs about 30mins for the live tile to update, is there a setting for this? :(

Looking at Facebook comments, it seems that there are still people that have absolutely no idea what the insider program is and how fast new stuff is being added by the competition as well.

Lol they are still buying lagdroids, what do you think they really know?

Downloading progress stuck on 0%.. L1520. anyone having same issue?

Here too. but, stuck on 30%.L 640XL.

First it stuck @ 31%, I have switched off and now its stuck @ 0%

Nope... Took about 20 minutes to get the +600mb.. now running ok.. Slight heating on my 1520.. but its a-OK

Just join to SlowRing for minimum Bugs :-)

The new Slow Ring build is as terrible as it was in Fast RIng - moreso because SR is suppossed to be more stable.

Hah so it wasnt just me :) nice to see lumia 1520s get some treatment now Posted via the Windows Central App for Android

Microsoft apps like weather and sport still not working on this build

Fixed the issue by reinstalling the applications

Wheather works fine for me :)

Glad to see the lock screen issue is fixed. Now My Daily Wallpaper is actually useful again :P

Any idea why the downloading progress stuck @ 0% and what can be done to fix please?

Did that but nothing happened:(

Ok, will do that but since 8 am till noon, it remain @ 0%

Sounds like you need to reboot.

Changed region to Germany and go to the update process has fixed my issue. I have been able to download the update and it works fine:)

Lumia 735 Having numerous issues after upgrade. Looks like it might have currupted something during the jump.

My 735 runs flawless. I'm going to update my production 650 tonight as well.

Worst Build For L730! Destroyed my phone completely .Maps closes when on public transit tab , Error downloading some of the updates on store. Posted via the Windows Central App for Android

Lumia532 .batyery is very good, so far i cant experience the sms issue where i cant receice and send sms, no app crashing, and i notice the store is fast to update and download now .i do a soft reset after the update. So far i only experience freezing on notification center once when i turn off bluetooth. Soft reset solve that.
This build is 8/10 for me.

Hello all "dissapointed WM- users" I am an owner of a 950XL and 1520 and just updated to the new build 14371. Updating went Ok but now I have got back an issue that was gone in the prev. build. This issue focus on the Store app when writing in the search field; just two letters occur and the app freeze. It is very annoying and I just don't understand all the fixes they are talking about. Those fixes are of no consern for me having no issues at all. When will MS come with fixes and features that has something called substanse and importance; not only "bla bla bal....."

What's that huge new feature lying-Dona promised a few weeks back?

Its the ability to block you and DJCBS from everything Windows, but being the cockroaches that you are, its taking more time then they thought.. They also are adding the feature to block DJCBS from all things based in the USA given his general disdain for the country...

Has the fix been done on the 950 so that we can have custom ringtones. I have loaded two mp3's on but cant get them to be my ringtone. Can anyone advise me of a fix, Thank you

Download the "Save as Ringtone" app. After it's installed, you just have to tap on share on any audio file, select the app, and you can set it as a ringtone. You don't even have to move it anywhere.

Use ringtone maker app and your saved mp3 will appear in the list.

Does anyone have text notifications working on their 950? I've been waiting for at least 6 months hoping they would fix this issue in one of the new builds.

Phone went into boot loop after update, had to soft reset

Since this build Edge (and some other apps) won't start...or crash every now and then... :( I thought they FIXED a lot of issues....and they introduced some other issues...

How about call recording option on Lumia 650....Is it enabled????

Installed and running b brightness toggle not fixed glance screen is affecting the brightness this is my observation so far still checking

Upvote a known WiFi issue? That is like upvoting for the phone to work.

Dual sim 950 - on previous builds I could not open apps, data etc. Appears to be fixed.

The new facebook (beta) always crash now on this build !!

Why I got 14367 instead of 14371 build on my 930 but I'm in fast ring ?

Probably because your phone had already downloaded it. Check for updates again.

I still face an issue with auto brightness[ low/med/high ] adjust with my Lumia1520 ):

Apps corner still not working on Lumia Icon. Can add apps but can or pin apps corner to start screen

Really,Lost hope!! Even after providing continuously feedback. Released build r not so stable ,how do I expect from this? Copy paste post guessed well

probably to much build intalled i ha the same started from scratch and now working perfectly (only 2 fast build installed )

Nice to see that they r investigating battery issues on 830....!!

Problems with calendar and email accounts (only the tiles got back. But need to put all accounts info again... For hotmail accounts is not big problem, but imap ones... PITA). Also, touch w gloves still have issues w the 3 buttons at bottom. Some tiles on start screen at wrong place or group. Apps still crashing a lot... Facebook(beta-clone of iOS), Windows Central (this new one), and others. s/ But I'm happy they put efforts on ninjacat emoji /s

feels better than the previous build. the store finally shows "updates" when the "check for updates" option is clicked. phone doesnt run as hot as before but then again its too early to comment Lumia 930

battery draining little fast with screen on.

Absolutely no issues on my 950xl. Seems a little smoother. Will have to see about battery life.

Stuck on 0% since morning (Lumia 650), anybody having similar problem?

have had same issue on my L1520, have changed region to Germany and go through the update process again and it work.

Where is the FM app ? Still missing in New built. Other App's Not Working Properly and Play Pause getting delayed with all available alternate apps. Please Bring back FM App. And Also there is a Probelm in FM Radio on Phone where it Stops automatically and Play after some time and it jerks in the Voice on running some channels and Stops completely. Need to Close the App and Re-launch it. May be Firmware update will resolve this issues as i have tried with Another Phone also. My phone is Lumia 1520.

Lumia 635: YOU STILL haven't sort out THE NAVIGATION BAR PROBLEM!! It's stock. It won't go down. It won't auto hide nor manual hide. We can't even write a sms text as we CAN'T SEE WHAT WE ARE WRITING. I don't care the cat emoti, i'm returning to windows 8.1 and never buying another WF ever. Even worse, i've completely missed the back button and have the camera one for alla apps, i can't use my ******* phone!!

Same problem in my lumia 638. The resolution is overlapping and the bottom most options hides under nav. bar.
They don't seem to fix it since last 5 builds.

Are you on Redstone? if so, STOP complaining! you want stable, go back to 10586.420. Fast ring!! i'll repeat that just incase you didn't get it......FAST ring.

Those with a 1520 does Hey Cortana work

Did they fix the live tile on the health app? I know it wasnt' working with the last build

What about the Camera 'Saving' bug???! it's the one thing that makes me wanna smash my phone against the floor

Got back the photos on the People tile sometime in the night. Battery status not being updated properly and gives false information. This morning, took it off the charger at 6:50am, read emails, read news, for about 25minutes of off and on use in the hour, the battery went from 100% to 80%. So, battery is draining more than last build with screen on.

Got the updated everything running smooth and normal but my groove update will not show up on my att Lumia 950 with the fast build. My dual sim unlocked 950 had it no issues.
My surface 3 4gb from att also will not update groove music app on fast build but my pc does. Is att effin with the groove music update

Yeah fast ringers make me laugh yeah complain in every update so why update on Redstone stay on preview it's much stable.

Maps closes when I use the public transit option Posted via the Windows Central App for Android

This is the first insider build that works well on Blu Win HD LTE (dual SIM bug resolved must be making a huge difference). Finally I get to play with mobile insider builds :)

This the first build that actually works great on both of my phones, 535 and 950xl.

Are they still problems opening apps on redstone?

We fixed an issue resulting in certain apps not being able to set the Lock screen or Start screen background. /// Still I am unable to set weather apps as background. Any one there like me ?

Outlook has sync problems after this update on 950, sorry for typo's i csn't see what i type on 950 in this app

Im seriously feeling hell with windows .....wht the **** they are doing....no new features at all just small bugs n fixes.....they cant do anything with wp10 .at every build the prformance gets low my phone gets hang again n again ...no more windows phone .people will not get any thing by using this phone best is android

Which windows device do you have?

535DS: data seems to work fine on both sims, wifi is no more disconnecting, Cortana works, but when you ask "what time is it?" the answer is based on UTC-4 (I am living UTC+2) funny. Battery has 4 hours life I don't agree with a build that turns my phone to a Walky talky!

This build has addressed the mobile data error with my dual sim Lumia 640 XL. In the past, if two the two sims were in the phone, the mobile data would not show up as connecting even though it was seen to be on. Since I updated, I switched my phone off and on several times and it is working perfectly. The most pleasurable is the battery life of my Lumia 640 XL. For more than nine hours of heavy usage, the battery lost only 9%. I still do not believe it, but it us real. The only problem here is some app find it hard to launch. May be future updates will fix things up.

If you use a fitbit charge hr and a lumia 950 beware to have sync issues after udate

I just got 14372.0 on my Lumia 930

what's the use of updating to redstone for now if half of the apps are not working right I'll just wait for the officail anniversary update.
Windows Central Newsletter
Thank you for signing up to Windows Central. You will receive a verification email shortly.
There was a problem. Please refresh the page and try again.