Windows 10 PC and Mobile preview build 14905 rolling out for Fast ring Insiders [Update 2]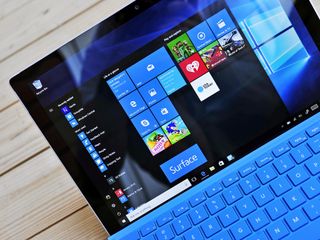 Update It looks like some Windows 10 Mobile Fast ring Insiders are not getting the new preview build. Windows Insider head Dona Sarkar has posted on Twitter that the team is investigating this issue.
Update 2 As of 7 PM ET the "caching conflict" appears to be resolved and letting users get the update on Mobile
Microsoft has released the Windows 10 PC and Mobile preview build 14905 to members of the Insider testing program on the Fast update ring.
In a blog post, Windows Insider head Dona Sarkar noted this was the first preview build for Windows 10 Mobile since the rollout of the Anniversary Update earlier this week. There's just one new feature in this build for Mobile users:
Windows 10 PC Fast ring Insiders will see the following fixes and improvements for build 14905:
We have fixed an issue causing a large blank space to appear between the address bar and web content after the address bar moves back to the top when opening a new tab in Microsoft Edge.
We have updated Narrator Scan mode for table navigation to now support CTRL + ALT + HOME to go to the beginning of the table CTRL + ALT + END to go to the end of the table.
Edge now supports the CTRL + O keyboard shortcut for setting focus to the address bar.
We fixed an issue resulting in Sketchpad and Screen Sketch crashing after trying to change the ink color twice in a row when the ruler was visible.
There are also several known issues with the PC preview build:
Support for kernel debugging over 1394 has been removed, but will be available in an upcoming kit release. A work-around will be posted to the Debugging Tools for Windows Blog shortly.
Adobe Acrobat Reader crashes when you try to launch it.
Cortana's text to speech capabilities is not working in this build. For example, Cortana won't be able to read text messages out loud for you, tell jokes, sing, or give verbal prompts.
When clicking on the power button on the Start menu, it closes the Start menu without opening the flyout with restart/shutdown options appearing. As a workaround – you can right-click on the Start button (or WIN + X) and choose to shutdown via this menu instead.
Apps such as Yahoo Mail, Trivia Crack, Google and the Skype Translator Preview app will crash in this build due to a compatibility issue from a recent platform change.
The Settings app may crash on certain editions of Windows 10 when navigating to different settings pages due to a missing .dll file. We are working on getting this fixed soon.
Windows 10 Mobile users will get a number of bug fixes and improvements with the preview build 14905:
Missed call notifications are now more actionable, with inline options to call back, text or remind yourself to do something about it later.
We fixed an issue where videos played in Windows Phone 8 apps might not pause when an incoming call was received.
We fixed an issue where, if "Show my caller ID" is set to "My contacts", the contact being called might still see a blocked caller ID.
We fixed an issue where the Lock screen might fail to update to the new time after a time zone change.
fixed an issue resulting in music not resuming after a call was finished, if Turn-by-Turn directions were being read out from the Maps app when the phone call came in.
There are a couple of known issues in the new Mobile preview build
If you move apps between a SD card and internal storage (either direction), those apps will get stuck in a pending state. The workaround to get your apps working again is to uninstall the app through Settings > System > Storage (apps cannot be uninstalled from All apps list). Then you can re-install the app from the Store.
Cortana's text to speech capabilities is not working in this build. For example, Cortana won't be able to read text messages out loud for you, tell jokes, sing, or give verbal prompts.
feedback-hub:?contextid=288&feedbackid=03cac288-fd7e-4d49-b603-1cc2cc9f4945&form=2&src=2

Dona simply rocks....! Extremely aggressive....

Completely wrong. The insiders are the founders of the ideas and of the problems. For example the option to call back on notification; I made the feedback myself and other insiders voted it. We (the insiders) are the solution, they are the material.

Uh...no. Without Microsoft (the people that actually make all these changes and improvements), your/our/mine ideas would be nothing. Just ideas.

Not to mention that we (the consumers), do not have access to their (Microsoft) backlog. This means we have no idea what is currently in-development, or planned for a later development phase. For example, the "notfication call back" feature (mentioned by the OP), could have been on the back log for some time, before anyone even posted feedback. Yes, Microsoft does share info about which changes/features/improvements were influenced by the Insider community, but that doesn't mean Microsoft is solely acting on Feedback. They are always working on their own ideas, as well.

Woke up to a new alarm. Will check out the build today. Ringtone set to Bhangra. Oh! Ballay Ballay!

Ye, my alarm was weird today.. almost fell asleep again :P

True that. Not sure I like the new ring

Glad to see that there are others who agree with me!

Yes, I also think you own Microsoft now.

"More info forthcoming"
In other words, I'll wait a bit longer before jumping in on this build Update: I'm already on the new build. Cortana's voice is gone, but that was expected. So far things seem well off which is always good

Thought the point of being an insider was to test and provide feedback on the OS builds....

You thought right, except my daily driver is my test phone... I don't mind the bugs as long as the phone is still pretty usable

People seem to have forgotten that... Always wondering if it's stable... It's not SUPPOSED to be stable. People just join the insider program to complain. Totally defeats the purpose.

i'd wait as i use cortana for reading my messages most of the time. apart frm that, the build should be pretty much useable. IMO so you should have no issue with your daily work

Same here. The issues with Cortana concerns me.

How do you break a feature that's been stable for a year and call it progress? Seems like a blocking issue to me...

I have my windows phone that I use daily and that's it. I have other older phones but I don't have any use for them and installing this build on them is nearly pointless. I want to test out new builds and if it's stable, as was the later redstone builds (more so than threshhold) then I'll hop on board and help test. I got tired of having a beta phone in the real world and made a decision to install stable builds. So asking if a build is stable is crucial for me.

Complaining IS the purpose, as long as it's not just for the sake of complaining. Giving feedback about things that are wrong or missing and things that crash is the point.

I dont see the correlation between 'complaint' and 'feedback'. A complaint is " A statement that something is unsatisfactory or unacceptable ". (OED) Now, correct me if I am wrong, BUT, don't us insiders sign away our right to complain when we AGREE to the terms and conditions? Even if we do AGREE, you are reminded of the consequences again before you commit. "Feedback" is " information about reactions to a product, which is used as a basis for improvement " Consequently, your post is contradictory and, as such, not much of an assistance to the idea of a project like the Insider Program, which was devised to develop a program in the 'real world' rather than in a sterile environment, like the internal testing department at Microsoft.

Guys here are projecting that this particular build is not stable enough while it is not true this build is as stable as previous build and smoother.

You can still be a tester and not jump on every build. Some limitations are acceptable for some and not for others. If a listed limitation was one that would cause me to NOT use the device, how valuable of a test is that, anyway?

I see Momma raised a quitter...

Guessing battery will suck as w RS1 early stages. And I'm guessing its buggy af n people are gona ask the usual questions "it's such a higher build number, why so buggy". Preview software people.

Don't forget "Is this build stable enough for my daily driver? "

I hear you, and, in anticipation of the avalanche, yes. The builds have been pretty good on my 950xl. They had some stinkers between February and April, but most others have been good. On my daily driver they are good. My old 920 is much laggier, but that should be expected given the age of the device.

Rolling out is the keyword/s mate.

Please comment if these builds are as stable as 14393 for mobile compared to the initial releases for RS1. Eagerly waiting to jump to fast from preview.

Exactly. I doubt they're stable

If not we will have to wait for three four months before It's stable. Fingers crossed. Why don't emojis work in the comments.

The point of the program is not to be stable out the gates... It's so that users could help find bugs. If you don't want to do that, don't join and stop asking silly questions.

I very well know that. I hate people whining about the instability. I would be glad to try it with a few bugs and provide the necessary feedback. Since I would be installing it on my daily driver I cannot risk it by using a highly unstable build.

I'm not sure the point of the program "is not to be stable out (of) the gates". The point of the program is to put out the new code that has already been internally tested to see how it goes in the wild. New bugs might be found or the build can quickly filter down to the less risk averse levels. Some people are willing to test certain things. To have a listed limitation like Cortana not doing text to voice, may not matter to some and may be a big deal to the others. Both are valuable testers. Also, sharing information is key. If people are discovering a huge bug before I install, causing them to hard reset, why wouldn't I want to know that? That's not a "silly question". I take the calculated risk of being a tester, but I'm not going with a new build in a state of ignorance, when there is potentially good information out there. So, I'd advise people to keep asking questions, regardless if someone else thinks it's "silly".

If you're on the fast ring that code doesn't go through too much testing

They don't actually tell us how much testing actually happens internally. Regardless, I see no harm is asking about others experiences.

@eshy It goes through internal testing first. It goes through enough testing that we don't receive EVERY insider build MS develop :P

I think ttsoldier was saying what you were saying. Just the last part about silly questions was unwarranted.

If you follow the changes you can see and assume how buggy it may be. In this case they only added new set of sounds. Did not messed anything with code. So this build is stable as Anniversary update.

I would recommend not making that assumption. Looks like a few things got broke in the process. There was definitely code changes. So there really may be a lot of bugs

Actually new sounds in mobile is the only "visible" new feature, a lot of work is going on under the hood in One Core which means all fast ring builds are going to be unstable for at least a few months. Everyone should also note that even by fixing a bug you can inadvertently introduce a new bug or bugs, essentially any insider build will be unstable until its a release candidate and even after RTM bugs will remain, such is the fact for all software ever written, except maybe hello world examples.

Thank god I optioned out of insider preview. Gonna stick to 393.67 for a while

so you're saying that imperfect humans don't write perfect software? lol. I want perfection!!!

Want me to write you a hello world app?

Cortana speech to text and text to speech does not work

I would say they are still working on OneCore as thats going to take a long time and needs a lot of back end development work which you wont see - they are adding the odd feature to stop the people complaining about nothing new in the the builds. To me the core stuff is just as intresting and I would love to know a bit more about whats going on.

Exactly, because ONECore is what makes this OS so unique, already love the coherence between my PC mobile and XBOX. and looking forward to see stronger bond :P

Wouldn't say its as stable as AU... With new features comes big known bugs, (listed) but also hidden bugs that MS are yet to know of that could be an issue

Bluetooth has taken a hit for me; as of this update I get a slight stutter every 5-10 seconds, and my headphones won't skip songs (Jaybird X2)... A bit ironic, as sound seems to be the focus for this update;

Been noticing (driven crazy by) the same thing. I hope this gets fixed soon. Can't find anything mentioning this except your comment, so you're not alone :)

Still the same OS version, so IMO it shoud carry forward the stablility of the 14393, of course the new features may break one or two things, like the cortana's speech things in this one. in short, there may be bugs but less crashes as compared to initial builds of RS1

Eh? Pretty sure it isn't 14393.xx

I think he means It's in the 14xxx.xx "series", building upon RS1.

i said "the OS version is the same" 1607, build number defines that is RS1 or two, the OS version that diffrenciate IMO,

So happy I switched to Release Preview

Admit it, you're curious... I'm betting you fold by the weekend lol

Must...not..go..to..the...dark...side..mu- *Downloading*

How it anniversary update new futures'

You may asking, how does the anniversary update get new features? If that's what your asking, No this is not anniversary update, this is a preview build for fast ring.

Thats not what CTRL+O should do. It's always an Open File... dialog in browsers. we should get that support here too!

*double post due to app lag*

Exactly what I was thinking. Across all major browsers, CTRL + L is the default action to get to the address bar. I would rather see CTRL + O open the downloads folder.

It makes me wonder if the current team is right for the job. Why the download speed is still not implemented in Edge?

I would like my screen to not glow brighter before getting locked. And Also the Glance screen quick notifications don't update consistently.

It would be nice to let MS know via the feedback app

It'll need more than one report though

Yup. Both of my feedbacks got insufficient upvotes and since people keep adding new feedbacks every minute, many feedbacks go unnoticed.

Minimal knows issues on mobile is something new!

Especially for the first of RS2.. Let's just hope there's no hidden yet to be found bugs :p but hey, these are testing builds! So its expected for us to find :D

But I need Anniversary update.....R*

If you ain't seeing it by now...... Checked your device????

Ok, so we can call back from notification center now. This is the welcome feature.

this is a great feature, always wondered why only remind, text and callback was so much needed, thnks for MSFT to listening to the feedbacks :P

Don't worry, they'll soon rip that out and add it to a future version of Skype.

Lol! Spoken like a long term user. ;-)

Me too. Problem at their end, article has been updated. I'm UK 950xl owner.

That Cortana issue is pretty important.

Agreed. Text to speech is really useful, especially while driving.

It has been rather flaky anyways though. Most of the time she would ignore everything

Agree as well. No text to speech is a deal breaker for me. I use it alot while commuting.

yea, im holding off due to this one issue, got only my L1520 for test builds. i use the text read outloud all the time, and asking her to play,shuffle music, next track etc Just installed Release preview though.

How are your L1520 music controls via Cortana? On mine she mostly cant do anything, if I say "Play **(name of the artist)**" most of the time she will just show the circles spinning and nothing would happen. For some artists it works, but only a few. And if I say "play jazz" or something like that, she either dont do anything or will say there is no jazz on this device, while I have hours and hours of jazz music.

i mostly dont play by genre, or artist name, rather with my playlist like " Play playlist1" and it does so. i had issues with the commands too like, play rock, play metal etc too sometime works and sometime it doesnt . i think it because i dont have Groove Pass/ as sometime it will say you need subscription to paly " Song name" etc. so far i use if to play my playlist, i have few made depending on the mood, that works and saying next chnages the track. should work with previous, pause commands too. VLC does good job if you havent tried. you can say play Eminem on VLC, play linkin park on VLC etc that worked. i'd suggest you create the playlist of the genres you play and say the command that way :P untill they make all this work properly

Still update in not found

Well, now I know what they were working on for the past few days :)

No update founds....... Posted via the Windows Central App for Android

Just spent 20 minutes telling Cortana to sing songs, because this is the first time I read that she can sing.

She sings from the good old 8.1 days

lmao, try other things like, tell me a joke, and yea! " why did the chicken cross the road" she reply with two diffrent answers one of them made litterly laugh out loud for couple of min. :P

Just as I list my 950xl :( https://swappa.com/listing/NNP393/view

Yeah it's sad dude. I gave AT&T 4 tries in 2yrs. It just couldn't hold up against Verizon. Same for T-Mobile.
I'm on my Nokia Icon now, but it's surely not as good as the 950xl :/

Good looking device though.

Just got update in Lumia 640 XL, preparing for installation :)

Size not sure, it took around 3 mins to download in 4g speed.

You're double the size then.... you can expect more new features packed in :-)

when they said phones will be getting RS2 later i didnt expect it to be so soon :O :D

Yep.... Soon for MS is really soon now! Good time for the leakers to post some images of the surface phone

Still no update is found........ I'm using l540 Posted via the Windows Central App for Android

Update not found... Nothing available

I WILL SUGGEST YOU TO CHECK OUT YOUR INSIDER RING. IT MAY BE ON PREVIEW RELEASE...GOT TO FAST RING AND CHECK ..YOU WILL BE GETTING IT IN 1 MINUTE....

And i still didn't get the anniversary update on my Lumia 930

WHAT IS THE BUILD NUMBER OF YOUR PHONE?

14393.5 and the anniversary is .65 if i`m not mistaking. Had this build since Fast ring but opted out before the AU came live.

You are running the Anniversary Update, you're just not running the latest version of it. Try switching to Release Preview.

Release preview will give you .82.

installing... however nothing will ever replace my suite of Guns N Roses sound clips from being used as all the defaults... NEVER, MICROSOFT!

This just piqued my interest like nothing before!! Are those custom clips or off a website?

So strange, I am on Fast ring on my phone as well as PC but my phone can't find the build (PC does).

Same here. PC currently downloading, 950XL no update. Maybe it will appear later.

Hope they fixed Outlook Calendar and Mail live tile issue which is Date not changing to new date and Mail not syncing as it should.

Anyone else cannot make skype calls to mobile and landline to none skype users on Skype preview.

I'd like to hear the new sounds, though i'll not get into fast ring untill a few months have already passed by. :)

OH man, how did they break Cortana? lol

I switched back to release after seeing this article due to the Cortana text to speech and speech to text features not working. Hope I got out in time and don't get the update. Will switch back to fast when this issue is resolved.

No update for my. Lumia 930

Insider program doesn't work on anniversery update?!

Getting it.... Hope it will work better.... :-) but Cortana would not break :-/

I liked the chime for "system updates were installed"!

Turn by turn speech hasn't worked for some builds now.

That's strange as I was using it this morning via maps

That's doubly strange as I've used it recently too, on the very latest builds on my L950. I wish I had cottoned on that speech wasn't going to work for turn by turn on Maps though, I probaby would have held off for now, but unfortunately it's preparing to install as I speak, I don't think I can stop it now.

Strange...working here. No issues ever with that on Fast Ring.

Well..i found on windows forums many other has same problems. So maybe a regional issue :(

We fixed an issue where Cortana will FINALLY start to send notifications for severe weather, sports, or news cards again! Seriously when is this going to be fixed? This used to work on my older L830 on Release Preview months ago. Now I'm using a new L950 on Release Preview, hard reset, no backup restored, cleared out everything Cortana knows about me in the cloud and my devices, started fresh with Cortana, and yet I still do not get any notifications!! #MSFAIL

I get Cortana notifications just fine. No issues at all. Sports scores, severe weather etc.

Yeah I used to get them. Not sure what happened but now I don't. I was hoping a new phone and hard reset start fresh would help but nope. Something must be corrupt on the backend. Not sure what else to try. Sick of this crap where something works good for a few months and then fails for no reason!!

I still haven't got the new build...I'm on Fast ring.

No Cortana voice? This build should have not flighted.

it's a Fast ring preview build. Don't like the issues with preview builds don't get the preview builds. pretty simple

For Lumia 620 can we use interop to change registry n get anniversary update?

It'll run like a pig. It'll be like filming stop motion scenes. Don't bother.

for me on PC it stayed on "restarting" for a very long time. More than usual, thought it was broken.

No updates yet to 650 on fast ring and not near my pc to download the update yet.

https://www.youtube.com/watch?t=15&v=z3nXHAQa-gQ

Right now they are just bringing bugs so that they'll push another build to fix the same bugs they released.

I won't be installing this build, neither. That text-to-speech feature is HUGE for me... So is the Adobe app.

Why did you get thumbs down...wow. I skipped out on this build because of that too. I've been on the fast ring since I got my Fierce XL two days after it was released on T-Mobile US.