Windows 10 preview build 14379 heads to Fast ring Insiders on PC and Mobile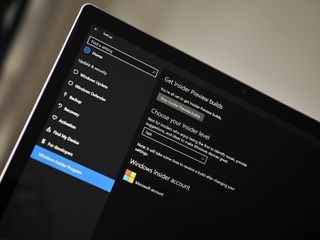 Microsoft sure isn't wasting any time with sending new Windows 10 builds to Windows Insiders. Just a day after its last release, the company has now pushed a fresh update in build 14379 for PC and Mobile Insiders on the Fast ring.
Like other recent builds, the latest doesn't contain anything of note in the way of new or astounding features. However, it does pack plenty of bug fixes on both platforms. Here's a look at what's been fixed on PC, according to Windows Insider chief Dona Sarkar:
We fixed an issue where the size of the Credential UI might not be big enough to display the contents on a PC with High DPI.
We fixed an issue where Action Center might crash after dismissing a large number of notifications.
We fixed an issue where Centennial app launches from Start or Cortana wouldn't count towards those apps bubbling up in Start's "Most used" list.
We fixed an issue where no note would have keyboard focus after minimizing then reopening the Sticky Notes app.
Luckily, there's just one lone issue still lingering for PC users:
Using Continuum from your phone on your PC via the Connect app will not work. This should be fixed in the next build.
As for Mobile users, here's what you can expect to be fixed and improved:
We fixed an issue that could result in a stray focus rectangle becoming visible in certain apps, such as Groove or Cortana, after bringing up the keyboard.
We fixed an issue where the aspect ratio of images on live tile wasn't preserved if they need to be shrunk, leading to them appearing stretched.
And lastly, here are the known issues on Mobile:
You can open PDFs in Microsoft Edge but won't be able to use touch to interact with the PDF (such as scrolling, pan or zoom). When you try to use touch to interact with a PDF, it will constantly reload the PDF.
We've heard you and we are investigating decreases in battery life on older devices such as the Lumia 830, 930, and 1520.
We're also investigating Wi-Fi disconnect issues – if you are experiencing an issue with your Wi-Fi disconnecting, please see this forum post and make sure to upvote Wi-Fi disconnecting issues in the Feedback Hub.
REMINDER: We have changed the backup format for Windows 10 Mobile devices to reduce the size of the backup stored in OneDrive. As a result, if you do a backup on a device running the latest Windows 10 Mobile Insider Preview builds and move back to the released version of Windows 10 Mobile (Build 10586) and restore from your backup – your Start screen layout won't restore and remain the default Start layout. Your previous backup also gets overwritten. If you need to go back to Build 10586 temporarily, once you are on Build 10586 you should disable backup so it doesn't overwrite the good backup from Windows 10 Mobile Insider Preview builds.
Have you downloaded Windows 10 build 14379 to one of your devices? If so, let us know what you think with a shout in the comments!
Windows Central Newsletter
Get the best of Windows Central in your inbox, every day!
Dan Thorp-Lancaster is the former Editor-in-Chief of Windows Central. He began working with Windows Central, Android Central, and iMore as a news writer in 2014 and is obsessed with tech of all sorts. You can follow Dan on Twitter @DthorpL and Instagram @heyitsdtl.
Downloading already... Nice one

I was hoping they was the cause of battery drain on older phones. I need to leave it charging to make sure my alarm wakes me up in the morning

I'm lucky to get 4 hours out of my 1520 if the cellular data is turned on.

Strange!!! i get a whole day and still going if i leave my Data on, and thats LTE.

Toyotast165, I've never had such poor battery life out of my 3+ year old 1520. I currently get just over a whole day. I'm an IT director with four emails accounts configured, office 365 manager app, desktop rdp, social apps, games, etc.

Wow, I'm really sorry. I'm lucky enough to not have seen that bug. I took my 1520 off the charger this morning around 7 am edt and right now I'm at 46% 13hrs later with moderate use all day at work.

yea, we are lucky to get that much from our 1520 while some are not. is yours also RM-937 1520.1?

Mine was a return replacement from att, RM-940 1520.2. Broke my screen, do the insurance and get this one and after a month the bottom of the screen is separating from the chassis so I put a snap case on it. Tried restarts, reloads and nada doesn't like the last couple builds. Ran it back on 8.1 a week ago and lasted two days

My 1520 goes whole day data on. However I selected background apps and turn off most as the default is all on except about ten as I only need the others to refresh after I open them.

My L1520 by At&t over T-Mobile service work very good, no drain battery I have to almost all app, "hey Cortana" off , antuntu & Dropbox apps take it out, Bluetooth off . BUT STILL RUN VERY HOT in small thinks like view pics, or read on Windows central app.

Do this. Background syncing and other needless tasks have eaten away at my 929 battery. With just a couple of apps disabled in the background it lasts all day.

Yeah but what what do you do with it? Candy Crush as an example can kill your battery in a few hours.

THis build I get a weird issue where it will crash in Photos or WhatsApp for intance and say Battery is Low (or whatever the message is).. and shut down.... when it restarts, I might have 20-60% of my battery left. An hour later... yeah really low... 10% or so. Something with powermetering is wrong.

Yeah, hope they find the issue soon. By the looks of it, there is really a bug on W10M causing it. I hope that Redstone would be way more polished and optimized at launch, unlike that ******* TH builds.

My 3+ year old Lumia 1520's battery is running just fine without drain for at least last five or more updates.

If I have less than 15% I plug it in to ensure my alarm wakes me up. Other than that the battery is fine. Battery Saver is generally oh though for me. For my alarm btw, I'm using Realarm. I have it set to give me an easy math problem to solve. Its great because when you're groggy it forces you to wake up and do the addition in order to turn off the alarm hehe.

Thick I'll give re-alarm a try over the built in alarm.

I did a hard reset of mine, after that battery has been fine

Oh, so that's what Dona meant on Twitter :D Hope the Bluetooth toggle in the action center finally works.

Has been working fine on the 950xl.

On my 535, it doesn't work on the latest RS builds. And it freezes the phone when I try to turn it off from there. But it works just fine from the Settings app. Strange :S

hey there, mostly the same happens to my lumia 950 xl. turning off bluetooth in the settings app doesnt freeze my phone, but the on/off toggle gets frozen. i can navigate out of settings and use my phone as normal. turning off bluetooth from the action center when its connected to a device freezes my phone.

Is it still happening on 14379? I haven't installed it yet.

i had that issue 2 builds ago, the one beofre this fixed it for me on my 1520

i have that same issue, it sucks

Going from camera to gallery was kind of slow or was that me?

Seriously, I just got done installing 14376 eight minutes ago. Not complaining.

Same with my laptop haha. For last few days everyday I have a 1hr time period where my computers updating then it finds another build an hour later. Frustrating but at the same time is highly appreciated :D

I'll be skipping this build since using continuum with the connect app is a must have feature for me. Well it won't be a must have feature me until I get a 950 tomorrow from the Microsoft store.

Love the fast ring release cadence.

It just bothers me that I finally finish installing an update and the next one is already live...

Please fix mobile device management connections. MDM had been broken for weeks. Unable to enroll.

This thing is tiny! 59.61MB on my L640 running 14376.

Yay my feedback has been responded :)

What about a Production build before anniversary update?

second tuesday in July, look for it

We are hoping for insider release preview before 2aug

But how can you choose release preview ring only fast and slow ring in the options now that im on redstone. Sorry if im sayin sumthinfg dumb i just upgraded today.

Wow fast ring is really faster now. Haha

It will die down after August second...

It wont be as fast, but it will be about two builds each month.

as if you really know!!! anyways it wont die all together ofcourse, looking forward to new features for insiders after august 2nd

Fast ring jumped to next branch builds a couple of weeks before official update for w10 in... I want to say Feb? I'm hoping it'll be like that now too, though early builds were a bit unstable and battery drainage was killing me

Yup, even fast ring seems... faster!!

Wow. I was beaten to the punch by hours.

LOL, Dona Sarkar is doing his job...

*her :P :D I'm not a grammar ****, but she's a woman :D

I think they're pretty serious about getting this thing ready in time!

No new features? Smh what happened to excited news we were promised on twitter weeks ago? :(

Honestly what do you expect? :P they're finalising Redstone1 (Anniversary Update) as the deadline is 2nd August. Adding new features now would a bad move to do as it would mean less resources are being put into squashing any bugs still buried in code. New features will begin being implemented likely in Mid-august when they begin development of Redstone2 for next year.

getting new build every 3 days with mostly fixes isnt exciting enought for you ? it is pretty exciting for me. they are bringing Snapchat for you soon, i dont really care if that happens whenever it does though.

But it's not official that a snapchat app is coming right?

Wow two builds in like 3 days!

Three builds in like a week

2 build per week since the last 3 weeks

you never know we might get 14380 tomorrow as its in testing from 2 days :P

Don't get enough time to even evaluate a build for day to day stability!

Yeah, when the Feedback Hub pops up asking me how I like the current build, I'm like, how the hell would I know? ;)

Problem with the wi-fi not solved ! Damn

Mine WiFi connectivity got fixed after i disabled Wireless on my primary router (provided by service provider) and installed a secondary wireless router with dual antennas.
Lumia 1520

So what is the purpose of the Messaging app now that Skype is no longer integrated?

On PC? probably will be removed

Guessing the Band 2 connection issue still hasn't been fixed. Just got a brand new replacement a few days ago from MS and I still can't reply to text messages with it.

Mine works pretty solidly almost all the time. Not that I attempt it every day, but when I have, its worked very well on my 950XL. Just tried.. was able to send "ignore?" successfully. I guess the only thing that bothers me about that is when I go on the phone, it shows the message I sent as a new text.

I noticed that when you receive a text and reply to it from action center, while you are typing your reply if you receive another text in the same thread it goes unread and unnoticed. So to cater this the text you sent is highlighted as new. Its just an indication to notify about an unread text ;-)

I have an XL too but the only time it's ever worked for me was when I was still on my 920. Even my Band 1 worked but not having any luck now. I'm currently on the latest Insider Fast Ring build, how about you?

As for showing as a new text it bugged me at first too but then realised you can use it to your advantage by saying you weren't on your phone ;)

this is an issue with production builds also

i updated yesterday, im just gonna wait for rtm now

Probably going to be another one or two builds first.

Still can't manually check for App updates from store. I keep getting booted out to the main page. L950/AT$T.

I haven't had that issue in a while.

Odd. May need a hard reset.

Great to see such rapid deployment to the fast ring and great progress.... ...but, am I the only one still left wondering what the *"something really exciting"* was from the other week???

Might be wrong, but I think she meant it like for the the twice-a-week insider fast build rate.

I think it was Wallet 2.0??? I don't know...

Hmm.. Yeah... maybe? "Something big" would suggest more to me though (as opposed to merely something other platforms already have) Not being down on MS - W10/M is great, but still have an appetite for more features.

Anyone else have to uninstall and reinstall certain applications whenever you update builds? I have to do it every time with Qubado (aka 'Audiobooked UWP').

Anyone else have Cortana crashing in build 14376, only when activating voice?

Nothing here on my Alcatel OneTouch Fierce XL

Dude, I thought I was a Microsoft junkie, but you've have me beat since you use Cortana voice activation... You're a minority!

I'll put my 650 on insider after the WiFi issue is fixed. Looks very promising though.

"We fixed an issue that could result in a stray focus rectangle becoming visible in certain apps, such as Groove or Cortana, after bringing up the keyboard." Thank you! This was so annoying

When double-tap-to-wake going to be implemented for L950/950xl?

This feature required an extra layer in touch penal which is not present in l950/950XL . so don't waist your time in expecting

Then why dtt sleep works Mr. engineer?

Please watch the full review of your cell phone and about tap to wake in older device you will find the answer . Double Tap to wake is working in all older high end devices .... And X50 series is not getting this feature since they were introduce .....

I think you're wrong about that...Microsoft asked windows insiders for feedback on double tap to wake for the 950 series (gabe aul on twitter)...if there is high demand, they will look into it.

It's totally different since the device is already active "monitoring" taps

I'd given up hope and just now article about it was posted =D

It's rolling out right now as a firmware update via WDRT. The rollout is staggered so it might take a while to be available to everyone. Not available on my US CV XL

Double tap to wakeup is the part of firmware not a part of OS .

Yeah I wonder what the really exciting things were to have been too. I don't mind if they had to postpone them, but to never mention them again makes me uneasy. Since it's her new position, I'm sure she has been overwhelmed with everything. She's doing great job on the blog notes. I do wish though they'd speak to Bluetooth connectivity issues, especially with the Band 2, frequent distortion when playing music over Bluetooth (Groove), etc.

still can't get the 1/19/2016 firmware to stick on a Surface Pro 3. It's great getting all of the fast builds but just a little bothersome to see the same MS firmware update on my MS device keep trying to install over and over again after each of them.

Lumia 830 here... waiting for a fix for battery life issues to update from threshold to redstone

Exactly. Waiting for a fix ..

Battery life is quite comparable on th and rs...

On TH my 830 is dead by 7pm with a medium/high use (no games) starting my day at 6AM IDK if RS will be better or worst

I'm on Digi mobile in Romania and with this build I can't see my network anymore!

May have to do a hard reset or manually input your carriers info

Seems to be fine now, maybe the service provider had some maintenance work in the area... It's 3am nobody would notice the down time.

Genuinely faster, animations and transitions. I have hope for the anniversary update, MS to deliver WP8esque performance with Windows 10 Mobile.

Aug 2nd is around the corner so updates will be bountiful

My 1520 is an iron man. The last few builds have been great on battery life. Hope this one won't mess it up.

Updated. Windows central crashed half way reading these comments. Apart from this: If you go to settings-->system-->notifications and actions; and the moment screen of the n.&a. pops open try to scroll. It won't work, will be about 1-2 seconds of lag and then you can scroll down...This has not been the case 3-4 builds ago. (Lumia 950)

I have noticed the same since the last two builds. I am hopping they are working on the same!

Are we ever going to get features live mixview? Doesn't look like they have any new features planned for W10M.

After removing the Messaging Everywhere feature, I wouldn't have high hopes.

Any new features are part of the RS2 branch due later in December/January.

I...i just updated from previous build!

Battery life in my 1520 is killing me.

yup, same here. My phone is always plugged in when in office. Did you try hard reset?

Haven't tried a hard reset yet but I am indeed thinking about it.

wow, batt life on my 1520 is epic right now. cell data is on also.

I enjoy them on the phone because it's fairly quick and simple. PC, not so much. It's a bit of a chore, but I'm glad they're working so hard on it!

I was hoping to see "We fixed an issue where we removed Messaging Everywhere. It's back!"

On Lumia 550 here and i have a nice performance increase, faster animations and the keyboard is more responsive with less typos being made.

I still get the phantom Windows Voice Recorder app update that won't install in this build too. Oh well. I hope it gets resolved.

Same here. I wish I could just uninstall and then reinstall.

Don't have the latest build, but updated preview version this morning. Works great on my HTC One for Windows. Except I can't copy and paste passwords from 7pass into Edge. I think it's a Windows problem because it varies with the different updates. Restart didn't work, so maybe a hard reset?

Update went very fast on PC and mobile devices. Putting the builds through their paces. I first noticed a strange issue with Cortana menu items on both PC and mobile with 14376 where Home and Notebook are at the top and Settings and Feedback are way at the bottom. Not sure if this is a bug or a design feature. I did post feedback so feel free to upvote if you see this also.

Same here, feedback and settings at the bottom of the Cortana menu. Didn't notice it last build.

Are they still planning on fixing the lock screen's noticeable delay? I mean in feedback hub only few upvotes the issue. Although it's a small thing, they should fix it , I mean, the first thing you see in your phone will be your lockscreen and from that people might misjudge the whole OS just by that delay (most people nowadays).

I'm talking about windows 10 mobile btw

I think people just find it acceptable compared to how it was before 10240.

I have the 950 Xl and have had horrible battery drain on the last two builds. My phone is basically a pocket warmer. Even with battery saver on and everything else turned off, the phone gets extremely hot, with no use and continues until the battery is dead.

I've had a similar, but not as bad experience with my 950XL too. Horrible battery though not getting too warm... Have you tried a hard reset?

I'm considering that, but I'm on vacation right now. I was trying to out it off till I got home. Hoping this new build fixes it.....

I can relate to that. My situation is worse, considering the 930 has a metall frame..

hey everyone. sadly the last few builds have had the same bugs (i mentioned the bluetooth bug above) but heres another bug: when my phone is in standby mode, no notification sounds will play, and the phone screen will not turn on to show that a notification has arrived. only when i turn on the phone do i see that notifications have arrived. when i use my phone there isnt a problem with notifications coming in and playing a noise/showing something on screen. anyone else experiencing this?

What is expected with the anniversary update?? anything awesome?

I am not in a rush to update since a fix for the power bleed on Lumia 1520 is not fixed yet.

Well I've just woken up.to see my phone finishing up installing update.only to find I now have issue with memory card in phone and half my apps are blanked out.
Great one

I've had that issue a few times in recent weeks, but not with the last few builds.

They will be blanked out until it finishes scanning the SD.

Yeah, it's not a major issue, unless you need those apps right away. It's a bit disconcerting thinking something might be wrong with your card, though.

Anyone upgraded to this build on Lumia 435.
How's it so far. Since build 14371 I have started facing slow charging issue and expecting that the next build would fix it but so far no luck.
Should i try this we build?

Im using lumia532 same specs of ur device. This build works fine on my device.

Upgraded, i am not getting any slow charging messages but not sure device is charging faster.

Anyone experiencing problem with the app scaling? I have Lumia 638. App is not filling the screen. As a result the option/action buttons are under the navigation bar. Can't do anything.

Is "Project my phone" option removed in redstone? It was there in threshold builds, but now I'm unable to find it!

"Store " is crashing i m unable to open and update...any body facing this issue...using Lumia 730

I'm still debating on if I should update to this build. I have a Lumia 830 and the potential battery life issues are driving me away from updating. May I kindly have some feedback from other 830 owners on their battery life? Thanks in advance!

I have a Lumia 830, am running the last build, and everything works, the battery drain isn't that bad, I only own one device the Lumia 830, so is my daily driver

I'm not a Lumia 830 user, but 930 one. I can definitely tell that the battery drain is a serious one. I has to recharge my phone 3 times yesterday. And all they is that "we hear you and investigate bla bla bla... Not to mention the unwanted 'hotness'...

Have you hard reset? I have a L930 on this build and the battery life is ok. I can last a day.......Just! I have of course hard reset when i went from 8.1 to TH and again when i went from TH to RS. Although i dont believe the last one was necessary to be honest. peace!

Severe mobile data issues present in this build. I can't get a working data connection.

What I hate in those builds is that they just delete my added dictionary words in the keyboard. I've added more than 2000 words and now I should add them again and again. But anyway,thanks Microsoft for all your hard work and thanks Windows central for letting us know about all those news.

My Lumia 830 camera isn't working since months totally annoyed

Hard reset man, i'm pretty sure that'll sort it. And dont back up ie (start a fresh phone) peace!

Still have app scaling issues with uwp apps on my l638. Bottom of the apps are showing under the nav bar which cant hide in the l638 Posted via the Windows Central App for Android

Finally I found someone with the same problem. I have a Lumia 638 as well. I have reported to the Microsoft community. I suggest you to report them as well. It will clearly describe them about this and they shall launch a build for Lumia 638.

Wifi disconnections is even worse with 14376 and still investigating... It actually affects LTE too

Biggest bug in this build: Microsoft still has not relented and put messaging everywhere back into the texting app.

Battery drain still here, and lumia 635 can't hide navigation bar

You can never hide the navigation bar on the 635 because it wasn't design to do that. You need a 640 or 640xl or anything higher in resolutions

Look in the Store updates after install o.O. Raining updates, Store finally works too. They still got a month left to get this thing as polished as possible. RS2 here we come!

I am facing serious battery drain issue on my Lumia 730ds.I am a non insider. Does anyone else facing it on 730?

So they fixed tiles but not battery life, nice priorities... Gonna skip this build...

I am on lumia 1520 latest insider, 3g and data always on......i get almost full day till next day brunch time with out any problem

PC updated Norton 360 no longer works and on 950xl battery drained from 52% to 12 % in ten minutes

Same bugs as last 10 builds for the nokia lumia 635 or 638 You cant see what your typing as the input box is hidden behind the onscreen keyboard and in most apps where there buttons low on the screen most are partially hidden behind the start menu bar making them hard to press. So if you have this problem on your nokia lumia 635 or 638 please upvote it in feedback hub under Please fix bug 1 to 6. Yeah I have added 6 bug reports so far for the 635 / 638.

Lumia 635 and 638 are same, the difference is the country only. I do have the same prob with almost every app. It's quite annoying. If you have reported it, good. If not, you should do this just now. They will surely fix it after getting too many same threads.

Then please upvote my bug reports in the feedback hub the more upvotes they get the more likely they will be looked at by Microsoft.

Sure I will. Can you link me the thread here or in inbox? I'll surely vote for it.

The feedback hub doesn't show a url so just open the feedback hub and search for Please fix bug * and you will find them please note replace the * with numbers 1 to 6.

Found a setting in my Lumia 950 "continue app experience" looks like a handoff feature to continue using apps across devices. Need to update computer to test it out, anybody used it yet?

Since previous update my 1320 is terribly overheating - to the point that it restarts while charging or browsing Instagram. Hope they will fix that.

After upgrading there is a tremendous load to validate installed applications and apply updates. After that is complete the phone will usually cool down. Tajes about an hour for all updates to install. This occurs with every update.

There was a placeholder for a network speed test in an earlier pc build, that seems to have disappeared completely. MS said they were working on making it functional but then they took it away Posted via the Windows Central App for Android

I have had reduced battery life, but not as bat as others. I do have the disconnect problem on my phone, turning it off then back on solves problem for a few hours (1520). Biggest problem is syncing my fitbit surge, works on my laptop but not my phone fitbit told me to buy a new fitbit and would give me a 25% discount...bad answer.

battery drain has actually gotten worse on this build likewise with the heating issue on the lumia 930

Still no double tap to wake. Bugger rrraaaggghhhh

Battery drain is seriously abysmal - can't believe after this many builds such a regression can creep back in. My 930 is basically a landline, being corded to the wall almost all day and all night. This needs fixing yesterday.

Hey Cortana still not working on my Lumia 950 in U.K.
is there any one else with this error in U.K

Yep, Me! I dont use her that often but in the car shes essential........only a matter of time before i stack it into the back of a lorry or end up in ditch! MS if your listening......please fix! its a matter of life or death;-)

So far, I've seemed to have lost the ability to"pin to start" any photo. I really liked being able to do that. Kept my work schedule handy. Is there another to do that?

My Lumia 930 is almost 90% of the time plugged in the charger and if I'm using the phone it stays around 20% charged all day. If I leave it during the the night to fill the battery, in the morning it takes not more of hour or two to get completely dry. Even with a external battery plugged in it lasts not more than 3-4 hours. Also the device is overhead all the time, doesn't matter the simple tasks I'm using it for.

Maybe you should try with a Hard Reset, I'm usng last Insider build on my Lumia 640 and battery is on par, or maybe better? (I installed it last night) than last 10586.. Try with a Hard Reset, let it sit a day or two, and if problems persists you should rollback to 10586

So many bugs in this update

Just updated my wife Lenovo's Yoga 2 13, and no internet, wired or wireless!! Could not even get an IP address from my router. Reverted back to previous build, working fine. Yet another step backwards for Microsoft!!

Ok. Hands off. Battety drain is not something i want. Goodbye rs. Here comes the good old 10.586

The fast ring builds had been working just fine on my 640 until this one, which I installed last night. Apps keep crashing or won't start at all, Cortana works intermittently, and it overall feels buggy and laggy, like it's a throwback to a much earlier build. The problems continue even after a soft reset, which fixed most issues in earlier builds. What's up with that???

Uninstall and reinstall the apps. I am using Lumia 640 XL and I have no issue

Is there battery slow charging issue in your phone because i am having this issue my lumia 640xl takes 7 hr to charge..and what about battery backup?
I have done hard reset also to my device after that also it having slow charging issue?

Endless issues, nothing about surface phone and nothing about new windows 10 mobile UI and new icons ,,,,,, whyyyyyyyy????? Posted via the Windows Central App for Android

Can't get the new wallet app on this build... 950xl usa... Groove won't update so I have my grove either. Odd.

Why is my new copy of build 14379 that was install today telling me my license will expire soon. What's going on?

I am having trouble with charging. Device charging slowly notification keeps appearing and the device charges very slowly and sometimes just stays at the same battery level even after plugged in for whole night.
Any one having the similar issue? Any suggestions or possible reasons.
I am using Lumia 435 and the problem started with build 14371
Thanks

U can turn that notication off. Go to setting>USB but still do charge slow

My ICON seems to be running faster but once again I lost my Fitbit app ability to connect and record my stats. This seems to happen with every other build.

I really missing my "Pin To Start" option. I was able to place my schedules front and center for an easy 3 am find. Other than that, no problems noted. 950xl DS unlocked and in NY

My lumia 1520 screen is flickering a lot. Shiiiit

My 950 has been restarting every 10-15 minutes on this build.. Dual sim(only one sim in the phone). Anyone else?

Lumia 730 data activation stuck bug removed. Or not

on build 14379, not getting the Store update 11606.1001.25

We fixed all the users comments

Anyone with a 950XL run the device recovery tool to get the new firmware, then go back to this latest build on the fast ring and do a hard reset? How are your battery issues now?

I did the upgrade from the production build on my 950XL, did not get the new firmware. I can report that battery life is no worse than production build at all. I also have no WiFi dropping issues. Glad I did the upgrade finally to Restone!

Not workin in this build but used to work in earlier builds on lumia 550: 1. Call recording
2. Skype for video call
3. Skype not installing
4. Wifi problem which was not there previously, has been introduced in this build.
5. Volume panel expand option for media volume not appearing. Why is call recording removed? Why is the team taking latest build with the performance of one of the earliest builds?

I am having WiFi disconnect issue for first time with this build. Using Lumia icon.

This build contains more issues than ever compare to previous builds..it's troubling my lumia 535 alot...

I noticed that my screen flickers specially when using fb messenger. Im using lumia 640 lte.

Worst battery life, pdf problem in edge browser

Thought there would have been a new build today.

Still no fix for the wifi :(