How to track your favorite sports team with Cortana on Windows 10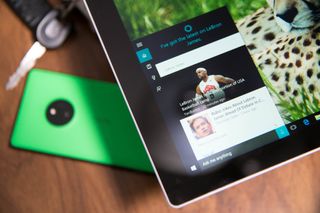 Cortana, your personal assistant in Windows 10, has a notebook where she stores a lot of information about you. The more Cortana knows, the more she can be helpful. If you're a big sports fan, you should let her know your favorite teams right away. We'll show you how.
Tap or click the search form in the taskbar
Tap or click the Notebook
Scroll down, and tap or click Sports
Tap or click Add a team at the bottom
Start typing the name of a team, and the select from the results. If the team does not show up in the results, it can't be added to the notebook.
Use the on/off switches to choose whether you want Cortana to display score updates and upcoming games
Tap or click Add
That's it! Cortana supports baseball, football, soccer, basketball, and others, but don't be surprised if you can't add one of your teams. For example, Major League Soccer (MLS) teams aren't currently supported. A workaround is to add the team as a news topic you'd like to track. You can also use this method to track your favorite player.
Tap or click the Notebook
Tap or click News
Scroll down and select Add a topic
Enter the team or player
Which teams are you following with Cortana?
Note: Cortana is currently only available for the U.S., UK, China, France, Italy, Germany and _Spain. Cortana is also expanding to Japan and Australia, and in English in Canada and India for those on the Windows Insider program (early access). Later this year, Cortana will be available to Windows Insiders in Brazil and Mexico, and in French in Canada as well. Read more about Cortana's cultural training and programming from Microsoft _right here._
If you think this guide is helpful, we have many more posts like this in our Windows 10 help, tips and tricks page.
Windows Central Newsletter
Get the best of Windows Central in in your inbox, every day!
Yes NHL. Been following teams since Cortana launched.

I check for F1 twice a month or so. Here's to hoping auto sports are added one day

This doesn't work everywhere, for example, I don't have the Sports entry in my german Cortana, so this function may vary depending on your location.

Plz fast activate Cortana in India

Just as I suspected. There isn't a SINGLE Sports team Cortana can follow. As Hemingway correctly noted: there are only 3 sports, motor-racing, mountaineering and bull fighting; all the rest are just games. Now Bullfighting is not a team sport so Cortana gets a pass. I don't care about mountaineering. But Cortana never heard of Formula 1 (the most watched sport or game of any with the possible exception of soccer). She never heard of MotoGP. She never heard of WSB, etc, etc..

She hasn't heard of soccer either, at least in the US.

Not in Scotland either. Plenty of European leagues and the English clubs but not one Scottish team :(

No non-league football either

I have Cortana following MotoGP. You have to left your fingers up an type it in to follow it. If you want a screenshot, I can make one.

Thanks. But if you mean under News rather than Sport, I already did that. But if you got her to show it under Sports, I would definetly be interested. After I go to Sports and type MotoGP, I can't do anything but select from a list of teams, none of which are in MotoGP.

Yes I have it under News, is there more gain by having under sports.

Note that all of the topics you want are also in the MSN News application. Add it there and Cortana will also keep track.

It's too basic so i don't use it for sports for instance, you can't imput a country team. It doesn't do game alerts only give the score at the end.

No women's sports, either. Microsoft has misogynists in charge of this feature.

Seriously doubt that's the reason.

No F1, IMSA ( any kind of Road Racing) or Cycling!

No MLS, despite the fact Microsoft is a jersey sponsor of the Sounders.

Not a team sport but I wish MS had some UFC love.

What if I wanna track a single player? Like Phil Mickelson or Roy McElroy, some of the golfers I like to see play. I Cortana even able to track Golf tournaments?

Cortana follow Mclaren in Formula1... Nope, WRC ... Nope, BTCC.. Nope, Team Sky... Nope actually Cortana your just another value add to sell a device

Agreed -- no Formula 1 in sports? Are they serious? No surfing either. Sux.

All these shortcomings wouldn't even matter if Cortana keeps giving us "Interests aren't available at the moment"

Nothing outside of the english premier league either!

NCAA football but not basketball, grr.

I have the MLB at bat app to keep me up to date on the Dodgers and Angels..

If Cortana actually said my name I would be mightily impressed but it can't even do that let alone follow a team or sport... Very un impressed with Cortana
Windows Central Newsletter
Thank you for signing up to Windows Central. You will receive a verification email shortly.
There was a problem. Please refresh the page and try again.