Windows 11 event predictions: What we're expecting to see
A new UI, a new Store, and a refocus on making Windows great once more.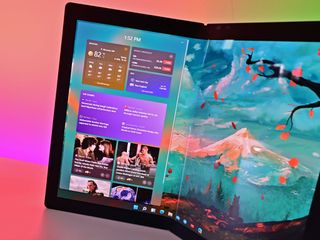 (Image credit: Daniel Rubino / Windows Central)
Microsoft's Windows 11 event less than a day away! That means we're gearing up to become Windows 11 Central, and what better way to kick things off than with a list of things I'm expecting (or hoping) to see announced tomorrow.
Make sure you tune into the Windows 11 event on June 24 at 11AM ET. You can watch the event at the link.
Windows 11
Let's kick off with them most obvious one. I expect we'll see Microsoft announce Windows 11 at its Windows 11 event tomorrow. We'll see Microsoft show off all the new Windows 11 user interfaces and features in live demos and sizzle videos, and it'll be great.
We've already had a sneak peek at some of the new Windows 11 interfaces thanks to a leak last week. So we already know that there's a new Start menu and centered Taskbar on the way. But I also know that there's more to Windows 11 than what we've seen so far. The leak isn't everything.
We'll hopefully see Microsoft talk a bit about why it's doing Windows 11, as well as detail important information around when the release will ship, the update cadence going forward, and when Insiders will be able to begin testing the update before it rolls out to the public in the fall.
In regard to other OS changes, I expect we'll see Microsoft show off a new modern File Explorer UI, an updated System Tray / Action Center interface that matches the rest of the Windows 11 UX, some new things in the revamped Settings app such as battery usage graphs and personalization options, and other in-box app design updates to keep things looking fresh.
Microsoft may also focus on the new Windows 11 sounds, UI designs, and touch enhancements that it's shipping with this new release. Within the Windows 11 announcement, I'm also expecting to see the company focus on important changes to the platform and ecosystem, starting with a new Microsoft Store app.
New Microsoft Store
We've known for a while now that Microsoft is working on a brand new Store app for Windows, and I think we'll hear and see it in action tomorrow. The new Store will feature a brand new design, matching the rest of the new Windows 11 user interface. But the new app design is just one part of the story.
We also know that with the new Microsoft Store, Microsoft is relaxing the policies that govern what kind of apps can be submitted to the app store by developers. I expect Microsoft will announce that app developers can now submit unpackaged Win32 apps, as well as use their own content delivery networks and commerce platforms if they wish.
I also expect to see Microsoft put its own apps such as Teams, Office, and maybe even Visual Studio into the new Store as "proof" that Microsoft is committed to this new vision for the store. I wouldn't be surprised to hear that Microsoft already has some third-party developers lined up to add their apps to this new storefront too.
Microsoft Teams Integration
Microsoft Teams is all the rage at Microsoft. It's been hugely successful in the enterprise space, so it should come as no surprise to hear that Microsoft is now trying to push a "consumer-friendly" version of Teams to the masses. So far, its impact has been minimal, but perhaps integrating it into Windows 11 will help boost it?
I wouldn't surprise me if we see some kind of Microsoft Teams for consumers integration on Windows 11. Perhaps Microsoft could have a new "Chat" app that's pinned to the Taskbar and lets you quickly start new chats or video calls in Microsoft Teams.
Microsoft already did a similar thing on Windows 10 with Skype, but that integration was lazy and didn't really feel "integrated." If Microsoft wants one of these chat services to take off, the experience needs to feel a little more purposeful. We'll see what Microsoft ends up doing tomorrow.
Cloud PC
Getting into more hoping rather than expecting territory now, but I think tomorrow would be a good time for Microsoft to unveil its new Cloud PC service. Cloud PC is all about putting Windows in the cloud, and making Windows apps accessible to anyone via streaming.
It would be a big deal if Microsoft tried to position Windows 11 as the first version of Windows to be built with the cloud in mind. Obviously, this would be more of a marketing spin than actual fact, as Windows 10 is already pretty well equipped to run in the cloud.
Windows 11 will be available locally on physical hardware, but imagine if Windows 11 is also available to "rent" in the cloud for people who don't have or need a Windows 11 device? Or, perhaps Windows 11 could have native integration with Cloud PC, allowing users to install apps to the cloud to save space on their PC, but still have those apps show up in the Start menu and Taskbar as if they were natively installed. Would be interesting.
Surface Neo?
This one is basically based on nothing but hope, but I'd love to see Microsoft reannounce the Surface Neo with Windows 11 tomorrow. I wouldn't expect them to ship Surface Neo until the fall, but a "one more thing" moment at the end of the show, announcing that Surface Neo is coming and that it will ship with the new Windows 11 later this year would be a great way to sign off the event.
The leaked Windows 11 build does appear to show that there are performance improvements on the way for big.LITTLE processors, such as the one that was announced as powering the Surface Neo. Coincidence? Probably, but I still think Surface Neo and Windows 11 make sense together.
What are you hoping to see?
So, that's my list of expectations and hopes for the Windows 11 event tomorrow. But I want to know what you're hoping to see. Let us know in the comments below!
Windows Central Newsletter
Get the best of Windows Central in your inbox, every day!
Zac Bowden is a Senior Editor at Windows Central. Bringing you exclusive coverage into the world of Windows on PCs, tablets, phones, and more. Also an avid collector of rare Microsoft prototype devices! Keep in touch on Twitter: @zacbowden.
Could the new Store and the rumored work on supporting Android apps on Windows mean we'll get Android apps in the Store? Dan is right that running Android apps on one's PC is a sucky experience, but not if we're talking ARM-based Always Connected devices, possibly with small screens...

That's something to watch for. We're not expecting anything regarding Android apps in the Store tomorrow, but perhaps Microsoft will preview it as something coming later in 2022/roadmap.

The fact is that I do not see a particular value proposition in adding Android app in the store, unless MSFT invest in new tablet/smartphones

It would be huge to have access to Android apps on WoA. There are so few compatible apps and developers show little interest in making more.

There's a much better chance of PWAs being more valuable to WOA than Android apps, which are mostly garbage on PC. For instance, you can already run all of Google's apps (Mail, Maps, Photos, YouTube, YouTube TV) as PWAs, so there is no need for awkwardly formatted Android equivalents. The issue, for some, with WOA is the lack of professional level applications e.g. Adobe, or running modern video games. Android apps would not solve that.

I would have to disagree with you there. ChromeOS prides itself on being able to run Android Apps. MacOS now followed suite with iOS apps on Mac. Support for mobile apps opens up a whole new marketplace.

Did you forget windows was the 1st desktop os to have mobile apps...there's no more windows mobile platform

No Chrome OS prides itself on running PWAs. Android apps are there to fill in the app gap. As Daniel says people really, really need to stop thinking of Web Apps and PWAs as "poor apps". They're really not and apps like Teams, Slack etc... are feature identical whether you're using the Desktop app or PWA. Daniel is right. Google's PWAs are excellent. Forcing Android apps on Windows would be a mess and they wouldn't run anyway as Microsoft won't be able to license Google Mobile Services. Crucial for all these apps.

You said they pride themselves on be able to run mobile apps, but have you used any mobile app on Mac or chrome OS

I hope you realized that not all Android apps are available for ChromeOS.

Not all, but there are a few mobile Android apps that I would really appreciate on small screen, foldable Windows 11 device... maybe Neo? For instance, Waze would be great when driving or something like Hilton Honors to automatically check in to a hotel, etc. These are apps that are not coming to Windows any other way other than Android support, and to many, they are critical to small device computing.

Well PWAs are pretty garbage when you use it on Surface Go/ Pro without keyboard..

Let's hope they bring proper desktop apps and experience to the store first.
No one uses store because it always asks to login (even though apps can be installed without it) and most apps look like cheap mobile app clones.

The dual environment on the Duo with Android apps is a mess. You cannot always find the dividing line and Google does its best to supersede the MSFT apps at every point. Putting Android apps on a traditional Windows platform will cheapen Windows and make the whole thing a mess.

I hope, they will announce surface neo or the might announce it in October 2021 Surface event. I wish, windows11 will be more polished.

I like to see an update for Windows 10 with control panel completely removed, round corners and new animations. The new start menu is not for desktop, it's horrible. I don't like it a bit and the name is stupid too.

with time all shall happen
Patience is the key , nothing is complete and never will be

As I've learned from Windows 10 I would not recommend updating to this OS for the first couple of years. Windows 10 was useless at the beginning. Lots of bugs and unstable. It will be the same for this one too.

This is nothing like Windows 10 going from 8. This is in a much more advanced state since the underpinning of the OS have been in the Insider channel for a while already. I've installed it on around 5 laptops so far and even this early build from May is as stable as current Windows 10 builds just better performance. I think people are going to be surprised at how good Windows 11 is. It won't be the slog that was going from 8.1 to 10 was.

i know right XD
Windows 11 will be the best , atleast i am hyped and impressed

Given that what is now Windows 11 was expected to simply be the next version of Windows 10, it's not really going to be that big a change. Many people think it should still be called Windows 10, although I think the majority are at least OK with the name change. I don't think that this is really a new OS in the same way we are used to. It will look and feel different enough to justify the name change but it is far more of an evolution of the existing Windows 10 than most previous upgrades.

Control panel needs to be removed however they need to get rid of hamburger menu in modern apps and make them more mouse and keyboard friendly.
The settings app feels too cluttered due to modern ui.

That is not going to happen, older hardware and some software still use it, so control panel have to stay for compatibility

A surface watch running on windows 11 wouldn't be bad.

The point is, we don't need it! Android and watchOS is already there.

Could you imagine how slow that would be or how much the watch would cost as the processor would have to be really powerful to cope. If you mean just the core of Windows 11 then maybe, but I still see no point in it. Look how bad Wear OS watches are

Hoping Microsoft: 1) state that "Legacy" Windows "11" (for businesses, professionals etc.) will continue with security/stability and occasional feature updates based on their needs WHILE they are continue on working on CoreOS for all those that just need/want a simple, secure, easy to use, modern, lightweight, maybe even modular OS (that, if at all, only gets the "Legacy" Windows trough either cloud , Cloud PC or eventually some sort of containerized "Legacy Emulator". 2) teases new devices/form factors, even if they are not officially announced. 3) announces a pocket-able device that can make phone calls and runs some version of a WindowsOS. (wishful thinking category)

- Surface Neo #1, but doubt it very much.
- A 2 in 1 Surface where you can fold a surface laptop 360 degrees and use as a tablet
- Support for 64bit on Surface Pro X (also Android Apps)
- Cloud Gaming (Game Pass) on Windows 11
- Surface Duo 2

I think it's very important to keep in mind tomorrow is all about Windows 11. For new Surface hardware, Microsoft traditionally follows an October announcement timeframe, which would be right when Windows 11 hits production making a much more cohesive event. I think that's a more realistic expectation.

so nothing that exciting then, nothing that will change the way I use my computer.
as for a Cloud PC service, they can stick that idea.

"nothing that will change the way I use my computer."

I'm not sure what OS update or feature fits that criteria, have any suggestions?

MS sticks a load of bloat on the OS, trying to get people to use online services and their apps, again normally linked to their online services and yet most people don't touch them. The article said about teams integration, surly if people want to use teams on the machine then just download the software.
Yes, i know it was an idea or a thought, but it would not surprise me if Ms did that, just like trying to push people to their MS account.
The amount of stuff i have uninstalled from my computer that MS shoved on here is unbelievable and a lot of it is not straight forward to get rid off. What i would like to see with Windows 11 is one, to get rid of the spyware/telemetry and two to allow people to have more of a choice on what bloat they want. I know we are all different and some people love that stuff, but some of us just like to use the OS to run the software we want to.

It's more like asking Apple not to pre-install facetime on their devices as well as asking Google the same with hangout and Google meet which is recently added to OEMs requirement for using Google Play Store (GApps). We're just nerds. Some users wants ease of use. They want to be able to make video call once they activate their new device with Microsoft account. Some users don't want to navigate the web searching a tool to complete a simple task. If there's an app that is useful to users pre-install it, keep it minimal and make it uninstallable for geek like us that knows their way around web. I think windows is less bloat with Microsoft products compare to iOS and Android

Windows is a different thing to Android and IOS, they were produced for watches and later on tablets, windows is supposed to be a computer OS.
A friend uses Macs and she is fed up of Apple trying to get her to use their services, like me all she wants her computer for is to run software

Wonder if they have anything Linux-related to announce.

WSLg works on leaked build of windows 11
What else should be announced linux related ?

TBH Widget layout looked like ios14 infact they copied the widgets idea from Android.

You're confused. Why not add macOS and KDE widget so that you can be satisfied.

I'm not confused. I referred Apple as they, in case if you misunderstood. I don't know about KDE widgets. I'm using Windows for desktop since 2000.

I would like to see that the new start menu is resizable and that, if you don't want the bottom half to show recently stuff, it will be used to show other pinned-to-start stuff that's now awkwardly on a second 'screen' while I have plenty of space on my screen to show all installed apps in a larger start screen...

Would be nice if announced for you insiders we have just released version 22000 to the development channel..Have at it ;)

It's time to kill the Windows UWP based Windows Mail. Calendar, Photos, Groove, Films and TV etc.. apps. No one likes them and few use them. Their design language is jarring and they don't even remember their window sizes. Windows Live Mail was a solid mail app. Windows Live Photo Gallery was significantly superior to the crappy Photos app. Just compare Windows Mail with Apple's MacOS Mail or Windows Photos with Apple's MacOS Photos app. They're worlds apart in quality. The battery improvements UWP brings is solid but the implementation is so poor.

I suppose if one doesn't have Outlook (either version) the Mail app might make sense. Since all my devices have Office, it's not something I use. The recent move to open Outlook.com with an animated sequence is a fail. Just put the mail interface in front of me. I have no need to watch some opening envelope fifty billion times a day.

True but it's basic though. In many ways you're better off using the Outloo.com PWA and Gmail you're certainly better off using the PWA. That animation is irritating, agreed. So is the Gmail one too though.

Why would you use that garbage app when you have a full web browser to access Gmail or whatever directly?

Because Webmail is not always good to use,

When would that app be better than the full Gmail experience?

Eh, I like mail wayyyyy better than outlook. Outlook is outdated and clunky. Mail is simple. I can have multiple accounts, easily see emails, and reply to them. That's all I need in my email client. Outlook.com doesn't work since you can't switch between accounts or see multiple account emails at one time. I don't understand why office.com is so far behind google on such a basic feature like being logged into multiple accounts.

Should just allow us to install outlook express or an updated version of it, that was a decent bit of software that worked well. Very few email clients around now, or ones that are free, I use thunderbird, which is fine, but I preferred outlook express.

This.
Uwp based mail, photos, calendar, music and films apps are real bad. Even android phones have better apps than it with more functionality. Macos is miles apart in first party apps.

100%. The Windows 10 mail app is just terrible. I don't want weird wallpaper in my inbox, just a clean interface that gets out of my way. When I use other platforms, Geary (Linux) and Mail (macos) do exactly what I want. The problem appears to be underinvestment. Microsoft don't charge for Windows in many scenarios any more, and these apps arent revenue generators. As I've said before, please charge me some money Microsoft, and use it to make Windows better. Even $20 for the Windows 11 upgrade would make them a huge amount of money to justify improving core apps.

Don't really care about 'modern'... it's a relative term. I would care lots about 'revolutionary'. That would get me truly excited. As it stands, still a positive step.

Any speculation on Windows 11 on ARM?

Microsoft will mean 32-Bit, 64-Bit and ARM64 will continue to be supported.

Are we expecting to see an announcement when we can expect 64-Bit support on Windows on ARM to RTM? I only have a couple of apps I can't use right now, neither by no means deal breakers, but looking forward to it too.

I would love to see the Neo running Windows 11.
The Neo would be the perfect device form factor for me.
In combination with the Duo V2, it would improve the way I work fundamentally.
I also think using the Neo as a first vehicle to ship with Windows 11 would help to "make windows cool" again.
New software always shines best on new, unique devices.
Of course that means that inking and the touch experience needs to be top.

Small tablets with Windows is dead. As Windows has zero apps for a 9" touchscreen, so what would the use of Neo be? If Microsoft wants into this area, touchscreens and small form factors, they need a much better solution than Windows and they should start with simpler hardware that can be well priced to build a following. Tablets aren't really a growth area though, and competing with Android on the low end and Apple on the high end will be near impossible. It all sounds pointless really, I don't think Microsoft has any options here unless they are ready to stick with it for a decade or more.

I don't need apps.
I'm not looking at the Neo as a consumer device.
I need everything office 365 and a web browser. That's it.
I don't have apps on my PC. Why would I need apps on a Neo?

Why would you need Neo at all then? Why would you want office on a 9" screen with a tiny keyboard? They already have other Surface devices that do that much better. Neo just doesn't make any sense without Android.

"New software always shines best on new, unique devices." Like Win10M on the 950XL? Nothing was "shining" on that combo.

We aren't talking about a phone here.
This is surface.

Which does not negate my point. The new Win10M on the new 950XL was a horrible product. Your attempt at moving the goal posts does not change history.

I want a clear explanation on how Windows 11 will: (1) stop updates from breaking my system; (2) end the mismash of new GUI (Settings) and Control Panel applets; (3) eliminate multiple menus for the same task (trying to find out why sound isn't working); (4) make Windows work - stable, solid,and reliable - on their own Surface hardware FIRST; (5) backups as good and easy as Time Machine; (6) stop forcing users to use a Microsoft Account; and (7) DO NOT CHANGE MY SETTINGS WITH EVERY UPDATE (I'm sick and tired of Edge grabbing my PDF support from Adobe Acrobat Pro DC).

"DO NOT CHANGE MY SETTINGS WITH EVERY UPDATE" This. How about NOT seeing the stupid "News and Interests" thing after every GD "update"? I have already turned it off TWICE. Enough already. Speaking of GD updates, Windows is the only software on Earth that has forced, unstoppable updates. I got along just fine for 25 years, installing Windows updates on MY terms and MY schedule. I get along just fine updating everything else I own on my schedule. Even Apple allows this. I skipped iOS 13 entirely because it was such a dumpster fire. Went from the last version of iOS 12 to iOS 14.1.something. NOTHING is forced on me. The current method of updating Windows blows massively and HAS to change.

(6) stop forcing users to use a Microsoft Account; Maybe we can use the same energy on Apple (iOS and macOS) and Google (Android and ChromeOS). The platform is theirs, if you don't want them to utilize it like others are doing switch to Linux.

IOS and Android is a mobile OS, both produced for that reason. Mac Os is a different thing and my Mac owning friend says the same thing about Macs as I say about Windows, stop forcing people to use an online account. Apple are worse than MS on that at the moment, but MS is catching up. Chrome OS is an online OS, that is what it was made for. The platform may be theirs, but that don't mean they have to force people to use an MS account, give people a choice on set up like they do with Windows 10 Pro. Thankfully they don't push it once set up, well not yet anyway.
Some people have spent a lot of money on software, so changing to a new platform would cost even more money, and also a lot of software is not produced for linux. We will see what happens,

I would like to see the clock and icons on the right side of the task bar disappear. With the centered icons and start menu, it feels unbalanced. They could have an option to hide them with the notification shade.

Regardless of what's announced, thanks for WC's awesome (non-sensational) coverage of Windows 11 and for putting together such a great Discord server. I've always played Bing/Google news roulette to see what's going on with Windows, but I much prefer the content when WC pops up. Oh, and Daniel Rubino and Zac Bowden have the patience of saints.

This is what I think's going to happen.
Wicked 11 Pro
Windows 11X
Windows 11 SE for the education Market and it's going to be need like Windows 10 home
Windows 11 mobile I don't think this is going to happen but it's the only logical thing I can think of is why you going to have Android apps in the store

allow user to uninstall features like cortana, your phone, teams etc etc

Just make:
Surface phone 960/960XL
Surface watch
Surface laptop go 2
Also, Windows One
With Android apps

Idk why but your comment about Windows One reminded me of when they were name everything one. Skydrive was a good name then all of a sudden it became Onedrive lol and Xbox One.

Any details on Surface Duo 2....

The only innovation in Windows 11 is that the task bar is centered, there is no other innovation

what about many new features and under the hood improvements ?
Its justified to be called Windows 11 man

I would like to see Windows File Explorer get better - having used Norton Commander so many years ago and now a fan of Xplorer2 - having these types of tools built into Windows File Explorer would be brilliant! Another thing would be get rid of the legacy Windows 3.1 dialog boxes…

Icons and widgets together PLEASE.

I believe MSFT has lost interest in retail customers and is making the error of believing Windows will always dominate the PC arena. They made the same error with IE, IBM made the same mistake with OS/2. MSFT has a track record for innovating and then failing. Zune, Windows Mobile, Band, Bing, Mobile devices, and now the Duo. All superior to the existing market products that they quickly lost interest in and just seem to fade. They no longer know how to dominate as in the Gates days and cannot build interest/hype around changes. Anyone seen a Duo ad or press? They are totally focused on Cloud Services and if they are not careful they will kill off their dominance in desktops. Think it cannot happen, ask IBM, Netscape, AOL, etc.! The technical landscape is littered with former dominant companies who took their eye off the ball. Unless MSFT wants to dominate again in retail they will fade like all the others. Gates understood that the more stable an OS is the less it commands a share of mind. You must constantly hype and keep it in front of users to make it relevant.

Microsoft will finally kill skype, discord and will let users chat primarily through Microsoft Word 365 only. Forget all that community crap, let's focus on the thing that matters most here: 💲bling 💲bling 💲dollar 💲bills, y'all. We need more money so that Microsoft can finally buy corona. And then will treat it like an accidental child; fostering it with lukewarm regret and a cold distance that it will never overcome. Always trying too hard at everything and failing miserably to win the affection of its parent. And finally it will pass away into oblivion - just like Skype(RIP) and Discord(soon to pass away).