Will Windows 11 be a free upgrade? Here's what we know.
Microsoft's radical new Windows 11 follows in the footsteps of Windows 10.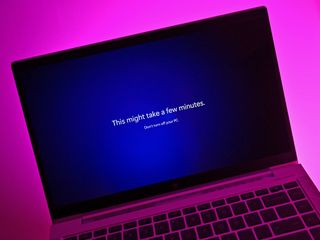 (Image credit: Daniel Rubino / Windows Central)
Microsoft is hard at work on the next version of Windows, shaping up to be the most extensive overhaul of the operating system in over a decade. With Windows 11 branding all-but-official, it's a time of change ahead, with new visuals on the docket, modernizing all aspects of the user experience. That includes a new Start menu, Taskbar, and an overall reinvigorated design, introducing a slick new identity for the Windows platform.
But a new Windows wasn't always planned, with Microsoft previously unveiling Windows 10X in 2019, its next step for the OS, first geared to dual-screen devices. With the project now on hold, and Microsoft reinvesting resources in the full version of Windows, we see many of its learnings translate to early components of Windows 11. We're expecting it to release this October, with a zero-cost upgrade available.
Windows 11 represents a huge step for the OS, breaking away from existing traditions spanning several decades. The new Start menu and Taskbar take center stage, with a novel layout and iconography, firmly distancing this version from recent Windows 10 releases. In addition, various menus have been redesigned, with rounded corners throughout and support for improved desktop widgets. There's also a new start-up sound, seemingly taking inspiration from Windows 95.
That's just a sample of what Windows 11 has in store, with Microsoft expected to provide a deeper dive, plus official word on availability, at a dedicated event scheduled for June 24. Microsoft has already inferred an imminent Windows 11 announcement through various teasers, with a recent leak providing the closest look to date ahead of the briefing.
Will Windows 11 be a free upgrade?
Microsoft has yet to formally announce Windows 11, with no official word on availability and pricing. However, we're expecting Windows 11 to be offered as a free upgrade to existing Windows 10 users, as Redmond embraces a service-based approach to its flagship operating system.
Windows 10 was famously coined as the "last version of Windows," with free upgrades initially offered to Windows 7 and Windows 8 users. After that, it issued seasonal updates to Windows 10 regularly, adopting an approach dubbed "Windows as a Service." Unlike previous Windows iterations, later superseded by full-fledged successors, Microsoft rapidly built upon foundations established in 2015. That's seen Windows 10 steadily evolve, now vastly improved, compared to those first versions.
Microsoft may adopt a similar approach for Windows 11, providing a seamless upgrade for all existing Windows 10 devices. A free upgrade to Windows 11 will be directly accessible through Windows Update as a typical installation. However, just like you can stop Windows 10 updates, users will have the option to defer a Windows 11 upgrade if preferred.
When Windows 11 arrives later this year, we're also expecting various hardware manufacturers to embrace the launch as a new opportunity to drive PC sales. Upcoming PCs could come with Windows 11 preinstalled or readily available as a free upgrade. Windows 11 licenses, like past Windows versions, should also be available for standalone purchase.
Expect to learn more about Windows 11, plus the features in store, with the upcoming Windows 11 event set for June 24.
Matt Brown is Windows Central's Senior Editor, Xbox & PC, at Future. Following over seven years of professional consumer technology and gaming coverage, he's focused on the world of Microsoft's gaming efforts. You can follow him on Twitter @mattjbrown.
If it comes as a free update, more than defer it, I hope Microsoft gives us the ability to reject it altogether, period.
I don't want that horrible horrible UI on any of my computers. And I don't want to be bothered by annoying update reminders either. I already have to put up with that on my phone. Companies need to remember that the devices belongs us, not them.

Opinions are like a-holes...

You do realize this also means you can never buy a new PC for the rest of your life lol

They can, they could buy a version of Windows 10 and install that on it. I don't buy new machines myself, I just update this one and since my version of Windows 10 is a retail copy, I can just transfer it.
It is possible to pick up keys for the LTSB version of Windows 10, and to be honest that could be the best way to go.
Maybe Ms will have options to go back to the Windows 10 look in Windows 11 or at least something like it. Myself I prefer the old Windows 2000/95/98 look. When I had Xp, I put it in classic mode. I am in no rush to update to Windows 11, it will offer me nothing more than what Windows 10 do, in fact most of the stuff Windows 10 have added I do not use, i just want an OS to run software.

@DJCBS, "Horrible UI" -- what don't you like? The only things I see as a matter of opinion that some could find worse are the rounded corners and removal of Live Tiles (and possibly Start menu folders). Everything else seems to just be objectively better as added capabilities, which you can choose to use or not. But even in the changes that some may view negatively, I don't see how they can be perceived as "horrible." Rounded corners or square corners, yeah there's an aesthetic change, but not a functional one, and I would say objectively FAR less important from a design perspective than design consistency. I'll miss Live Tiles myself (though it looks like there will be an option to preserve the old Start menu too), but their demise really predates Windows 11 and will be hastened by Windows 11 whether we move to it or not: there are virtually no new apps that support them and those that do will probably lose them over time as users move to Windows 11 and the install base of users with access to Live Tiles fades.

The device belongs to you, but the operating system belongs to them. Don't want their OS, put another one on your device.

What are you talking about? If you want old and garbage looking ui just get xp or something? Just becuse you have windows on your pc doesn't say Microsoft owns it? If you don't like it you can change?! Never heard Microsoft say that you must use windows to use a pc?? Lots of other options..

Hey, have you heard about the emperor's new clothes?

It would be great marketing and a show of goodwill to loyal customers if they actually double-down on the "last version of Windows" statement and keep licensing as-is. They just have to say "we know what we said, and we're going to both keep our word *and* move Windows into the future."

I hope it comes free cause I use two computers and I don't wanna have to buy the OS twice or have issues like that.

Microsoft having so much control over UI sometimes feels awkward. It's like someone else is deciding what we can wear and for how long. It's time when Microsoft should give that choice to users and developers through launchers., at least for personal users. They are already using Android phones, how much more privacy can they lose?

Is Windows 11, code for Vista?
Change everything and cause another Vista catastrophe.
Windows Central Newsletter
Get the best of Windows Central in in your inbox, every day!
Thank you for signing up to Windows Central. You will receive a verification email shortly.
There was a problem. Please refresh the page and try again.