Windows Central Podcast 45: Interview with Dona Sarkar
This week on the Windows Central Podcast: We interview Dona Sarkar, talk upcoming hardware events, and tabs in File Explorer!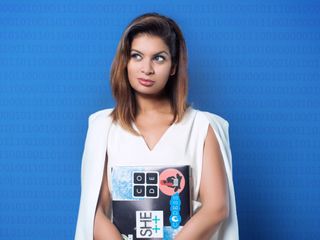 We've got a very special podcast for you this week, as we had the chance to interview Windows Insider lead Dona Sarkar! Not only that, but we talk new Windows 10 features, such as tabs coming to File Explorer, upcoming hardware events and more on this weeks episode.
Help us make this show the best Microsoft podcast in the world. Tell your friends, share it on social media using the hashtag #wcpodcast, and give us a five-star rating wherever you download your podcasts! Thank you so much for listening!
We've got two options for you, either the video podcast (which this week isn't video, sorry!) or the audio podcast, both featuring the same content.
Show Notes
Subscribe to the podcast
Hosts
Make this show great by participating!
Send in your comments, questions, and feedback to:
Get the Windows Central Newsletter
All the latest news, reviews, and guides for Windows and Xbox diehards.
Zac Bowden is a Senior Editor at Windows Central. Bringing you exclusive coverage into the world of Windows on PCs, tablets, phones, and more. Also an avid collector of rare Microsoft prototype devices! Keep in touch on Twitter: @zacbowden.
I'm just so sad about my 930. This phone had a soul until she took it from Insider programme.

Which is even sadder because my L930 has been running CU just fine, so it's completely unlike L920 running W10M.

The L920 also could run TH2 just fine ... Well, it depends on what you consider fine.

No, it couldn't. It was slow and laggy. Besides updating W8.1 to W10M was much a bigger thing than AU to CU. Actually many people say that L930 runs CU better than AU. I noticed the same thing in my wife's 735.

Because Dona is in charge of which devices Microsoft supports with Windows all on her own.

I'm not sure why you guys think every visitor to your website is automatically an expert? Show some respect. Instead of mocking him, tell him that she has no say in that.

Does she have any say in actually doing her job? The OS has gotten no better with each update. She has taken checks, and phoned it in. Complete fraud.

My daily drive is my much loved 930, but are we missing much? Won't matter shortly anyway as all WM10s are going the way of the dinosaurs, WM10 is a complete train wreck no matter which phone you have, bring back 8.1 any day and.....is that Paula Abdul?

I will listen tonight. I hope you asked her off she uses Windows Mobile.

If she does, why the hell are the same glaring issues still in this OS a year later. She is either lying, doesn't give a crap, or doesnt know how to do her job. You pick.

I listened to the first 10-12 mins, all most fell asleep.
Sorry, but the first part at least was incredibly boring.

Using it and "using" it are 2 completely different things

Fire!!! Launch fire to Dona!!!

Yep. She is a Nutella clone.

If she does, I don't see how it is her main device. She is a busy woman and Windows calendar only allows 1 hour appointment reminders. She would have been fired long time ago for missing meetings if it's her only device.

Or she isn't incompetent enough to need her phone to remember meetings.

You can physically change the time to any one you'd like but it's not as easy as using a scroll list.

I know all of this guys. You are all totally missing the point. It's not the time that is the problem. It's the time the reminder goes off. I need the reminder to be set to go off 2 or 3 hours before the event.

There's a reminder setting per appointment in my outlook calendar on my L950, that ranges from 15 minutes to 1 week. Not sure what you're talking about

I guess he is referring to the fact that the reminders jump from 1hr to 12hrs with no in between.

Yep, he's right about that - it is annoying (limited reminder periods: 5, 15, 30 mins, 1hr, 12hrs, 1 day, 1 week). However, if using Cortana with locations in appointments it may help with reminders at a suitable time for travel. @modwheel have you fed this back in feedback hub?

Cortana will help if am address is involved but not all appointments require an address. Yes I have used the feedback hub and a lot of people are upset about it. Such a simple fix...thats why its frustrating

Yeah, that's not true. You can set a wide range of reminder lengths

Mbrooks78 you are correct. Reminder jumps from 1 hour to 12 hours. Most of my appointments need 2 or 3 hours as my drive alone is an hour sometimes.

Cortana and proper locations set may help in that regard. But, I agree with you - the predefined reminder periods are non-sensical.

Windows calendar supports 1minute to 1 week appointment reminders. Trolling?

No sh*t it does but not the way it needs to. Show me a 2 hour reminder in calendar

If you are using an exchange server for your mail (which undoubtedly MS does) your meeting reminders are pulled from your OWA through exchange active sync so whatever you set as your reminder time there is what gets transposed to your phone. Mine is set for 10 min on most of my meetings and it works just fine.

Lmao. You are dead on. There is no way this is her daily phone and she hasn't found all these glitches. Time to drop her dead arse.

It allows 12 hours, 1 day and 1 week reminders too and right down to 15 minutes....

Yes Dan it does, but it does NOT allow 2 or 3 hours. That's the point of this entire discussion. There are reminders that are needed between 1 hour and 12 hours.

As an entrepreneur I have 5 meetings per day in different places. It has nothing to do with competence. Android, IPhone, and even Blackberry and Palm did this basic task

All appointments start and finish times can be overwritten, you can have appointments that only last one minute if you need ??

That's not the point. I need to set 2 and 3 hour reminders to cover the commute. The length of the meeting itself isn't the problem

If you need two and three hour reminders set a reminder in calendar when you need it, hardly rocket science

LMAO that's the point of this entire conversation. There are NO 2 and 3 hour reminders available in Calendar. It jumps from 1 hour straight to 12 hours. Just DUMB!

If you have a meeting at 11am and need a 3 hour reminder, set a task of Travel from 8am to 11am, you then have a reminder of your travel too, that's what I have always done, never wanted for a reminder of three hours, I can only do one appointment at a time...

So you're saying just because you do it a particular way everyone should do it that way? Wow. A meeting reminder is just that. A reminder it's not a made up time. When I setup an appointment or meeting I want to set the actual time the meeting starts with the reminder. So it's on my calander correctly. It's important to be accurate. But I guess some people don't understand that concept. Silly for anyone to think a certain thing is better for them.

That is what I do. I set the event at the time it starts. I should be able to select a reminder to go off 2 hours before that event inside the calendar app. I don't want Cortana or any other workaround.

No I am NOT saying that, I offered my opinion / solution, if you don't like it ignore it, you obviously ARE the boss (so you think) and want widows 10 mobile apps to work EXACTLY how you want them, not a general solution that satisfies most people... unlucky, it isn't going to happen !!!

I don't want Windows calendar to work specifically for me, I simply want it to handle calendar reminders like EVERY calendar in the history of mobile does. It's not much to ask.

@dbs2 Why wouldn't I want them to work the way I want them? I'm the consumer. But, there are other consumers as well who would want certain things to work a different way and they too have the right to want what works better for them. Sure you provided quasi solution. But that's not what modwheel was suggesting. I'm sure he knows there are workarounds. Heck he can set it for a 4 hour reminder and when it pops up then select remind me in an hour and so on. He's just asking for more remidner options and there's nothing wrong with that either. And yes, I'm the Boss. The Boss of me! And I too have my own opinion. Regardless if you agree or not.

Thank you @whodaboss. I wish there was even a 4 hour reminder at that. But nothing between 1 hour and 12 is comical. If Windows was an open source platform like the others I would simply download another calendar and be done with it. But for Microsoft to FORCE you to use their calendar, then they need to make it work for EVERYONE!

No offense meant at modwheel, I was replying to your stark questioning of my diarising method, you added a Wow that didn't go well... But going by the above it appears that one can give but doesn't like receiving :) And to be fair, most of my diary events are added when in Outlook when on my laptop, which oddly has masses of reminder options, I use my mobile to follow my days plans and add the odd meeting, so the reminder levels have not been an issue :)

@dbs2 I know I can get snarky at times. But I do realize sometimes when I write I need to put more smiley faces, :)because my written voice doesn't always articulate in the manner in which I'd like to state an opinion. Yes, I do get fiesty when I think I'm being attacked and I should expect others to be just as fiesty when my words seem to be stated with derision. But like you I tend to setup most of my meeting and appointments on my computer, but there are many times when I use my phone. I normally set all my reminders to 4 hours before a meeting and select remind me in an hour because I get busy working on something and sometimes forget. My apologies. I only wanted to state to you there are others who may want a better solution for them even though there are other ways of potentially setting up reminders. I'll have to do better in raising my points.

@Whodaboss
Hahaaaa we sound the same then... no worries, :)

For me this actually makes more sense - If I am getting a train to say London I put in "Travel to London" as a separate event

Correct but not all reminders that require a 2 hour reminder are travel related or have a destination. It could be something as simple as "conference call" at 4pm that I need a 2 hour reminder for. I'm sorry but I am shocked anyone would defend not having a reminder between 1 hour and 12 hours. THAT doesn't make any sense

@modwheel As someone who often has multiple meetings on the same day I know exactly what you're saying. As if all meetings requires travel. They don't. But even for meetings in the same facility you want that option to be reminded at a certain time and for you 2 seems to be your preferable time. I prefer 4 hours and most all my meetings times are done that way.

@whodaboss, where do you see 4 hours? Mine goes from 1 straight to 12 on Windows 10. Windows 8.1 did have 4 hours which helped some

@modwheel Although I own an Alcatel IDOL I still use my Lumia 830 for my daily driver which I'm still running WP 8.1. And yes, that's why I still have the 4 hours option. This is one of many reasons I still prefer 8.1. Didn't mean to mislead.

@ Dan Harris Exactly what I do, I then have a travel and milage log to claim back any due expenses, has always worked really well :)

Also, Cortana can remind you when to leave. I do this on my phone for work. I have it scheduled on my calendar, a notification reminds me i have work. Cortana reminds me to leave to get there on time.

Cortana rarely reminds you and often it is to late when it does. Another fail.

Such a wonderful example of how terrible Skype is lol. It never works well. I imagine all 3 of you have very fast internet connections, my goodness.

It's not Skype, it's her mic.

Yeah, a crappy mic vs them using the 150 dollar webcams.

Either way I only made it about 15-20 mins in before I just skipped to after her interview, the audio was terrible.

In progress update: I am nearly half way through listening but I really don't like how Dona dodged the Windows 10 Mobile questions about why Windows 10 Mobile doesn't have a lot of features from the PC Creators Update such as Inking and the Color Picker. Dan was pretty specific with the questions and she really did doge the question hard, talking about what Microsoft believes and so forth. With all due respect, her answer, when read between the lines came off as if Microsoft doesn't care about Windows 10 Mobile due to looking far down the line. It came off like a throwing away of current fans in the hopes to grasp the future. It came off as some say, throwing out the baby with the bath water. It really came off as if she would have said "Look Dan, Windows 10 Mobile is not important, he have much bigger and better things to talk about, to focus on. Answering your questions about Windows 10 Mobile and the Creators Update doesn't matter one bit. Current Windows 10 Mobile customers and their phones don't matter either as the only thing matters is the future." I am personally surprised that she didn't answer the question and it does seem like a slap in the face to Windows 10 Mobile customers who would like to know the answers. I am not mad but rather disappointed. With Dona being the special guest, I expected some answers to whatever questions Dan and Zac asked, you know, to make it a special thing to have her on the show but the professional dodging of the precise questions made it seem more of the same corporate dodging of Windows 10 Mobile questions that most users have come to expect. I will finish the rest of the podcast and I hope that she answers the upcoming questions directly. Being a Windows Insider doesn't feel the same as before when by all appearances, it seems Microsoft doesn't care about Windows 10 Mobile insiders at all, at least not enough to answer questions directly, fair questions at that. If I could ask Dona a question, it would be: "What is the purpose of being a Windows 10 Mobile Insider when most of the requested features feedback hasn't been addressed, users are asking for Windows 10 features to come to Mobile and loved features are being cut from Windows 10 Mobile regardless of user feedback and devices are being removed from the W10M Insider Program and there aren't really any new devices that users can buy and participate in the W10MIP?" Ok...back to the podcast....

If she couldn't she's light on half of what many of us are concerned with and the future, she shouldn't of given the interview. It really seems like MS isn't even trying to get us to even hang on and hope anymore.

Wasn't dodging at all. There would be things she just can't disclose, and you can see the enthusiasm she has when talking about what's coming up with the device categories being new. People need to stop getting stuck in the past. 4/5 year old phones, c'mon! Why should these still be supported for updates? If they run fine, great, but it's friggin old hardware, and doesn't matter how good it was.

She did dodge the questions that Daniel asked. She didn't answer the questions about the Windows 10 Mobile Creators Update, Inking and Color Picker but immediately talked about other things. She didn't even address it at all. That's called dodging the question. Daniel's question wasn't about 4-5 year old phones and neither was my comment about 4-5 year old phones. I am talking about Daniel's questions and how Dona dodged them. It is what it is. It's a fact. She didn't answer the specific questions that he asked, didn't even address those specific questions about the Windows 10 Mobile Creators Update and just moved right along.

Because she has clear instructions not to say anything about their plan to simply ditch this OS and p!$$ on the users again.

She has clear instructions not to admit to failing at her job.

Most of those 4/5 year old phones have better hardware than the new ones. They dropped support supposedly because they didn't run well which is just a bs excuse

Why keep older phones?
Because very very soon there will be no one left if they keep halving their base.

She wasn't dodging, she was quite straight forward in a corporate way. I mean she said clearly: Windows mobile is dead and you are at the funeral. The way she spoke is exactly the way a corporate fires it's employers. You were good but we have to look into the future. So, actually she said:" we failed. And with smartphones at this point their is no chance for us, so we have to bring something new to the market, too look into the future and invest in the next big thing that will be mobile. Maybe their we have a better chance cause we invent the next mobile thing." She talks about how dumb and unnatural the screens are, then, trying not to be a looser with a nerve, sais: don't get me wrong we do believe in arm devices. What more clear you want it to be said? Windows mobile is at it's end, if their will be another portable device from microsoft, will probably be something what they think is the next portable device of the future. At least, this is what they hope. After this interview i kinda felt like they will try giving another shut into portable devices market, but what they want, does not sound to soon. Or maybe they will release some hybrid device in between for the lab rats, to see. How the system further develope. Most probably they will try to do something like windows 10 on arm, probably a hybrid that turns full desktop when connected to a screen. Still a device for lab rats. Cause they sound like the next portable device will be something without screen. Some creepy glasses that for the moment nobody wants. Or just inject cortana into people.:))). Not that is not possible. Scary too.

She dodged questions and ducked issues? Sounds like the entire company is taking lessons from Nutella. This entire crew is a giant joke.

I get where you are coming from, at the same time Dan etc. can't be blamed at all - They can't push too hard or it is unprofessional in this case - It's not like when a politician skirts a question and the interviewer can try and pressure them - If WC did that people wouldn't want to come on

I definitely don't blame Dan or Zac, they did the best they could given the situation.

I have tried that before using tasks as for the reminder part cluttered my calendar even more than it already is. They should just fix it. It's the ONLY calendar in the history of technology that has no reminders beyond 1 hour. This OS is supposed to be targeting "enterprise". Sad attempt with this calendar. Even moving a single occurrence in a repeating calendar fails 90% of the time and doesn't move it. It's a joke.

https://beam.pro/WindowsCentral?vod=1702973 If you guys want to see the Videocast for the same. Zac missed it in putting this up. Enjoy

And nothing about cats, fashion, Backstreet Boys, or New Kids On The Block?

I always use Grover Pro, as it's on all my W10 devices, even on Windows phones. It's the best for your podcasts. You can set it up for automatically download, delete, etc...... Which is awesome! I usually listen to Windows Weekly, and Windows Central podcast. The only thing that would be nice is for WC to add a video podcast to subscribe to. MP3 is great on my Windows phone, but would be nice for video on my other PC's. Just like Windows Weekly MP4's.

I use Podcasts beta. Just as good as Grover Imo.

This was a good episode, got to know good stuff!

And why did you put this woman on for over an hour? The insider program is well understood in this community and we really don't need a bunch of fluff from someone at Microsoft who has really shown recently they are NOT about being transparent AT ALL. Pretty shocking behavior from a company who has fired their testers and EXPECT their paying customers to beta test their products for free. Getting sick and tired of Microsofts elitist phony act. It's growing old and tired...kinda like Microsoft.

Dan, I appreciate your actually getting someone from Microsoft to sit down for an interview. Even if her answers did have a bit of fluff to them, it is far better than opinion pieces on Microsoft's plans filled with supposition but no real information (not saying you write these). What many people don't realize is that access to coprorate types is often difficult to get and it takes time to build relationships and credibility. Hopefully this will lead to additional access to other Microsoft execs.

To echo @djarchow's sentiment: Thank you all for actually getting Dona in (however much she kept to script!) - it's great to keep a connection between the community and Microsoft. Hopefully they will take more time considering the overall sentiment, opinion and sensational passion within and coming from the community.

Disagree. This was very informative and I hope they bring at least one guest every month or quarter.

They need to cut the speel like open promises at Build 15/16.

They haven't fired their testers... They have just invited ten million more testers.

oh cut the crap. Insiders are not professional testers. If they were we would not have this pathetic quality.

And we still have an unstable mess on mobile.

Could Feature 2 mean OS for future "feature" phones? Such as flip phones became feature phones when smartphones showed up. Could it be that W10M would become the OS for the old smartphone for low end and smartphones would become the next stage of feature phones. W10 would be only mid and upper range? Zac floated this idea before, right?

Sounds really plausible ,I think that could be the way things could end up.We'll just have to wait and see then .

I walked away from that interview knowing even less about the future of Windows phone then I did going in. :|

Read between the lines, not discussing means they have told her not too.

Oh wow, did you think of that all on your own?

No need defame people, be respectful. If this is your idea of a joke, then it is not funny in the slightest.

Still no need to ruin a persons name. I am not talking about her job and her salary. That's another matter. Your comment is irrelevant.

Anyone else does a crap job, and they get called out. For some reason the more these people make, the more they think they shouldn't be called out. You honestly think the product they have developed is up to pair for anyone?

Irrelevant comment again.

As a W10M fan, I learned that Donna really wanted to avoid W10M questions and provided no real information. Although I recently decided to (temporarily?) moved away from my Icon, I still have an affinity and hope to see W10M make a comeback. However, today tells me, there is no real plan at MS, at least nothing-zero-nada that they will divulge and give hope to loyalists. This was so frustrating to listen to, but I thank Dan and Zac for having Donna on the Podcast, and hope they continue to pursue more guests and maybe get some real info on the fate of W10M.... Great job, as always...

Meanwhile, the 950XL is still excellent.

It was a great podcast! Dona has some interesting opinions... ;)

You actually haven't managed to get her to clarify the windows 10 mobile situation?? lol By hearing her avoiding this subject this proves nothing more than this mobile OS is history.

Actually she did hint us about Microsoft's view on the subject. If I'm not mistaken Microsoft does not see smartphones as the normal mobile device. To quote from Dona, the slide, pinch, tap on a screen aren't normal human gestures. Also she kind of hinted us that for Microsoft, Windows Mobile doesn't mean smartphones running Windows. It means some mobile enough device that runs some flavor of Windows 10. My impression is that we won't see any time soon a smartphone coming from Microsoft. And probably that Surface Phone device won't be a smartphone. It will be a mobile device, with phone call capabilities, but I don't think it will come in the form of a smartphone we are now accustomed with.

oh please. This wasn't exactly tough journalism. PR department of MS probably couldn't come up with better, easier and less critical questions in areas where critical questions would absolutely have been appropriate.

We got together and started thinking, how can we piss off W10m people even more? And then we decided, why stop there, lets annoy everyone!

Will RS3 is not coming to mobile ?

Well done Dan and Zac for the podcast. I think it is critical for Windows central having Dona here. The site has gone from repeating content to creating contents, and is now gone on another level of having real executive to join the programme. I'm happy for you both.

Interesting podcast and insight from Dona. It was especially interesting to hear recognition from tech insider about the social/human impact of screen and smartphone tech. Whilst tech has benefited us in many ways it is also having profound impact on political events as well as human relationships, and this can be troubling in some respects, e.g. walking down the street is navigating people deeply focused on their phones. As Dona says, looking at screens is also unnatural and only something humans have done in past 30 years, and the physiological/evolutionary impact of doing this would be of concern.

At about 12:20 in the video, she says that if a particular insisder request does not resonate with other insiders, the MS team will not ship it Meaning, our insider suggestions have to be popular to succeed or they have to be incredibly revolutionary/useful for them to succeed?

This also confirmed why since WP 8 and 8.1 OS ditched almost all its specific solutions and became something between Android and iOS - but now argument that Android is laggy and WP/W10 is not is already not true :/

She means if somebody finds a major emoji problem, but serious bugs they ignore ;)

What an unusual photo she has provided. Looks like a PR shot for a comedy show. New Girl vs Big Bang Theory. I get the impression that she'd jump at the chance to take a role in a network TV show if given the opportunity.

Really? You dont like it? She has this "I'm confused, clueless, and lost" expression going on. Very fitting.

Im lost at the part about unnatural looking at a screen. Ive been starring at screens as long as i can remember, mostly, tv screens, movie theater screens, screens in my car, readouts, heads up displays and now mobile phone screens. What am i missing?

I think the most popular screen is your watch face(a screen yes?) these liitle screens go back to the 1400s when the watch was invented....

For phones, it's unnatural to look down at your phone, especially when walking. It's not good for your neck or back. How many people bring their phone up to eye level to check their phones? It's usually between their elbows and shoulders while your head is looking down at a 30 degree angle or more. TV's, movie theaters, heads up displays, pc monitors should be almost at eye level. Screens in a car aren't suppose to be stared at for longer than 2 seconds, especially while driving. Maybe this is what she means.

Don't people read books, newspapers looking down sitting yes mostly. I have seen people walking and reading newspapers, but now the newspaper content is on your phone... thanks.

Just because people do it doesn't mean it's correct. You can develop back and neck problems doing things unnaturally for long periods of time. You're welcome.

I'm affraid that they want to reinvent the wheel and it could be viewed by people like Google Glass :/ I dont want Hololens, Google glass or bulky 6" phablet - we need MOBILE and many manufacturers finally got it with Compact / small/XL / regular/+ variants!

In the time it takes to say "hey cortana, what time is it" ive already glanced at my watch or phone screen and have the answer. World without screens?

See my comment above. If you accept evolutionary theory, humans evolved from apes over several million years. We developed features like standing upright, forward facing eyes, larger brains than other animals, great dexterity with our hands. Evolution of these are undoubtedly due to environment and how earlier ancestors lived. We've evolved over millions of years but screens and other technology have only been in our lives for around 60 years, yet they are making our lives profoundly different to how humans lived previously. Our brains, eyes and hands particularly evolved through having to sustain ourselves through things like hunting; at present we emphasise looking at screens and the associated gestures/postures our bodies make, which are unnatural because in terms of our current state of evolution we never evolved to look at screens and do the specific gestures technology such as smartphones require us to do.

Unfortunately, for me, I'm usually presented with: "I'm sorry, I didn't quite catch that" - or - A list of Bing results that aren't contextually relevant.

...or, should I say: ...on a device other than the one I was aiming for (e.g. Xbox/Laptop rather than my phone).

Zack, the surface book reveal was one in a million. Gonna be hard to top, if not impossible.

Dear god... Please get Nutella on the next podcast and let me do the interview. LOL

First thing I will do is bring an air horn and blame it in his face every time he uses the word "Cloud".

Good podcast. Great to have a senior MS person on.

She isn't a senior MS person. She runs a section and section that don't know what platforms are being supported (or her script tells her not to talk about platforms that are an embarrassment).

I recently had to go back to the Lumia 1020 and managed to get 15204 working and it works as good as cu did on the 950xl just the camera that is slow.

How did you mangae to get the 1520 working again, please? Mine had been working perfectly for months and then an update came and boom! the unstability came back and we won't get any more updates. It has happened before, an update fixes things and then the next one brings the flaws back, and this cycle has repeated a few time. I'm almost ready to ditch the phone.

MSFT needs to really make windows work on their first windows phones so it is as efficient as possible.

After so many years and billions of dollars Microsoft have just realised that the 'small screen' of a smartphone is 'not natural'. What a bunch of crap. They lost big time and now try to rubbish the while segment. Microsoft are a joke.

MS doesn't seem to realize that by stabbing their customers in the back by suddenly denying them updates, the company is losing the trust of a market segment that has been loyal for years, and it'll be hard to gain their confidence again. I. for one, will not trust Microsft again. I might just keep my 1520 as a souvenir and move on. Bye bye Microsoft

Not only customers but specially Insiders and developers! I'm not able to sell UWP app for brands anymore because of all that what is happening. Thats the reason behind app gap which is becaming real problem - not when Nokia was pushing WP all over the market!

I hope that Microsoft makes sure the Verizon 930 icon gets Windows 10 mobile updates because there are no Windows 10 mobile smart phones for sale you can buy from verizon that works on their network. microsoft must realize that Verizon network is important. for microsoft to give up getting any windows smart phones on the verizon network which has Millions of customers is insane. as a jestor to verizon customers microsoft should update the Lumia 928 and 930 icon to Windows 10 aniversary update

Same with 830 in Europe - it was pushed by telecoms with success and it's still one of the best quality Lumias!

"Designing for a screen is kind of ridiculous" Seriously? You tell ppl that everybody is a 5yo with a blank sheet of paper which inspired the Creators Update and then you move on to a contradicting statement just because Msft couldn't handle Mobile development anymore even though it's the same OS... Wow, very subtle.

OK, so we are doomed. MS is now working on big shift in mobile. History shows that if they deliver it like Pocket PC or Band or Surface with RT it will be a nightmare in a longterm for loyal consumer. Even if it will be a great idea and big start like WP it might be killed later on by corporate decisions like they did with WP before W10, Zune and Lumia brand :/ I'm really worried :/ I tricked so many people and companies into WP/W10 Mobile and even few brands into apps so it feels bad. No solid strategy and room for consumer loyality here :/

The one question I'd like to know is whether Dona, the hub representatives/leaders etc. for each division or anyone involved in development or strategy spends any time here, at Thurrott, WPNews or any communities reading opinion, discussions and comments where they would gather much more qualitative feedback than simple, constructed, feedback on the feedback hub.

and what´s the surface screen to microsoft? what am I doing with my fingers on the screen? so this is not natural, right? my 3 year old niece loves to touch those screens, it attracts her. sorry, miss insider has no clue. for a surface it´s creative to use the fingers and those screens, but not for mobile? she has some interesting view on the world. what she was talking about is something in a distant future, with a lot of work ahead. they can do that, build that future. but there is plenty of time until then and people love their smartphones no matter what that cheerleader is thinking. and msft has not such a device anymore. first they started with UWP, this strategy doesn´t get any traction since there are no mobile devices, now they try the next revolution: no screens, right? i mean that´s the future, right? "that is so 2002", yeah, we need to live in the future. cars ars so 1890s, we don´t need this freaking format! there is a reason why some formats are succesful. even if tesla is the type of drive in the future, the format follows some basic rules and it improves the format. until you don´t find the new ultimate format, go with the established format. and right now it´s a simple smartphone. even that simple format was too much for microsoft, but they will create the next future ****. sure. right?

I lasted 3:10 into podcast :( Not really interested in speel about nonsense that we all know is scripted. Can't talk about xyz only insider stuff, so that leads me to conclusion that insiders for mobile are wasting their time if you cant discuss mobile platform. Why feedback on a platform no one can commit an answer to.

This interview kinda went exactly the way I expected.

I have zero problems with my Surface Book. I'm not sure if I got lucky and scored a problem-less device, or if all Surface devices are as legit as mine. I'll never go back to Apple after experiencing Microsoft's ecosystem and hardware. And I think that Microsoft is only progressing and will soon master all of there apps and software in the future. I like to think of Windows 10 as the beginning of the best software platform ever. There's definitely still improvements that need to be made with Windows 10, but that's just waiting on the innovation of the platform to evolve. Also, I don't even need to use Windows phone to be a part of Microsoft's ecosystem, I have all the apps on my Android (OneDrive, OneNote, Cortana and other Microsoft apps that are integrated with the Android platform). It's the perfect match, really. So, hopefully Microsoft stays on the same path they've been on and continues to expand.

that was painful to watch. i lasted about 7 minutes.

She said it pretty clear! But fanboys here again fail to hear properly! They do not think ahead of 20 years FFS! They plan for at most 2 years ahead, so by their attitude now, for the next two years say bye bye to anything windows mobile! jeezzz was that too hard to understand?

That was literally painful to listen to. Dona's mic feed up and down all the time. Anyway, back on topic... My problem is that it is all well and good that they are looking at the future of PC interaction and creativity but they are seriously forgetting those that just want to USE a PC or other device as they already know how. Too many of MS's systems are constantly being picked up and then dropped as they flit from one project to the next leaving sometimes millions of users cold in the fall out. The way they have treated the phone users is a perfect example of this but that is not the only example. It's all very well going after new users but there are literally millions of MS users who are seriously annoyed at MS right now and they won't stick around forever. Many will opt for other systems just because they are pissed off.

Wow. So, Microsoft - a company that completely missteps the mobile computing revolution is now telling us it's unnatural and merely a passing fad?! And they have the answer for what comes in 20 years time?! Abd the best route there is to ignore that mobile is now taking precedent over their desktop OS?! Really?! I love W10M - get ur head out of ur...and make it great like it can be.

I like the start where he tells us that Dona doesn't work on windows 10 mobile so there won't be any questions. Don't feel bad Dona, from what I can see no one else at Microsoft works on windows 10 mobile either........