Windows Central Podcast 61: Are Surface devices unreliable?
This week on the Windows Central Podcast: Consumer Reports removes recommendation for Surface, new Mobile build, and what's next for Mobile?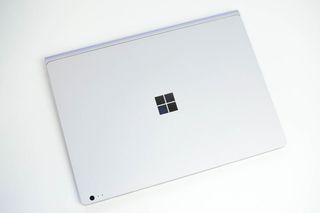 This past week, Consumer Reports announced that it was removing its recommendations for all of Microsoft's Surface products. Also on the show this week, we talk about a brand new Mobile build, a new Xbox One build, and what's next for Mobile? All that and more on this weeks episode of the Windows Central Podcast!
Help us make this show the best Microsoft podcast in the world. Tell your friends, share it on social media using the hashtag #wcpodcast, and give us a five-star rating wherever you download your podcasts! Thank you so much for listening!
We've got two options for you, either the video podcast or the audio podcast, both featuring the same content.
Show Notes
Subscribe to the podcast
Hosts
Make this show great by participating!
Send in your comments, questions, and feedback to:
Windows Central Newsletter
Get the best of Windows Central in your inbox, every day!
Zac Bowden is a Senior Editor at Windows Central. Bringing you exclusive coverage into the world of Windows on PCs, tablets, phones, and more. Also an avid collector of rare Microsoft prototype devices! Keep in touch on Twitter: @zacbowden.
Unreliable? No. Overrated? Oh yeah

Only if you can't afford it.

I swear, this report must really have triggered a few Windows Central editors based on all the articles trying to protect their precious Surface devices! /s

Well, there was recently (1 day ago) an article about the Microsoft Internal Memo showing the return rates of Surface devices. Mostly the WC Editors was neutral, and correct about the "downslopping" of issues from launch to 2017. Most of the time the return rates are 10% below, thought the highest was Surface Book and Studio since it is bound to have issues for 1st Gen products which peaked 25% for first 3 months. I do agree that there is a disparage between WC and other tech sites (Verge, engadget, etc). Guess some came in to MS' defense, others critique for such a high-end/expensive product.

We only have 1 editorial on the matter...

WC is very good at always finding the silver lining when bad news hits MS. And when they don't it seems to get conveniently forgotten. MS band users get locked out of the app and dashboard for more then week (some even more then a month)? The latest cumulative update breaking GPS on W10 Mobile? Apparently none of this is deemed newsworthy at WC. Of course who can blame them when they have important things such as "Fix your electronics yourself for $7", "Aukey's magnetic Bluetooth headphones are down to $17 at Amazon", "the 4 best laptops with optical drives" or the latest Warditorial to post. /s This site really has become a shadow of its former self.

Well, regarding methodology...they can always throw in "Against Method" by Paul Feyerabend. And then they have an accepted methodology that pretty much states that there's no such thing as methodology lol That said, I absolutely hate having to write methodology in papers. It's so f*cking annoying and repetitive that by now I alsmot sound like a broken record in whatever paper I deliver.

I like my surface book a lot, but it has its share of issues. 1. Pen does not act as mouse. If you move around with pen and then use touch pad / mouse you will see that pointer is not in the position you were with your pen (the only place where this works well is desktop only here pen acts as pointer) 2. Pen top button stops working
3. Keyboard stops working after detaching and re attaching occasionally.
4. When exposed to sun and high temperature it fails to cool itself down and ultimately shows you symbol of temperature measure and "shuts down" Good thing is that it does not happen that often otherwise I would return it as well. But I can fully understand if someone does. SB is still a prototype in my eyes so it's far from perfect and it has quite high price tag.

Surface Pro 3 is a little over 3 years old now, no major issues with it, one of the most reliable computers I've ever used.

I'd say they are about as reliable as similar devices from the likes of Dell, HP, Razer etc. Though if you consider the price premium Surface devices command, I would expect more from them...

If you consider the price point, it is doing equal or better than comparable ones.

You guys make a good point. It might be important for MS to create a new category defining name for their next phone capable device. As long as it is released as another smartphone it will be compared to smartphones. But if they release a 'mobilecomp' for example, then it stands alone and although it will be compared to the smartphone by the media, the media will also have to denote the differences because it isn't a smartphone, but a 'mobilecomp', 'compuphone', 'portacomp' or whatever, and therefore has no direct competitor. And as long as the function and features are category defining and desirable, they could have a hit on their hands, by creating a new must have computing device like Apple did with the tablet form.

Looking to various end-user responses on Surface reliability seems faulty to me. For one, you have a slew of end-users who are not very technically savvy, and end users also tend to generate "scorched earth" opinions about what are really minor issues on devices. If you want some real insight into the issue, look to IT people who have to support dozens or hundreds of Surface devices on a regular basis and get their feedback. They'll have a better sense of actualy failure rate, whether actual failures or issues are hardware or software related, and whether or not issues are just users being users, with no real fault of the machine. I field complaints all the time that are relate dto end users bad habits. Not installing updates even though they have been prompted 27 times over three months to do do. Having an Outlook PST file that is over 25 gigabytes because they never clean out their folders and have all their emails since 2013, having unauthorized resource-hogging non-business related apps running in the background and slowing things down, etc., etc.

My Surface 3 is reliable and doing well. Never had any issues other than the pen's top button does not call any action, why, I do not know.

That Consumer Reports article really does not surprise me. Journalistic standards of many established information outlets have declined severely in the last couple of years.