Windows Phone 8.1's Wi-Fi Sense might also be part of Windows 9-Threshold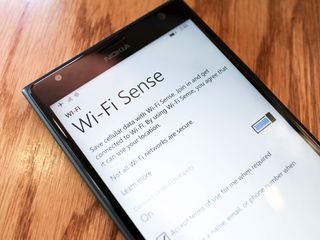 Microsoft could be adding one of Windows Phone 8.1's best features, Wi-Fi Sense, as part of the next version of Windows for PCs, code named Threshold and also called Windows 9 by the media.
WinFuture.de, which claims it got access to an early build of Threshold, has posted a screenshot from its registry that strongly hints that Microsoft is putting in Wi-Fi Sense into the OS. Windows Phone 8.1 owners can use Wi-Fi Sense to store user names and passwords of public Wi-Fi hotspots so they can automatically connect to them on their next visit without any manual typing. W-Fi Sense also allows those smartphone owners to share their Wi-Fi credentials with others without revealing passwords.
This certainly would be a helpful feature for Threshold owners, especially those who use small tablets. However, as with any early leaked build, it's possible Microsoft could remove Wi-Fi Sense from the OS before it is officially released.
This is the second Windows Phone 8.1 feature that could be added to Threshold-Windows 9 as the storage management tool Storage Sense was also spotted in this leaked build. A public technical preview of the OS could launch in late September or early October, followed by an official release in in the spring of 2015. What do you think about Wi-Fi Sense possibly being added to Windows 9?
Source: WinFuture.de
Windows Central Newsletter
Get the best of Windows Central in in your inbox, every day!
Yeah, its great, they want to remove phone from WP then they have to give similar function to all devices running Windows OS.

Cortana "remind me" in the start menu of this screen shot of W9: http://1drv.ms/1sKap1N

I would turn on Wi-fi Sense again for this

If they're unifying the platforms, probably all those WP apps will move to Windows. So not only WiFi and Storage Sense but Data Sense etc

I honestly can't think of a reason that Data Sense would need to be on W9. It's not like ISPs control how much data you can use (well, technically they do, but not the extent that you need to actually manage it) so I'm not sure how much advantage it would provide. They already have data sense like functionality in the metro settings menu.

You must not have Comcast. I would love to have Data Sense. Also, they're unifying OS' so most WP features will cross the... threshold... to Windows 9

You need to monitor how to use 300GB worth of data across multiple devices including guests that connect to your routers are used per month?

What about LTE/3G tablets?

People with 4G Surfaces and Lumia 1520s say "Hi!"

Lol that's RT. This is for x86 Windows

@Jas00555 Why does that matter? Just because you apparently can't see an application doesn't mean there isn't one. Isn't the point of Threshold to unify the OS? There is a lot of potential for an x86 device with 4G and also as was mentioned above, some ISPs do have data limits.

Exactly, just because it's x86 doesn't stop you being on 3G or 4G. Only a matter of time before there's a 4G Surface Pro.

there are laptops that use cellular data to access the internet. you also have hybrid devices and some come with 4g lte. you also have people who use their cellphone to tether laptops.

This is mainly for tablets on mobile connections not fixed broadband connections

I can almost taste it, but definitely hear ya. Everybody gets the feeling that "Universal Apps" were just the start. Universal APIs are the next step. More major corps will jump on board if and only if: the core APIs transfer over and are accessible. Get me?

Well it make 'sense' to have WP features and apps will be available to Windows proper, since they're unifiying their OS. ;)
There are alot of Windows features and apps should have on WP like Sound Recorder, Alarm app (WP Alarm app lacks alot of features that a smartphone should have by default), more advance File Manager and Settings app that is not all-over-the-place like in WP.

If Microsoft can implement a way to use ur windows phone totally with your PC via Bluetooth in an easy way, it will be stunningly awesome

Have to admit that the continuity features of iOS 8 are pretty neat. Would love to see Microsoft implement similar functionality.

Yes. Windows phone really needs a strong feature like this. It's really difficult to convince people to switch when there are only minor advantages over other OS's and a massive disadvantage which is the app gap.

Agreed, and tethering already works seamlessly: if you pair your handset to your PC or tablet via Bluetooth you can initiate a WiFi connection at any time without having to manually turn on Internet Sharing on the phone.

Also a third feature from WP8.1 moving to W9 is the notification centre, no? Posted via the WPC App for Android!

Not so much "moving". Windows has had the Action Centre since Windows 7. They'll just expand its functionality.

Except it was pretty crap. Just gave notifications on things you don't care about, "firewall is off", "update your anti-virus", etc. Putting in app notifications and updates is far more useful.

I guess new Windows will be called just 'Windows' not Windows 9

Xbox One >> Windows One will be very nice :)))

I think the whole "one Microsoft" while a good goal, has backfired on them from a PR persective. I think too many consummers are stupid and when they go into shops and see "PS4" vs "Xbox One" then they say "version 4 vs version 1" and come away buying the PS4. Now sure any gamer with half a brain won't do that, but there's too many parents and grandparents buying these consoles for their kids and that market knows nothing and doesn't realise the logic behind the "One" naming. So I think moving Windows to that as well would also be a mistake. Hopefully "Windows 9" will get it right and overcome the bad PR from Windows 8. But what if it doesn't? If they call it just "Windows" then that's the brand ruined forever. Mind you, two bad releases in a row, it'd probably would be game over in any case. When you look at WP, despite it's low adoption rate, the people who use it love it. There's been no backlash like there was with Windows. Which is ironic considering WP is a 100% touch interface and it was the touch elements that caused the uproar with Windows. Now they are adding more touch elements or features (Wifi Sense, Data Sense, Cortana, etc) that all originated on the phone platform. So back to WP, every iteration 7 to 7.5, 7.5 to 8, 8 to 8.1 has brought massive improvements and has been welcomed (upgrade issues aside). It is crazy to me that WP has improved so much and has tiny market share, whereas big Windows has had so many issues but is still so much in control of desktops and laptops. So they need to make W9 work, otherwise they will loose even more market share to Chrome and OS X and tablets in general. I think they will hit a home run with W9 though. To me after the failure of W8 they have seen where they went wrong and W9 will merge the best of WP and big Windows, giving desktop users control back, while at the same time adding lots of new features from mobile that will actually be of use.

The less profitable sale of Windows is that a person goes to the Store and buys a Windows copy, so ...

Says the Non-Windows user? :)

Just had my first experience with WiFi Sense while on a trip out of town to visit family. Stopped at a strip mall to grab some food and was auto connected to the available WiFi. Awesome!

Isn't the point for everything to be on both?

I tried to share some Wi-Fis with my mom and my sister in law and didn't work. :S

Even I tried at my friend's place. I doubt he didn't allow the access properly. I am waiting to try again.

Not available for Brazil, sorry. :P :D :)

hahahaha is a good explanation.

Only works with windows phones.... So if your family is on another platform..... Tough luck

Tried with my mom's Lumia 720 and with my sister in law's Lumia 630, both with WP8.1...

Did you specifically share the network? Just having Wi-Fi sense on won't do it.

How can I do that?? I already searched for a especific option to share a network but dint find anithing.

Wi-Fi settings > manage > "example network" > check the "Share network with my contacts" box, it will ask you to reenter your password. Then it should work. :) let me know if that works for you.

Already checked for the two networks I have tested in the last weekend. :S

Bummer. You're Facebook friends with the other person right?

I don't know yet what to use Wi-Fi sense for!!!

Say you go to the coffee shop every few days to have a venti cappuccino and Facebook for about an hour and people watch. You use the coffee shops wi-fi everytime and it requires you to login through a web page each time. This feature does all the handshaking for you as soon as your phone detects the network and you have a seamless experience with no hassle.

Why would W9 be on small tablets? Wouldn't OEMs use the SKU of Windows for ARM that is built for tablets? John is confusing me.

Because a lot of small tablets (e.g Dell Venue 8 Pro) are x86 based, so they use the full version of WIndows. I don't think any ARM baded Windows tablets exist outside of the Surface RT, Surface 2 & Lumia 2520, and they're all considered big.

You must not be following the news of Threshold very much. RT as we know it is basically dead. There will be two SKUs of Windows: Windows 9 that will be for laptops, hybrids, and desktops, and Windows on ARM that combines WP and RT that will be used on phones and tablets. So I ask again, why would an OEM put an OS that is designed for laptops when they can use the one specifically built for tablets?

Yeah its pointless now for intel oems to get onboard especially for tiny tablets because the market for that has gone flat

Actually I'm following it more than you think I am. Anyways nobody knows for sure that they're going to combine Windows Phone & RT, as far as we know it's just a rumor, and I don't really care for rumors. OEMs aren't really manufacturing ARM based tablets apart from Microsoft themselves. So all the small tablets that exist right now will still run a full copy of Windows because they still use x86 hardware. This might change in the future but we don't know. I'm just going to assume 9 will be contextually aware of what device it's running on, so certain features will be enabled/disabled depending on the hardware.

It's been pretty much confirmed by every well-known Microsoft watcher that there will only be one SKU of Windows for ARM and it will combine WP and RT. If you don't believe that, then you might as well not believe any rumors because this one has been well reported.

That may be, but all the sub 10 inch Windows tablets are x86 anyway, so they wouldn't be getting the ARM version. And I think it's going to be hard to convince them to go ARM, unless MS is stupid enough to break hybrids like the Surface Pro line by creating important ARM only features; an x86 tablet will be able to do everything an ARM tablet can, and also have access to desktop apps.

@Jas00555 You seem to really be missing the whole unification idea. Windows Threshold for x86 isn't designed for laptops. x86 tablets and hybrids are the most successful tablets with Windows. Their sales far outpace the sales of ARM tablets with Windows. No OEM outside of Microsoft even makes an ARM based Windows tablet. So what makes you think Windows for x86 shouldn't have tablet features? You are wrong about the two SKUs. Let me correct your statement. ... Laptops, hybrids, desktops, and x86 tablets. And Windows on ARM that combines WP and RT. Also, it's never been confirmed that only two SKUs will be released. Just most likely two major types of Windows. There could still be a free x86 version available like the current Windows with Bing, there will also most likely still be home and pro editions. But nothing is confirmed yet.

That's a great feature to add to Windows Threshold. I am liking this convergence of features.

I sincerely hope MS has realized that Xbox Music should be one of their top priorities and are hard at work on a Zune-like experience on Threshold for media management.

Microsoft is starting to make me happy with Windows Threshold... Even though Windows 8.1 was seamless

I love Windows 8.1 but it's far from seamless.

They should change the Marketplace on Zune then make it a built-in music player. That player is completely reliable.

What about arm based tablets that couldn't run it? I don't want want them to start over again.

Wasn't this written about last week? or am I time traveling again?

That was Storage Sense. ;)

They should just merge the two into one app.

Merging Wi Fi Sense & Data Sense makes more sense :P.

Like enable Wi-Fi sense when your data is low?

I could see this being only useful for devices like xps10(lte model), surface 2(lte model), & Lumia 2520. Maybe also usb lte modems that have enhanced w8 drivers

I could see most tablets and laptops using this functionality. How? Walk into a McDonald's, or Starbucks, and have Wi-Fi just up and running.

Works great on WP...would be awesome for tablets.

Should be best of WP and Windows. I'd expect wifi sense, keyboard, notifications, Cortana, etc

I thought connecting blindly to unknown Wi-Fi was not a good security practice ?

You're connecting to Wi-Fi that your friends/acquaintances have connected to. So presumably, they should be fine from a security standpoint.

You can choose if you want to connect to public hotspots or not. Or just Wi-Fi share.

They also added the Remind Me feature

I must admit it's getting better, it's getting beter every day... nananana!! :-)

Windows 9 is shaping up to be the greatest update ever, so far. My Surface 2 will gladly embrace WiFi Sense.

Each update announcement is cooler than the last!

Well, Windows Threshold is supposed to be the same OS across all devices. Aside from x86 programs, Windows and Windows Phone should be essentially identical feature wise.

Share your network password without having to tell people the password. So if they come over to your house then they just connect. If your friends have wifi sense enabled on their PC then it will work for your phone to. Also, automatic connecting to open wifi hotspots

And it would be better if Microsoft designed notification center in the same way as our college Avik Biswas (forum) did with Cortana.

Should allow third party keyboard for WP Threshold. Would love to use GIF keyboard that was recently announced for ios8

Makes "sense" :-), doesn't it?

Ok Windows getting features from phone.. But what abt windows phone and ita limitations.... If Microsoft gets stardock for customisation of windows phone... That will be awesome

Why are people surprised by this, seems a lot of folks, including some journalists do not really follow or read the news about where Microsoft is going witth their OS..

this WiFi sense... it never worked for me here in Switzerland, shame. oh and still waiting for Cortana, but just for the records, 'cause I hate voice interfaces. :)

I like notification center on Windows 9.. wish we can clear each messages of app like shown on Windows 9 than that we have right now on windows phone8.1 which clears all message from an app rather than single message...

Is threshold is coming for windows phones or not. ?

Microsoft should give an option for Wifi Direct for Transfer all types of Data Fastly...

My Phone has never connected to any open Wifi network with all options on. What does Wifi sense need to work? WP8 informed me about the presence of open networks, WP81 doesn't even do that anymore. But Frankly, no one who cares even just a little bit about security should want to use this.

I was recently in target where lte is non existent....i noticed that I got a facebook update. Then noticed I was on targets guest Wi-Fi. Who knew they even had Wi-Fi?

That's killer!!! Wifi sense is the coolest feature I've ever seen. Background credentials, contact sharing. So cool! Win 9 is sounding better every day!

I've yet to have Wi-Fi sense work when logging into a public Wi-Fi. Can't say I care about seeing it in Windows Threshold when I never see it work in WinPhone 8.1.

I agree. I've yet to see any difference in hotspots. i have to select and go to websites still repeatedly. Maybe syncing with my Surface Pro would be nice.
Windows Central Newsletter
Thank you for signing up to Windows Central. You will receive a verification email shortly.
There was a problem. Please refresh the page and try again.