Windows Phones for $0.01 with $100 Amazon gift card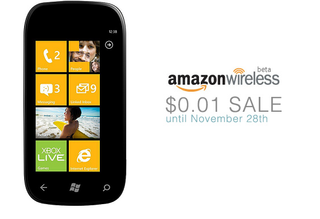 Remember the previous Amazon Wireless penny sale last year? Well, we're having another, and a number of Windows Phones are included from AT&T, Verizon and Sprint. Amazon is also throwing in a $100 gift card* with each purchase. The handsets that are included are:
Be sure to check out this deal soon should you be interested as the closing date is November 28th.
* Note, you must activate the hot-spot feature/Wifi tethering at time of purchase to get the $100 gift card
Source: Amazon Wireless (opens in new tab), thanks atander for the heads up!
Windows Central Newsletter
Get the best of Windows Central in in your inbox, every day!
Rich Edmonds was formerly a Senior Editor of PC hardware at Windows Central, covering everything related to PC components and NAS. He's been involved in technology for more than a decade and knows a thing or two about the magic inside a PC chassis. You can follow him on Twitter at @RichEdmonds.
HTC Titan is backordered, won't even let me add it to the cart. Bah.

This deal is only good if you're buying a hotspot enabled phone with the hotspot enabled

Here's a table that includes each carrier, and the deals available for each carrier:
http://www.amazon.com/gp/feature.html/?docId=1000745951
TL,DR: $100 gift card available for new Sprint and Verizon hotspot-enabled devices with the hotspot plan added at time of purchase. Penny pricing on all phones from Sprint, AT&T, and Verizon. Sprint also gets waived activation fees. T-Mobile gets no deals whatsoever.


Damn, sucks that it requires a separate hotspot plan. I would of jumped on this deal if not for that.

You only need the hotspot plan for the $100. You can still get the phone for a penny without the hotspot plan.

Focus S is new contract/new line only...can't upgrade/renew for a penny.

Damn, WTF is up with T-Mobile not being represented?

Maybe because T-Mo does not charge extra for using the phone as a hotspot. At least I'm not being charge extra.

Shame is doesn't include the Titan
EDIT: Yes it does.
http://wireless.amazon.com/HTC-Titan-Windows-Phone-AT/dp/B0068PZQT6/ref=sh_br_ph_1?ie=UTF8&transaction=INDIVIDUAL_NEW&sr=1-1-entd&qid=1321927433594
You can also upgrade for only $79.99!

No reason to wait for AT&T's deal now, eh? Although AT&T may be waiving activation fees.
It looks like Amazon Wireless is having some difficulties right now; I keep getting a timed out error message as I try to navigate the site. Maybe it'll be fixed tomorrow.

Yeah sure people are flocking to these deals as they can get them earlier than say through AT&T.
I tried to uprgrade but they said I'm not eligible till 1/27/11. So looks like I'll either have to buy it on a new plan and cancel my phone or try to negotiate with the staff in an AT&T store. But then I can't get the penny deal (online only for AT&T).
OK, so question. If I bought the Titan on a new contract and then proceded to cancel my current account early, could they then give me my original phone number? Or can I just put in my old SIM card? But then I'd have to cancel the new contract before it even started lol.
As you can see, I'm in need of some help.

I don't know anything about that, but I do know that the line you open with Amazon to get the penny deal must stay active for 181 days, or else Amazon will assess a $250 ETF on top of the normal AT&T ETF.

Also, for anyone wondering, I finally got through and I went ahead and ordered the Titan from Amazon. Just finished the process five minutes ago, there were some hiccups (the site kept timing out) but eventually I worked my way through all the steps and the Titan will be delivered to me by on or around December 1st.

Outstanding point Phil - you cannot cancel on an Amazon contract in that first 6 months without a huge bite out of your finicial life. But it also VERY, VERY important to know that after signing up through Amazon you can't downgrade your line during the course of the 2 year contract. So if you sign up for this hot spot, get your gift card, and 8 months later decide it is a waste of money, you can't cancel it without terminating your whole contract. You can of course add to your options, you just can't take away. Not that anyone here has asked, but I truly suggest you do not add the hot spot just to get the 100 bucks. If you want it anyways, go team. But when signing up through Amazon, I would do the barest bones contract you can live with. You can always add options. You can't take them away.

This is usually true with Wirefly, New Egg, Tiger.com, or any other third party online contract as well.

OK great. Thanks for the input guys!

Why can't this be in England, I want to get an HD7 for my girlfriend. :(

Aw man, the Arrive is only a penny for NEW lines.. not for upgrades... gonna have to do some fenagling...

This is a fantastic site and very engaging too. Excellent work! That's not really much coming from an amateur publisher like me, but it's all I could think after enjoying your posts. Not like other site. You really know what you're talking about too. So much that you made me want to explore more. Your blog has become a stepping stone for me, my friend. Thanks for the detailed journey. I really enjoyed the posts that I have read
mb5-858 exam //70-659 pdf //70-682 vce //
Windows Central Newsletter
Thank you for signing up to Windows Central. You will receive a verification email shortly.
There was a problem. Please refresh the page and try again.