Wings review, a Windows Phone WWII air combat game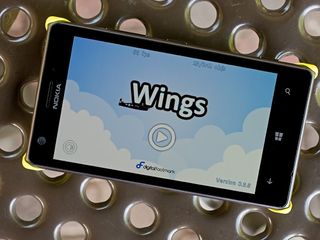 Wings is an air combat game that is set during World War II that has you bouncing around the South Pacific battling enemy ships, island embedded camps and dodging enemy aircraft.
The concept sounds appealing but unfortunately, Wings falls a little short on the execution. The Windows Phone game has potential but really needs a little fine-tuning before it can hit on all cylinders.
Game Layout
The main menu for Wings has options to mute the sound (lower left corner) and launch game play. The missions or levels of play with Wings are scattered across an island map.
Prior to the start of each mission you will be presented with your objectives that include what you need to destroy, what you need to protect and other assorted tasks.
Controlling your plane is simple. You use your Windows Phone tilt sensors to control your plane's elevation. On-screen controls are present to fire your planes machine gun, drop bombs, fire rockets and launch torpedoes. You also have a control to apply the planes breaks during landings. One last flight control is present that has you swiping at the screen to turn your plane around.
Across the top of the gaming screen is your level of play, a small map that highlights your enemies and a fuel gauge. One odd glitch with the game is that you will also see your fps and objs stats displayed. This should be a simple thing to fix with an update to the game and until fixed, it can be a distraction.
Game Play
Game play has you launching your combat plane from an island runway. Acceleration is automatic and all you need to concern yourself with is making sure you don't fly into a palm tree or the ocean.
The enemy objectives are not only highlighted on the thumbnail map but also with a red glow on the gaming screen. Friendly structures, boats and whatnots lack the red glow. You fly back and forth across the screen eliminating all your enemies and when done, you will need to land safely at your base landing strip.
Your ammunition is limited with the number of bombs, torpedoes, rockets and bullets faintly displayed on the weapons control buttons.
The airplanes are somewhat of a gas-guzzler and goes through petrol the way a World Cup Soccer player goes through Gatorade. While there are some missions that do not allow for re-fueling, most will allow you to land at your base to top off the tanks before you head out to complete your mission objectives.
Landing your plane is not very complicated. As your plane descends on to the landing strip, the second it makes contact with the ground tap and hold the brake button. If you are landing to re-fuel, your plane will start to take off again almost immediately after it comes to a stop. If you are landing to complete your mission, your level scoring will appear with options to advance to the next mission, return to the map or replay the current level.
Overall Impression
I really wanted to enjoy Wings and pull the trigger on the full version but the game just isn't there yet. Graphics are nice, controls are simple to pick-up on and the concept has appeal. The game just falls short with mostly graphic issues holding the game back.
While enemy targets do have that red glow, they can be hard to identify, being concealed by other graphic elements. For example, island palm trees can conceal targets making them difficult to see them, let alone the red glow.
The overlays were also difficult to read and cluttered the screen slightly. I understand you want the overlays to be faint enough to avoid detracting from the game but bold enough to read without difficulty. I think Wings would have been better served with smaller control button at the bottom of the screen and your ammo counts displayed at the top of the screen.
Then you have the graphics glitch. It may sound minor but it clutters up the screen and obstructs the map view. As far as game mechanics are concerned, you have an issue with torpedoes. Try as I may, I couldn't get the darn things to work. They acted more like bombs than torpedoes and were not very effective.
Wings does have the potential of being a fun 2D air combat game for our Windows Phones. The game has a nice selection of World War II aircrafts to pilot and the missions are challenging. Tighten up the graphics, fine-tune game play slightly and Wings will be an entertaining way to pass the time.
Wings - Windows Phone 8 and 7.x - Trial/$1.99 - Store Link
George is the Reviews Editor at Windows Central, concentrating on Windows 10 PC and Mobile apps. He's been a supporter of the platform since the days of Windows CE and uses his current Windows 10 Mobile phone daily to keep up with life and enjoy a game during down time.
Thought it was Cinemaware and got excited...sounds like a rip off of Wings Of Fury from the Amiga days

Yeah, funny no one at Microsoft cared about looking at that? Isn't it copyrighted? It should be, to be protected from ... stuff.

Damn, just about to post about the Amiga game... Played that so much around 91 I think. About 8 years ago a friend tried to get it on a PC using an emulator. Didn't look as good as I remembered.

Apple // days! The graphics were better on the Amiga, but it was a better game on the Apple //.

Reminds me of "wings of fury" Loved that game

I was thinking the exact same thing. :) WoF was an awesome game.

Well i sometimes have the sound of the guys on the ground in my head.. dont even know why

Instead of getting Raiden we continue to get dud flying games. Respect for the reproductions of F6F Hellcat, P47 Thunderbolt and the A6M3 Zero. The planes look good. Thats about it though unfortunately.

I remember getting brown wings...

Did you read the article?

Lumia 1520 WP8.0 The app does not start at all.

Same here. Tried uninstalling and reinstalling with the same result. Lumia icon WP8.1Preview

Why does it need Phone Dialer?

Many thanks for the feedback! A fix release is coming today and a major update sometime soon.

Wings has 0.9.9 update with better game buttons and other visual improvements. There seem to be high number of crashes happening (in image compression which work fine in our test phones, but apparentely not in some others) which is under investigations and will be fixed asap. Thanks for your patience.

Great game good controls if in the way a little but still loads of fun, until tilt control went nutts! Got to have screen on daft angle to fly level? Tryed reinstalling but no good miss that game and its better than WoF for tilt controls
Windows Central Newsletter
Thank you for signing up to Windows Central. You will receive a verification email shortly.
There was a problem. Please refresh the page and try again.