WMExperts Podcast Episode 63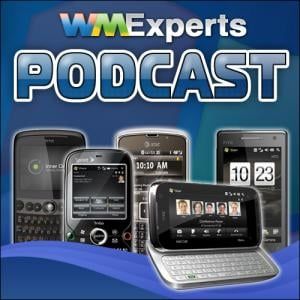 Malatesta and Phil talk just a skosh about the Touch Pro 2 (but missed the latest Sprint and AT&T news on that front — forgive us), the HTC Whitestone, Marketplace for Mobile, the Zune HD — we cover it all.
Download it directly with this link
Listen to it here with the flash player above.
Top o' the news
Verizon Diamond 2, HTC Mega and more Tachi
Hardware news
AT&T Tilt 2 see on leaked pre-launch sheet
The Verizon Touch Pro 2 ... and its 3.5mm jack ... confirmed on video!
Verizon Touch Pro 2 pics emerge
Sprint Touch Pro 2 Specs Surface
Software news
Google Voice on Windows Mobile: 'GVDialer' vs 'iDial
Microsoft news
Microsoft pokes the bear, offers dev guide for porting iPhone apps to Windows Mobile
Steve Ballmer to give keynote at CES 2010
Zune HD knocks off at least one pair of socks
Summer giveaway
We're giving away a BlueAnt S1 Sun Visor Speakerphone ... All you have to do is be registered and leave a comment by 5 p.m. EDT Wednesday.
Community
Thanks to Mitch and Paul for the e-mails, and Leonard for hiting us up on Twitter. Drop us a line. E-mail podcast@wmexperts.com. Call us at (866) 904-5882 ext. 222. Or drop us a line on Twitter. Do it!
Credits
Thanks to the WMExperts Store for sponsoring the podcast. Thanks also to these great artists for the music and to CCMixter.org for offering a great database of Creative Commons music!
Phil is the father of two beautiful girls and is the Dad behind Modern Dad. Before that he spent seven years at the helm of Android Central. Before that he spent a decade in a newsroom of a two-time Pulitzer Prize-finalist newspaper. Before that — well, we don't talk much about those days. Subscribe to the Modern Dad newsletter!
Yep, this kicks the ifone's butt really hard.

it's all Malatesta fault that they missed the latest Sprint and AT&T news on the tp2.lol

Why is there so much attention being brought to the fact that Microsoft created a guide to porting applications from the iphone to windows phones? This is not a thumb in the eye to apple or anything. You guys are reading too much into this. They're not saying, "stop developing for the iphone and just develop for windows mobile". This is simply a guide that Microsoft gave to make it a little easier to expand your install base of your application.

Haha. I haven't listened yet, I have a trip coming up to save it for, but that hardware news list made me laugh. I can't say I've ever heard of this "Touch Pro2" device, can someone tell me about it?

I agree with djohns505. Some developers are now only developing their formerly WinMo apps for the iPhone due to lack of personnel to cover all bases. There was a forum thread on SplashData not supporting SplashMoney on WM in the future because they've turned their resources to the iPhone. The guide increases the chance of bringing them back into the fold.

Yes,great.I love the article, I have the same belief with you,so let me introduce the area to you.Now vivienne westwood Jewellery become more and more popular within all kind of people. Juicy couture is a kind of juicy jewelry . It won a good reputation. Vivienne westwood often held its regular discount activities,such as vivienne westwood Jewellery ,juicy jewelry and fashion vivienne westwood jewellery earrings so on.In these activities vivienne westwood sale got great success. juicy couture consists of four main aspects, vivienne westwood necklace and vivienne westwood bracelet,vivienne westwood earrings ,vivienne westwood rings,vivienne westwood pins,vivienne westwood keyrings,vivienne westwood sale,vivienne westwood online ,vivienne westwood uk.
vivienne westwood series are worthwhile than other juicy charms coutures. They have a lot of vivienne westwood jewellery,for example vivienne westwood necklaces, vivienne westwood earrings, vivienne westwood bracelet , vivienne westwood rings ,vivienne westwood earrings and vivienne westwood sale. Vivienne jewellery is a new jewellery brand,it include all vivienne westwood keyrings ,such as vivienne westwood online , vivienne westwood necklaces, vivienne westwood jewellery ,vivienne westwood and vivienne westwood pins and vivienne westwood sale and vivienne westwood uk so on .We assure you of our best services at all time
Windows Central Newsletter
Get the best of Windows Central in in your inbox, every day!
Thank you for signing up to Windows Central. You will receive a verification email shortly.
There was a problem. Please refresh the page and try again.