Workaround to connect Hotmail email accounts in Outlook 2013 Customer Preview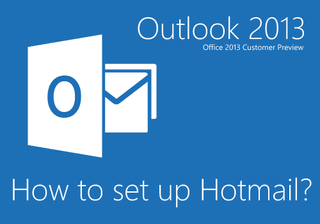 With the recent release of the Microsoft Office 2013 Customer Preview, many have been hitting a giant wall when it comes to connecting Hotmail and Gmail accounts in Outlook.
Outlook 2013 supports Exchange ActiveSync as an explicit option when creating accounts, which kisses goodbye to the pesky Outlook Connector. The problem is when Outlook can't detect Hotmail (or Gmail) accounts correctly. Should a valid address be entered into the account setup assistant and it can't configure Exchange ActiveSync, it will resort to POP and SMTP protocols. This isn't ideal.
Lucky for those who suffer from the above issue, a simple workaround is available that enables Hotmail users to enjoy the new Outlook experience...
First, pop into the Outlook settings and select "Add Account" (see above photo). Instead of walking through the auto-setup, choose "Manual setup or additional server types" and hit next. In the following screen, select "Exchange ActiveSync" as the desired service.
Next you'll have to fill in your Hotmail account credentials (see above photo). When it comes to the 'Mail Server', enter m.hotmail.com. That's it! You should now be witnessing Outlook raid your email account and download all your messages. Outlook 2013 is a new vision for emailing on a Windows PC. Gone is the cluttered interface and unimaginative structure, replaced by a design that is fit for Windows 8, as well as complimenting the Windows Phone version.
From the Metro layout to introduced features and functionality, the new Outlook really is the cherry on the ice-cream in our opinion, which rounds off the Office 2013 Customer Preview nicely. If you haven't tried out the suite as-of-yet, we'd strongly recommend doing so. Microsoft is offering 5 installs per account to test out its latest productivity suite of apps.
As for Gmail users, things aren't looking too bright for now and when attempts are made to add a Google account in Outlook 2013 via ActiveSync they all prove to be unsuccessful. While Gmail does support Exchange ActiveSync for mobile devices, it's limited to POP and IMAP with Outlook. We'll keep our eyes peeled for any progress ona workaround.
Let us know should you encounter any issues with this walkthrough and be sure to sound off in the comments if it works for you.
Source: ZDNet
Rich Edmonds is Senior Editor of PC hardware at Windows Central, covering everything related to PC components and NAS. He's been involved in technology for more than a decade and knows a thing or two about the magic inside a PC chassis. You can follow him over on Twitter at @RichEdmonds.
Can I sync from my Outlook client to my Hotmail account so I can get email and calendar on my Windows Phone bypassing my company's Active Sync ban with this version?

Same here. No problems at all setting up hotmail, gmail, or comcast accounts.

My hotmail works just fine that's interesting that so many people need a work around

I agree, I was worried I did it wrong or somethign since it worked right away without this workaround.

Same. I just used auto setup. Simply and easy.

this is getting messy...
i mean there are 3 microsoft branded mail apps in windows8 alone
there should be 1 main app that syncs with wp8

same goes for calender and contacts

The os has its own version, as did previous version win. MS includes this as not everyone will buy an office product. Its kinda like saying they should chuck notepad & wordpad because Word comes in office.

in win7 they had outlook, mail, live mail
each with diffrent yet good features... i thought in 8 they would just create 1 good app

when it comes to contacts its messery

windows 7 doesn't have mail client by default you need to use live mail or outlook

But RT W8 comes with Office, as does WP8. It is confusing and ridiculous. It's the little things that make Apple's ecosystem better. This is where MS has to step up. The People app shows groups created on my phone, Outlook does not. Mail has a live tile, Outlook does not. Outlook does lots the free apps do in one place, GREAT! It doesn't do everything though, WTF?

I'm sorry but not everyone wants to live in the Apple walled garden. I have a few Macs in the house and they are notorious for not playing nice with other devices in my setup.

That's because you do not know how to use them. I configure & install Mac's in enterprise environments, it isn't a walled garden if you know what you are doing.

Well well well. What's this now?
"That's because you don't know how to use them"
"if you know what you are doing"
For years I been taking stupid comments from Mac users telling me how stupid I am to use a PC, because you know on a Mac... It just works... :-)
Guess not huh?

Look I don't know who you think you are, but don't assume because Macs aren't perfect that I don't know what on doing. I have held hardware service certs from every vendor including Apple. Windows isn't perfect either, but you'd be a fool to say with a straight face that it isn't the more open platform.

capable of deploying, designing, building, optimizing, and operating technologies for a particular job role. mcitp mcts // mcse mcsd // mcsa mcpd

100% agreed
screw apple BTW, but your right on the money, duplicate apps, scattered featurs, lost consumer

Apple is not that great. Which document app do you use? Which spreadsheet? Which powerpoint? Or should you get a suite of apps? And by the way, they all suck compared to MS office. You want to talk about confusing? Then look at Apple's hodgepodge of "business productivity" apps.

I would definitely say it's not better on a mac... Mac is always the anti-ms, and often does everything complicated or backwards just yo avoid the ms way of doing things.

Just wanted to take a second and say thank you to the staff of Wpcentral. You guys continually post helpful articles, even on issues not specifically related to Windows Phone.

hah =/

yesterday i typed my name , email and password clicked Next and im done

Outlook worked fine for my @live account and my @edu.

The problem is that Exchange ActivSync (EAS) tracks the number of devices connected to it -- I believe the max is 10.
I'm not sure how I got to 10, but the procedure you oulined above produced the error below for me and I have no idea how to fix it.

ERROR Reads:
The are too many devices syncing with this account [my hotmail account]. To sync using Outlook, try to removing another device that is connected with this account such as a phone or another computer.
SyncStatus: 177
To re-try press F9...
Error Code: 0x80004005






Same for me... Pretty annoying :/

I've got the same problem. Removed the only one Windows Phone, but it didn't help. Using Live with own domain, tried different accounts (even the accounts, that didn't ever synced), still no luck. Reported to Microsoft, but it seems the problem is widespread. And the most amazing thing is that THEY ADDED A TASKS SUPPORT (sync) while using Hotmail.
If this bug with sync will be fixed, the new outlook goes to be an amazing thing!

I'm also facing the same issue. Please let me know if anyone happens to find out a solution.

It seems i've found some solution on on answers.microsoft.com. This problems appears if user has too much folders in his mail account. I've got >100 folders and reduced them to <50 and I don't get an sync error. Waiting now while outlook downloads my mail, but at least i don't get an error

It worked, all mail messages appeared successfully :) So go on.
There is also some information on the link above, that in a mounth microsoft will increase some folder limits and the problem will dissapear, so if you have critically many folders, you may not decrease them but wait till MS fix this problem. Sorry for my english :)

After an Outlook restarting the problem repeated. Still trying to find a way to fix it :(

I've discovered some detail about this bug: you must delete all your custom folders to get Outlook 2013 working properly.

Both my Hotmail and Gmail accounts worked fine with no additional setup needed. Weird.

Seemed pretty straight forward to me.

I was able to set up my Hotmail, Gmail and Comcast accounts without any issues. Not sure why others are having problems.

It doesn't fix things for me. It downloads my mails alright, but it starts all over again everytime I start it up. My mails date back to 2009, so it's pretty annoying. EDIT: Btw, don't try to think you could setup Office 365 on your WP with the account from the beta. It registers alright, but never stops syncing, blocking the normal live account. Bottom line: No new Mails, a frozen and thus undeletable Outlook account. Had to hard reset my phone. Could have been cool, but just isn't.

It's cool that the Hotmail Connector nad Social Connectors (Facebook and LinkedIn) are now built in and not a seperate download. Outlook 2013 works fine for my @hotmail account wihtout any workarounds. Can't see a good reason why it wouldn't for other people. No what could prevent Outlook from properly detecting the account server and type would be bad or outdated DNS records. And that could be caused by some stale caching at one's ISP or router. Or very unlikely a glitch in Microsoft's disperse infrastructure. Now as for an @example.com domain adress, as seen in the article's illustrations - If you set up your live ID with your own non-microsoft e-mail, Outlook won't be able to figure out that you want to connect to Hotmail's servers, that can't work automatically. (unless you setup proper DNS records in your vanity domain after registering it at domains.live.com, but that's like a different story).

yes that's may problem. When I brought my wp7 create my windows live ID with my google mail (so i haven't a name @ hotmail ID). Whith oulook email, email syncing is working flawlessy but i can't sync my contacs e calendar that are stored on my windows live ID. With w8 integrated app is another story. Any advice? :/ EDIT: today i tried again and it works fine!

in outlook 2013 ,i have configure my new outlook account some how i can retrieve all folder which was created in mail , but i dont receive any new mail or old mail in outlook 2013 .so please help me.

Installed Outlook 2013 and my Hotmail account from Outlook 2010 was automatically set up as an ActiveSynch account. However, unlike Outlook 2010, I cannot move emails received from non Hotmail accounts into my Hotmail folders. I get a message box saying that ActiveSynch does not support this operation.
I have been using Outlook Connector for years, and have always stored my POP3 emails in my Hotmail folders. This saved disk space, enabled me to access my email from any computer, and served as a back up in the event of a computer failure on my end. To give this up is, IMHO, enough of a deal breaker for me to quit Outlook 2013 and go back to Outlook 2010 unless there is a workaround for it (install Outlook Connector and configure my hotmail account as a POP3 account?). Of course, this would remove my ability to synch my Tasks and Hotmail Calendar to my outlook.com hotmail account from Outlook.
Sounds like there is still some work to do on this.


In addition to my previous comments, I am unable to designate a Hotmail folder as a Save To folder for a sent item. I had a "Save to" icon on my Quick Access Toolbar, and it is still present when I "pop ot" the reply. However, even though I select a target folder for the message, it is still saved in my Outlook Sent folder.
Looks like I have lost my ability to organize my work into Hotmail folders that made Outlook such a valuable tool. Maybe I will just get rid of Office 2013 and go back to Office 2010 which is already paid for in full. Maybe I will look at using Outlook.com - I believe this all of this functionality is present there.

People are experiencing problems connecting hotmail to outlook when two-step verification is enabled for connecting to "new" devices. Turn it off, use auto set-up and everything will work just fine. Other option is also using auto set-up. Fill in your account details, including the password you normally use. It WON'T connect to hotmail immediately. You will recieve an e-mail from the Microsoft-accountteam http://<account-security-noreply@account.microsoft.com>, on the account you use to recover your account credentials when you lose your password. It has a button called someting like: "Set App-password". Click on it and follow the instructions. When you have recieved an App-password, use this password in Outlook. Everything should work just fine. The reason why you need an App-password, is because the e-mailclient is set to m.hotmail.com. This implicates that you are using a mobile device. Disabling two-step verification is the easiest way though. If you enable it after you have set your outlook account it won't work anymore after restarting Outlook. Hope this helps. Bye!

I have a gmail account and yahoo account linked to my outlook 2013. When I follow the steps to add my hotmail account.. it works but also includes the emails from my yahoo and gmail accounts... any idea as to why and how I can get my hotmail inbox to only show my hotmail emails?

I do not have hotmail or live email. My problem happens when I try to send to people that have hotmail or live email. It kicks them back every time. How do I fix this? Any help will be appreciated.
Windows Central Newsletter
Get the best of Windows Central in in your inbox, every day!
Thank you for signing up to Windows Central. You will receive a verification email shortly.
There was a problem. Please refresh the page and try again.