Xbox app on Windows 10 Mobile updated with new improvements [Update]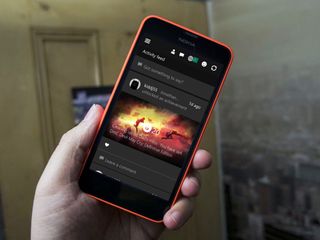 (Image credit: Windows Central)
Update: Our earlier report mentioned that Xbox One streaming was now available for Windows Phones. However, Microsoft has let Windows Central know that the changelog was for the Windows 10 desktop version. As such, game streaming is not available for Windows Phone.
The Xbox app on Windows 10 Mobile is getting a pretty hefty update today that brings some pretty cool stuff. According to the changelog, the biggest change in this update is the addition of game streaming from an Xbox One, though we haven't yet been able to get this one to work on our devices.
As noted above, we haven't yet been able to get the game streaming function to work with our devices, and this could simply be a changelog for the PC version of the app. Further complicating things is the current lack of controller support for phones. In any event, you can check the Store Beta on your Windows 10 Mobile device to start downloading the update and get in on all of these new goodies. And if you're able to get game streaming to work, let us know how your experience goes in the comments below.
Download the Xbox app from the Windows Store (opens in new tab)
Dan Thorp-Lancaster is the Editor in Chief for Windows Central. He began working with Windows Central as a news writer in 2014 and is obsessed with tech of all sorts. You can follow Dan on Twitter @DthorpL and Instagram @heyitsdtl. Got a hot tip? Send it to daniel.thorp-lancaster@futurenet.com.
Ok, calm down. I had to calm myself down. Everyone, calm down! Let's wait for the full story. Prepare jaws for dropping if true.

I'm not getting the point of streaming a game from my Xbox One to my phone, PC or tablet.

Heh. Wonder if Continuum will enabling streaming to a W10 Mobile device connected to a TV. I could see why people would do that: Family has an XBO in the living room Father is watching something on the TV Children want to play games Family doesn't have a laptop or computer Children connects phone to TV in their bedroom Children stream games to phone connected to TV in their bedroom

Point 4, if a family can afford an xbox 1 then they surely can afford a PC or laptop. They can be had for no more than £30 second hand, however it would be ancient by today's standards lol. Cue spock: "That is highly illogical."

I think it's been said that the Surface (TV thing) is not a TV. But, it's also basically a Windows PC on a TV. So you know. What the hell maybe you "can" stream it to "your" TV (assuming it's the surface "TV").

A couple of uses I can think of: 1. The XBox is being used for media consumption by someone else when you want to play a game. 2. Everybody wants to game on a separate screen in the same location. Providiing it can do this, that would be useful for FPS definitely.

Poor guy/gal playing on a touch screen. Lol.

Maybe I missunderstood something, but from my understanding the Streaming functionality works by basically turning another Windows 10 device into a screen for the Xbox One. This would mean that if someone else is using the Xbox, say for watching Netflix, you wouldn't be able to stream seperate content to another device. Which makes sense because the Xbox is doing all the "leg work" (processing and such), so it shouldn't be running 2 games simutaniously. That being said, I think it would be awesome if it could stream different players views to seperate devices, giving each player their own screen. That would be great for FPS games.

this is how it works, can't use netflix and another person playing games at the same time. It is just a mirror, MS said they are looking into that possibility, but i think that would be quite the achievement if they can pull it off.


I think they will eventually have it so u can watch tv or other media consumption while playing a game just not at launch. Reason being is the way Xbox one is setup. You have a vm running app/media and a vm running the game engine then the host the binds them together. So all they would have to do is stream the vm running the game engine and have the app/media vm be usable during streaming. More than likely it's going to come out when Xbox one updates to win 10 platform.

i dont think it works this way, if somebody is using the xbox for media and you turn streaming on to play games, you will end up causing the person using it fo media to watch you play games. Its just a mirror. the streaming allows you to play games on your PC or tablet while your spouse or siblings are watching t.v or a movie that is not using an xbox.

Take the Wii U. You can stream games to the controller while someone is watching TV either through the channel itself or another device e.g. Sky Box. It can also be useful for other scenarios e.g. Leave Xbox on at home, go out and then continue your game while you're at a WiFi spot or have a strong 4G connection. You could also take your game with you e.g. If you want to jump into bed instead of sticking to the couch, get food from the kitchen or even game in the toilet without ever leaving your game! Especially as you can turn your Xbox on/off while connected to the same network.

As you mention PC or tablet, I will give you my personal use case. My fiance wants to watch the T.V. I however want to play a game on the Xbox. We only have one television, but I do have a desktop computer so I can switch my Xbox on and stream it to my PC and play my games whilst she is watching whatever it is she watches on the telly.

It is awesome if you have Xbox One another place. You just turn on the controller, set the stream on and volla! You can game Xbox One from everywhere in your home from Windows Phone(or other)! :D

I'm Dreaming !!!!, espero que sea cierto

Will Xbox One controller support come to Windows 10 Mobile?

It better! If Win10 supports it on tablets/laptops/desktops then phone should too!

Mouse and keyboard support are at least coming... I think they will make support for the Xbox One controller too... But what I'm unsure about is that if any Windows 10 Mobile device b\will support OTG..... BTW I think you can try it with the controller connected to the console, but make sure you're in a good range with the console...

If this is actually a feature and not a confusion of change log then it'll be neat.
Streaming console quality games to your portable phone is a cool idea it makes a lot of sense.
Streaming console quality games to your full blown 4k capable PC?...not so much.

If you want to play an exclusive Xbox game, and someone else is using the TV the Xbox is connected to, pretty sure you'd still be willing to stream to the "full blown 4k PC". :)

See itd be down with that if they had treated it like a solution to this specific scenario you're bringing up, but instead they treated it like their second coming to the PC.
Which was a slap in the face.

I didn't see it like that at all. In fact, I recall them specifcally mentioning scenarios, such as having an Xbox in another room and wanting to access it on a different screen. I never caught the impression that it was a "Replacement" for PC gaming, but rather an extension of Xbox gaming. Heck, if you own a game on your Xbox, why buy it again to play on your PC, when you can just stream it from the Xbox? Maybe I'm totally backwards on this, but this was the distinct impression I got from the demos they've done.

Makes no sense, proper gaming on a touch screen is very uncomfortable. No precision, and fingers covers the screen.

There are controllers that work with your phone.

If you have an Xbox One, you have an Xbox One controller that probbably will work with your phone in the future, so that's the point.

Microsoft will release a clip for smartphone on Xbox controller and also they can provide specifications for 3rd-party accessories manufacturer gamepad casing for phones.

If you want play whe go home its a very nice feature... My causing have it in the Android /PS4 and I feel MUCH jealousy..

Please don't be a mistake!!!!!

I sure hope it was not a copy and paste job!
I have my doubts it is as they can't afford any PR hiccups during these crucial months.
But you never know with Microsoft lol....
Oh, I so hope it is only unique to windows phone as it sorely needs all the unique identifiers it can get. Edit: Damn it, just had to be a snafu.... Just when I though my week would end on a high lol....

This, and that I can stream to other networks would be just fantastic!

Hope it is a unique windows phone feature and allows for battery saving mode during gameplay

If that's true i imagine it would work similar to KinoConsole app

Seeing as this is a Universal App, I'd bet the changelog is for the Universal App, not the Phone/Mobile or Desktop "version" of the app. It's the same set of files loaded to the store by developer. Their choosing to update one client target before the other doesn't mean they are different versions.

Streaming to WP does not work, despite what the update says. They probably just kept the same patch notes at the desktop 10166 Xbox app update.

Maybe it requires a 1080p capable phone...

It doesn't require a 1080p display to do it in Windows, so I doubt it.

But it requires a 480+ screen

But the option isn't even there to do streaming. I doubt it detects the display then actually removes things to click on in the app.

My dream is getting reaaaal!

Sad trombone sound at the update. Some day.

Anyway to confirm if the streaming is now in HD? On mobile? Posted via Windows Phone Central App because my lumia is being repaired

No, change log is for Desktop OS. They are using same Xbox universal app though.

Does HBO Go work through streaming? That would be a pretty persuasive functionality to stream to a phone around the house.

Has anybody ever tried the Xbox One streaming from different networks using VPN? If it works I'd imagine it's a poor experience but still something that would be interesting to try for the hell of it

I can't update from wp 8.1 to 10.. Still blocked on 0%

No steaming here. Looks like they jumped the gun.
Windows Central Newsletter
Get the best of Windows Central in in your inbox, every day!
Thank you for signing up to Windows Central. You will receive a verification email shortly.
There was a problem. Please refresh the page and try again.