Xbox Games with Gold for May 2019 feature The Golf Club 2019 and Marooners
By Asher Madan last updated
These look like a lot of fun.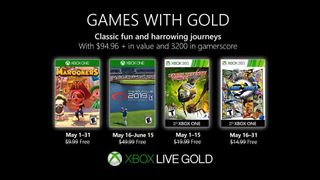 Today, Microsoft announced May's free Games with Gold for Xbox One and Xbox 360 owners. Starting on May 1, Marooners and Earth Defense Force: Insect Armageddon will be free with the subscription. Then, on May 16, The Golf Club 2019 featuring PGA Tour and Comic Jumper: The Adventures of Captain Smiley can be downloaded at no cost. You need an active Xbox Live membership to play the Xbox One games, but the Xbox 360 titles are yours to keep after you redeem them once. It doesn't matter if you're still an Xbox Live Gold subscriber.
While May's selection doesn't quite live up to what Xbox Live Gold members have received in the past couple of months, experiences like Marooners and The Golf Club 2019 are still quite a lot of fun.
Marooners
Earth Defense Force: Insect Armageddon
The Golf Club 2019 featuring PGA Tour
Comic Jumper: The Adventures of Captain Smiley
Be sure to download all four of these games next month because many of them are great. Out of all of these, we would recommend playing The Golf Club 2019 featuring PGA Tour because it's an excellent simulation.
Go Gold Today
(opens in new tab)
Xbox Live 12 Month Gold Membership
Save before the change.

Pick up Xbox Live Gold before the UK price increase, saving £10 on 12-month subscriptions. You'll gain access to online multiplayer, alongside exclusive deals and discounts on Xbox One and Xbox 360.
Xbox accessories you'll love
Every one of these quality accessories is guaranteed to enhance your Xbox experience.
PowerA Enhanced Wired Controller for Xbox One (opens in new tab) ($20 at Amazon)
PowerA's take on the Xbox One controller is an attractive pickup for budget-conscious gamers that nails all the basics.
Talon PDP Xbox media remote (opens in new tab) ($20 at Amazon)
The Talon PDP Xbox media remote is great for watching shows on your console.
Xbox One S vertical stand (opens in new tab) ($10 at Amazon)
Stand your console upright with this accessory.
Asher Madan handles gaming news for Windows Central. Before joining Windows Central in 2017, Asher worked for a number of different gaming outlets. He has a background in medical science and is passionate about all forms of entertainment, cooking, and antiquing.
Not gonna lie, awful just awful. I'm usually okay with gwg month in and out but this is the first that I will ignore completely. Doubled up with some non gamepass too. Not cool when paying 2 subscriptions for the same games.

See I think this a strong month for family-friendly games. Xbox owners span a wide demographic, and many like being able to play with their kids.

For me, GWG has been like this for quite some time. Ever since the time Game Pass came along...

Star Wars, MGS, Monster World, For Honor, Splinter Cell, SF5, VANQUISH, Dead Space?

Exactly, so many real old games.

There isn't a problem with old games though, just when it's the majority. Think of all the people that never experienced games like Dead Space that have missed a very good game. Now they get the chace without even having to spend the 5 or 10 dollar sale price. Also, we have to remember that just because these games are crappy to us, there maybe people out there that these benefit. Gaming is such a huge thing that you cant make everyone happy all the time. There is always stuff you may hate that I love, this is what makes it so great.

I think it's not just subjective. I read somewhere that this is the lowest valued lineup by MS in their evaluation. I'm talking about supposed cost of the games.
We can judge the games by date, by budget or by ratings.
The price of a game usually decreases in time. Games are the most expensive at launch.
That's what I'm judging here.
There was a time where they would offer games that were much more recent. So possibly more valuable.

Dollar amounts are atotally valid argument, and goes with what I was saying about it not being all old games. There should always be a more modern title when giving out old games. I guess this month it is the golf game that's supposed to be this? The problem is that no matter the dollar value people will always say something g is crappy because THEY aren't interested in it. That's the subjective problem.

April was exceptional, May, not so much. Especially when comparing with what PS Plus is rumoured to be getting. GWG hasn't really been anything to write home about much anyway lately.

We have the right to complain, we are PAYING for this service, we deserve better than this.

Calm down there slick. Maybe you don't remember, but $60 for Xbox live gold annual used to be just that. No real other perks... At least now this is an added perk as of 6 or so years ago (with Xbox one coming out) to help cater to EVERYONE'S tastes in games! I like it because my son can get some freebies that are relevant to him and then same for me too

Paying 60 bucks to play online was already bs. It's hilarious how MS tried to make PC gamers pay to play online and they told them to **** off. It's also hilarious how non-XB1 owners don't need to pay to use XB live service but XB1 owners the one who invested in MS's hardware are the only one who have to pay. MS never communicate on where the money is actually going. How much of it is going into actual maintenance of the network and how much is going into the pockets of investors?
This is NOW part of the service. And customers always have the right to criticise a company.
Only company "fans" will side that company over fellow paying customers.

No company will actually tell you exactly where the money you give them is going, to be honest, unless you're a shareholder it is literally none of your business. If a person doesn't like it, they can choose not to pay. It's not like you get told exactly what the profits from any other purchase is used for so why would this be any different.

The thing though is that Sony communicates their profit. We can analyse their numbers.
And their numbers exploded and they started getting massive profit from PSN. And that was comparing to the PS3 era where there was 80m PS3 users. The only thing that really changed was that Sony was telling their gamers to pay to play online.
From estimation numbers we could say that MS are making more than $1 billion per year and even more during the 360 era. At the time they used to not "give" free games so the revenue was even more... They will obviously not communicate on this because they are making massive amount of money through this.
What are people actually paying for?
Well, people have the right to ask. When at the start of the generation MS promised that all games would have dedicated servers and at the end it was just bs, we can ask ourselves the question. With the upcoming consoles, I think gamers got to look at the situation and think. Is it worth investing on a new "gen XB" when you can get exactly the same thing if not more on a Win10 PC without the need to pay to play online?
That's the question here. I wish gaming journalists would investigate on the question. For me, this is one of the greatest scam in video games.
Windows Central Newsletter
Get the best of Windows Central in in your inbox, every day!
Thank you for signing up to Windows Central. You will receive a verification email shortly.
There was a problem. Please refresh the page and try again.