Xbox LIVE gets an upgrade; smarter matching and more achievements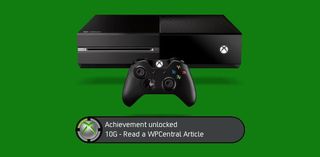 Xbox LIVE has been pushing online multiplayer gaming forward since its launch in November 2002. Microsoft's online service recently hit 46 million members and isn't stopping any time soon. With the launch of Xbox One later this year, a collection of new features will be added to the service including smarter matching, a new reputation system, and a new style of Xbox achievements.
Asynchronous matching, also known as "Smart Match", is a new service that allows game developers to completely change the way games search for and match players. If you are playing the latest release in the Call of Duty franchise and want to jump into a quick match, the server might put you into a game without DLC content – thus more players and a shorter wait time. Maybe you do want to play your favorite new map on launch day and don't mind waiting 10 minutes; with Xbox One, the server can search for a match while you switch to a different task (such as watching television) and then alert you.
Want to skip match screens altogether? Remember beacons from Xbox 360 – they are getting an intense upgrade. With Xbox One, simply activate your beacon and the service will automatically began to search for players. No more waiting in line for a game to start.
Developers can also now take advantage of matching by very specific skill types or social factors. The new Smart Match system on Xbox One means one thing, shorter wait times and more play time.
The folks on the Xbox team have also decided to redesign the current reputation system. Xbox LIVE gamers aren't exactly known for their "polite chatter", so any upgrade to the system can't hurt.
The new system not only allows you to report players, but also provide feedback to Microsoft's Xbox LIVE service. Your feedback to the new system isn't' the only factor that will be incorporated; if you mute or block a player the service will take note.
The reputation service grades online social reputation on a scale of green (positive) to red (negative). Simply look at a player's gamer card to see their reputation score. Michael Dunn, Sr. Global Product marketing manager for Xbox LIVE, compared the new service to driving and insurance rates:
If the Smart Match service notices that a player's reputation is extremely low, it will only pair them with players of their same tier. In essence, if you play like an ass – you will be paired with those similar.
Finally, Xbox LIVE is introducing a new type of achievement to the family. There will now be both regular achievements and time based challenges. The new challenges will have to be unlocked during an eligible time window – if you don't get the challenge in time, game over.
Both achievements and challenges will allow gamers to unlock rewards, display their valor, and be associated with a saved game DVR capture (new to Xbox One).
Challenges will not give out gamer score though. Cierra McDonald, Program Manager for the Xbox LIVE achievement service, stated the decision was a fair one:
One of the most exciting aspects of the newly redesigned achievement system is that it is now cloud based. Developers can now add new achievements to games after they are initially released.
Cierra also stated that a new achievement activity feed will be available on the Xbox One dashboard so you can easily keep up with what your friends are doing.
I am personally excited about all the new changes coming to Xbox LIVE and can't wait to see you guys online! Viva la gamer!
What do you think about the new updates – will they improve the overall multiplayer experience?
Source: Major Nelson's Blog [1,2]; Thanks, Martin, for the tip!
Get the Windows Central Newsletter
All the latest news, reviews, and guides for Windows and Xbox diehards.