Xbox Live - Pool Pro Online 3 exclusive preview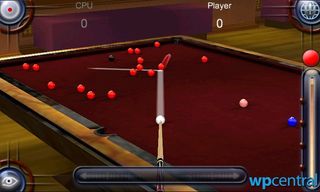 Namco Bandai may be best known for their Pac-Man and Katamari Damacy titles on Windows Phone, but the publisher does dip into other genres from time to time. Case in point, their next game centers on the sport of pool. Pool Pro Online 3 comes to Xbox Live very soon, and Windows Phone Central has exclusive first screenshots to prove it.
Head past the break for our full preview and more screens!
Gameplay
Pool Pro Online 3 will be the first pool title in the mobile Live lineup, though the title of first downloadable Live pool game actually belongs to Bankshot Billiards 2 from the Xbox 360 launch. Yes, I just love showing off my trivia knowledge. Anyhow, Namco's latest mobile offering looks to be an authentic recreation of the actual game. After selecting from either an overhead or player level camera-view, you'll swipe across the screen to line up a shot. A white line indicates your aim, and whatever ball will be hit glows as well. A fine-tuning meter at the bottom of the screen allows for more precise aiming. Once you have everything lined up, pull down on the pool stick at the right side of the screen to launch the shot!
Game types include 8-ball, 9-ball, and snooker. Single-player mode offers four difficulty levels, so even beginner players should be able to pick up the game. The object (when playing by yourself) is to win as much 'scratch' (money) as possible, with several factors like shot streaks affecting the final payout. Winnings can then be spent on a variety of table felts, cue sticks, and pool halls in the game's shop.
Multiplayer
As the game's title indicates, Pool Pro Online 3 also features an online multiplayer mode – a first for Namco Bandai on Windows Phone, as Pac-Man Kart Rally simply included local Wi-Fi multiplayer rather than true online. We don't have full details on how this game's online connectivity actually works, but presumably it's asynchronous a la Battleship and Chickens Can't Fly. As for the actual multiplayer gameplay, it works much like single-player except players actually bet scratch against each other, greatly increasing the stakes of the game.
Achievements
The Xbox Live version of Pool Pro Online 3 includes several multiplayer Achievements (as discovered by our friend Zebrasqual), such as completing 20 online games and winning at least 80% of your online games played. Pool novices like me may be tempted to simply boost the latter Achievement, as it could be quite difficult for the under-skilled to win legitimately. There are several more challenging Achievements that don't necessarily involve multiplayer, such as earning a score of 147 or higher in snooker. Don't expect to get the full 200 GamerScore without a lot of time and practice!
Coming… soon?
The only things up in the air about Pool Pro Online 3 are its release date and price. Cryptically, we were told it would release on Thursday, July 5 for $.99. However, a mobile Live title has never released on a Thursday before, so that could be a mistake. Also, the game costs $2.99 on iOS and Android, so it seems likely the Windows Phone version will cost the same (especially given its online mode). We'll keep an eye out this Thursday, but don't be surprised if Pool Pro Online 3 actually releases later this month on a Wednesday.
Psst! The next Namco Bandai title after this will be Galaga Legions DX. We'll have more details soon.
Update: Pool Pro Online 3 is coming on August 1 for $2.99.
Windows Central Newsletter
Get the best of Windows Central in your inbox, every day!
Paul Acevedo is the Games Editor at Windows Central. A lifelong gamer, he has written about videogames for over 15 years and reviewed over 350 games for our site. Follow him on Twitter @PaulRAcevedo. Don't hate. Appreciate!
It would be nice to go back to a "2 games a week" schedule, I haven't found anything interesting since Geodefense Swarm. I've been waiting for a XBL pool game for a while, just hope it's done well and has a choice of controls.

I agree. 2 games every other week would be nice. :D. Looking forward to pool. Will buy at .99 in a heartbeat

Premim Pool is actually quite good albeit non-3D. And it's free.

I want sonic cd and sonic 4 ep2 *-*

Me too. Where the heck are they??

Its called Pool Pro Online 3 dispite the fact he is playing Snooker.

It has 3 types of pool games, not just snooker. Read ze article.

I hope it's as playable as International Snooker, a game that hasn't been updated for Mango but is still, by far, the best billiards game on WP

I have this game on my Galaxy Tab 10.1 and its my favorite game. Controls are superb.

2 games a week would be a nice pace.

I appreciate the Achievements in WP Xbox Live games, but some games should be able to offer more than 200 gamerscore. I understand it's a mobile game, but games like Final Fantasy and Super Monkey Ball 2 are long and tedious. SMB2 you will only achieve 5G for finishing each world.

XBLA games are also worth 200. Pretty ridiculous complaint.

They have switched to 400. Where have you been?

Sorry but one of the reasons xbla games went to 400 on xbox was due to the phone games being cheaper and giving the same score plus 90% of the games do not have the scope that xbla games do.

So they are set for the pricing of 6.99 and below is 200 gamerscore (with additonally dlc up to 300 or 350 not sure yet as no rule was ever set for the phone)
10-20 dollar xbla games are 400 gs (with additonally dlc up to 800)
and Retail games or God games being 1000 and up to 2000 with dlc
I assume with w8 tablets they will fall under the 200 gs rule as well