Xbox Live:TextTwist 2 arrives on the Marketplace with a bag full of letters and noble intentions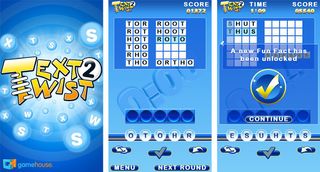 After a few hours delay, it's here! The 100th Xbox Live release for Windows Phone, TextTwist 2 from GameHouse, is now on the Marketplace.
TextTwist 2 is a word-finding game that plays a lot like Boggle. The game presents a random assortment of letters which players then use to create as many words as possible. A dictionary with tens of thousands of words means just about any word you can think of should be accepted (no naughty ones though). Multiple game modes include Unlimited (no time limit), Standard (timed), Daily Word (try to find the longest word possible once daily), Lightning (find preselected words under a strict time limit), and Letter Mania (fill an anagram grid before time runs out).
So far, Text Twist 2 seems to be just as good as anticipated. Making selections on the main menu is a bit wonky as you have to highlight a selection before picking it - not sure why they didn't just use words with large hitboxes like practically every other mobile game. But selecting and deselecting letters in-game is completely painless, and that's what counts. The Achievements pop pretty quickly, too. We can always rely on GameHouse for easy GamerScore - except for Doodle Jump.
TextTwist 2 costs $2.99 and there is a free trial. Scoop it up here on the Marketplace.
Oh, and WPCentral will have a new Game House-related announcement soon!
Paul Acevedo is the Games Editor at Windows Central. A lifelong gamer, he has written about videogames for over 15 years and reviewed over 350 games for our site. Follow him on Twitter @PaulRAcevedo. Don't hate. Appreciate!
Has anyone achieved the no hints in a lightning round. I think it's glitches.

same for me. another bloody broken game!! argh!!!

GameHouse usually patches their games after release, so it could be worse.

that's not the issue though, it shouldn't need the patch in the first place! lol

Yeah, but the devs can't properly test Achievements before a game releases, so it's really a Microsoft issue. Definitely annoying, but par for the course with WP7 games.

Where can I sign up to be a tester for all the games??? Seriously its really starting to get tiring with every week a new game comes out that is broken...

Where can I sign up to be a tester for all the games??? Seriously its really starting to get tiring with every week a new game comes out that is broken...

i really have to stop buying almost every new game...
turns out i'm really not got at word puzzles. 8(
i even tried changing my phone to german but that didnt help either ;)

no text twist skills here at all 8D


Make sure you set the maximum leter limit to 5 instead of the default 7. It helps. Also it's extremely easy to cheat by using a Scrabble helper website, but that takes the fun out of it.
Windows Central Newsletter
Get the best of Windows Central in in your inbox, every day!
Thank you for signing up to Windows Central. You will receive a verification email shortly.
There was a problem. Please refresh the page and try again.