Xbox One 1404 beta update starts rolling out with fresh controller firmware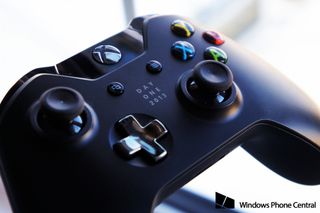 The Xbox One we had heard about last month is apparently rolling out to select beta testers with some additional improvements. The big addition here is new controller firmware which stabilizes disconnection issues and improves headset audio quality. There's also a new online friends notification animation that looks a little like this.
Here's the full feature list according to the source. Have any of you guys got the update yet?
A new 1404 system update starting to deploy tonight! We have started to deploy the latest 1404 update (xb_rel_1404.140331-2200). Consoles that are in standby mode will be able to install the update starting at 7:30PM PDT on 4/2. Consoles that have not received the update in standby mode by 1:00AM PDT on 4/4 will be prompted to install the update when they connect to Xbox Live. The following changes are contained within this build:
Ongoing fixes and adjustments to the user interface. Additional fixes to address audio crackling sound encountered when Dolby Digital is enabled. Fixes for Blu-ray software issues that can result in 0x21 or 0x87de07d1 errors.
Update to address an issue where ejecting a Blu-ray disc after the drive is idle can result in the disc being pulled back in, requiring a second eject command.
Fix to address Kinect not responding to "yes" or "no" after issuing the "Xbox, turn off" command. Updates to reduce or eliminate Blu-ray drive "seeking" sounds after drive is idle (experienced in the 1403 update.)
NEW CONTROLLER FIRMWARE UPDATE
Update to help address controller disconnect issues.
Update to help address headset adapter audio quality.
Fix for LiveTV audio outputting in stereo instead of surround sound.
Update for the Blu-ray player to fix an issue where it can freeze if left idle or paused for an extended period of time.
Update to fix an issue where fast forwarding or rewinding an external video source results in screen freezing when surround sound is enabled.
Fix for video playback stuttering while audio plays back normally in several apps (Netflix, Amazon Instant Video, etc.)
Features Enabled
Game save progress bar will now display when syncing cloud game saves.
50Hz Blu-ray player support for content recorded at 50Hz.
Improved GameDVR video quality.
Online friends notification, including the ability to filter notifications to all friends, favorites only, or disable friends online notifications altogether.
NEW FEATURE Requested by the update preview community: Manually install available updates. If a new system update is detected as available, a button will appear under Settings, System that will display "Apply Available System Update." Note: this feature is being enabled after this current update completes installation. This feature will be available to preview when the next update is made available.
NEW FEATURE A new ability to automatically redeem a license code from console messages. For future console messages that include a 5x5 license code, a new option will appear to allow you to automatically redeem the license, versus having to copy and paste the license code.
Known Issues Some preview participants may encounter an issue where the Blu-ray drive will not ingest a disc after the console has been idle for a period of time. The disc will need to be removed and re-inserted for the disc to be ingested. A fix for this issue is currently being tested.
Some preview participants may encounter an issue where some non-Blu-ray disc media types are pulled back into the Blu-ray disc drive after being ejected, requiring a second eject command. A fix for this issue is currently being tested.
In this version of the 1404 update, the startup process of a console doing a cold boot up (systems that are configured for power saving mode, versus instant on) will encounter a delay of approximately 30 seconds, during which a solid black screen is displayed. This issue is not present for consoles powering up from a standby state. A fix for this issue is currently being tested. During silent update installation some devices controlled by the Xbox One via IR (TVs, receivers) may power up in the middle of the update process and not power back down. The developers are investigating this issue.
Source: Reddit
LOL - I see what you did there. :)

Question: when you attach headset to controller does it bypass TV audio if you want? Like Roku headset....sometimes when kids are sleeping u need this....i have xbox360 but doesn't do that...

Go put this on Xbox feedback website so they know...

It was a question to one owner.

I don't think it automatically mutes the tv sound if that's what you are asking. I turn the tv down completely when I use my headphones anyway.

So if you are watching Netflix, does audio comes thru d headset?

Yes, you will still need to mute the tv or any sound system it is currently hooked up to. All all audio is transmitted to the controller now through the use of the headset adapter

It's been a while since I have used a headset but when I remember it was only for voice. I don't know if there is an option to enable the regular sound to go there.

With the One you can do both now, with the added Headset Adapter for the controller. It only transmits in stereo sound now though

Very cool. I didn't know it worked that way. Will come in quite handy. Thanks

I have the problem with discs being ingested and have to eject and reinsert. That is the only problem I have with this beta/preview. Will need to update when I get home today now.

I had the same issue and so far the new update seems to have solved it for me.

Don't get off work until 3 so will be doing this later. Hopefully nothing else bugs out.

Nice! Now we need external USB hard drives support.

soon™, a Microsoft service

The firmware update to the controller made a huge difference for me in sound quality...even seems to have more pronounced bass using the Xbox stereo headphones now.

How do u get the beta...?

You were randomly selected through a preview program. Xbox rolled out on the One. You can also be invited by a current preview member. PM me with your GT and I'll put down on the invite list.

Can you put me on the invite list too if I send you my GT?

I would like an invite too.
Lord Rican is my gamertag.
Anyone feel free to add me to friends.

Same, could I get an invite? Critical Cool

I would really like an invite as well. I have sent you my gamertag. Thank you very much.

Will you invite me to the beta program? Posted via the WPC App for Android!

My wifi sometimes doesn't work after boot up. I then have to detach the power cable and restart. Is this a known issue?

Do you have an Asus router? If you do there is new firmware that addresses Xbox wireless disconnects- it was a known problem.

Not with the One, but as dby2011 stated some routers like the Asus have addresses this issue. If you don't have an Asus router, and have to completely power off the Xbone to get WiFi back online. I would head over to the preview forums and report that issue.

Very glad to see a fix for the audio crackling sounds with Dolby digital. This audio issue just about made me rip my Xbox out of my media cabinet multiple times and throw the piece of junk out the window! I feel like a constant beta tester for this system-- it really is a crappy system that is slowly getting better. At least the tv app works consistently now!

It seems like they removed the option to separately balance the volume between snapped apps and the main app.. It never worked properly in the preview but I was hoping it would work once the full update comes out.. At least it's good to know they're working on this feature

Yes, this feature needs to come soon

We need auto sign in without kinect!!!!

If you are part of the preview program suggest it! I'd love to see this feature added personally! If your not, I'll suggest it for you!

Lol yes please suggest it!

Can you suggest they add in media playback from other devices, eg USB and other machines on the network.

Use the Kinect like you're supposed to

A little off subject. Has anyone did a exchange? Both of my Xbox One's are broke. On one the disc drive acts up. The other one just died. It want power up. No lights nothing. My question is.
Microsoft said if I pay them $500 They'll ship me a new one and refund me when the old one is returned. Has anymore done this? Does it come in a official Xbox box with matching serial numbers or is it a brown box special? The Xbox live rep didn't know.
Thanks

I'd suggest taking it in to the nearest Microsoft store, it will cut down on the time it takes for you get the Xbone back. You may also not need to even pay then a dime. If you don't have one near you at all, I know they do ship you a brand new Xbone, it may not arrive in an official Xbox One box, but it will be not be a refurb, the serial number will mostly be different. I have personally never had to do this with the One, but from reading posts on reddit from users who have I kinda get the idea how it works.

The advanced exchange system is nit cheap, and it is basically them lending you a box, while yours is shipped. When they return one to you, it is unlikely to be a new one in a box, mine wasn't. It was a refurb, and was badly scratched. However, it runs very well, so I didn't want to send it back in.

I did this with an Surface Pro. They put a pending charge on my credit card, mailed me out a new one. The new one was in a brand new box like you would get from the store, this was when they 1st came out so no way they could send me a refurbish one. I put my old one in the box the new one shipped with the pre paid label. With Xbox being out for a while, you may get a refurbish one in a brown box or a brand new one. The serial number will not match your old one.

Sorry couldn't open the forums..i am migrating from lumia620 to android ...any advice which phone should i choose..ps iam student so should be in the range of tht..:)

I have a Moto X its pretty great if you can get it for cheap Posted via the WPC App for Android!

My advice is to not get an Android, ESPECIALLY if you're on a budget. Low budget Android phones are awful. Low budget Windows Phones run much smoother and won't make you look like a naive lemming.

Yeah i know...how abt iphone4s .or nexus 4?

If you have a student .edu email address, you get $60 discount off the Moto X. It's a great deal and a great phone!

Does the firmware update happen on the controller itself? If so, can I apply the update without an Xbox ?

No, you must update the controller with the Xbox One. Go into settings, system, and the. Update controller. I am sure in the future once PC drivers are released for the One Controller you will be able to update via the PC but you cannot update without connecting it to something using a micro USB cable.

I don't have an X1 at the moment, I'll have to borrow my friends or hope the PC drivers have firmware updating.

It'd be cool if I could hit the disc ejection button and have the disc pop out but not turn the system on. Also, I'd like for it to make a sound after I say "Xbox on" to confirm that it heard me.

These features have been requested in the preview forums hopefully they add them!

Also, one guide now works in Canada

Engadget's article about this news is so laughable. Ohh, the horror. We have to plug in our controller. That's so much effort. Lazy bastards.

I stopped reading engadget years ago. They are the fox news of tech journalism.

Can someone please suggest a fix for the Xbox On feature. It used to work when i had it in my bedroom. Now I moved it over to a pretty empty living room and it doesnt work. I tried the Kinect doesnt hear me to recalibrate. Every other voice command works fine except the Xbox On.

With it being empty does it echo? It might be getting confused.

Yea unfortunately it does echo. So that may be the problem...

Good to hear updates are rolling out. I just got some turtle beach XO4s and do notice a hint of crackling in the background.

I've got the xo4s as well its a known issue, hopefully this update fixes it Posted via the WPC App for Android!

I picked up the Polk Audio 4Shot headset and they are pretty darn good. Fit great, super sound isolation, and clear audio. I haven't noticed any popping or crackling.

Good I'm on the preview...

Can someone please send me a invite to the beta?

PM your gamertag and I'll try to add you. I'm really enjoying playing with the new smartglass apps for Win 8 and WP8. Lots of new features.

Can you please send me an invite also

Just went to forums to add you. The latest post from MS says "Invites are coming soon..... very soon..... really soon" So I'll add you to the list soon as its up.

Sent you a PM with my gamertag...thanks

When can I start developing apps for this platform?

They should also add a veiw counter to the upload studio videos

I have tested the firware today and the controller disconecting issue it's worse than the last firmware

As part of the preview, or full rollout? I think the article mentions issues for those in the preview.

Preview, the article say the update should fix the controller disconnecting issue Update to help address controller disconnect issues I had the issue till day one, last week, I just played 4 hours but kust one disconnect, to day in 3 hours it happen 5/6. not a big issue but quite annoing and it's common issue

Why post beta updates on a phone site?

If anyone would be so kind to invite me to beta - Gamertag is Mike3urns

Awesome. I couldn't figure out what this update was.

Damn i wish I could get an invite...but apparently Microsoft hasn't opened invites yet. I am in Canada and want the one guide for live tv

Just got my 1st friends is online notification and It put a smirk on my face

Will you invite me to the preview program?

If anyone could invite me to the beta program that would be very appreciated gt: ma1iciousintent Posted via the WPC App for Android!

Since joining the bata for xbox one I haven't been able to talk to my friends is this normal
Windows Central Newsletter
Get the best of Windows Central in in your inbox, every day!
Thank you for signing up to Windows Central. You will receive a verification email shortly.
There was a problem. Please refresh the page and try again.