Xbox One 1404 beta update starts rolling out with fresh controller firmware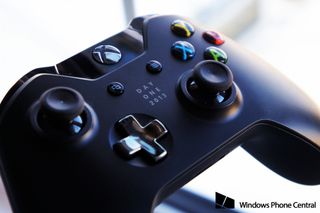 The Xbox One we had heard about last month is apparently rolling out to select beta testers with some additional improvements. The big addition here is new controller firmware which stabilizes disconnection issues and improves headset audio quality. There's also a new online friends notification animation that looks a little like this.
Here's the full feature list according to the source. Have any of you guys got the update yet?
A new 1404 system update starting to deploy tonight! We have started to deploy the latest 1404 update (xb_rel_1404.140331-2200). Consoles that are in standby mode will be able to install the update starting at 7:30PM PDT on 4/2. Consoles that have not received the update in standby mode by 1:00AM PDT on 4/4 will be prompted to install the update when they connect to Xbox Live. The following changes are contained within this build:
Ongoing fixes and adjustments to the user interface. Additional fixes to address audio crackling sound encountered when Dolby Digital is enabled. Fixes for Blu-ray software issues that can result in 0x21 or 0x87de07d1 errors.
Update to address an issue where ejecting a Blu-ray disc after the drive is idle can result in the disc being pulled back in, requiring a second eject command.
Fix to address Kinect not responding to "yes" or "no" after issuing the "Xbox, turn off" command. Updates to reduce or eliminate Blu-ray drive "seeking" sounds after drive is idle (experienced in the 1403 update.)
NEW CONTROLLER FIRMWARE UPDATE
Update to help address controller disconnect issues.
Update to help address headset adapter audio quality.
Fix for LiveTV audio outputting in stereo instead of surround sound.
Update for the Blu-ray player to fix an issue where it can freeze if left idle or paused for an extended period of time.
Update to fix an issue where fast forwarding or rewinding an external video source results in screen freezing when surround sound is enabled.
Fix for video playback stuttering while audio plays back normally in several apps (Netflix, Amazon Instant Video, etc.)
Features Enabled
Game save progress bar will now display when syncing cloud game saves.
50Hz Blu-ray player support for content recorded at 50Hz.
Improved GameDVR video quality.
Online friends notification, including the ability to filter notifications to all friends, favorites only, or disable friends online notifications altogether.
NEW FEATURE Requested by the update preview community: Manually install available updates. If a new system update is detected as available, a button will appear under Settings, System that will display "Apply Available System Update." Note: this feature is being enabled after this current update completes installation. This feature will be available to preview when the next update is made available.
NEW FEATURE A new ability to automatically redeem a license code from console messages. For future console messages that include a 5x5 license code, a new option will appear to allow you to automatically redeem the license, versus having to copy and paste the license code.
Known Issues Some preview participants may encounter an issue where the Blu-ray drive will not ingest a disc after the console has been idle for a period of time. The disc will need to be removed and re-inserted for the disc to be ingested. A fix for this issue is currently being tested.
Some preview participants may encounter an issue where some non-Blu-ray disc media types are pulled back into the Blu-ray disc drive after being ejected, requiring a second eject command. A fix for this issue is currently being tested.
In this version of the 1404 update, the startup process of a console doing a cold boot up (systems that are configured for power saving mode, versus instant on) will encounter a delay of approximately 30 seconds, during which a solid black screen is displayed. This issue is not present for consoles powering up from a standby state. A fix for this issue is currently being tested. During silent update installation some devices controlled by the Xbox One via IR (TVs, receivers) may power up in the middle of the update process and not power back down. The developers are investigating this issue.
Source: Reddit
Get the Windows Central Newsletter
All the latest news, reviews, and guides for Windows and Xbox diehards.