Xbox One owners outside of the Preview should see a new console update soon
A new Xbox One update is coming, bringing changes in from the Xbox One Preview.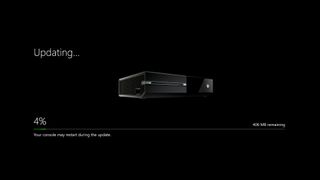 The biggest features of this update include the ability to modify the behavior of the Xbox One console's start-up chime, an avalanche of fixes for Universal Windows Platform apps running on the console, and miscellaneous improvements to various aspects of the Xbox One experience.
The new version should bring your OS version to 10.0.14393.1040, updating from 10.0.14393.1027. It should appear on your console some time today.
How to check if the update is available
Go to your system settings by double-tapping the Xbox button on your controller to open the Guide menu.
Navigate down to the Settings section depicted by a cogwheel.
Select All Settings.
Go to System.
Select Console info & updates.
If an update is available, it will display on this screen.
If you're in the Xbox One Preview, you should already have the latest build.
Full patch details
OS version: 10.0.14393.1040 (rs1_xbox_rel_1608.160816-1851) fre
Release date: 8/19/2016
NEW OR UPDATED FEATURES
Startup Chime
You can now modify, turn on, or turn off the startup chime! You'll find three new options in Settings > Power & startup > Power mode & startup.
On (startup chime plays anytime the console is powered on).
Only with power button or voice (startup chime plays when console is powered on via the power button or voice; does not play when powered on with the controller).
Off (startup chime never plays).
PERFORMANCE AND GENERAL IMPROVEMENTS
Xbox Universal Store
This build contains multiple fixes to address crashes in the Store.
Fixed an issue which required users to click twice on the buy button.
Fixed an issue which could sometimes cause time based trials to display incorrect time remaining.
Fixed an issue which could sometimes cause a "Try again later" error to appear when newly purchased content is downloading.
Resolved an issue which could cause errors when attempting to purchase or play Movies and TV content.
Sign-In
Resolved an issue that was preventing some users from being able to sign in.
Xbox Guide
Speed and performance improvements.
Game DVR
You should now receive a "storage is full" notification when attempting to upload a capture to Xbox Live if storage is full.
Controller
Resolved an issue which could cause certain games to fail to recognize the controller upon launch.
My Games & Apps
Resolved issues which could cause certain apps to fail to install.
Resolved an issue which could sometimes cause a black screen to appear when attempting to use the Weather App.
Resolved issues which could sometimes cause Groove Music to crash.
Localization
Resolved an issue which could sometimes cause the titles of universal apps (Movies & TV) to not appear in the console's selected language.
Miscellaneous
General stability improvements for games.
What's next?
The Xbox One Preview has indeed become more Windows Insider-like in its approach to development. We see builds hit Preview more frequently than we have previously, fixing minor problems while responding to the continuous stream of feedback the Xbox team receives via the Preview Dashboard app.
There are perhaps still a few minor issues with the Xbox One Summer Update, but for the most part, Microsoft is likely looking ahead to the next big update which will bring Looking For Group, Arena, and Clubs to the console.
See the links below for more information on where the Xbox One is heading in the near future, and as always, stay tuned to Windows Central for all the latest Xbox One news and info!
Want more?
Windows Central Newsletter
Get the best of Windows Central in in your inbox, every day!
Jez Corden a Managing Editor at Windows Central, focusing primarily on all things Xbox and gaming. Jez is known for breaking exclusive news and analysis as relates to the Microsoft ecosystem while being powered by caffeine. Follow on Twitter @JezCorden and listen to his Xbox Two podcast, all about, you guessed it, Xbox!
When is the update for the are as due? Is it September or more of a vague "fall" date

They're targeting Fall for the social features update, so expect it to hit preview before then.

Usually November. Around the anniversary of the Xbox ones release.

Hmm, don't be so sure about November... :)

Really? That would be really weird. Do you think it would be happening sooner?

I think so. I saw it running at E3 back in June and it seemed pretty much ready to go already. Check the link at the bottom of the article for more info. :)

Anyone else having problems with the blu ray player since the last update?

I've been having issues with my drive for a long time. A lot of people seem to be. There's no rhyme or reason as to what discs it will and won't read. Pisses me off too because Red Dead Redemtion is one of the ones it won't read.

I installed a Game add on thinking it was a game. Now I see no way to uninstall it. My guess is I would have to buy the full game and then I'll be able to uninstall the add on but that shouldn't be so.

I think its BattleField Hardend Edition. It should atleast let me know it's an add on or make it more Clear and not the full Game. My personal opinion is if you don't have the full game installed it shouldn't let install the add on.

You can see and uninstall add-ons for games that are not installed by going to Settings > System > Storage > Manage leftover add-ons


Thanks now I can get my 3GB back.

I've been having problems with having to completely shut down the console, boot it back and re-pair the controller just to get the controller working since November. Hopefully this update fixes it.

That's very odd, I'll look into that issue for ye.

I think if this update doesn't fix it, I'll ask the local Microsoft store for help. If it helps any, the console has been factory reset twice since that update, and its effected three different controllers: the stock controller, the Forza edition and the Elite controller. All on up to date firmware.

I have a similar problem almost everytime I turn on the Xbox. Just not as severe. All I have to do is take my batteries out of the controller and put the same ones back in and it pairs after turning on the controller again. Very strange. Posted via the Windows Central App for Symbian

Now it's time for the Win 95 start sound!

Yes haha Posted via the Windows Central App for Android (LG V10 or Nexus 5x)

Do you have an option to change the actual chime sound? Because I don't

awesome :) lot of stability improvements

With these more constant updates Im still hoping they fix the Blu-Ray player incapability of performing basic things like reading BD-R discs before the PS4K is released. That's pretty much my deadline when it comes to the future of the Xbox as my go to console. Posted via the Windows Central App for Android

*I've been in the preview program for a year*
Does anyone know if it will kick me out of it when I factory reset my console.
(Not removing myself from preview, just going to settings then factory resetting)

No. Was having some problems with mine day one console and reset it like 3 times. Traded it in for the "S" and i'm still in the preview. After a reset you may need to redownload the preview app.

I just got another XB1,Easier

Decent additions, isn't Mircast ready for primetime yet? That has been in the preview programme for awhile now....

The xbox 360 section of the store is still unstable and prone to crashing kicking you back to the home screen, just saw it happen again. They at least fixed the controller disconnect problem and the store is a little more responsive now, though really it still needs significant optimization, I have very good hearing and can hear hdd in the xbox working hard when loading the store.

No mention of voice commands in UWP apps. What jerks.

I think it's the first time _I_ saw a versioning number like the rest of Windows 10 SKUs. Yay for one like me, which keeps track of every release of Win10 - Consistency :)
Windows Central Newsletter
Thank you for signing up to Windows Central. You will receive a verification email shortly.
There was a problem. Please refresh the page and try again.