First look at Xbox One S All-Digital box art; May 7, 2019, launch planned
Following up on our previous reveal of the Xbox One S All-Digital console, we now have a bit more information, as well as the box art and tentative release date.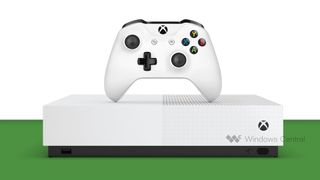 Recently, we received product photographs of the upcoming Xbox "Maverick" disc-less console's box, which will be called Xbox One S All-Digital edition, in addition to a bit of additional context on how Microsoft plans to position the device.
Update April 13, 2019: It looks like we now also have the price point of the disc-less All-Digital Edition.
Initially revealed by Brad Sams at Thurrott.com, "Maverick" is the codename of an upcoming Xbox One S model that has no disc drive. Instead, this console will be entirely digital. Recently, we revealed that it will have a mid-April debut, likely at Inside Xbox, with an early-mid May launch window. Additional documents we received indicate that this launch date could be May 7, 2019, with all existing Xbox markets targeted in a global simultaneous release.
What we know about Xbox One S All-Digital
The design of the Xbox One S All-Digital appears to be virtually identical to the current Xbox One S, without the disc drive and eject button. The product shots we received seem to indicate that it will come with a 1TB HDD and with Forza Horizon 3, Sea of Thieves, and Minecraft digital codes bundled into the box. It doesn't look as though it will be bundled with Microsoft's Netflix-like subscription service for games, Xbox Game Pass. Alongside this Xbox One S, we've heard Microsoft is working on a Fortnite Edition purple Xbox One S as well, but we're unsure if that will be a discless SKU or not at this time.
Our information suggests that the Xbox One S All-Digital edition will have the lowest recommended retail price (RRP) of all current Xbox One consoles, aimed at newcomers to the ecosystem, although the exact pricing is unknown at this time.
It seems that Microsoft is keen to position the All-Digital edition as a member of the Xbox One family rather than a replacement to the Blu-ray disc-based version it currently offers with the Xbox One S and Xbox One X. As such, it doesn't sound as though Microsoft is ready to ditch discs entirely, as it gears up to hit the next gen with the long-rumored Xbox "Scarlett" consoles, codenamed "Lockhart" and "Anaconda."
Related: 12 essential Xbox One accessories under $20
As with all rumors of this type take it with a pinch of salt until the official announcement, as plans can and often do change. But it seems pretty likely we'll be hearing more about the Xbox One S All-Digital console very soon.
Get started
(opens in new tab)
Xbox One S Starter Bundle 1TB
Low-cost gaming (with the disc drive)

With Xbox One S All-Digital Edition yet to come, Microsoft's existing Xbox One S is the best budget buy. Packing 4K video playback and HDR gaming, it's ideal for entry-level gaming.
Matt Brown is Windows Central's Senior Editor, Xbox & PC, at Future. Following over seven years of professional consumer technology and gaming coverage, he's focused on the world of Microsoft's gaming efforts. You can follow him on Twitter @mattjbrown.
I was hoping for a slightly changed design, and slimmer design

Same. Seems like a missed opportunity to not reduce the console's footprint. I'm also hoping for more out of this system than just an S with no disc. I hope it ties in well with Microsoft's xCloud.

No it's not a missed opportunity. It would've costed them a lot of money in engineering a new case and in creating a new mold to make it slimmer. It's just another Xbox One, who cares.

If it's just another Xbox One, why should anyone buy it over getting a used Xbox with a disk drive? This'll be, what, $200 minimum? There is not a pitch Microsoft can offer that makes this console, as presented here, a better deal than buying pre-owned, either from somewhere like GameStop or Ebay.

By that logic, why ever buy new, when you can buy used for cheaper?

You already get XB1s with a game for around 200 bucks this should be a lot cheaper.

This indeed... And it is indeed a waste of effort to not lower the footprint. I understand why not, but considering the eventual streaming goal, why not push a system marked for travel? I was actually thinking about getting one if this would have been the case. It seems like if all they were going to do was rip out the drive and cover the hole, they could have released this last holiday.

thekeelog, Heck, if the all-digital version is just the same but without a disc drive, then buying either a used or new One S with a disc drive is still a better deal. There's no benefits to losing the drive if it's the exact same system (especially with rumors the the disc-less S will cost the same). People are still prematurely announcing the death of physical sales, but discs still make up a huge portion of the market. Even more so during the holidays when parents/grandparents aren't wrapping digital downloads. Even now you can find physical copies of games - brand new - at dirt cheap prices. I picked up Shadow of War from Best Buy for $6 on disc and the price for digital was still around $20 at that time. So yes, physical still has a place for the foreseeable future. So if Microsoft really wanted to impress with an all digital Xbox, they should have done SOMETHING unique. Even an overclocked CPU with additional cooling would have been better than re-wrapping their unsold One S systems.

Yeah, what a waste. It's literally the same size, just without the drive. It makes sense production-wise, but there is no way I will buy this. I was looking forward to an actual slim console.

It says photoshopped example right under the image... We don't know the actual size.

Lolol unless it wasn't there before

Disc-less = FINALLY!!!!! GREAT! But then why does it have to be a budget model? The rumors are that the same is true of the next-gen console. The most powerful model should be the disc-less version, or at least have a disc-less variant. One would expect that being the most hardcore gamer is highly correlated with getting better internet, so that these are the people who are best able to go disc-less.

Ya would be nice to have the most powerful model with a disc less option. I've only downloaded games for the past year or so and i don't really use the disc drive that much. It's nice to have it for the occasional blu-ray disc(something that Sony's own PS4 doesn't even have)

The PS4 does have a Blu-ray player, but not a UHD Blu-ray.

That's correct, my mistake

4k Blu-ray drives cost money. It makes sense to not include it in a budget console.

The Xbox One S has a 4K blu-ray drive and it costs less than 250$. The reality is that a 4K blu-ray drive cost only 20/30$, that is relevant in a sub 250$ but not in a premium 500$ console. And most hardcore of gamers want options when buying their games ;)

Where do you get that $20 to $30 number. I can bearly get that price on a used HD Blu-ray (Not UHD) drive on eBay. If your talking about in their manufacting price due to bulk discounts, that's not the price they charge (or save in this instance) the end user.

The high-end model XOne X can do all digital as well as physical disks. So can the XOne S.

Because a big part of the reason for this is to lower the entry price into the ecosystem.

Missed chance if it does not have game pass included for 6 months to a year. Although MS probably knows the market. Get it home cheaper. Hopefully a 250 or lower price. 200 would really move some units I would think

250? The XB1s 1TB with Minecraft is around 199-230 bucks right now.
I think this should be at the most around 130-140.

it actually looks like a bigger block with no drive bay opening, they should have slimmed it down or made it more unique, ugly

Be cool if you got multiple Xboxes on your network and it can use the rom from that.

Hmmmm looks fishy to me
Why would it be promoting Forza Horizon 3 and not 4.
Why the old 2016 game and not forza's New(ish) current title.
That's what puts me off from this being legit

well to be fair, it does say "Editor's note: To protect the origins of these images, we've recreated the box art in Photoshop. Note the disc-less symbol at the bottom." under the image. it doesn't say it's a 100% accurate recreation

But it states that that's what it apparently on the box bundled games "The product shots we received seem to indicate that it will come with a 1TB HDD and with Forza Horizon 3, Sea of Thieves, and Minecraft digital" Considering they have been bundling 4 with the S since it come out I doubt very much they'd bundle 3 instead

This needs to cost $199 at most.

Because it's a budget device.

1Tb HDD? Isn't worth it for me...3-4 TB should be on that thing because "All Digital" thing with game pass and EA Access.

It doesn't matter if it's the disc version or the digital, 1TB is too low. Remember you still have to install disc games.

I was hoping that it would have a smaller footprint and at least a 2TB drive.

It'd be cool as hell if there was a way they could allow owners to add a second hard drive. Specifically I'm thinking of a NES style drive bay. I recognize that's not realistic, but if they're keeping the same dimensions, we know there's a chunk of unused space in the front and that'd be both a cool way to use it, and a good feature to push this over just buying pre-owned.

It's very easy to add external hard drives, so they will never do this. They can actually be faster if you compare it to the old SATA2.

I was hoping for a smallllll box, an almost portable box XD
Then I'd bring it to a coffee around the neighborhood on some Sunday afternoon.

I'm thinking travel device myself. 👍

If it does support 4k it's worth it. And it's going to be cheaper than an XBOX X.

The design could have been a whole lot better than the xbox one s💯

If they make one next Gen I'll be buying discless. I haven't used the disc drive at all on my One X since I bought it. And my One S is the same. Never used it. So even a £50 saving next Gen with no drive is a plus for me. Please make a discless Xbox 2 MS.
Windows Central Newsletter
Thank you for signing up to Windows Central. You will receive a verification email shortly.
There was a problem. Please refresh the page and try again.