Out This Week on Xbox One: Forza Motorsport 6, Destiny: The Taken King, and more!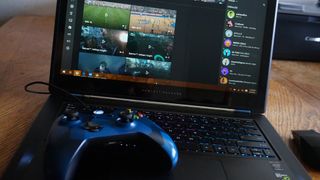 Every week, new games are released for the Xbox One. Whether they are indie titles or AAA titles, we want to make sure they're on your radar. So get your wallet ready and clear some space on your hard drive. Let's take a look at what's coming out this week for Xbox One.
Forza Motorsport 6
Vehicular perfection
Forza Motorsport 6 is here for the title's 10th anniversary and it doesn't under-perform in any way. After a mediocre showing for the Xbox One's launch, Turn 10 decided to outdo themselves this time around in almost every way.
For the first time ever, the game has night driving as well as dynamic weather that will surely put your true driving skills to the test. But to test out your driving, you need some tracks to burn rubber on. Well, Forza 6 features 26 different locales with ten tracks that have been recaptured for the new game.
If none of that has sold you on the game yet, how about checking out our extensive Forza Motorsport 6 review from Richard & Paul. The game launches Tuesday, September 15 for the Xbox One.
Destiny: The Taken King
Sophmore year
Destiny year one was not the game that many people suspected it to be which in turn led to people leaving the game after spending the first couple of hours with it. Well, Bungie has listened to tons of feedback from fans of the game and has made Destiny year two better in so many ways. Along with the launch of Destiny year two comes the newest expansion, The Taken King.
In The Taken King's campaign, the rightfully named Taken King has invaded the solar system and has brought along his Taken army along with him. It's up to you and your new powers to bring down the taken army and stall the ever-expanding Darkness.
Destiny: The Taken King releases Tuesday, September 15.
NHL 16
Play together, win together
NHL 16 prides itself in taking more user feedback than previously, which has resulted in the best hockey game to date. One of its biggest new features is the ability to play online in a full 6v6 game or you can just play couch co-op with a friend.
Not only has the devs added more game types, but they've added new features as well. The game has new ways of controlling the goalie, the puck and the way you skate giving NHL 16 and authentic NHL feel.
NHL 16 is available for the Xbox One starting Tuesday, September 15.
Pro Evolution Soccer 2016
Return of the champ
Pro Evolution Soccer 16 has one goal, and that is to take the crown back from the FIFA series. In order to do so, the team behind PES 2016 has created a new physics engine for the game that brings the most realistic version of 'football' to life.
PES 2016 also has brought with it some of the best AI of any sports game with opponents playing smart and the AI of your team actually playing as a unit. The game also revamps its presentation with a new dynamic camera as well as cut-scenes.
PES 2016 shoots onto the Xbox One Tuesday, September 15.
Overruled
rules are made to be broken
Overruled is a multiplayer game where no rule is left untouched. The game features seven different game types, but each game will feel different from the last as players have 30 rule changing cards to choose from.
For example, you could be playing deathmatch at the moment but they an opponent decides to use a change em up card that turns the match to king of the hill within a matter of seconds. Overruled is another game that comes to us from the Team 17 indie initiative and it will be available for your next party Tuesday, September 15.
Overruled - Xbox Store - $14.99 (opens in new tab)
The Book of Unwritten Tales 2
Click away
The Book of Unwritten Tales 2 is a comedic point-and-click adventure from Nordic games. A force of magic is turning beasts into cute puppies and castles into dollhouses. It's up to the Mage, Ivo, Nate, and Critter to reassemble and take down the magic force for good. The Book of Unwritten Tales 2 comes to life this Friday, September 18.
Which games are you grabbing this week? Or are you saving your money for bigger and better things?
AND Rare Replay is only $20 at Best Buy this week. Finally, some games to play. I hadn't bought anything since Dying Light, bring on the frenzy of late-year games!

Taken King is SPECTACULAR, Destiny has really raised the bar. Kudos.

You say Forza 6 launches today. I pre-ordered from the store, and it tells me it's not available until Friday.

In some markets it launches today.

Yes, in the US it's today.

Waiting to read reviews of The Taken King. The Dark Below and House of Wolves were not worth the $35-40 they were charging.

The main story is still too short but better executed (and LOTS more fun) than any Destiny content that has come before. Pretty much a home run there.
And there at least appears to be tons of other stuff to do besides the Oryx story... I have 19 multiple-mission quests in my inventory now after beating the main story last night. At least 4 of those seem to have new missions with varying objectives instead of replays of existing missions.
The weirdest thing though is having an inventory full of uncommon and rare items again. Also the grind is real, and it continues. Some new weapons (even uncommon/rares) feel pretty great. I haven't even missed my beloved VoC too badly yet. Overall if you have friends to play with I recommend it.

My brother still can't play any of the new Taken King content at all after I bought it on our 360 through the game. Driving me nuts.
Windows Central Newsletter
Thank you for signing up to Windows Central. You will receive a verification email shortly.
There was a problem. Please refresh the page and try again.