Xbox's Obsidian Entertainment already working on new role-playing game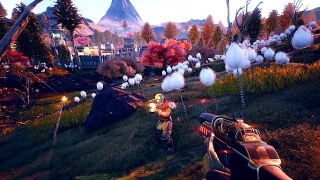 What you need to know
Obsidian Entertainment was recently acquired by Microsoft.
The team is currently working on The Outer Worlds for Xbox One and other platforms.
The studio is also looking for a new Lead Narrative Designer for another unannounced game.
You can purchase Xbox Game Pass Ultimate through the Microsoft Store

(opens in new tab)

for $1.
Recently, Microsoft announced that it had acquired inXile Entertainment and Obsidian Entertainment. Both companies are working on new projects, and it'll be interesting to see what they come up with down the line. However, Obsidian Entertainment and Private Division have been developing a new game for a while now, and it was officially announced at The Game Awards 2018.
The Outer Worlds is a first-person role-playing game where choices matter. It seems that you can explore a multitude of planets during the course of the campaign. It's a lot like Destiny 2 where you go to different open-world areas for various objectives.
While work on The Outer Worlds rages on, Obsidian is already working on its next game. The title appears to be another role-playing game with branching dialogue. Hopefully, it'll be an open-world experience like Obsidian's past projects like Fallout: New Vegas. Kate Dollarhyde, Lead Narrative Designer, said that Obsidian was looking for another Lead Narrative Designer for its "next project." The studio needs someone who understands "branching dialogue" and "role-playing game design conventions."
https://twitter.com/keightdee/status/1143657984964227072
It's unclear what this project is, or if it's the same "redacted" project Dollarhyde is working on. Only time will tell. It's clear that Obsidian isn't slowing down its development because the team has multiple projects in the works. This upcoming game may be exclusive to Xbox One and Windows 10 because it doesn't seem like any publishing agreements were made before Microsoft purchased the developer.
The Outer Worlds will be available through Xbox Game Pass. There's a promotion going on through the Microsoft Store which lets you upgrade to Xbox Game Pass Ultimate – which includes Xbox Game Pass, Xbox Game Pass for PC, and Xbox Live Gold – for $1. Amazon is also selling a three-month subscription for $20.
Best of the best
(opens in new tab)
Xbox Game Pass and Xbox Live Gold in one

Xbox Game Pass gives you access to over a hundred games for one monthly fee. Xbox Game Pass Ultimate also adds Xbox Live Gold to the package so you can play online with your friends. You can either get a one-month trial for $1 from the Microsoft Store or a three-month subscription for $20 through Amazon.
Xbox accessories you'll love
Every one of these quality accessories is guaranteed to enhance your Xbox experience.
PowerA Enhanced Wired Controller for Xbox One (opens in new tab) ($20 at Amazon)
PowerA's take on the Xbox One controller is an attractive pickup for budget-conscious gamers that nails all the basics.
Talon PDP Xbox media remote (opens in new tab) ($20 at Amazon)
The Talon PDP Xbox media remote is great for watching shows on your console.
Xbox One S vertical stand (opens in new tab) ($10 at Amazon)
Stand your console upright with this accessory.
Windows Central Newsletter
Get the best of Windows Central in in your inbox, every day!
Asher Madan handles gaming news for Windows Central. Before joining Windows Central in 2017, Asher worked for a number of different gaming outlets. He has a background in medical science and is passionate about all forms of entertainment, cooking, and antiquing.
This may be our first look at what the budgets will be like for these new acquisitions. Depending when this game is announced in comparison to games from the others (ones that were not being worked on prior to the acquisition of course)

So Can't wait to see the full lineup of games from these new owned xbox studios. Exciting times for Xbox gamers.

Why The Outer World is not a Xbox One / W10 only game if the studio is part of MS ?

Game was in development before Microsoft Aquired them.

Games were planned to go on steam but were cancelled to be only epic store game. They could do the same kind of move without problem.

Except such an action has created damn near universal hatred for Epic, probably not a good idea to work the same on Microsoft.

The other behavior is continuing to have "No Xbox one only games", so I don't know what's better

And what would that bring you as a XB1 gamer?

This goes against what they are trying to do, put their games in front of as many people as possible.

Yes, I know but I was asking GrandGerminator what it would bring him personally if non-XB players plays these games.
It almost looks like the guy wants these to only be on XB1 & Win10.

Considering how much you complain about the lack of exclusives on Xbox, I'm kind of surprised you are taking a contradictory stance to GrandGerminator.

I was thinking I might get someone saying something like this and I'm surprise that it's coming from you.
Surely you can see there is a clear difference between a console maker investing in a game to provide it for it's customers and a 3rd party game that was always coming on all platforms (and releasing in few months) becoming exclusive to one platform just because the studio was bought.
In one case you are creating for your gamers, on the other you are destroying for other gamers. Now look at it from a customer pov. I think it's more about the resources that a company puts in making a quality games for their customers. What is going to be judged are the future games made by MS. What we judge are the Uncharted, the Horizon ZD, the Halo 5 or the SoT. All future games coming from Obsidian not their past work.
The pleasure is not that other gamers can't play the games but that a company put money to make that game.
Here I don't seriously why a XB1 gamer will want Outer World not to be on other platforms. So far people have been celebrating new studios being bought, but we should celebrate when MS actually starts putting cash into creating quality content for their gamers. Right now we are just waiting...

I mean, we don't know whether Microsoft has contributed funds towards The Outer Worlds or not, so they may have contributed to it. That being said, I don't care that Epic has poached games from other distributors, it makes no difference because I can still play it regardless of what back end system its running on. The only people that miss out are those that only choose one avenue for their gaming. Also I'm not actually saying the Obsidian SHOULD do this, I'm just saying I wouldn't care if they did, just like I haven't cared about timed DLC/exclusives announced after the fact, or just exclusives in general.

Well it was always a third party game that was coming for all platforms. They cannot say now (few months before launch) that MS paid fully for the development and distribution of Outer Worlds. I'm not sure why you talked about Epic but about their time deals, the problem here is that they are investing money to delay a game for gamers of another platform. Money is not invest to make games but to delay games. Timed exclusives is for me the worst.
Whether you can play it on other platform or not matter to some. I can understand people wanting to have all their games in one store or I can understand some people prefering all the features of a steam.
Right now the Epic launcher has so many missing features.
I think it would be better that Epic invested first into making their launcher competitive, rather than artificially try to attract customers.
Also wouldn't it be better for gamers and gaming if Epic invested their cash on making new exclusive content rather than delaying 3rd party games for some gamers?
This is a bit like microtransactions. It's not whether you mind or not. It's whether you want companies to invest on timed exclusives?

For one, incentive for friends to choose an Xbox over a PS4, thus giving him the opportunity to play multiplayer games with friends (not this game obviously, but others).
Windows Central Newsletter
Thank you for signing up to Windows Central. You will receive a verification email shortly.
There was a problem. Please refresh the page and try again.