Yi's AI-powered security cameras are $13 off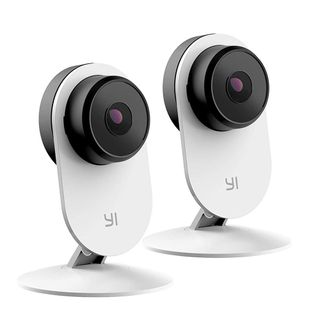 It doesn't have to cost a ton of money to add security smarts to your home. For example, you could pick up two Yi Security Camera 3 (opens in new tab) devices for $57 and save $13 today at Amazon. All you'd need to do is clip the on-page coupon and then enter promo code 7NLDRHL6 during checkout to save. These highly-rated security cameras (opens in new tab) would work well in pretty much any home, and today's deal is the best we've shared for them.
(opens in new tab)
Yi Home Security Camera 3 (2-Pack) (opens in new tab)

Clipping the on-page coupon and entering the corresponding code lets you snag these cameras at a steep discount. They capture clear footage and sound, and they're also capable of calling emergency services. Reviews are overall positive as well.
For the most part, these cameras are similar to others you might find on the market. They feature 1080p video for crystal-clear footage, plus a 107-degree wide-angle frame so you can get the whole picture. There's two-way sound as well, which means you can hear what's going on and communicate with people on the other side of the camera. The cameras can see clearly at night and the magnetic base helps to keep them stable.
What sets these cameras apart is the AI-powered alert system. The adjustable system can detect abnormal sounds, such as a baby crying, a smoke alarm going off, or the sound of a window breaking. Its smart motion sensor can also detect a human and alert you if someone is where they shouldn't be. It'll immediately send a notification to your smartphone if it encounters anything like that. You can set the sensitivity levels to best suit your needs, and the system is smart enough to ignore false positives as well. Even better, these cameras have the ability to be used in conjunction with Noonlight's 24/7 emergency response service. It costs $5 per month, but the service allows you to press a single button on your smartphone and immediately contact the police department, the fire department, or emergency medical services, no matter if you're at home or not. Let's say you're on vacation in Majorca and your camera sends you an alert that it detected a human in your study. Someone's breaking into your safe and stealing all of your gold and rubies. You could press a button and have the police called immediately. Or maybe you're just at work and the smoke detector is going off while nobody's home. You could contact the fire department in seconds. In emergencies like that, every little bit of time saved helps.
Yi's AI system allows for other neat features as well. You can use the smart cloud search to find specific footage within Yi's storage cloud. Your purchase includes six free months of cloud storage, which offers unlimited storage of six-second motion-detected clips, up to a week at a time. Alternatively, you can provide a microSD card (opens in new tab) up to 128GB to store footage locally. Your purchase also includes lifetime technical support.
It's important to note that these cameras are not wireless, so they'll need to be powered via an AC outlet. Once plugged in, you could use something like these wall mounts (opens in new tab) to secure them at a higher vantage point if you so desire.
Windows Central Newsletter
Get the best of Windows Central in your inbox, every day!
Louryn was seven when her shopping obsession began. It started with eBay and quickly escalated to Black Friday. Now she's a shopaholic -- no day is complete without a pile of packages on her front porch. She justifies it by refusing to pay full price. She also loves Skyrim, makeup, and beer. Find her on Twitter @lourynstrampe