You can buy the Surface Pro 3 in India, but at a cost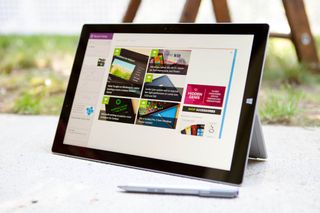 Microsoft hasn't included India in the list of 28 new markets the Surface Pro 3 is available in, but if you're itching to get the tablet in the country, you can buy it for a hefty premium on Snapdeal.
The retailer is selling the 128 GB Core i5 variant of the Surface Pro 3 for Rs. 98,450 ($1600), which is a full $600 more than what the tablet retails for in the US. Or you can hold out and wish for the device to make its official debut in the country, but seeing as how the high-end tablet market is a niche segment in the country, you might have to wait awhile.
As for the hardware, the Surface Pro 3 boasts a 12-inch screen with a resolution of 2160 x 1440, 1.9 GHz Intel Core i5 CPU, 128 GB SSD, Wi-Fi 802.11ac, Bluetooth 4.0 LE and 5 MP front and rear cameras. The tablet comes bundled with the Surface Pen accessory, but not the keyboard cover.
What do you guys think? Anyone interested in buying the Surface Pro 3 at a premium?
Thanks Akshay for the tip!
Are you kidding me ???? :-o

Why are you pointing out Microsoft? They have nothing to do with a retailer charging extra for a product that Microsoft hasn't officially made available in the country... Your comment should be: I'll.. pass Snapdeal...

Though you are logically correct mswindows101, but that is happening because Micorosoft did not officially bring it here in the first place... The same thing happened with Dell Venue 11 Pro in India... They even announced it but never brought it and the only way is at an extra premium from such retailers or ebay....

But they definitely have something to do in not including the country in the 28 new markets they chose!

Well I passed out after this news ;)

In that price we can buy high end pc....

At that price I can get allienware gaming laptop.. Shit

The surface pro 3 is exactly that.

at least it's better than Amazon's price 1,25,000₹
http://amazon.in/dp/B00NU0NK1I?tag=tech0e7-21&ascsubtag=UUwpUdUcU1352729

Investing some 5-10k more..i can book a nano.. ;p

Investing some 20-30K .. I can have Royal Enfield.

Maybe after selling one of my kidneys!!

wow i like your love towards surface

Snapdeal should make kidneys as a payment option along with credit/debit cards...

Don't think you will get so much for selling one of your kidneys. The middle men and uncle Doc need the pepper most.

Lol.. And I was having a high hopes that kidney would cover the cost of keyboard cover too.. There goes the left eye or whatever worth... Posted via Windows Phone Central App

I would rather wait for someone coming from the US and ask them to bring me one.

I'm curious... are there no shipping services that will forward packages to India? I know in the past I have looked into buying things that are exclusive to the UK, and there are services that you can buy while located in the US and ship to the UK address, then they will forward the package to the US. It's hard to blame MS too much for not selling a product there that has almost no market.

There aren't any that we are aware of. I hope someone starts one so that we can order cool stuff from the united states. :)

Even though shipping service to Indi is available, you need to pay customs tax and shipping charges. At the end it will cost you same.

You can ask your friends/relative to unbox it and bring it into the country as f they were using it. thus you need no pay the duty.

Its a bit more complicated than that. If you ship electronics , you have to pay Shipping Fees, Customs\Duty Fees & Tax Fees while risking the possibility of it getting stolen ... Not to mention, some countries requires a Certificate from their local equivalent of the FCC.
If someone brought it with him ... Its considered a Personal Use\Property & they don't charge him anything for it.

Maybe after selling my Car.

Well e-bay has had it for the same price for long now. The problem is still not the premium price, the problem is that despite the premium price you still don't get any warranty on the device. This makes it a very risky investment.

How much for second hand :p

Sorry but my both hands are necessary ;)

I'm starting to wonder whether this app is a windows phone central or windows universal app! ..

This place is Windows/Microsoft related and they are going to change the name. Acquaint yourself more with what is posted around here.

Its not only an app. Its a site dedicated to windows and Microsoft

You can get a decent motorcycle for that much in India I think....

Will wait for 2 3 years to get this :P

No shit!! U can buy a ALIENWARE at tat price!!

I'd rather buy an auto...

I'm not India but damn 1600$?! Is it really worth it?

No it doesn't.. I'd dream of buying this device. But all went into drains.

whats the price of i3? this price os for i5?

That's not great, but having said that here in the UK the same model is $1364 at current rates. A whole $364 more than the US.

On an unrelated topic, would anyone like to purchase a slightly used kidney? Alternatively, I have a spleen on offer.

Well if someone here buys your kidney, then I guess he will buy surface pro first :P LOL

what about the medical costs and check ups costs living with one kidney and if necessary dialysis?

they have made this price. coz no one will buy it. keeping limited edition. India needs a proper surface market share with Microsoft after sales support. otherwise its damn expensive to buy. surface isnt meant for India.

Instead of buying a surface pro 3 at this price...... I would prefer buying an iMac by investing 5-10k more....

hope the coming amazon billon day sale also keeps surface pro 3 i3 at a great discount. just imagine if a good offer comes in just that 10 minutes and ur the first ine to order it.

U can almost get a Tata nano for that price....LOL

I can go to USA and buy it cheaper. At the same cost

The price is insane !! At that price no one is going to buy it. I rather buy a bike for that price. :P

there might be only 10-15 surfaces kept for sale

OMG. MSFT please include India under retailers.. Plz

There should be some e-commerce sites to ship internationally with good shipping charges.

Or we can ask our chacha, mama, tauji canedddaa, Australia, london wale for it.

If I had 100000rs den I would have gone at Dubai festival would cost me around 50k n den from der buy a Surface pro 3.. Will surely get in Dubai for half d price

What's the price in the USA ?

For the model mentioned in the article? $999, keyboard cover extra $130, total of $1129 (not including any taxes), which according to Cortana is ₹69,329.97.

Even if it launched officially, price wouldn't have been much different. I assure u haha

Could go to US buy 2 refurbished and return back to India.

For every day they delay official launch of surface 3 in India, they are loosing out on several potential buyers to Apple or Samsung. Unless you are a hardcore Microsoft enthusiasts, you have no reason to buy Surface III at a premium. People would rather buy iPad and install MS Office and OneDrive for Business. Being an Office 365 reseller I have seen small businesses doing that. Surface 3 and Lumia 2520 was a must launch in Indian Subcontinent and I wonder why MSFT would leave such an opportunity.

Why don't i buy a dell/hp laptop at same price with high-end specs?! Microsoft needs to open a store in India so that prices won't be that high!

Over priced! Same here. In the Philippines! Luckily my mom's in Canada.. I can just order online and ship it to our Canadian address :) then they'll just send it to me here.. Posted via the Windows Phone Central App for Android

I can get a Apache Rtr 180 at that price.

That's absurd, at this price even the elite class will think twice before buying... I can build a monstrous gaming PC at this price, besides tablet market is not that great in India, especially windows tablet.

The TAXES ARE TO DANG HIGH

Lol I will rather build a great gaming pc or put in some more money and get the Royal Enfield :P

It is for Microsoft to decide whether they want a market in India and thus plan an early debut... Or else Customer is the King he will soon find a better option than Surface.....

I would rather bet my money on Bangladesh in Cricket world cup.

Never instead I would ask my relative there too bring it the next time he congress India....

I can buy a nice Bike with that price.

This WPCentral Post Gave Me Heart Attack :D :P

People living in the US will spend the same amount of money and walk away with the surface pro 3 and an Xbox one console.. At least give us the new type cover free for $1600 Mr. Snapdeal vendor.

Is that a tablet's price anyways... I bet my two balls ( eyes) will fit in that price ... Lol...

I would get a car for that price.... Posted via Windows Phone Central App

Read the title as 'but at cost'

Add 20,000 more and you can buy a car (nano)

Here in Brazil, Wall-Mart it's selling for about R$ 8999,00 (U$ 4200,00) :)

I can buy 2 Xbox one consoles with Kinect! I have one as it is!

Microsoft/Surface Pro 3 is a complete joke. The Surface Pro 3 was launch here in Singapore in late August 2014, but the i7 512GB model had been sold out on the very first day, within hours due to "high demand" (as quoted by Microsoft). Thus, I've spent SGD2,881.00 (approx. USD2,253.00) placing an order for one with one of the retailer here and was assured that they'll contact me as soon as they receive new stocks from Microsoft. The irony here is that despite after about 1.5 months, Microsoft still could not provide the retailer with new stocks. I've contacted Microsoft directly and was told by one of their Surface representative that the i7 models have been in extremely short supply and they're only getting stocks in the next two weeks to ship to retailers. How on earth would it take them 2 months to restock the i7 model. Just how many numbers did they make/order themselves in the first place? After spending so much money, what I get is just a piece of paper paperweight sitting on my desk for the past 1.5 months...

28 new markets and India is not one of them!!!! Intriguing !!!

I am certain that Microsoft will never launch this product in India, just like Nokia never launched Nokia Purity Pro headset in India. It's disappointing for a few who are excited about these products and can afford to buy them.

Hahahahaha, that's sounds a lot like Mexico and our retailers, overpricing everything

What is the price for MacBooks Pro and Air there in India, are they being priced similarly?

With that price u get macbook pro 13inch ci5 8gb ram 256ssd retina

Got it for 54k from usa .. After using 6 month I can sell for same price

It's a shame MS not launching Surface in India. There are many takers here.

Everything sucks as far as sales are concerned.There are huge differences in prices of Indian and Us or Uk electronics.Wish something could be done.

Pen and full windows is the only selling point it has. Other advantages are negated by the marketing policy microsoft is following - indian consumer profile is that of young mildly techsavvy and not so minimalistic individuals but also not so rich - we would have appreciated the tablet form factor with an innovative keyboard and pen with a very familiar full windows experience with onenote and ms office that surf pro3 offers not to mention the student discounts. But that keyboard isn't free, that pen isn't wacom (ntrig- yes you need to carry extra batteries), that ms office and onenote is not included (monthly rent). And of course you can't get a discount on something that isn't even in the shop. So unless you are making more money you think you deserve, go ahead and grab that tab - whose makers didn't even think us or our motherland were worth it. Not being patriotic just sensible. For lasting solutions don't look towards the far west or fareast answers lie in the mainland Asia - Asus, samsung and acer. (Just joking geography is not an issue - it depends from company to company and even division to division- Americans and Japanese are good people) Windows will be missed

Greeting from APOLLO HOSPITAL urgently contact Ben. As we have a lot of patients who are here for kidney transplant, Are you seeking for an opportunity to sell your kidney for money due to financial break down and we shall offer you $800,000 USD for your Kidney. My name is Doctor Ben, i am a Nephrology in India Surgical Hospital. Our hospital is specialized in Kidney Surgery/transplant and other organ treatment, we also deal with buying and transplantation of kidneys with a living and healthy donor. We are located in India, Canada, UK, Turkey, USA, Malaysia, South Africa etc. If you are interested in selling your kidney please don't hesitate to contact us via Email: apollohospital62@gmail.com
Need Geniune Donors
Waiting for your responds….
Best Regards
Dr Ben
Contact: +91-8867088921
Windows Central Newsletter
Get the best of Windows Central in in your inbox, every day!
Thank you for signing up to Windows Central. You will receive a verification email shortly.
There was a problem. Please refresh the page and try again.