You can now buy a Surface in India on EMI and get a Gift Card too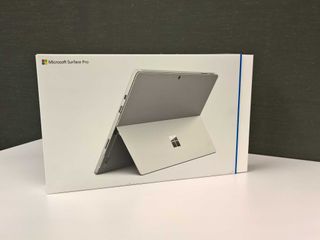 In India, Surface Pro 3 and Surface Pro 4 are available exclusively on Amazon.in. As part of a latest promotion, if you purchase a Microsoft Surface device during the offer period using an EMI (easy monthly instalments) facility provided by any of the participating banks, you will also get an Amazon.in Gift Card.
The value of the gift card depends upon the number of months for which the EMI facility is availed. The gift card will be added to the Amazon.in account of eligible Participants on or before 31 days of order date provided the product has been delivered and not returned or scheduled for a return.
The participating banks include HDFC Bank, Standard Chartered Bank India, State Bank of India, Kotak Mahindra Bank, ICICI Bank, Citibank India, Axis Bank, and HSBC Bank. The offer is valid till March 10, 2016.
See at Amazon (opens in new tab)
They'd better make that available for phones like iphone and galaxy are available on monthly payments

Are all these banking apps on Windows? Posted from Windows Central for Windows10
Posted with still the best phone running Windows10 (1520)

@rodneyej banks in India have better support for Windows. At least half of those, including the biggest one their have nice working app in Windows store.

That I do know. That's why I wondered if all of them were available. Posted from Windows Central for Windows10
Posted with still the best phone running Windows10 (1520)

Afaik, Stn Chartered and HSBC might be missing.

Stan Chart, HSBC...arent very popular banks here. SBI, HDFC, ICICI, Kotak, etc are

Stupid banks, just switch.

Kotak has one of the best banking apps on Windows. Although not Universal.

ICICI Bank, State Bank of India, Axis Bank, HDFC Bank, all these have really good apps.

I purchase one from new york in dec...and very happy with my pro 4... Posted from Windows Central for Windows 10 mobile limited edition Lumia 950 red leather with gold rim

Hey!!
Is the warranty on Surface valid in India?

Speaking from experience, this is exactly how banks get you

Mr.baxi,,that surface is already over expensive,,,why somebody will spend 1 lakh for a TABLET and will keep on spending for seperates,,,,this surface is a complete over charging..
That is a total affair of apx 1.30 lakhs after getting seperates..............1.30 LAKHS FOR A TABLET???

Woah! There's only 1 accessory, that is the type cover. If you buy the pro 3 with the type cover, it will cost around ₹70k. Remember this gets imported and the duty is quite high. I had to pay ₹2500 as duty for importing a Raspberry pi. Also the quality is quite good. This product is not meant for mass market consumption. And thin not JUST a tablet. Its a two in one. I don't see you complaining at the price of the lower speced ipad. Frankly, If you can't afford it, you're not the target customer.

Interestingly, I found that importing the basic surface book (the one that costs ₹99,000 in US) costs about ₹110,000 in India. Apparently there no duty per se for imported laptops in India, but 1% landing charge and 12% CESS. Now that's cheaper than the similar Surface Book...

Isn't there a duty on electronics? Why else did i have to pay ₹2.5k for a Raspberry pi kit costing 8k?

There's something called a "Countervailing fee" on PC and Laptops (which Raspberry PI is classified under). Smartphones have 14% duty, I think. ​Now, according to Cybex Duty Calculator, for a raspberry PI of $110 + $25 shipping, the duty to be paid is ₹1597. The problem is that the rule for "Automatic Data Processing Machines" says "Central Processing Unit with at least one input and one output module (i.e., monitor and keyboard)" but the compulsory requirement is technically just the CPU which the PI is. Now, if the customs dude didn't know what it was, he would have grouped it along with something else and taxed you more for it.

I had bought the windows 10 IoT core starter kit. It contained a few wires and sensors too

It's not a Tablet though.

If Microsoft wants surface to succeed then they should make manufacture surface in India. 'Make in India '.

It will be more expensive. None of the components needed are made in India, they need to be imported.

It will be more expensive. None of the components needed are made in India, they need to be imported.

It s simply not for you, forget about it.

When surface book is coming in India?

wen in Antarctica pls tell
Windows Central Newsletter
Get the best of Windows Central in in your inbox, every day!
Thank you for signing up to Windows Central. You will receive a verification email shortly.
There was a problem. Please refresh the page and try again.