You will be able to send text messages through Windows 10 to phones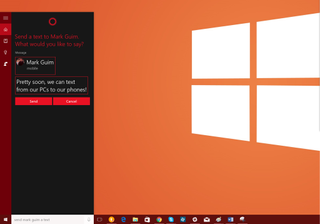 Looks like Microsoft is doing what many users want by delivering the ability to send SMS text messages from your PC to your phone. Signs of this feature are rampant especially with the recent preview release of Messaging and the Phone apps for Windows 10 PCs – the same universal app as found on Windows 10 Mobile.
Now, WinBeta have posted a video that demonstrates this feature is indeed coming with Cortana handling the heavy lifting of the process.
In the video, Zac Bowden demonstrates how you can initiate an SMS message through Cortana. From there, the message is sent and received to a Windows 10 Mobile emulator. However, we should caution that although Windows 10 Insiders running build 10565 can initiate the text messaging they will be unable to receive the message. The build of Windows 10 Mobile to get this to work is in the 1056x range and is not available for those running Windows 10 Mobile build 10549, which came out this week.
None of that matters at least for now as instead we seemingly have confirmation that texting within Windows 10 devices is a feature coming shortly. However, there are still many questions that need to be answered, for example:
Is Cortana needed for this to work or could someone just use the Messaging and Phone apps?
Is this only for devices running Windows 10 – PC or Mobile – or would phones using Cortana e.g. iPhones and Android be able to participate as well?
Obviously, there are many details yet to be filled in my Microsoft, but we like what we see. The ability for all Windows 10 devices to send and receive texts – including eventually Xbox One – is a rather momentous event considering how important communication is these days.
We should also mention that Cortana can remind you if you missed a call, something found currently under Cortana's Notebook in build 10565.
Hopefully, this feature will be ready by the time the Lumia 950 and Lumia 950 XL hit store shelves.
What say you? Will this be the killer feature you are looking for? Let us know in comments!
Source: WinBeta
Windows Central Newsletter
Get the best of Windows Central in in your inbox, every day!
Daniel Rubino is the Editor-in-chief of Windows Central, head reviewer, podcast co-host, and analyst. He has been covering Microsoft since 2007 when this site was called WMExperts (and later Windows Phone Central). His interests include Windows, laptops, next-gen computing, and for some reason, watches. Before all this tech stuff, he worked on a Ph.D. in linguistics, watched people sleep (for medical purposes!), and ran the projectors at movie theaters because it was fun.
All we need now is somebody to remind us that Symbian did it 13 and a half years ago.

Lol. For real. iMessage has been killing this feature.

I thought iMessage can only send iMessage's, and not SMS? I could be wrong. Sounds like the implementation in Windows 10 will send SMS.

iMessage will send SMS via a paired iPhone. More annoyingly it will often favour this over other networks, so sometimes when you think you're IM'ing someone you're actually SMS'ing them.

1- that's a setting (whether it favors it), FYI. 2- SMS is green and iMessage is blue, so you should always know what kind of message you're sending. Glad I could help!

With iOS 8, it was enabled to SMS too.

The new Messages app in OSX Yosemite can do iMessage and SMS as well as MMS and Facetime

It could do that before Yosemite too, I think. I've had colleagues accidently SMS'ing me when they were trying to GChat me for quite a while.

The Mac Messages app can be used for sending and receiving SMS, and chat with Yahoo! Messenger, G-talk, Jabber and AIM. I love that I can use my keyboard for texts when I'm home instead of using my phone.

Symbian was, in many ways, much more powerful than Windows Phone is, even today. That said, this will be a *very* welcome feature. iOS/OSX have been crushing this feature for years. Is there an Android equivalent? Or might MS be the first to bring it to Android (I think it's safe to assume they will bring at least as nice an implementation to Android).

they should make this feature only for Windows 10 devices. Android users: switch to a W10M phone

Why? Wouldn't it be a game changer if Windows could provide a Continuity feature for all mobile platforms?

Yes, I agree, quit with the proprietary wars and get on with being productive. I dont know about anyone else but I am tired of being raked over the coals so someone can quivel over how to make an extra dollar that we cant afford to give them anyway. lol

Android has been able to do this for years through Google Voice and other apps. Not going to be a differentiator. Posted via the Windows Central App for Android

If the feature is out there, why let the competiton be the only ones who can do it?

because we need some features to be W10M exclusive so that people have a reason to be on the platform

It's unnecessary. People aren't going to switch mobile platforms for just one feature. This particular feature will really only be of interest to a handful of people, so it's really more of an annoyance than anything to not support Android/iOS/any other mobile OS besides Windows' own. My workplace recently upgraded everyone in my department to Windows 10. Everyone in my department now uses Windows as our laptop OS of choice, but we are still all mixed between iOS, Android and Windows Phone as far as mobile operating systems (and only one person at that uses a Windows Phone device). That leaves the overwhelming majority of us with no access to these features. I can tell you right now, no one is going to switch to Windows Phone just for this feature. It will only make people harbor resentment towards Microsoft for not implementing this feature cross-mobile-platform (and really, who deson't harbor some kind of resent towards Microsoft for one reason or another?)

The main difference from iMessage and Cortana Texting is that Cortana will be available for iPhone and Android. And they will be able to text from theri windows computer to from any iPHONE, ANDROID and Windows Mobile phone. So I truly think that is a very good step forward in Cross-Platform. iMessage is all good for those who have a mac. But there are a lot of people that don't have a mac and only have the iPhone. They are two services that do the same thing but through different means. Both are excellent services!

And where is Symbian now??? Nokia also created the type c connector, but who does general society thinks did it????

There's have been plenty of things that android has had for a while and then Apple adds those features to the iPhone and guess what? People go crazy. It's not about who has features before.

You dont know shit Apple invented the phone..... And fruit!

and this year Apple invented the Surface!

And the one-angle kickstand, and crappy keyboards :-P

Living Images photos! Sad thing is Apple has done it better and now is the inventor of this according to most.

I don't think people care who had it first, but when a certain company claims to have invented it...

Exactly, Microsoft made tablets years ago but now they're only catching on

Because they don't have Windows. Simplicity is what sold the tablet. Posted via the Windows Central App for Android

Right, Symbian died because 13 years ago it gave us a feature that other operating systems are just getting now. Good logic there.

I don't think he's saying that Symbian died because of that. I think he's saying it's irrelevant that Symbian did it 13 years ago because they're dead. All in all, who gives a shit who did it first, as long as it works on the platform you choose.

Yup, I use Windows desktop and Windows Phone, doesn't make a difference to me what either doesn't have, or what the "competition" has, what matters to me is what we have and that's One Windows, to me that's priceless.

Why is that priceless? If your invested in Microsofts services, then Android is the way to go regarding phones. Microsofts services and apps are FAR better on Android then on any other platform. Seems silly to choose a phone just because it runs "Windows".

That's bullshit. The android apps are quite shitty and slow compared to Windows Phone. It's smart to choose a phone because it runs Windows.

agree with you pal........ i was just blown away by Skype experience oon android recently..... my lumia 720 stopped working .... so getting a redmi2 and gonna use till 850 comes out

And i think his initial point mentioning it at all has nothing to do with symbian in comparison to windows phone. He's more so saying its ridiculous that Microsoft took so long to add this feature even though we've all been begging for it. Especially since it was fully doable 13 yrs ago Posted via the Windows Central App for Android

Fully doable isn't a fair assessment. It's not like this is a flip a switch and it works type of feature. There is a lot more to it and it appears one of the things to help make it work nicely in the Windows eco system is the universal app system. So it wasn't fully doable with OS integration with Windows until now.

Why? It's not like anyone is touting this as an all new feature.

My service provider has an application for w7 that can do that & take calls

But it is true that Symbian was able to do this even all the back in 2008. The program was called Nokia communication center. Also, BlackBerry 10 devices have been able to send and receive sms messages through PCs for more than a year now with BlackBerry Blend Posted via the Windows Central App for Android

They should also merge the Xbox messaging app. ​

It would be great to see Xbox Live messaging folded into Messaging in the same way as Skype. Xbox option on the message type drop down and those messages sent in green :) Good idea!

I think that should be the way for w10. One os for all. One call app for skype/phone/other apps. One messaging app for WhatsApp, text, skype, snapchat etc and one socialapp/news. But who am i to say such things. I do want more integration off messaging, video call, calls and people app. But i like the way this is going.

That's not going to be possible unless the developers of WhatsApp and other communication apps want to allow Microsoft to take over their experience. I doubt they do. There is nothing in it for them to allow that.

Rather see the return of Facebook message into the Messaging app.

Won't happen, Facebook api is something, Facebook said no to after 8 due to them wanting you to download messenger app etc instead

Almost everyone I know uses WhatsApp for messaging rather than SMS nowadays. Typical of MS to bring a feature to the platform just as it's dying. SMS is only useful now for security applications -- banks or PayPal sending you a code to authorize a payment or some secure login. And yes, I had this on Symbian years and years ago, and it was useful then. Would I use it now? Maybe once in a blue moon. MS could have implemented this in WP7, but they released a crippled if pretty OS and then let it stagnate. Sure, they're making up for it big-time now, but with many things you can't help feeling that they're arriving at the party just as it's finishing.

I'd love that. I've suggested it to them a few times.

I think it might be simpler and more effective to simply merge Xbox messaging into Skype, so that if you want to message on Xbox you're using the skype service. This way your messages would be available everywhere.

Why would that be simpler? Trying to merge two completely different services rather than simply add client support to an app that already supports network switching?

All this was available with windows live messenger on all platforms including symbian and Xbox. Why it was dropped instead of improved most likely cause they werent making money off it.

I miss this feature from my HP TouchPad. It used bluetooth MAP.

Loved it on the TouchPad!

i still use it on my Touchpad.... /s (I would, if I ever got my hands on a Palm Pre 3)

I have a palm pre 3 laying in a drawer. Next to it a palm pre 2 and a hp touchpad. Oh, the memories...

Loved it on my all old Nokias esp. Symbians

Loved the Touchpad/Pre 3 setup I had. To bad HP killed it...

I love how the Windows ecosystem will come together!

Interesting feature. But why do late?

Windows 10 PC: Available now Windows 10 Mobile: New completion, not available to non-Insiders Windows 10 on Xbox: Brand new, also launching in November Let's see, only 1/3 of the Windows 10 ecosystem is public yet "why do late" is being asked. C'mon, people. Perspective.

I think he's asking why they're only releasing this now with Windows 10 and not in 2010 with Windows Phone 7 or even earlier.

The technical ability to introduce such a feature is not trivial, unfortunately. You need certain backend components that were unlikely available in previous releases.

Yet I was able to do this on MyPhoneExplorer with my old Sony Ericsson many many years ago. But yes, I get why they didn't do it back then and I'm happy they're doing it now.

Don't get me wrong, I loathed my Android experience and will never go back, but I was able to send SMS messages from my Windows PC more than 8 years ago now. That's a pretty long time for Microsoft to follow suit.

I don't know, perhaps there were just other more important features to develop first. I wish MSFT had an army of programers able to offer everything to everyone...but they don't.

Yes like gapless playback of music. Took them 5 years to do that too.

That's true, but almost anything can be done in Android. You can easily build an app which receives messages from the web and sends them through your phone's SMS. However, along with that is poor power management, and huge security vulnerabilities. So yes, I enjoyed replying to SMS on my PC, but there were a lot of downsides with that.

Even Nokia dummy phones could do this years ago.
What are you talking about?

I don't know how you put up with this bunch of whining idiots. They are never happy. If MS doesn't do something, they complain that they are neglecting users, if they add a new feature, the idiots still blame that that it is too late.

Giving the benefit of the doubt, he may have meant why not in Windows 8/Phone 8. Although the answer to that should be obvious.

Respectfully disagree. If ready for pc now release it now. If ready for mobile, release it now, same for xbox, iot etc. Simply because confidence of having now is a better salesman than faith in a future feature is.

Where in the article does it say that this is "ready for pc now"?

My comment wasn't to the article, but to Dan's comment to satish.

I think by "available now" Dan only meant that Windows 10 for PCs is already available (not this specific feature), while the release of Windows Mobile 10, etc. is still a work in progress.

I see the misunderstanding. Satish is saying: "Why so late?" Dan is saying: "Only 1 category of w10 is launched. Therefore it makes no sense to launch feature." I'm saying: If it is ready and working as intended, launch it.

By the way Daniel, this is not an emulator. It's the Share My Screen feature using a real phone.

Because Microsoft sat on their hands with the clown who previously ran the company. They have finally woken up.

Did they? I mean the move toward OS integration was launched under Ballmer, the Surface Pro and Type Cover were done under Ballmer, the radical redesign/reimagining of Windows was started under Ballmer, as were all 3 Xboxes, Office 365, Azure, and the company remained extraordinarily profitable. Missing the boat on computing trends was a bummer, and the messaging was super off in those days, but shit, they had a good if flawed run. It's not like Apple when Jobs returned and they had to essentially start the development of the OS over and reimagine every product category they were in. Under Nadella there's been meaningful evolution and more successful messaging, but it's not as if that wasn't a track they were on that Ballmer put them on. It's been a frustrating time to be a Microsoft fan, but shit, the previous CEO didn't exactly run them into the ground.

That is incorrect. Ballmer started this whole unifying and mobile-ifying thing. Satya is all about the cloud, but he is doing a great job of making MS a leader, and continuing the trend of mobile and unified systems.

This is awesome, and i hope it comes to XBox too with the universal apps. Like many im sure i'd love this to be for WM10 only instead of allowing iOS and Android but im sure it will come to those eventually.

Do something for phones too, new things only for PCs.. :'(

Right? If only we could text from our phones...
/s

What! You can text from phones, now you tell me!!

You're kidding right? Are you missing the new OS for phones? Or how about the ability to dock your phone and use it with a nearly desktop experience? Maybe you didn't see the iris scanner on phones, or the universal app system. Did you miss the abllity to side load Android apps onto the phone, or the ability to bridge iOS apps?

I don't see continuum taking off in the main stream. If it works well enough through Miracast maybe. I find it a shame the continuum dock does not work with the surface 4. If it did I think it might be more popular. I still think the integration with Windows 10 needs to be more compelling. There isn't many features that is making me want to spend $1100 AUD on a 950xl. I still would like a cheap Windows 10 TV pass through device to give me apps and an overview layer in the living room. The XBox One is too expensive for a non gamer. Plus the lack of apps is still important, if the app bridges are not ready soon the 950 and 950XL will be still born. I will not buy until the app bridges start making a difference with the app situation. I was hoping for some great news about the app situation at the hardware launch. Instead they mentioned only a few apps and nothing about the bridges.

I didn't know the Xbox One was supposed to be appealing for non-gamers, colour me surprised.

It's called the universal apps that will make the 950 xl a success not any of that bridge shit your talking about I feel continuum will be well revolutionary just like the universal app system once Microsoft hits 1 billion devices no developer not even google themselves will be able to ignore them and when the make a app it will be a universal app that will work on you pc/phone/tablet/xbox/hololens/and anything else that can run windows 10. If you don't see the brilliance in that then your blind

Won't matter if Microsoft has 1 billion users unless they actually use the app store. So far Windows users haven't been keen on the app store. Posted via the Windows Central App for Android

1.25 billion total visits to the store from Windows 10 - more than 50% of downloads are on the new OS. I think that's something

Fantastic to get confirmation though it has been pretty obvious for a while. I like the idea of it going through Cortana because then you can use it with Android and eventually iOS but due to Cortana availability it should be enabled without Cortana as well.

Yep but if we need Cortana, it's another feature lost. Quiet Hours is so awesome but a lot of people can't use :( *OBS: "From there, the message is sent and received to a Windows 10 Mobile emulator" -> I see the Project My Screen App and not an emulator... *Another question: I think in the way with Cortana, you don't need Bluetooth paired with Desktop like we were thinking.

i dont think u can send sms on other platforms via cortana... i think it would require more root access of the os. Then again if ms builds a dialer and messenger app for android, it might be possble. In ios,idk and i dont think its possible.

Why do we need a dedicated app? Microsoft Band can send and receive SMS on all platforms via Bluetooth; Windows 10 could easily do the same.

Using Cortana, this could quite possibly be built in to Android, as other apps do this in Android. However, this won't be possible in iOS, as iOS doesn't allow third party SMS apps. Correct me if I'm wrong, please.

YEEEESSSSSSSS......Keep doing this MS. W10 keeps getting better. Now, go fix Groove. kthx.

If you can't text iPhones or Android phones, I'm not sure I see much of a point with messaging on Windows 10, seeing as, while I use and love Windows 10 and W10 mobile, most people don't have it.

True, but if Cortana is on iOS and Android... Then again, I remember back in the day (read 3 months ago) when users were upset there were no exclusive features for Windows 10 Mobile....lol

Thanks Dan for pointing thinks it because many little here are short sighted!

"but if Cortana is on iOS and Android..." So we have to hope the recipient of the text messages has Cortana on their device in order for this to function properly?

No, you only need Cortana to send. An SMS is an SMS once its sent doesn't matter what device the person on the other end is using.

No, I think he means an Android phone paired with the PC has Cortana on it. Desktop - > Phone with Cortana -> SMS to user and back. Would a nice way to promote Cortana on phones. And the more Microsoft tools in use is what Microsoft is about.

They'll never be happy unless WM10 is the new Android and has 80% marketshare. But i think from is wording he meant "you can't send a text TO a iPhone or Android" which is wrong.

Once Windows Phone has 80% market share it won't be cool and unique anymore, I'll have to find another underdog :(

Remember the aprils fool app DOS-Phone? Yeah, lets get that shit.

Yeah! but it'll have to have no on-screen keyboard to be legit. Like ship the phones with an 80s style beige keyboard. That way it would feel legit typing in your dirs and cmdlets.

That's because in that 3 months everyone upgraded their Pc to Windows 10 and bought an iPhone so they would be upset if they couldn't use it on their shiny new phone ;)

Hopefully you will be able to link this to your phone number and it will work with any phone or carrier that you use. I am sure that is the goal.

I appreciate your frustration with us, Dan. We wanted windows to win significant marketshare back when win 7.5-8 were ms koolaid... Todays ms fan is a cynical evangelist. He knows ms will be last to the party. Still, I for one am happy this feature is coming to ms services. Palm set the bar high. Then HP violated it/ itself. Now, those of us who bought into a technologically interconnected and liberating future are hoping ms pulls a Palm and not another imessage.

I don't think it should even require Cortana. If I'm not mistaken Bluetooth already allows you to transfer contacts, and send and receive SMS. That could be a fallback for non-Windows devices.

If powered by Cortana then it should be able to send via any device with Cortana that supports SMS. As for the receiver of the SMS shouldn't matter if they are still using a Nokia 3310.

I'm sure Microsoft will make this work with android and iOS as well. It's not a killer feature to sell WP but it is a good way to get people more integrated into the Microsoft system.

It won't work with iOS since they don't allow third party SMS apps.

I have been excited about this possibilty since January!! Glad that it might actually happen! Can't come soon enough in my opinion! Though it would be silly if it only worked via Cortana. I'm hoping/guessing if Cortana can do it then the messaging app will be able to as well? Especially because the initial launch screen shows the option to change from text to skype. Anyway, can't wait!

Well, if Cortana is a requirement then it has a long coming for us how has to make do without her. While a neat feature I would like to see Cortana rolled out to all countries. I mean we do speak English also.

It wont be required. This just seems to be a trick to get it to work until the messaging app is done.

This! Like they say, no matter the device, you can go with your phone and do things and then arrive at home, take your PC and continue doing the same things, the same way, with no problems, no barriers, the same info and the same work process no matter the device. That's the real Continuum for me.

It dont matter if 13 years ago this exist in any platform or something like that. The great news here is that Windows 10 is comming soon and it will change the way a lot of people do stuffs. Late? Soon? Its here and that what matters.

Agreed, I'm not interested in the past, only the now and what's coming, Microsoft's direction is pointing towards exactly where I want to go, Google and Apple are pointing the wrong direction for me which is why I don't bother with anything they do.

Definitely looking forward to this

Daniel - Yes, this is a killer feature. They should allow any phone to be able to use this feature, not just Windows Phones. This would increase the the adoption rate of Win 10. Allowing this feature only to Windows Phone users will drive current windows PC users away to other OS. MS should tread carefully with this feature. Are you back from NY?

This isn't gonna drive ANYBODY that's already committed deeply in the windows PC community to go to other OS's lol... Windows have a 90% market share.... Heck, if anything it'll be the opposite effect if its indeed INITIALLY available to windows mobile 10 users only. They may not leave Windows 10 on PC but anyone leaving an IOS or Android ecosystem will be a plus. Having ANY exclusive features on our beloved W10M would be awesome.... Although mist likely like I said it'd just be for awhile. Dan's right

Agreed, it will come to Windows Phone first only because Cortana is more developed there, if it was more developed and feature complete on Android for sure it would show up there first. It's Microsoft's new mantra, ship it when its ready no matter where that is and personally I think that's a good thing, just wish they were ready first for Windows Phone most of the time!

Why should it require Cortana? Bluetooth has supported sending and receiving SMS for the longest time.

Hi, nowadays when I see somebody talking about market shares, specially kinda 90% and more, we must not forget our beloved Nokia's market share.... And oops, what did happened within one year? MS maybe needs only few specific epic fails (and they doing these consistently), a bit less luck and we all suddenly can't believe their market share gone. We need few cocky Steven Elops, some over-engineered technicians without rreality touch, a new rising competitior and everything could happen to even Microsoft. PS! sure, theres nothing to do with current topic, so please excuse me. Powder talking...

Those guys from WinBeta seems like working for Microsoft. But still, I love Windows Central more. Btw great news!

Continuity for core core phone features like phone calls and messages between windows 10 devices on the same wifi network will be pretty cool feature to have.

Can this feature be turned off?

If it works via Cortana then just turn Cortana off

That's an obvious answer but can you turn the feature off without turning off Cortana?

Maybe in Cortana's notebook, but I don't understand the need to turn it off in the first place, if you don't ask Cortana to send a message for you then nothing is sent and the feature will just gather dust...

This isn't something that will just be turned on for you. You will need to link it to your phone number somehow. I would guess if you want, you could then "unlink" it later.

My thoughts since there is a messaging app, that will sync with the phone's messages and I don't want that. There's probably a on/off toggle to turn it off.

Just don't use it. I don't think it's using any resources.

You mean still? Not all of us need or use WhatsApp or Snapchat. SMS is not going away.

Yeah the old Nokias did this a looong time ago wuhu! Good thing nonetheless but I will probably never use it myself. I don't know anybody without a smartphone and thus Skype or FB or etc. So yeah I am "texting" people already.

Awesome news to say the least!!!!!! Now give us a Surface Phone!!!!!!

It's about time. That's one iOS feature I really like.

Win10 mobile is getting better and better, wish surface phone can show the world what is the next generation of mobiles!

Ffffffffffffffffff..k YES!!! Used to do this through 3rd party apps on my old Android phone and this is one of my most missed features when I switched to WP. So glad to see it as a 1st party feature. Now if they will just bake in remote control of the phone through PC or any Win10 device.

There is an official Remote Desktop app.

Too bad half the US won't be able to US a Windows Phone to receive those messages. Sorry, had to do it.

I have to agree with you 100%! As a Verizon customer I am royaly upset how I am stuck with no options at this point! Also on a side note I accidently reported your coment.......sorry.

I don't think it will be limited to W10M phones only. Maybe initially, but I would imagine it will work with all phones that can send and receive SMS.

I doubt only windows phones would be able to receive but i'm sure we'll get more details soon.

Daniel, Are you sure that the "message is sent and received to a Windows 10 Mobile emulator"? The app he had looked like a project my screen app, not an emulator. So I think he was using an actual phone. (Which makes more sense, how would an emulator connect to the network to receive and SMS? Or a missed call notification?)

Emulators can connect to the hosts' network. But the point is, this is being powered by Cortana and the cloud and so has very little to do with mobile (cell) network. The phone that will send the SMS recurves the message command in the same way Cortana syncs other data. The device will then process the command and send the actual SMS via the mobile network, which on the emulator isn't working hence why the message was not actually sent.

MP3Mike is correct; this is a real phone and not an emulator.

You're absolutely right, this is an actual phone and not an emulator. That's the exact Share my Screen UI. That's why it's full of personal data (an emulator will not be) and why he can navigate the phone without clicking with a mouse.

Finally! I've been requesting this feature since the beginning. I bet that takes a boatload of code though. Nice to see it starting to happen though.

Actually its something very easy to accomplish hence why it was available pretty much before smart phones existed. However, integrating with Cortana and making it work cross platform to a very high quality does take a little more work!

i must b late to the party but cortana sounds way diff on his end then she does on my SP3. she sounds like the old xp narrator lady on mine lol on zac's she sounds like she part of MI6 giving orders to james fuggin BOND lol

Depends on your language and region settings, the voice used is different for every country I think.

ahhh ok thanks for the info cuz i was wondering, i liked the way she sounded on his presentation. so if i change location her voice can change?

Is it SMS or some other type of message?

Probably one of my most looked forward to features. I can't wait for this.

Exciting feature, would like to text using my desk keyboard

Very cool. Hopefully Whatsapp will enable this as well. Text messages are hardly used anymore, but I love it when I receive a text message while driving my car and Cortana dictates it over the speakers.

I don't use anything but text messages... Facebook is the only other thing and that's rare

This is nice. I hope this also means I can tell my phone to call that person. For example, get an email from somebody and initiate a call on my phone with two clicks instead of unlocking the phone, looking for the person/the email thread and initiating the call through the contacts app. It would be even cooler if it could use the PC speakers/mic and channel the call. Switching devices is bad UX.

iOS does this. I miss it.

On Xbox One too?... Idk about that. Can't imagine getting a MMS from my woman while the guys and I are gaming. A dilemma that would be.

Yet another awesome feature that, a long with everything else tied to cortana, will only be available in a few select countries... For us, windows 10, both mobile and pc, is windows 8 with a few less features :P

Wow, they finally get it. W10M needs it's big brother to bring it's A-game. Integration is what sells W10M to corporate. Next step is VPN simplification.

Yes, YES, YES! This was a stand out feature of Google Voice(Hangouts) that I LOVED. Since Google is being dumb about Windows 10 apps, Let Microsoft do it better!

In how many countries is KOTANA present? More than my fingers and toes?

Awesome, I hope answering calls or at least a warning for an incoming call gets added! But the tie-in to Cortana?... what about us who don't have Cortana in our countries?

I think it will be available but after you pair your phone so the messages are sent from your provider like imessage.

Hi Daniel, I don't want to sound rude, but that is not Windows 10 emulator, but a real phone connected to the PC (remember Project my screen app?). Also his phone being on giffgaff, he's from the UK. Anyway how can you make an emulator send a text when it has neither GSM connection (they are in flight mode), nor MSA credentials (needed for Cortana to sync). Keep up the good work! Regards, Hristo

This is already possible with BlackBerry Blend and something I use everyday. I'm glad to see they're bringing a must have productivity feature onboard. Looking forward to the 950XL and Surface 4. Hopefully it will work through the Band 2 as well.

NO, is not a killer feature. ​

About time. Jeez... This better work at least as good or Better than iPhone.. Been hearing the iFolks clammer about it forever..

is this a surprise? it would be stupid if Microsoft didn't do it. now Windows 10 is supposely to be one platform, and one ecosystem and all that, well I guess this makes sense.

I'd rather be able to send/receive. SMS via the internet when I have WiFi but no signal.

Text directly from PC to phone with the Mail client? This is priceless! No need to depend on FB messaging and third-party apps.

This is great news and, as this will work via Cortana, I wonder if they will be able to expand the PC-to-SMS communication to other mobile platforms. I suspect that it would be much easier to coerce an Android phone into working with it, given the permissions are far more doable there, but I suspect that getting it to work on iOS would be far more interesting. As someone that owns a MacBook Pro and multiple Windows machines (Surface Pro and a beefy desktop), I do miss access to my texts when I switch to a Windows device (and iMessages, though I could frankly do without them if it provided universal access to my different machines). As my main machine is now the beefy PC, it actually is quite distracting to have to check my phone for messages following literally a year of the MBP being my main machine. Once HipChat releases a univeral Windows 10 app, I plan to switch back to a Luima 950, assuming that I can get it on T-Mobile, with the iPhone as a backup device (honestly, once I pay it off, then I can sell the iPhone for more than I'll ever hope to do with any Windows Phone). I want another app, but I do not see it happening in any realistic term and my company is moving away from the product anyway, so it will be trivial to leave behind.

So I can send SMS "from my Windows 10 PC to my phone." Texting myself? Why? (JK, Daniel)

I say this is just another step in bringing full Windows 10 to phone in the future with the Surface Phone. All this will be needed, including the phone app, for a Surface Phone to run full Windows 10 and when hooked up to external hardware with Continuum be able to run Win32 apps as well. Looking forward to that day coming.

I have the Rm-985 variant of the Lumia 830 and the antennae and signal is so weak, and i just don't want to part ways with my phone or carrier, so i was wondering if you could link your phone number to the Win10 feature and you could use it to take the place of your phone when you are at the house etc

Why not also via Windows on PC get the notifications of calls that my phone with Windows mobile get

That was a much wanted feature especially for office workers while we are on our desk. The same should happen with calling. Ability to call and receive from my PC. Such SMS and calling feature will give much needed boost to the windows ecosystem.

I really hope this feature is only availible for windows phones!!

Nice, but Cortana really needs to be useable without a Microsoft account, otherwise, screw that sh*t, I already do all of that with AIrDroid on my Surface Pro 2 to send text to my OnePlus One...

Duh, you can sent a text to a phone from any email client.

Very useful feature...I used it lots when I had it on my venerable Nokia E66 back in 2008! I think it is important to remember that Symbian invented this feature. So what if the company is dead... It reminds us at least that the biggest tech giants do not always have the innovation going.... Also it helps put pressure on Microsoft to keep innovating. Get more UX focused designers on their payroll!

I think the article is possibly misleading though...I am assuming the feature really means you can send and receive messages to/from your phone, with the pc acting as a conduit...allowing typing and viewing of all messages.

The only thing that actually matters is if this feature can be done without Cortana since it only exist in only 6-8 countries in the world.

Remembering using the nokia pc suite to do this good times....

After failure to downgrade to 8.1, I did a hard reset to my 830. Im horrified to see that message app is no where to be seem! Anyone has experience of failure to downgrade with widows device recovery tool?

So now I'll get texts from "Windows Technical Services" in addition to calls? Lovely.

It's a very welcome feature indeed. Looking forward to also receive SMS on the PC and also make and receive calls.

I hope we can make calls aaand we can talk via our PC :D

Zuckerberg confirmed new fb apps for windows10 there's no reason why messenger couldn't get integrated

I'm texting in Windows 10 on my Laptop to my wife and my Windows 8 phones using Skype. It picks up like the old Messenger accounts that Microsoft used many years ago.

HI how does this work because i try to send message from my laptop it says it send but it doesnt. i got the latest priew build and lumia 640 running latest build. can anyone tel me step by steb how to do this . thanks

I use all platforms so it really does not matter who made the feature first or not. It ain't that serious.

Schould could would maybe.. Will see.

Great news! Obviously we're still in preview. I fully expect this ability to come to the messaging apps without dependence on Cortana. It would also be really interesting to see my full conversation history with somebody regardless of which device I was using (WM, iOS, Android). I would be able to send text messages from any device connected to my account, initiated by any other device... iOS being the exception where I would only be able to see and perhaps initiate, but iOS would be able to act as a sender. So to exemplify: on my iPad, using Skype or Cortana, I could write a text message and have my Android or WM phone send it.

I can confirm this. I was able to send a text from Windows 10 PC running insider 10565 to my handset running Window 10 mobile 10565 (don't ask). It took 20 minutes, but it arrived. :-)

I tried this on Build 10565 just to see the UI in Cortana, but didn't attempt to send the message (afterall, how would it work) and since doing that the Messaging app has pulled in a lot of my past text messages from my phone (They still say they were sent using Skype, even though they weren't). Must have pulled them down from the cloud backup as it does if you have multiple phones with SMS backup turned on

If Windows 10 had BOTH its current Continuum features that Apple can't touch, as well as the lion's share of features that more or less parallel Handoff, then that would be huge! HUGE!!! Imagine, a high end gaming PC in the living room, and a Phone and/or Surface Continuum dock upstairs in the bedroom, with the ability to pass everything back and forth. It would solve one of the few major problems with Continuum for Phone - namely, that it'd have to be either your only PC, or it's a disconnected spare. Something "Handoff-like" would fix all that, then you've REALLY got an extension of your beefy main computer in a second zone (ESPECIALLY IF YOU COULD STREAM GAMES) that also will come with you in your pocket later! TREMENDOUS!!! Now I know that a full-fledged "Handoff-killer" this is NOT. But it's a very significant step in that direction! And if more of those features get added still, then that'll be awesome! Plus, this is all on top of Continuum! So, yes, this is a significant and encouraging development! :-) Now all I need to be able to do is get a Continuum equipped W10M phone on Verizon. :-/ Cheers!

Are you guys forgetting this used to work in Outlook.com years back?

Yesterday I noticed that I can now launch apps on my Galaxy S6 from Cortana. Today, after reading the article Dan posted on Android Central, I noticed that Cortana can now send text messages from Android. Hopefully that leads to Cortana being able to read texts on Android as well, and being able to respond to them from the Band eventually.

would phones using Cortana e.g. iPhones ... be able to participate as well?

Cortana running on iOS has little to do with the issue. Under no circumstances does Apple allow any developer (other than itself) to programmatically send an SMS/MMS/iMessage from an app. The APIs allow only for

composing

and

addressing

messages, but it's still incumbent on the user to hit

send

on her phone. Even if there was some way to relay a message from your Windows machine to Cortana running on an iPhone, there would be no way to send it without picking up the phone.

It is pity. Very pity. The only reasonable part of having a windows phone is a hope that a compatible windows devices system. But those opportunist retards waited nearly like a 5 years for such a simple thing. It is very pity. Ohh me poor me.
Windows Central Newsletter
Thank you for signing up to Windows Central. You will receive a verification email shortly.
There was a problem. Please refresh the page and try again.