You just got a new Surface! Here's what you need to know
Whether it's your first Surface Pro or Surface Book or your first upgrade, here's how to set up and get started!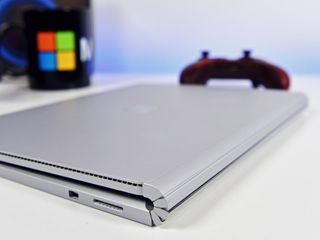 If you are new to Microsoft's Surface Pro or Surface Book, then welcome to an exclusive and proud club! You may have a lot of questions about what to do first, things to look out for and some tips and tricks for your new Windows 10 PC.
In this guide, I'll give you some advice on all the things you need to know about the Microsoft Surface!
1. Inspect the hardware
Surfaces are not cheap. Any premium device needs to be double checked for any flaws. Microsoft does this themselves at the factory, but nothing is perfect. Here are a few areas to inspect.
Display - Pixels: After your Surface is setup, try to have a uniform background — one black, the other white. Look closely for any dead, stuck, or 'hot' pixels. Having one pixel that does not work right can be an infuriating experience and while rare it can happen.
Display – Discoloration: Check the display especially on the left and right edges for any yellow discoloration. Again, very rare, but check that the screen and digitizer adhesive is okay.
Creaks and hinge: On the Surface Pro 4 ensure that the kickstand, when closed, is flush and has no loose movement. For Surface Book make sure when in laptop mode that the front edge of the display sits flush against the base
Speakers: Play some audio through the Surface's speakers and ensure there are no pops, snaps, or distortions.
The chances of finding manufacturing defects are rare for the Surface line, but nothing is impossible. Microsoft has a lenient warranty exchange policy, but only within that 30-day window if bought from their Store. Check, double check and make sure it's all in order!
2. Check for OS updates
Unbox, pull off all that plastic, and turn the Surface on! I advise plugging in the AC power adapter to your Surface — there will be a few steps during setup and you'll want to check for OS updates; none of these are easy on the battery.
On Surface Book and Surface Pro 4 press and hold the power button for two seconds on the top left of the display.
Go through the set-up experience, including logging in with a Microsoft Account (you can do without, but there are a lot of benefits to setting one up).
Once you log into Windows 10 for the first time, you will want to check for OS updates. Microsoft practices what they call 'Windows as a Service' (WaaS), which just means that Windows 10 will get updates once a month for fixes, improvements, and every few months bigger updates that bring new features — all free of charge.
Here is how to make sure you have the latest OS update:
Open the Start Menu. You can do this either by clicking on the Windows logo in the bottom left corner of the screen or pressing the Windows key on the keyboard.
Type Check for update. This will perform a search for that term. The "Check for updates" feature in System settings should be the first result.
Press the Enter key. The Settings app will open to the Windows Update page.
Click Check for updates. Windows Update will check Microsoft's servers for available updates and immediately begin to download any available updates.Downloading updates may take a while, depending on the size of the updates and the speed of your internet connection. You can do other things while updates are downloading, just don't turn off your Surface. After the downloads are complete, Windows will prepare the updates for installation.
Once the updates are ready to install, click Restart now to start the installation.
You're all but guaranteed to have a cumulative OS update, fresh Windows Defender (antivirus) definition files, and possibly even some Surface-specific driver updates waiting for you. While you can put off downloading or installing updates, I recommend you go ahead and restart when prompted. Yes, it means you must put off playing with your new toy for several minutes, but this guarantees a better experience from the start.
You can keep track of all the Windows 10 releases, including Insider previews, using our Windows 10 update tracker.
3. Check for App Updates!
Now that Windows 10 and your Surface are up to date, you will want to update all the native apps like MSN News, Weather, Money, Camera, and more. In Windows 10, almost every preinstalled app goes through the Windows Store where it will receive frequent updates.
You will want to update these apps as sometimes they add new features, other times they directly improve the user experience.
Open the Store (Store icon in the task bar)
Tap or click the user icon on top, next to the search form
Tap or click Downloads and updates
Tap or click Check for updates
The list of apps will likely populate and begin to download. The app sizes should be relatively small as only the parts of the app that need to be updated get refreshed.
4. Best Apps
While you just updated all the default apps for Windows 10 and your Surface, why not check out our list of must-have third-party apps and other official ones as well?
Best apps for your Windows 10 PC
5. How to change your Wallpaper
Make your Surface your Surface with your own wallpaper. Sure, it might seem like a simple thing, but the right wallpaper can make all the difference.
How to change your Windows 10 wallpaper
6. Setup Cortana
If you live in the US, Canada, or one of the other countries where Microsoft's digital assistant Cortana works, you'll want to get set it up as well.
Cortana is like Apple's Siri in its ability to help you do tasks, make appointments, answer trivia, and more!
How to setup and use Cortana on Windows 10
7. Shop for accessories!
Sure, you have one of the most expensive and coveted computers around so you'll want to protect and add things to it.
Whether it's bags, adapters, getting a mouse or more we have you covered with our top accessories to make your Surface perfect.
8. More Resources!
Your journey with the Surface Pro and Surface Book is just starting. Here are a few areas on our site where you can find more help, guides, news, and tips!
Windows 10 Tips and Help – New to Windows 10? Start with our guides, tips, and tutorials on things you can do with Microsoft's OS
Surface Tips – Articles and guides we have written about the Surface line
Surface Book – All our news specifically about the Surface Book
Surface Pro 4 – All our news specifically about the Surface Pro 4
Surface Pro 4 Forums and Community – We have some of the largest forums around with people asking questions, getting answers, and sharing their Surface Pro 4 experience! Browse and look around or signup and join the conversation!
Surface Book Forums and Community – We have some of the largest forums around with people asking questions, getting answers, and sharing their Surface Book experience! Browse and look around or signup and join the conversation!
Daniel Rubino is the Editor-in-chief of Windows Central, head reviewer, podcast co-host, and analyst. He has been here covering Microsoft since 2007 when this site was called WMExperts (and later Windows Phone Central). His interests include Windows, Microsoft Surface, laptops, next-gen computing, and for some reason, watches. Before all this tech stuff, he worked on a Ph.D. in linguistics and ran the projectors at movie theaters, which has done absolutely nothing for his career.
Nice one for the holiday. Merry Christmas Dan :)

Wish it wasn't so expensive for the specs.

Is there anything out there with comparable specs that is less money? When I bought mine a year ago the only thing close was the iPad Pro. I looked at the only comparable configuration being the 128 gig. I-5, with type cover vs. the 128 gig. iPad Pro with their $100 pencil and keyboard. At the time that configuartion for the Surface Pro was 999+129=$1128. (right now save $200 on same config). The iPad Pro was (and still is) $899+99+169=$1167. One of the major problems with the Apple is there is no expansion. I purchased the I7 256k along with the docking brick. As I am typing this I have a 128gig. Micro SD inserted with my iTunes Music, another 128 gig. USB dongle, Two 4 TB drives and a Blue Ray drive and can control three external monitors via Displayport. I did upgrade my iPad Air 2 to a 9.6 iPad pro and got the pencil for it. The only area for my purposes that the iPad exceeds the Surface is having 4 speakers although the sound from either device is far better than any compute device I have previously used. (and if I want to watch a movie I will Chromecast it to a better sound system most the time anyway). The Apple pencil is supposed to be marginally better for artists but I wouldn't know. Everything that has come out since and although funtionally devices from HP, Lenovo, Dell etc. are less money they all seem to fall short of the mark in one or several areas. Some don't have pens, none have as much expansion or resolution or speakers. There are devices that exceed the raw specs but none that has the portability, weight, battery life or the ability to be a detatched tablet that the Surface products have.

Awesome guide good check list when getting a new device

i love my surface book, but im selling mine this week before it loses any more value. I'm definitely buying the next version which i hope will come out in the spring.

What if I've just got a Surface Hub? Are the steps still the same?

Wow! You did?!? Sweet! Lucky you! Seriously!. Merry Christmas! 🙂

Congrats. We have 2 at my office.

Thanks Daniel, your tips will be useful...just got a surface pro 4 :)

If possible, I think it would be beneficial to add a step for updating the firmware for Surface Books and Surface Pro's. I may be mistaken, but I believe the firmwares are not issued through Windows Update like OS updates, but rather from Microsoft's website https://www.windowscentral.com/e?link=https2F%2Fclick.linksynergy.co... Although I could be wrong. I just didn't see anything from Windows Update that said that when installing.

I got a surface pro 4! Pinch me in the face. I must be dreaming. Surface pros are worth a fortune here in the Philippined hahaha no one buys them here.

Well done!! Congrats. Me too 😊

Hey, anyone know a workaround for the Surface Book, when setting up an error message comes up and then an infinite loop of 'just a moment' and hasn't stopped since?
Windows Central Newsletter
Thank you for signing up to Windows Central. You will receive a verification email shortly.
There was a problem. Please refresh the page and try again.