Is your PC getting the Windows 10 October 2018 Update on October 2?
Windows 10 October 2018 Update will be released on October 2, but is your computer getting it right away? In this guide, we'll explain how the rollout process will work.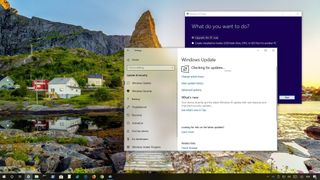 Assuming that there not hiccups at the eleventh hour, Microsoft is expected to release the Windows 10 October 2018 Update (version 1809) on October 2. This is the sixth major update that the OS is getting in the last three years, and it's a continuation of the April 2018 Update that introduces a new set of features and enhancements.
However, officially releasing on October 2 across millions of devices, including desktops, laptops, and tablets across the world, it doesn't necessarily mean that your PC will get it immediately.
In this Windows 10 guide, we'll explain the process that Microsoft usually uses to deploy a new major version of the OS to all devices.
What PCs are initially getting the October 2018 Update?
As we come to expect, the rollout of the Windows 10 October 2018 Update will be gradual and slow, but faster than previous releases. Starting on October 2, leveraging Microsoft AI and Machine Learning technologies, devices that indicate that won't have problems running the new version will get the update first. Usually, these devices can include Surface and popular brands (such as those from Dell, HP, Lenovo, ASUS, etc.) that came originally with Windows 10.
Note: While the official release of the update is October 2, it's only available as a manual download using the Update Assistant, Media Creation Tool, and using the Windows Update settings. The new version will begin to rollout automatically through Windows Update starting October 9.
During the early days, telemetry data will be collected as well as feedback from customers and manufacturers, and then as the rollout progresses, the feature update will expand to other devices.
However, many other external factors can prevent you from getting version 1809 even if your device is compatible. These factors can include incompatible device drivers or applications, certain peripherals, or a particular piece of hardware. Also, the way you acquired Windows 10, and your geographical location can play a part on when your PC will be getting the new feature update.
Even further, using AI and Machine Learning, Microsoft can quickly detect issues on a new version and temporary block a group of devices from getting the update, and the block will last until the company is confident that the problem has been resolved.
Can you skip the queue and upgrade manually?
The short answer is yes. However, it's always best to wait until Windows 10 version 1809 downloads automatically using Windows Update. Having said that, if you're eager to upgrade, there's more than one way to upgrade manually. You can use the Update Assistant or Media Creation Tool.
Update Assistant
The Update Assistant is an easy-to-use tool that has been designed to upgrade a computer in the event that the Windows Update mechanism isn't working. However, you can also use it to upgrade your machine without having to wait in the queue.
When the update becomes available, you can just download the Update Assistant (opens in new tab) clicking the Update now button from the Microsoft support website. And then double-clicking to launch the tool, and clicking the Update Now button will download and force the installation on your computer.
Media Creation Tool
If you're planning to upgrade more than one computer, you can also use the Media Creation Tool to upgrade to Windows 10 version 1809 skipping the queue. (You can also use the tool to upgrade a single machine.)
Using the Media Creation Tool, you can install the October 2018 Update without affecting your settings, apps, and more importantly, your files.
Once Microsoft updates the Media Creation Tool (opens in new tab) in its support website, you can downloed it by clicking the Download tool now button. Then after launching the tool, you only need to follow a few on-screen directions to upgrade your device.
If you're having problems shutting down, booting up, or any other performance issues, you can also use the tool to perform a clean installation with the October 2018 Update. Just make sure that you create a backup before proceeding, as you'll need to restore your files, and you'll also have to reinstall apps and reconfigure your previous settings after the upgrade.
Wrapping things up
After months of development, the Windows 10 October 2018 Update is finally ready for prime time, but remember that Microsoft making it available on October 2 doesn't mean that the new version is fully compatible with every hardware configuration.
Usually, it can take a few days to several weeks for devices to get the feature update automatically. If you want to upgrade immediately, consider that if it's not available through Windows Update, there's a good chance that Microsoft is putting a block because there could be a compatibility problem. In this case, it's recommended to wait until you receive the notification indicating that version 1809 is ready for your device.
More Windows 10 resources
For more helpful articles, coverage, and answers to common questions about Windows 10, visit the following resources:
Windows 10 help, tips, and tricks
Windows Central Newsletter
Get the best of Windows Central in in your inbox, every day!
Mauro Huculak is technical writer for WindowsCentral.com. His primary focus is to write comprehensive how-tos to help users get the most out of Windows 10 and its many related technologies. He has an IT background with professional certifications from Microsoft, Cisco, and CompTIA, and he's a recognized member of the Microsoft MVP community.
Downloading 1809 now on Surface Pro One!
Took 65 minutes...
Version 1809
OS Build 17763.1
Funny, the Welcome Screen says: Welcome to the April 2018 update!!!?
32 App updates after the install!

Windows Update is downloading it for me now on desktop with i5 4th gen on an ASUS board.

Getting it through Windows update on my SP2 and ThinkPad T500

Installed fine on the SP2 aside from giving me a "Welcome to the Windows 10 April 2018 update" screen on Edge it works well. Took a few days and multiple bluescreens/failed attempts on the ThinkPad but it got there in the end. As expected, none of the last minute bugs and limitations in the dark explorer were fixed. It looks okay though. Also, it's understandable because of how locked down iOS is, but the Your Phone app doesn't do anything if you use an iPhone. Kind of disappointing

Mauro, what do you mean 'The new version will begin to rollout automatically through Windows Update starting October 9.'?! Feature update v1809 is already downloading on my HP ENVY 23 Recline Special Edition, and it is at 99% as I am typing this comment!

Downloading 1809 now on Dell 2720 Touch...
After the update I noticed the random screen flicker is back and Intel graphic driver revealed to be .4568. Now I have to force install the latest driver .5058 to get rid of this issue...BTW- been doing this after every major update since Dell Support is useless!

Version 1809 is downloading thru Windows Update as I write this on my 8 year old Dell L701X. BTW, this PC runs Windows 10 with flying colors!

Downloading 1809 now on Dell Alienware 17 R5. My Lenovo Y700 also started the download.

I'm on an HP Envy x360, it's October 3rd and I got the update notification..downloading now..crossing my fingers it doesn't break anything .

Downloaded and installed last night on my 2015 Macbook Pro... Still trying to determine if I can get Apple's old ****** drivers to function though - I seem to have lost my trackpad and my screen brightness controls
Windows Central Newsletter
Thank you for signing up to Windows Central. You will receive a verification email shortly.
There was a problem. Please refresh the page and try again.