Zynga's FarmVille 2: Country Escape has quietly made its Windows Phone debut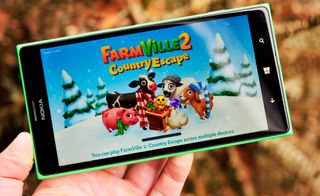 After launching on iOS and Android devices earlier this year, Zynga has quietly added FarmVille 2: Country Escape to its very small list of games for Windows Phone users. It joins Words With Friends and the paid and free versions of Draw Something.
As with the original FarmVille, FarmVille 2: Country Escape puts you in charge of building and maintaining a farm, complete with animals, crops and more to take care of. The list of gameplay features in this free-to-play game include:
HARVEST farm fresh crops of your favorite fruits and vegetables
CUSTOMIZE your own farm for charming country living
COLLECT hidden and rare items as you discover a new coastal farm
NURTURE and raise a wide variety of adorable animals like your very own farm dog
EXPLORE a new FarmVille story filled with special farm adventures
BUILD a lush family farm by the coast so all your friends can visit
FISH with your fellow farmers and sell your catch at Pike's Landing
GARDEN by the beautiful blue ocean as you decorate your farm with flowers and fresh produce
TRADE and chat with friends or play anonymously with people from all over the world
ESCAPE to the coast and then connect to your Facebook farm to send free water
EARN daily rewards with the Mystery and take a spin at the Prize Wheel
In addition, the launch of FarmVille 2 on Windows Phone comes at the same time as some new seasonal content is added to the game, as "our farm's first snowfall has covered everything in a beautiful white blanket!."
Unfortunately, the game is not compatible with 512 MB RAM phones. Sorry, folks!
Thanks to Kevin and Sachinmeet for the tips!
Windows Central Newsletter
Get the best of Windows Central in in your inbox, every day!
Gud for Farmville Players :D

I never tried Farmville. I downloaded it already and I might give it a shot later lol

Speaking of, anyone know why Words With Friends is blocked for the 920?

Hmm, my kids have 920s and cant pull it up in the store. I used the 'share this app' thing on my phone to send it to them and it says its not available for this device. Weird.

What share this app
Do we have a app sharing application

Waiting for "Not for 512 RAM" comments. ❤

Anyway I opened it for 2 seconds and it already crashed. Lol

It obviously did it the Zynga's style

Just change you region in setting to USA download it and the change it back

How about an UPDATE for WWF

No support for 512 Mb devices: Crap

I bet you can't optimise it better.

Seriously why only 512 Mb phones excluded

Probably because the game is too memory-intensive. :)

Because it hasn't been optimized for them yet.

2 gb ram isn't exactly doing wonders. Game crashes soon as it opens.

Running perfectly on my 1520..

Yeah well my 1520 sucks if that's the case.

Not available in Portugal

Finally, Steve Ballmer's Trojan Horse scheme of ousting Don Mattrick just to infiltrate Zynga and begin making rehashed sequels for Windows Phone is starting to pay off. Well played, Steve. Well played.

that came to mind as well

when windows 10 arrives i hope the app store is full of fantasy. all top notch games like mortal kombat Armageddon burnout takedown for win 10.

You'll be lucky if out had checkers and hangman.

If they don't want to repeat the mistake they did with W8, they better put WP apps to W10 app store

But is not the same...a pc has 8gb ram or more while a phone usually has 1gb. And what about the display? And the controls? The app difference will still exist

Sweeeeeet!!!!! I was super addicted to this crus on Facebook

The game is available in Swedish but cannot be downloaded here in Sweden for some reason. Maybe they havent released it fully yet?

Looks like it is not available for my 1520 in Australia. I am sure I don't have a 512mb ram device. Next we will here zynga complain not enough users download their apps. Maybe they should make them available to more markets??

Yes! A popular game :D I don't play it, buy glad to have it join our app store.

Not available for south Africa

Is this game like Harvest Moon?

I'll prefer modern mayor its far better thn this... bettr gameplay with frequent updates.

Guess the fact there not making as much money from fb now their willing to go on any mobile platform. And im sure ios iap changes(mandated by ftc) also affected them

Well, thanks Zynga. Maybe we'll see King games soon, too.

King games is a cheapskate company which makes millions every week but cant spend a fraction of it to make a windows phone game.

Zynga... This guarantees it to run like crap.

Not supporting Zynga after trying Words with Friends and Draw Something. Terrible support.

No love for my 512mb Lumia 630. That's awesome Posted via the Windows Phone Central App for Android

Ella zynga bueno. Posted from The Dark Side.

Using a 1020 carnt download for this phone

Damn I was super excited when I saw this but its not syncing my game I've been playing on my iPad and I'm not starting from scratch :(

God damn it. Another game that they're is no way to stop phone notifications. Shouldn't be allowed in the marketplace if you can't shut off alarms or notifications.

Not Available for Lumia 1520...

Yes it is, I just downloaded it

No idea. The article didn't say either way.

It is, but coming to other countries soon.

Not available in Canada...

not available in ro!!!! wtf?

Yay..... Wait do they update their other apps? Because words with friends is buggy as %&*) so I'm not interested in downloading anything from then

Is this a US only thing... again? No, I'm not changing my region settings. I shouldn't have to!

Available it for 512 Mb..

I though Farmville 2 was already in the Windows Phone store and it was called Age of Empires Castle Siege.

lol funny you say that! I've been playing AOE on my 1520 for the last week or so, and my girlfriend spots me playing it and says "look at you playing a "Farmville" game!". (I used to pick on her for playing Farmville all the time on FB) Now she's got to give ME a hard time lol... well wait till she sees this!

Why cant Zynga add their texas poker on WP.

Looks like I have to get a 1gb ram phone now

512mb not supported? Ugh.. Anyway I have Barn story.

Its not the original fram ville , can't connect to facebook

Hope they bring this to Windows Store too!

Not in UK.... And ni, its not that simple to change to USA store.

No bro I'm connected to FB it's official

FarmVille 2: Country Escape is now available on Windows 8 as well. http://apps.microsoft.com/windows/en-us/app/farmville-2-country-escape/924bba3a-888f-4cd6-91bc-a1510fbb9344

Any idea on how to sync iPad farmville 2 to windows farmville 2?

I am in india and i have this game. Why not in canada or any other country? Surprised.

I play farm ville country escape on my next book android tablet,I downloaded the game on my windows 8 laptop how or why does it not sync or connect with Tablet? No way am I going to start another from the beginning..
Windows Central Newsletter
Thank you for signing up to Windows Central. You will receive a verification email shortly.
There was a problem. Please refresh the page and try again.