11 things you should do first with the Lumia 950 or 950 XL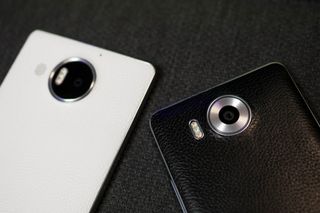 Picking up a new smartphone can be an overwhelming experience. Indeed, first impressions matter so from the moment you power the phone on for the first time to when you confidently put it in your pocket to face the world how it all goes can impact your view.
What do you need to do when you first pick up a new Lumia 950 or Lumia 950 XL? Sure, drop in a SIM and maybe a microSD card are obvious, but what about app updates, system updates and more? Here are a few things that we do every time we fire up a new Windows Phone. Maybe you'll learn a thing or two as well.
Without further ado, this is our list of 11 things you should do when setting up your new phone, so you can have the best experience right away.
1. Uninstall apps
One of the cool things about Windows Phone versus the iPhone and Android is you can actually remove preinstalled apps from carriers or Microsoft. We are not talking about hiding apps but completely removing them from the phone to save storage.
For example, the Lumia 950 from AT&T includes AT&T Address Book, FamilyMap, Locker, Navigator, Ready2Go, Mobile TV, and more. If you don't think you'll be using any of these apps, you can uninstall them. To uninstall an app, tap and hold the app's name and select Uninstall. The app is gone from your system. If you ever want it back, you can just grab them from the Windows Store again.
2. Store updates
Many apps might have been updated since the phone has left the store and reached your hands. We recommend checking if updates are available before you start using them. Open the Store, tap the hamburger menu, tap Downloads and updates, and then Check for updates.
It is not uncommon to see app updates for 38 apps (or more) on these new Lumias. These updates are super important to your experience as many of them are fixes and enhancements. If you start using an older version of an app, you may think something is wrong when an updated version is just waiting to be downloaded.
3. Phone update
While your phone is still mostly untouched, check if there are any phone updates for the operating system. Swipe down from the top of the screen and select All settings. Go to Update & security > Phone update and tap Check for updates.
Microsoft has changed the model for Windows 10 Mobile and OS updates should be much more frequent. Don't worry either, your phone does check once a day for OS updates so you won't ever miss 'em for long.
4. Email accounts
Adding your email accounts to Outlook should be one of the first things you should do with the Lumia 950 and 950 XL. In addition to sending and receiving emails right away, it'll also be included as an option when sharing items such as photos, screenshots, links, or more.
5. Color profile
Others have mentioned that the Lumia 950 display appears washed out. Fortunately, you can change the screen profile. We recommend changing it to the vivid option. Go to Settings > Extras and choose Color profile. Select Standard, Vivid, Cool, or even Advanced for more control over what the screen shows.
6. Lock screen
Get a new lock screen image automatically every day from Bing instead of using the default one. You can also choose to use your own photos or from other apps, but Bing is a great option to start with.
7. Start screen
Personalize your phone even more by changing the way the Start screen looks. Go to Settings > Personalization > Start. You can change the background image, use it as a full screen or tile picture, and even change the transparency of the tiles. When you're done, hit the back button and then tap Colors. Select your accent color and choose whether you want the dark or light theme. We like wallpapers from interfacelift.com and Theme+ (opens in new tab).
We'll be doing more in-depth articles on customization in the coming weeks, stay tuned!
8. Keyboard size
There is a way to change the keyboard size on the Lumia 950 and 950 XL. It is large by default, so check if you're comfortable with the small and medium sizes too. A smaller keyboard gives you more space to see content on the screen.
Swipe down from the top of the screen and select All settings
Go to Time & language > Keyboard and tap More keyboard settings
Under Keyboard size, you can select Small, Medium, or Large.
9. Windows Hello
The Lumia 950 and 950 XL both feature Windows Hello (Beta), which is a biometric form of authentication. You can securely unlock your device or make purchases at the Store by just looking directly at the screen. The front-facing infra-red camera technology is used to authenticate you.
Go to Settings > Accounts > Sign-in options.
Tap the Set up button under Iris
Tap Get started, hold your phone in front of your eyes, and tap Next.
The Lumia 950 and 950 XL scans your eyes and you can do this several times to improve the recognition.
10. Battery saver
Battery Saver extends the battery life of the Lumia 950 and 950 XL by limiting background activity and push notifications. It is off by default, but you can set it up so that your phone automatically turns on battery saver when the battery falls below a certain percentage (usually 20 percent is a good idea). Follow the steps here.
11. Install apps
It isn't truly your phone until you start installing apps. If this is your first time using Windows 10 Mobile, check out Daniel's list of 23 must-have apps for the Lumia 950, Lumia 950 XL. Some of the first apps I install are 6tag (opens in new tab) (Instagram app), Pandora (opens in new tab), Facebook (opens in new tab), Yelp (opens in new tab), and myTube (opens in new tab) (Youtube app).
More tips
Have more tips for new users? Let them know in the comments what else you think they should do with their Lumia 950 and 950 XL!
News
Want all the latest news on these phones? Hit these topic pages for all that we got.
Microsoft Lumia 950 XL main page
Support and help forums
Need to chat about the Lumia 950 and Lumia 950 XL? Jump into our forums and ask others what they think or get help and advice on your new phone!
Good thing I did all 11 things! Very happy

Meanwhile, battery status shows that the phone display has consumed 70% in power over the last 24 hours...

I had that the first day, now its not doing it. I have 70% remaining at the end of a day of moderate use including an hour long phone call.

What did you expect?
Only way to have a display that consume "less" is to have a chips that drain a lot of energy with a small screen. But even if you have a 50-50%, that doesn't mean the battery will last longer.
My 1520 stays out of charge for 2 days with a 80% drain from the display. But if I use it a lot for gaming, I have a 60% screen usage for 30% system and 10% data transfer, and it lasts for 10 hours.
It's easy to understand that if you don' t use your phone and all the wifi and cellular datas are stopped, the only way the phone will use the battery will be by turning on the display. In fact you'll have the best durability with a battery usage at 100% by the screen.

Ah, switching from Ativ S? How's the difference?


The difference is clear, Lumia rocks the Windows 10 World.

Setup quiet hours should definitely be on the list!

Although not everyone will be able to do that

Get a new case is another.

Well...it's not entirely true you can uninstall all WP apps. For example, for some reason that beats me, I can't uninstall the "Weather" app. I don't want it, I never installed MSN Weather because I consider Amazing Weather HD a superior offer and yet on my WP10 test device Weather is there, unremovable. Same for other bloatware like OneNote, Microsoft Groove or Skype Video. So yeah, you'll still have to deal with Microsoft bloatware the same way you have to deal with Google and Apple bloat. Microsoft only has the "advantage" of having less bloatware to offer and doesn't force a lot of it on you.

I like the amazing weather app as well, and used it on w8.1. However, the new w10 weather app is quite good, and I am using that now. It is curious that it can't be uninstalled, though, I agree.

W10 weather app has everything. I don't need Amazing Weather anymore.

You call Onenote bloatware.
Respect = 0

The moment I have no use for it but can't uninstall it, it's bloatware. ;)

OneNote is awesome!! Hey! ):

I missed the part where the article mentioned that you can uninstall "ALL" the apps from carriers and Microsoft.

Dude, that's the first point.

all apps that are not removed are essential for phone ,if you don't like it, don't download it.weather app is not preinstalled ,first it will be link to store to install the app,if you don't download the app .it will be link only

Office Lens + One Note = the best place to scan and save all important receipts. I love both of them for that.

Just tried "Office Lens" app. Killer app. Everyone should check it out. Thanks!

Services arent bloatware. Apps outside of the OS services are bloatware. Storage, music player, a note app, and a video app is considered basic service for a smartphone. You are looking for a feature phone.

Smartphones let you install whatever apps you want. If an app is useless to you, then it is bloatware, especially if you can't uninstall it. Posted via the Windows Central App for Android

No, basically he wants choice. He wants a different/better music player or weather app, but he's not allowed to uninstall the ones he doesn't need...

Basically their forcing us to use it. Just delete the live tile & disable the permissions

So they're not forcing you to USE them =)

No, but they're forcing you to keep them installed, taking up space and getting stuck in the download queue...

You do realize that anything that cannot be uninstalled is due to the fact that the OS uses it right? Your definition of bloatware is completely incorrect and even if it were, I would guess you "use" the apps more than you even know. Again, your blind hatred makes you look like you have no clue what you're talking about.

That's not blind hatred. He said a valid claim. Include OneDrive now that its useless. Posted via the Windows Central App for Android

Only a fool would consider OneNote to be bloatware!

ppl who cant afford to buy this shit start to talk shit :))

Lol. That's funny... I'm on att next, and I'd rather wait till something good comes along.. Can't afford??? Hahaha. Not likely.

You will just have to wait indefinitely then... There is always that next thing. Here and now, there is nothing better.

No, no, no.. That's besides the point... It's not about it being the best, it's about it being a suitable upgrade.... Times are different. The spec war has considerably died down.. My 1520 still is relatively very capable... So, now,, just because there's a new device, it's not always a must to upgrade... That's not the case anymore... That's why MS must make devices that fire on every cylinder..... The 950XL does not. If it did you know I'd get one!

With W10 on my 930 it's like having a new phone - I simply don't need to get the latest as this OS is still rocking on my 930. For those who comment here coming from a 920 and less capable models, the difference in processor speed and W10 is substantial.

Even on my lumia 525 its working nicely,and that phone is released about 3 years ago.

Very nice - and this is a great reason for choosing WP.

Solid list! #13 would be to get a Mozo cover

Damn straight! Got the red and brown leather ones ordered. Posted via the Windows Central App for Android

Polycarbonate > Animal skin

Human skin > Polycarbonate

Rock > Scissors > Paper > Rock > Scissors...this is the game that never ends...yes it goes on and on my friends...some people...started playing it not knowing what it was, and the'll continue playing it forever just because Rock > Scissors > Paper > Rock > Scissors > Paper...wait wut?????

Especially newborn baby Human skin. The best, I recommend Posted via the Windows Central App for Android

Am I the only one that cannot get my order completed? As soon as im ready to complete my order, it just says "no price quote available for your region". I live in NY, please help. Thx

Nope. Me too. But every time