11 things you should do first with the Lumia 950 or 950 XL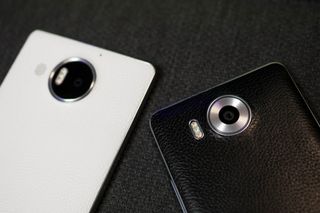 Picking up a new smartphone can be an overwhelming experience. Indeed, first impressions matter so from the moment you power the phone on for the first time to when you confidently put it in your pocket to face the world how it all goes can impact your view.
What do you need to do when you first pick up a new Lumia 950 or Lumia 950 XL? Sure, drop in a SIM and maybe a microSD card are obvious, but what about app updates, system updates and more? Here are a few things that we do every time we fire up a new Windows Phone. Maybe you'll learn a thing or two as well.
Without further ado, this is our list of 11 things you should do when setting up your new phone, so you can have the best experience right away.
1. Uninstall apps
One of the cool things about Windows Phone versus the iPhone and Android is you can actually remove preinstalled apps from carriers or Microsoft. We are not talking about hiding apps but completely removing them from the phone to save storage.
For example, the Lumia 950 from AT&T includes AT&T Address Book, FamilyMap, Locker, Navigator, Ready2Go, Mobile TV, and more. If you don't think you'll be using any of these apps, you can uninstall them. To uninstall an app, tap and hold the app's name and select Uninstall. The app is gone from your system. If you ever want it back, you can just grab them from the Windows Store again.
2. Store updates
Many apps might have been updated since the phone has left the store and reached your hands. We recommend checking if updates are available before you start using them. Open the Store, tap the hamburger menu, tap Downloads and updates, and then Check for updates.
It is not uncommon to see app updates for 38 apps (or more) on these new Lumias. These updates are super important to your experience as many of them are fixes and enhancements. If you start using an older version of an app, you may think something is wrong when an updated version is just waiting to be downloaded.
3. Phone update
While your phone is still mostly untouched, check if there are any phone updates for the operating system. Swipe down from the top of the screen and select All settings. Go to Update & security > Phone update and tap Check for updates.
Microsoft has changed the model for Windows 10 Mobile and OS updates should be much more frequent. Don't worry either, your phone does check once a day for OS updates so you won't ever miss 'em for long.
4. Email accounts
Adding your email accounts to Outlook should be one of the first things you should do with the Lumia 950 and 950 XL. In addition to sending and receiving emails right away, it'll also be included as an option when sharing items such as photos, screenshots, links, or more.
5. Color profile
Others have mentioned that the Lumia 950 display appears washed out. Fortunately, you can change the screen profile. We recommend changing it to the vivid option. Go to Settings > Extras and choose Color profile. Select Standard, Vivid, Cool, or even Advanced for more control over what the screen shows.
6. Lock screen
Get a new lock screen image automatically every day from Bing instead of using the default one. You can also choose to use your own photos or from other apps, but Bing is a great option to start with.
7. Start screen
Personalize your phone even more by changing the way the Start screen looks. Go to Settings > Personalization > Start. You can change the background image, use it as a full screen or tile picture, and even change the transparency of the tiles. When you're done, hit the back button and then tap Colors. Select your accent color and choose whether you want the dark or light theme. We like wallpapers from interfacelift.com and Theme+ (opens in new tab).
We'll be doing more in-depth articles on customization in the coming weeks, stay tuned!
8. Keyboard size
There is a way to change the keyboard size on the Lumia 950 and 950 XL. It is large by default, so check if you're comfortable with the small and medium sizes too. A smaller keyboard gives you more space to see content on the screen.
Swipe down from the top of the screen and select All settings
Go to Time & language > Keyboard and tap More keyboard settings
Under Keyboard size, you can select Small, Medium, or Large.
9. Windows Hello
The Lumia 950 and 950 XL both feature Windows Hello (Beta), which is a biometric form of authentication. You can securely unlock your device or make purchases at the Store by just looking directly at the screen. The front-facing infra-red camera technology is used to authenticate you.
Go to Settings > Accounts > Sign-in options.
Tap the Set up button under Iris
Tap Get started, hold your phone in front of your eyes, and tap Next.
The Lumia 950 and 950 XL scans your eyes and you can do this several times to improve the recognition.
10. Battery saver
Battery Saver extends the battery life of the Lumia 950 and 950 XL by limiting background activity and push notifications. It is off by default, but you can set it up so that your phone automatically turns on battery saver when the battery falls below a certain percentage (usually 20 percent is a good idea). Follow the steps here.
11. Install apps
It isn't truly your phone until you start installing apps. If this is your first time using Windows 10 Mobile, check out Daniel's list of 23 must-have apps for the Lumia 950, Lumia 950 XL. Some of the first apps I install are 6tag (opens in new tab) (Instagram app), Pandora (opens in new tab), Facebook (opens in new tab), Yelp (opens in new tab), and myTube (opens in new tab) (Youtube app).
More tips
Have more tips for new users? Let them know in the comments what else you think they should do with their Lumia 950 and 950 XL!
News
Want all the latest news on these phones? Hit these topic pages for all that we got.
Microsoft Lumia 950 XL main page
Support and help forums
Need to chat about the Lumia 950 and Lumia 950 XL? Jump into our forums and ask others what they think or get help and advice on your new phone!
Windows Central Newsletter
Get the best of Windows Central in in your inbox, every day!
Good thing I did all 11 things! Very happy

Meanwhile, battery status shows that the phone display has consumed 70% in power over the last 24 hours...

I had that the first day, now its not doing it. I have 70% remaining at the end of a day of moderate use including an hour long phone call.

What did you expect?
Only way to have a display that consume "less" is to have a chips that drain a lot of energy with a small screen. But even if you have a 50-50%, that doesn't mean the battery will last longer.
My 1520 stays out of charge for 2 days with a 80% drain from the display. But if I use it a lot for gaming, I have a 60% screen usage for 30% system and 10% data transfer, and it lasts for 10 hours.
It's easy to understand that if you don' t use your phone and all the wifi and cellular datas are stopped, the only way the phone will use the battery will be by turning on the display. In fact you'll have the best durability with a battery usage at 100% by the screen.

Ah, switching from Ativ S? How's the difference?


The difference is clear, Lumia rocks the Windows 10 World.

Setup quiet hours should definitely be on the list!

Although not everyone will be able to do that

Get a new case is another.

Well...it's not entirely true you can uninstall all WP apps. For example, for some reason that beats me, I can't uninstall the "Weather" app. I don't want it, I never installed MSN Weather because I consider Amazing Weather HD a superior offer and yet on my WP10 test device Weather is there, unremovable. Same for other bloatware like OneNote, Microsoft Groove or Skype Video. So yeah, you'll still have to deal with Microsoft bloatware the same way you have to deal with Google and Apple bloat. Microsoft only has the "advantage" of having less bloatware to offer and doesn't force a lot of it on you.

I like the amazing weather app as well, and used it on w8.1. However, the new w10 weather app is quite good, and I am using that now. It is curious that it can't be uninstalled, though, I agree.

W10 weather app has everything. I don't need Amazing Weather anymore.

You call Onenote bloatware.
Respect = 0

The moment I have no use for it but can't uninstall it, it's bloatware. ;)

OneNote is awesome!! Hey! ):

I missed the part where the article mentioned that you can uninstall "ALL" the apps from carriers and Microsoft.

Dude, that's the first point.

all apps that are not removed are essential for phone ,if you don't like it, don't download it.weather app is not preinstalled ,first it will be link to store to install the app,if you don't download the app .it will be link only

Office Lens + One Note = the best place to scan and save all important receipts. I love both of them for that.

Just tried "Office Lens" app. Killer app. Everyone should check it out. Thanks!

Services arent bloatware. Apps outside of the OS services are bloatware. Storage, music player, a note app, and a video app is considered basic service for a smartphone. You are looking for a feature phone.

Smartphones let you install whatever apps you want. If an app is useless to you, then it is bloatware, especially if you can't uninstall it. Posted via the Windows Central App for Android

No, basically he wants choice. He wants a different/better music player or weather app, but he's not allowed to uninstall the ones he doesn't need...

Basically their forcing us to use it. Just delete the live tile & disable the permissions

So they're not forcing you to USE them =)

No, but they're forcing you to keep them installed, taking up space and getting stuck in the download queue...

You do realize that anything that cannot be uninstalled is due to the fact that the OS uses it right? Your definition of bloatware is completely incorrect and even if it were, I would guess you "use" the apps more than you even know. Again, your blind hatred makes you look like you have no clue what you're talking about.

That's not blind hatred. He said a valid claim. Include OneDrive now that its useless. Posted via the Windows Central App for Android

Only a fool would consider OneNote to be bloatware!

ppl who cant afford to buy this shit start to talk shit :))

Lol. That's funny... I'm on att next, and I'd rather wait till something good comes along.. Can't afford??? Hahaha. Not likely.

You will just have to wait indefinitely then... There is always that next thing. Here and now, there is nothing better.

No, no, no.. That's besides the point... It's not about it being the best, it's about it being a suitable upgrade.... Times are different. The spec war has considerably died down.. My 1520 still is relatively very capable... So, now,, just because there's a new device, it's not always a must to upgrade... That's not the case anymore... That's why MS must make devices that fire on every cylinder..... The 950XL does not. If it did you know I'd get one!

With W10 on my 930 it's like having a new phone - I simply don't need to get the latest as this OS is still rocking on my 930. For those who comment here coming from a 920 and less capable models, the difference in processor speed and W10 is substantial.

Even on my lumia 525 its working nicely,and that phone is released about 3 years ago.

Very nice - and this is a great reason for choosing WP.

Solid list! #13 would be to get a Mozo cover

Damn straight! Got the red and brown leather ones ordered. Posted via the Windows Central App for Android

Polycarbonate > Animal skin

Human skin > Polycarbonate

Rock > Scissors > Paper > Rock > Scissors...this is the game that never ends...yes it goes on and on my friends...some people...started playing it not knowing what it was, and the'll continue playing it forever just because Rock > Scissors > Paper > Rock > Scissors > Paper...wait wut?????

Especially newborn baby Human skin. The best, I recommend Posted via the Windows Central App for Android

Am I the only one that cannot get my order completed? As soon as im ready to complete my order, it just says "no price quote available for your region". I live in NY, please help. Thx

Nope. Me too. But every time I click on the purchase button for the 950XL on the MS site, it immediately changes to the email when available button. I've received two separate emails letting me know it's available, but once I'm there, it does what I mentioned above. Do they not want my money? Ha ha

I was actually talking about the mozo replacement backs lol

I have been using the 950 for almost 2 weeks now, and absolutely love it. It is hands down the best windows phone I have used, and I have been around since w7. The camera, for one, is just fantastic. I'd even go as far to say that its better than the Lumia 1020, which I owned last. Granted the new software on the 1020 would be pretty amazing. I really don't understand mixed or bad reviews on the phone. It is insanely fast and smooth. Windows 10 clearly improves things as well, so I imagine even future mid and budget phones will be pretty great as well. One thing I hear people talk about is the lack of metal design, which is the new fad. Honestly if you didn't put a case on a iPhone 6(s) or Galaxy, you'd be a fool., so that kind of negates the design. I am sure the future 'surface' phone will be great, but I am very happy. The continuum feature may not become very popular in money-bags US, but in poorer countries, it should be a hit. Ideally they will get that functioning on mid and low end phones to increase reach.

I've had mine a week and love it. I'm not loving the flimsy plastic shell, but I'll probably get something to replace it eventually. I agree this is the best windows phone I've had the pleasure of owning too. I've gone from, Samsung Focus, Lumia 1020, Lumia 640 to the Lumia 950. I'm a very happy camper, screw what all the other people say. I hated w10m at first, but it's steadily gotten better and after using windows 10 for the first time, makes much more sense design wise for the UI. I'll be sticking with Microsoft until they throw the towel in completely on mobile.

I've been on the 920 for the past 3 years and have been looking forward for the 950xl for awhile now. I do have criticism because the 920 worked pretty well and to have the 950xl not work as well as the 920 100% of the time is a let down. I'm hoping new updates will fix the current problems. As for now, I'm putting up with it

I so want a new WP but I still love my 1520 and although I know I would like the 950xl, I want another 6" phone. I really hope we see a true successor to the 1520 next year.

I also recommend naming your sim card from SIM 1 to a better name. Then your text messages will use that name.
Also LINK your SIM cards in the Messaging app and Phone app,,, if you are only using 1 SIM. It renames your tiles and combines stuff. It's more cleaner in my opinion.

Yeah, those are good too. We'll be looking more at the dual Sim thing this week.

Excited for my new Lumia 950! Ordered today evening, delivered on Wednesday. My Mozo leather flip case is being shipped tomorrow and my Incipio Screen Protector was shipped today all the way from America (I live in Ireland). Finally a new flagship after 23months with my 1020! (No complaints with the 1020 BTW!)

Hey question, I tried ordering my mozo case on the mozo accessories website but when it came to processing my order it gave a "no price quote for that region". I don't understand, I thought they shipped everywhere. I live in New York. Any help would be appreciated

1) Update it 2) Hard-reset it 3) Start from there 4) Thank me later My SP4 was horrendous out of the box. Fixed I exactly like this and now it works like a charm. I feel sort for non power users of MS hardware these days. Things don't work out of the box.

Thanks for good tip. :) Seemed also to have worked for me on a HP Stream 7.

When you say hard reset for SP4, which method did you use?

http://www.qoncious.com/questions/how-restore-windows-10-factory-settings Fully clean the drive / keep nothing Takes some hours

Where are the Windows 10 wallpaper?

This build is just not it...

When is the UA for Windows Central being released?

Talking about the OS update, why can't MS make the process a little bit easier/faster. Even a small update took me at least half an hour just to update ( all the spinning gears and migrating data).

Microsoft is doing a poor job of making sure every wp fan have the opportunity to get their best flagship. If it's not going to be available on every carrier, they should've set up a payment plan to help those that don't have $650 up front for the 950xl.

Save up 10 to 5 dollars a week. It's not too difficult to raise that amount in a week.

I want it now, lol! I'm already doing that.

You should be in Canada, where new Windows Phones are no longer offered at all via carriers. My Lumia 920 (unlocked 2 months ago) finally packed it in last Thursday, so I was forced to get a new phone. Not able to afford a grand a month before Christmas - an unlocked Lumia 950XL costs $850 Cdn plus tax and a case - I had to go over to the dark side and get an LG G4. I'd love to get a 950XL, but the WP ship has saled and Windows Phone is dead in Canada. Still in mourning and still angry... but at least I have a working Starbucks app.

I understand that...
I don't really have a huge issue with the aesthetics of the OS, because I'm sure MS will continue to work on that... I just need things to work, and basic functionality to be present... The 830 is cool, though.. I like it.

Just for the record, when you buy a new iPhone through AT&T, it doesn't have ANY of that AT&T bloatware on it at all. No one single app..

Go buy you an iPhone then.

One step ahead of you! I picked up my new iPhone 6S Plus 128GB last week...

@Ed Boland while that is true you do have quite a bit of Apple bloatware installed e.g. Watch and more. All iPhone owners have a 'craps' folder where they put them. Pretty common.

Microsoft also has a lot of bloatware as DJCBS pointed out, which also can't be removed.

I was referring to the carrier added bloatware e.g. AT&T Address Book, FamilyMap, Locker, Navigator, Ready2Go, Mobile TV, etc. that they add to Windows Phones. Yes, Apple includes stock apps that many may not use (just like MS does) that can't be uninstalled, only hidden. But none of this carrier added "crapware" at all. Pretty common to have a folder to hide unused apps in? Yes, I know... I've been an iPhone user for many years. (I have both)

Apple has its own immovable crapware.

Ok, cool. So what's your point, and what does it have to do with what's being discussed here?

When will be the next build??

Chocolate milk is the best.

I disagree, chocolate cake all the way.

No chocolate ice cream is where to go

Daniel, Just wanted to publically thank you and the WindowsCentral staff for running some of the best forums I have ever seen. A Lumia 950XL is my new primary phone with a Samsung Note 4 as my backup. As a long time Android user and am very impressed with the hardware quality of the 950XL and, of course, the Windows 10 Mobile OS. Yes, the app gap exists but it is fun figuring out all the workarounds. And your articles and videos are 1st class!

Will not work for the average consumer.. Needs a simple fix to work, that nobody but .2% knows about.... MS should've hid the feature till it was ready..

@rodneyej. And then you would have complained about hiding it from those who would want to use it :P.

Lol.. No, I would've done the EXACT thing that I'm doing now.... Complained about it not being ready... That's all.. Lol.

That's a big one for mee too. Kids corner as well. I guess, at some point....everything needs to be setup for one type of user or another.

Yey, waiting for the start screen customization tutorials

Like my 950XL, but my 1520.3 is much faster and smoother. Come in Microsoft lets get these new 950's on par with the 1520.3's as far as performance goes.

WP8.x is vastly different than WM10. Plus it hasn't even hit General availability yet so there are bound to be teething issues. Before the 1520 came along there were big gdr updates.

Is your 950XL screen not as bright as I think it should be? I heard a few complaints of owners saying their phone isn't as bright for what we should be expecting from an amoled screen. I'm having that problem, just wanna know just in case I have a defective device

Try setting the brightness manually.

Did everything, it just doesn't look as bright a screen as it should be. A little disappointed

There was an article on WC about making the screen more vivid. A quick search will find it.

The screen on the 1520.3 is better for some strange reason.

Brightness for the 950 is mediocre Posted via the Windows Central App for Android

Great Check list to stay before you start composing to the forums. Lol

>Step 1 says to uninstall apps >Step 11 says to install apps. >Coincidence?

Did you read each step in the proper context?

He's squinting his eyes aka gestalt view.

I just want a 950 they're all sold out In Canada :'(

I'll be shure to do all that if only I can order the 950XL, it's back order in canada and impossible to know when we will be able to place an order, customer service don't know anything about that... it's very lame from Microsoft...

#14 call all your friends with Android and praise how awesome you Lumia is....

first thing I would do here is uninstall the idiot of rodneyej & the scumbag of Hussein. Can't deny the name, Saddam Hussein was nicer.

That's not nice.. Please delete this message, and refrain from using my username. Thanks!
Daniel⬆⬆⬆⬆⬆⬆ Check.

Mr. Madison, what you've just said is one of the most insanely idiotic things I have ever heard. At no point in your rambling, incoherent response were you even close to anything that could be considered a rational thought. Everyone in this room is now dumber for having listened to it. I award you no points, and may God have mercy on your soul.

Damn.. Missed it. They must've deleted it..

But the industrial revolution IS just like the puppy who lost his way....

Anyone else getting horrible battery on the 950XL/know how to fix that? Mine barely lasts half the day....

Wait for it to finish background tasks like syncing your message history. (It took my 950 ~2 days to stop going through 12% an hour while I wasn't using it.) But I lost a feature as a result: It is no longer a pocket warmer.

I've had it since Thursday... Still the same. What build number do you have?

The only build you can get on a 950/950XL right now: 10586.0. (They currently aren't compatible with the Windows Insider program.)

First thing you should do: set up your phone. Go take pictures. One picture at a time -- LG V10

Ok. I'll give the 950/XL that.... They do appear to take great pictures...

I tried to set up double tap to wake as one of my first things to do. Does the 950 not have this feature? I can't get it to do it.

Won't a software update add this feature?

Hey guys, I've pre-ordered the 950xl a few months back, and got a confirmation letter asking me to pick this device up at my local MS store. However, before I commit I'd like to get your honest opinion if its really worth it? MS doesn't seem to push these devices to general market and it frightens me if they are trully on board. Regardless I'm tired of my Note 4, and Android in general. Does anyone know the baterry life 950xl gets? Any honest input helps... Thank you (: Posted via the Windows Central App for Android

Battery life for me is incredible. Over 50% left at the end of each day. If you're tired of Android, I think it's worth it. I can't stand Iphone or android, that's why I'm here.

Thank you for your input (: much appreciated Posted via the Windows Central App for Android

If you are upgrading from another Windows Phone, you may also consider the following: 1. Even before you plug in the cable or switch on the phone:
a. install the nano SIM (booting up without a SIM can bar your phone from some phone services, AT&T esp, until you reset your phone)
b. install the microSD 2. Run back up on your old phone. 3. Switch off your old phone immediately after the backup. Don't switch it on again until your new phone is completely up. 4. Plug in her new phone, which should then start. 5. Switch location to U.S. (This is different from your current city, which can be London. For those outside U.S., this can make things easier later.) 6. Phone will reboot. Choose to restore from your old phone just backed up. 7. When phone is up, direct files to MicroSD. (Settings -> Storage -> Save locations) 8. Try to update the "Store" app first, since this may alter (some say speeds up) the way it updates all the other apps. Any app you "quit installing" now will not be passed on from the old phone! 9. Check for phone operating system update. (Settings -> Update & security -> Phone update) 10. This step is controversial (and tedious; and untried on the 950), but I agree with Engineering_office that it could sometimes really help with some Microsoft systems: a. Backup your phone (Settings -> Update & security -> Backup) b. Reset your phone (Settings -> System -> About -> Reset my phone) c. Choose to restore from your 950 just backed up.

Different from "Current City" - where can you set that?
I would love to switch to US, but I can't Bing searches break completely if it has anything to do with something in my home country, if I do... Maybe a different current city can mitigate that?


When it boots up, you are asked to choose language or region or something like that. Choose US English. After booting, check that (Settings -> Time & language -> Region -> Country/Region) shows United States, (... -> Time & language -> Language) shows English (United States), (... -> Date & time) has "Set date and time automatically" and "Set time zone automatically" set to On.

Login (choose to remain signed-in) at http://bing.com/rewards and connect to your Microsoft Account (earns you free points to buy things as you use Bing to search).

restore doesn't work for me - it looks like it's loading, but fails to load the backup from my 920 :(

Nice.. How is the Battery, moderate Usage BTW??

Do any new Windows phones have the wrist strap like the 1020 does?

Step 0: Hard Reset to fix the Outlook email image bug!

Does that work fresh out of the box, or do you have to set it up first, and then hard reset it?

I didn't put the sim in right away.... started playing with it first.... Any disadvantage? One thing that I found strange is the I was never asked to put in my email address or asked if I wanted to boot my old settings

With these two phones the first thing you should do is reset them.

#12 tap on the screen like a woodpecker until you realize they left out the tap to wake feature.

just what Sam said the Mozo cover should be 13, i have a L928 and most of the time i has a slim line protective case on it and completely forget how great te phone feels. now i understand when Dan says he doesn't use cases, so now my phone feels great to hold, no protective case when i get my 950 but i have a question regarding the screen peotection. i usually get a screen protector the film and they do their job but now i see a tempered glass protector, are there any advantages to the tempered glass for the added cost, i would to see a comparison.

I've installed tempered glass on 3 devices prior to my 950xl with no issues, but could not for the life of me get the tempered glass protector to stick to this phone. Hopefully I just got a bad protector or something.

First thing is to get one. Come on, MS. At least let me pre-order.

What's with "Double-tap to wake"? I see it is not listed in specifications for Lumia 950, 950XL, and 550. What happened?
That's instant no-buy for me if it is not planned to come.

Initial driver issues with the high resolution screen. It's related to the glance screen issues.

And for L550? Lumia 535, 540 had ddtw and Lumia 550 has not. I'm afraid there's something bigger.

Can you uninstall podcast and other inbuilt apps?

If installing a memory card, do so AFTER phone updates and uninstalling apps but BEFORE installing new apps or downloading maps. If you plan on installing apps on the card, get one that is at least U3 class (30 MB/s transfer or better). Many 32 and 64 SD cards read and write at up to 90 MB/s. Get these, they are worth the extra few dollars not to see that annoying "loading" message.

Set your favorites in the phone app, quick dialing i thinks its called (i got the windows 10 for insiders in meixco and in spanish is "marcado rapido". This because when you import your contacts from facebook, and twitter you sometime end up with a lot more contacts that you actually are going to use,s instead of going to tghe people app and search for the persona you wanna talk, select the phone number you wish to dial and then call, just go to the phone ap, swipe and there are your favs, easier!

cant uninstall all microsoft apps.. just the once they want you to be able to uninstall :)

i am coming from a 1020 with only internal store. when i install my back up how do i change the apps to be installed on the memory card? do you just transfer each app over afterwards? or do i need to remove all apps and install again but default to memory card?

I had better results starting from scratch instead of bringing the backup back.

the wallpaper site interfacelift.. these are all in landscape not portriat?

1. Return that expansive flagship wannabe and get a better Device instead. Now honestly, I'm really disappointed. I did expect something more premium from a 700€ device. Nokia has proven in the past that Polycarbonate doesn't have to feel that cheap. If these are the devices for the fans, it says a lot about what MS thinks about them.

12. change start display to 4 columns


Thank you Mark Guim for these pragmatic articles. This is why I read Windows Central.

Hmm, will it really improve the recognition by doing the scan again and again or will it just rewrite the data?

Uninstall apps? Not everyone lives in the US and is a AT&T customer. But I guess you already knew that.

Ha-ha +950
Something that the rest of the world doesnt have to deal with at all. Posted via the Windows Central App for Android

Let's find 111 things to write about the Microsoft Lumia 950 XL , because we can't get over the fact that Lumia is no longer Nokia.

I would really avoid restoring an older phone backup. It is a really good opportunity to start clean and rethink the apps you should bring back. To see what apps you have already bought in the past you can go to the Store App / My Library, and install only the ones you need/want.

Can any one please tell me how is new os behaving on 950XL. I am planning to buy one. Off late I have had a mix response with OS. Behaving very well with Lumia 830 but not so good with Lumia 520. WIll the new build without Insider preview will be available with it for download or not?

Be careful. I accidentally uninstalled the weather app and the Sun didn't rise for a week. Got so many angry calls that I had to reset my phone to keep everyone happy.
Windows Central Newsletter
Thank you for signing up to Windows Central. You will receive a verification email shortly.
There was a problem. Please refresh the page and try again.