15 Microsoft Outlook keyboard shortcuts guaranteed to save time
Microsoft Outlook is jam-packed with useful keyboard shortcuts, but you don't need to remember them ALL. These 15 Outlook keyboard shortcuts are easy to remember and life changing (or just plain useful).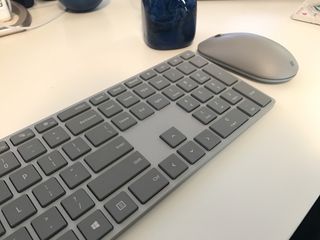 Microsoft sure does love keyboard shortcuts. (Check out our ultimate guide to Windows 10 shortcuts for soooo many more.) That's a good thing. People who don't want to use 'em don't have to. Anyone looking to elevate their Outlook game, however, should spend some time learning at least the basic keyboard shortcuts. These 15 Outlook for Windows shortcuts are a great place to start, whether you're an Outlook veteran, a new user or anywhere in between.
See on Microsoft Store (opens in new tab)
Ctrl + 1: Go to Mail view
Ctrl + 2: Go to Calendar view
Ctrl + 3: Go to Contacts view
Ctrl + 4: Go to Tasks view
Ctrl + 5: Go to Notes view
Ctrl + Shift + M: Create a new message ("M" for "message")
Ctrl + Shift + A: Create a new appointment ("A" for "appointment")
Ctrl + Shift + C: Create a new contact ("C" for "contact")
Ctrl + Shift + N: Create a new note ("N" for "note")
Ctrl + [period key]: Move down to the next email in your inbox
Ctrl + [comma key]: Move up to the previous message in your inbox
Ctrl + E: Open the Search tab

Note: You can use this shortcut to search within different sections of Outlook. For example, you can navigate to your calendar and hit Ctrl + E: to search calendar entries, or use the shortcut while in your contacts to locate specific people.
Ctrl + Shift + F: Open Advanced Find options (Advanced Find lets you search for text and specific phrases in messages, calendar entries, contact listing, notes, tasks and more)
Ctrl + Shift + G: Add a flag to a message, and set future reminders as needed, using the custom flag settings box, while the message you want to flag is selected. You can then set custom start and due dates for flags, and assign alert reminders.
Navigate to a new folder:

Press Ctrl + Y.
Press the Arrow Down or Arrow Up keys to move through the list of available folders.
Press Enter to select the folder you want.
For more Microsoft Office shortcuts, check out:
And for more on Outlook, read:
Al Sacco is content director of Future PLC's Mobile Technology Vertical, which includes AndroidCentral.com, iMore.com and WindowsCentral.com. He is a veteran reporter, writer, reviewer and editor who has professionally covered and evaluated IT and mobile technology, and countless associated gadgets and accessories, for more than a decade. You can keep up with Al on Twitter and Instagram.
Also, Ctrl + Q = mark a message as Read in your inbox Ctrl + D = delete a message in your Inbox Double-clicking any white space in your inbox = Opens a new message window Ctrl + Shift + Q = Create new meeting

I see you want more control of your computer.

Thanks. I didn't know the New Meeting shortcut. I'm a keyboard fanatic for Word, mid-way in Excel, and hardly ever use them in Outlook (except for the one I try to use and always get frustrated because Ctrl-F is Forward instead of Find). Need to practice these more to beat them into my head.

My Favorite, CTRL + Enter = Sends a the message you are composing

This is certainly my most-used!

How do I archive things in Outlook? I am so used to the mobile and online versions. And would like to inbox zero if I can on outlook. But the archive seems to be different than what I am use to.
Windows Central Newsletter
Thank you for signing up to Windows Central. You will receive a verification email shortly.
There was a problem. Please refresh the page and try again.