These 19 Xbox classics will hit Xbox One soon, with more enhanced games in tow
Earlier today, a handful of upcoming classic Xbox games were leaked via the Xbox store, including the beloved Elder Scrolls III: Morrowind. Now, we have the full list.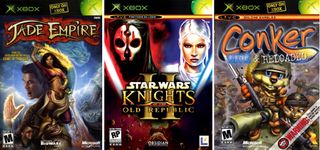 Announced live on Microsoft's Inside Xbox show, the full list of backward compatible original Xbox games features some highly-requested fan favorites, such as Rare's Conker: Live & Reloaded, BioWare's classic RPG Jade Empire, and the lootbox-free classic Star Wars: Battlefront games.
Microsoft also announced that a further six titles are getting 4K Xbox One X enhancements, including Darksiders, Gears of War 2, Red Dead Redemption, and Sonic Generations, which is hitting Xbox One for the first time.
Xbox 360 games receiving Xbox One X enhancements on April 10
List of OG Xbox games releasing on April 17
Blinx: The Time Sweeper
Breakdown
Conker: Live & Reloaded
The Elder Scrolls III: Morrowind
Hunter: The Reckoning
Jade Empire
Panzer Dragoon Orta
SSX 3
List of OG Xbox games releasing on April 26
Destroy All Humans!
Full Spectrum Warrior
Mercenaries: Playground of Destruction
MX Unleashed
Panzer Elite Action: Fields of Glory (Europe only)
Star Wars: Battlefront
Star Wars: Battlefront II
Star Wars Jedi Knight: Jedi Academy
Star Wars: Jedi Starfighter
Star Wars Knights of the Old Republic II: The Sith Lords
Star Wars: Republic Commando
Microsoft has previously spoken about the difficulty of getting original Xbox games onto modern platforms, due to licensing issues among other things. For Microsoft to have got classics like Morrowind, Jade Empire, and even licensed products like Jedi Academy, speaks of Redmond's commitment to bringing the past to its gamers, as we press ahead into future generations.
You can watch the full Inside Xbox show right here. Inside Xbox is Microsoft's new monthly program which is full of interviews, features, and news for Xbox fans.
Jez Corden is the Managing Editor for Windows Central, focusing primarily on all things Xbox and gaming. Jez is known for breaking exclusive news and analysis as relates to the Microsoft ecosystem while being powered by caffeine. Follow on Twitter @JezCorden and listen to his Xbox Two podcast, all about, you guessed it, Xbox!
Impressive list. What I'd really like to see is PGR2, but I'm not holding my breathe

Great game for it's day.... PRG2... I own it

Re-Volt. I need you..... Would be elated if that went in. Possibly, my most played game, ever. Not had as good a battle racer since. Had hoped the Rocket League developer would have a go, alas, no. I hear Sonic Allstars is OK though. As for these lists, and the enhancements, well done.

Re-Volt. I really loved that game. How many fun memories. Would be a blast if Microsoft brings this gem back.

First person I have met that remembers it. If they bring it, send me a message on Live, I'll race you.

Same here. It shouldn't even be that hard tbh

Well Shenmue 1 & 2 are getting the remaster treatment for PC, PS4 and Xbox One so I guess that covers it.

Still holding out for splinter cell.

Do they work online? Looking at you, Star Wars Battlefront 2!

I think it depends more on the developer (publisher) and if they're still running game servers or not.

Yeah depends on the game. Skate 3 online play actually (surprisingly) still works.

So happy to see Jade Empire and Panzer Dragoon Orta make the list, such a great day

4k RDR!
Morrowind!
Battlefront 2!

4K RDR ? Cool, I played online with it but, never played the story mode... A game I always wanted to play but, never enough time. Maybe it's time...

Panzer Dragoon Orta.
Nuff said :-)

I loved Jedi Outcast and Jedi Academy back in the day. Would be fun to try those again. Darksiders is a game I loved but got bitten by a portal gun / save game bug that occurs around 3/4 through the game. I've been apprehensive about trying the game again.

I second that. Happy I can play blinx again. Got the disx ready for one and two(when announced)

Really want to see Jet Set Radio Future. That game was awesome fun!
Unless they are making a remaster, kind of like Voodoo Vince.

100% I want Jet Set Radio Future.

200% I want Jet Set Radio Future and Smilebit's other original Xbox wonder: Gunvalkyrie. I have the discs and am just waiting on them to happen.

Nice and subtle "lootbox" jibe dropped in there I see :)

Nice. Portal already looks pretty nice due to the simplistic graphics style, looking forward to the x enhanced version. I'm sure red dead redemption is going to look mighty fine too.
Time to dig out MX Unleashed tho, used to love that back in the day.

New "Splinter Cell" is around the corner with announcement on this year's E3? https://youtu.be/dQmThf27r8Q

Nice to see Sonic here :)

Good list. Hoping to see Legacy of kain Soul Reaves, dead or alive, project Gotham and some other rpgs

Project Gotham is a long shot, the licensing for the cars is probably a mess. I'm with you though crossing everything that it could happen.

I don't really understand why licensing matters. The game exists. People could play it if they have an Xbox still...i don't understand why it's a problem. PC games don't have that issue...they can be played forever..not saying it has to be resold, but make it back compat if you have the disc...licensing shouldn't matter for that right?

Depends on the length of time that they acquired a license to sell the likeness of a vehicle/brand in a game. So they may have licensed a million copies for 5 years or something like that. If they depleted the copy limit or are beyond the terms of years, then it needs to be renewed (if there is a clause to do so) or renegotiated with each brand, per vehicle.

If you notice they don't make a game BC without being able to sell the game digitally via the online store. I'm sure if they made the game playable via disc only there wouldn't be an issue but since they bring back every one of these games for sale, I'm convinced the licensing issue lies there.

Where is the Lollipop Chainsaw?!

Jade Empire! One of the best OG Xbox games i ever played.

Would be amazing if they could patch up KOTOR II like they did on the PC.

I saw SSX3, but I would really like to see SSX Tricky. Also would like to see Capcom VS SNK2 make the list

Popped in Panzer Dragoon Orta last night for the first time since I bought it new "back in the day." As beautiful as I remember it being on the OG Xbox it is even more beautiful now on my X1X. The gameplay is a welcome throwback and the graphics are just stunning, even when compared to modern games. The art style really stands out and the controls are as responsive and tight as ever. Even on Normal difficulty you're in for a battle! If you've never played it then I cannot recommend a better $10 game anywhere. (I have and love a Nintendo Switch, but nothing you can buy for $10 on the Switch comes close to this game. Nada!)

Gunvalkyrie! Gunvalkyrie! Gunvalkyrie! If MS can port Smilebit's Orta, then surely Gunvalkyrie is doable. Right?
Windows Central Newsletter
Thank you for signing up to Windows Central. You will receive a verification email shortly.
There was a problem. Please refresh the page and try again.