4 things we really don't like about Windows 10 'Redstone 4'
Windows 10 'Redstone 4' is bringing some welcome new features and improvements, but not everything is roses...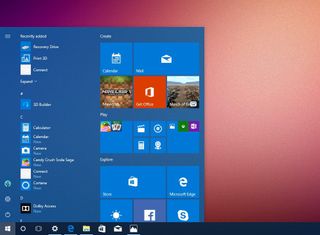 Set to launch this spring, Windows 10 "Redstone" 4 is nearing completion and most of the major features for this release are already available for Insiders to test. That also means we've got a pretty good understanding of what we can expect to see in Redstone 4 when it does eventually rollout, so here's a list of things I am not a fan of in the Windows 10 Redstone 4 update.
Windows 10 'Redstone 4:' The 5 best new features and changes
Cumbersome Start customizations
This is something I, and many Insiders, have been asking for since Windows 10 first made its debut in 2015. The Start menu is difficult to customize, and that's because Microsoft has overlooked some obvious features and behaviors of the Windows 8 Start Screen. Things like selecting multiple tiles at once to resize, move, or unpin, is a big one that's still omitted.
Because of that omission, most people just opt to leave their Start menu as-is. The only people who customize it are the obsessives (if you're reading this, you are one) with more experience and know-how than the average user. Everyone else, though, just doesn't care. Microsoft doesn't help by making the Start menu customization experience god-awful, and it's something that should be fixed by now.
Microsoft also makes it cumbersome to add new tiles to Start, depending on whether you have the Apps List hidden or not. If it is hidden, you have to enter the Apps List, scroll down to the app you want, right-click it, and then select "Pin to start." Microsoft should make this experience more intuitive, by possibly allowing users to pin apps to Start by just right-clicking or highlighting an empty-space in the menu and choosing from a list of frequently or suggested apps.
Can't unpin in Edge
I like Microsoft Edge. I use it as my default browser on all my devices. But one lasting annoyance I have with Edge is that I cannot unpin any of the default buttons at the top of the window. You can't get rid of the Share icon or the Ink button, even if you know you're not going to be using any of those functions. It's weird, because this option was in testing in one of the old Insider builds, but was later removed and hasn't made a return since.
The other thing I wish you could hide in Edge is the "Set tabs aside" function. I've mentioned this before, but set tabs aside get in the way more than it is useful for me. I don't use the feature, at all, and I'll often accidentally hit it when switching back to the first tab in my window with my mouse. This closes all the tabs and saves them for later, requiring me to have to go into the tabs aside feature to restore the browsing sessions. It's incredibly frustrating.
This issue could be easily solved if I could simply turn the feature off, or at least hide it from view. I wouldn't mind if the option moved it into the Edge Hub area, so I could go in there and manage my set aside tabs if I wanted. But I just think having it up right next to the other tabs is annoying, at least for me.
Bloatware galore
So, I recently did a fresh, clean install of the latest Windows 10 Insider build, which should be pretty representative of the final product at this point. The term "clean install" was a phrase that was put into use when a user would install Windows from scratch, removing all the bloatware and oddities that OEMs love bundling with their devices.
Now, fast forward to 2018, and "clean installing" Windows isn't as clean as it used to be. Windows 10, out of box, has pre-installed third-party mobile games and apps that automatically download from the Microsoft Store as soon as setup is complete. The Start menu is jam-packed with suggested apps that make it look noisy and gross, and the clean install experience is anything but because of it.
Yes, you can uninstall all the crap that gets automatically installed from the Store when you first setup your PC, but that's not the point. If you're clean installing Windows 10 Home or Windows 10 Pro, odds are an automatic installation of Candy Crush is not high on your wants list. This has been an issue with Windows 10 since 2015, and Microsoft hasn't rectified it.
Cortana is still limited outside the USA
Cortana kind of sucks on Windows these days. It's still only available in a handful of markets, and even in those markets where it's available, its feature set is incredibly limited compared to what Cortana can do in the United States. In fact, Cortana is a pretty good virtual assistant in the United States, which is useless if you're someone who isn't in the United States.
I live in the UK, and Cortana can't do half the stuff Cortana US can do. Cortana UK can't even stream music from Spotify to an Invoke, or track packages. I imagine its feature set is even worse in non-English speaking countries. Microsoft has dropped the ball on Cortana — even the Cortana UI on Windows looks ugly compared to the Cortana experiences found elsewhere.
I hope, that Microsoft starts focusing on Cortana with Redstone 5. Introduce it to new markets, and bring existing, US-only features over to other markets. Microsoft's initial excuse for not rolling Cortana out to more markets was that the feature was early and still in testing, so they needed data from specific areas, but that was years ago. What's the hold up?
Also, and this is probably the biggest offender of them all, but what's up with this ugly white search bar on my nice dark taskbar? Please let it match the surroundings.
What do you dislike?
That's our list of things we dislike about Windows 10 with Redstone 4. Is there something you don't like about this new release? Make sure you let us know below! Also, make sure you check out our list of things we love about Windows 10 Redstone 4 too.
Zac Bowden is a Senior Editor at Windows Central. Bringing you exclusive coverage into the world of Windows 10 on PCs, tablets, phones, and more. Also an avid collector of rare Microsoft prototype devices! Keep in touch on Twitter: @zacbowden.
Do you know why Cortana is limited outside the US... we all know it is, however we never get the "reason" why... it has to be significant --- as why would they ever want Cortana limited ?

Probably not enough adoption to justify expanding Cortana.

It is really hard to adapt something that doesn't exist. Cortana doesn't even support most of the languages that Siri or Google do. I couldn't use Cortana even if I wanted to.

This. There's no adoption if there is no product. I will use it more in my phone if I could use it in Spanish because most of my contacts are Spanish people.

Option to Save Start menu tiles

Bring an option to SAVE START MENU TILES LAYOUT in Redstone 4. Its a pain to rearrange again and again. Provide an option to save layout in OneDrive as in Microsoft Launcher.
Upvote my Feedback regarding Saving Tile Layout here. https://aka.ms/M3ohfp

@Reo Jefton, I got a permission error from the Feedback Hub when following the link, but I did find "Function needed to save Start Tile layout" in the Feedback Hub. Is that yours? I upvoted that one. I agree -- this would be a very nice and important feature.

Its 'SAVE START MENU TILE LAYOUT TO ONEDRIVE' in the Feedback hub. U can upvote every feedback related to this topic to make Microsoft release this feature in Redstone 4.

They used to have this function, for saving tile layout, but it was removed. Presumably because consumers liked it and it was not used much by enterprise customers?

So what if the person do not use one drive?

Well the layout data has to be saved somewhere right? The user need not go inside Onedrive to restore it. The option can be there in W10 settings.

There could be a setting to save it to a external drive. Anyway I thought the settings was synced to the cloud if logged into an MS account? after all that is one of the advantages that MS keeps putting out about having an MS account to sync settings.

One Drive can be uninstalled in Control Panel\Program and Features. The icon on the taskbar, right click, choose settings and uncheck load at startup. Then right click on icon and exit One Drive. **Sorry posted under wrong person.

Because Bing is only used in the US. Outside of the US the data would not be enough for Cortana to be a little intelligent.

outside of US Here We Go is very good maps app, since it collects data the users submit, I like it more than Google Maps on my Android device but for some reason is not integrated with Cortana, isn't Bing Maps search Provider powered by Here? Then I don't know why Microsoft doesn't integrate Cortana and Here on all countries for Android

What toot. Bing is certainly used outside the US.

If I had to guess, I'd put my money on legal reasons. Every country has different standards for privacy. Maybe we'll find out more during the next insiders mixer event. It's titled "Cortana" after all.

It has been stated that it is limited, because it relies on Bing search, which basically sucks outside of US.

I'm in Iceland, Bing works fine here. I havent used google in years. MY granpaw still uses it!

Couldn't agree more about the "set tabs aside" button . I don't use it but i click it accidentally all the time and then i have to reload all my tabs . The page preview is kinda useless too at least for me . As for Cortana i gave up waiting for that feature :( .

A potential thing we might not like: the name, if it really turns out to be Spring Creators Update.

I figure the gross third-party apps that end up pre-installed are giving Microsoft money to appear there. Or they help give Microsoft money via in-app payments? As long as it's helping Microsoft make money... 😉

I've never seen such a nit picky list of things in my life. If those are the worst things you have to complain about, then Microsoft have built a damn good operating system indeed.

There's always room for improvement.

Bare Metal Installs are not Clean at all! Seems MS has relapses back to the 90's when it comes to Bloatware...

At least, you can uninstall them, unlike on android and iOS :D

in iOS you can uninstall but in android, you can only disable apps but storage still be consumed anyway.

I agree with the fact they can make the start menu easier to customize. Regarding the bloatware, I don't mind as much because it's pretty easy to uninstall and some of the are just pinned tiles to websites and you can just remove the tile. I do want cortana to be globally available of course.

Agreed, it's very simple to uninstall unwanted apps. The point is that it shouldn't be there in the first place.

Let there be full screen start with live tiles or just list. Not the halfway it currently is. If anyone likes live tiles, he/she would want it in its full glory

That's actually there. "Use Start full screen" option

🔒 button to freeze tiles.
Actually a lock 🔒 to freeze desktop icons is 23 years overdue

Freeze tiles as in "don't allow them to be dragged" or "stop live updates"? We already have the latter.

Don't allow to be dragged.

I want to be able to save, edit, and restore multiple start screen configuations across multiple PCs. So I could have a Start Screen (tile configuration) and save it as "Gaming PC", "Tablet Start Screen", "Home", Work", "School" whatever, and then select and apply one to a new PC (or refreshed one).

They've conceded its too difficult code to backup and restore startscreen layout.
This was only possible in WP8

Translation: They're too lazy to work it out because they'd rather spend their resources figuring out how to add more idiotic emoji.

They are working on Sets. Maybe this will be like what you want, but rumours say it won't be in the upcoming release.

Do you have a feedback hub entry if it was already suggested that I can up vote? I totally want this and also want this to be synced to cloud and available on all my PCs.

The only thing that I want, is Cortana in Slovenia. It would be cool to finally use Cortana in my native language.

I bet they won't even have the Tiles in RS5. It won't be the interface for Windows Core, they will have a new one Fluent Design UI. Why else haven't they updated or increased their functionality at all?

You do realize that Fluent Design and Tiles aren't mutually exclusive, right?

Of course, but I bet they will want something new, especially for Andromeda. If it looks like Windows Phone, it will be immediately written off. Nadella also said it is going to look like something we have never seen before. He isn't exactly trust worthy, but that is a good indication that Live Tiles will not be included in Andromeda. Paul Thurrot has also said the interface will be new according to his sources.

If it doesn't support Win32 or Andriod apps, then I've already written it off.

If it doesn't have Tiles, then it won't be for me.

This thought has come across my mind too. Tiles have very powerful potential which is not coming about. Why indeed.

I agree, The potential was never fully explored. The tiles never really evolved.

I love Edge "Set Aside" feature. I use it quite often. Not sure how can it "get in the way".

Well, the corners of the screen are kinda special because they are very easy to access. For people who don't use "set aside", it would probably be better to have Tab #1 in that spot than unwanted buttons you might select by accident.

What I don't like is that it's just another boring update like last year.

I totally agree with your complaints. I love Windows 8 and I have done everything I possibly can to make my Windows 10 machines look and behave like Windows 8. Customizing the Start Menu isn't nearly as convenient or powerful as in Windows 8. Similarly, Edge is so darned bloated and slow because Microsoft insists on putting the kitchen sink in it instead of it just being good at being a browser. I don't use 90% of the extra features, including the set aside feature. Sadly, you can't erase a lot of things that just are clutter for those of us who don't use them. But I still will choose Edge over Chrome any day of the week. Also, the bloatware doesn't just show up on clean installs...it shows up after some of the Insider updates. I never, ever play games like solitair, candy crush or whatever. Those are the first things to get uninstalled. It's annoying to have to do that so often. As for Cortana, I rely on her extensively on my phone and on the Xbox, less so on the tablet or PC (because of a problem I have talked about MANY times). Since I'm in the US, I have full use of Cortana. So, I understand that it's frustrating to only see the tip of the iceberg of what Cortana can do.

Completely agree. Plus, fluent is getting all messed up again. The white borders, or should I say fences are really going against your pointer.

I wonder if Candy Crush is forced on everyone as part a possible Microsoft agreement with them so that they port their some of their popular games to windows.

I wrote a PowerShell script that I run on all new installs to configure Store Apps and system preferences. takes about 20-30 seconds to run each time I build a Win 10 rig. Needs to be updated fairly frequently annoyingly though as they keep adding Apps.

I can agree with the cumbersome start customizations and bloatware galore.

As a computer technician, one of the first things that I do after installing Windows is to manually remove all of the tiles in the start menu. This is done by right-clicking each tile and removing it. To date I still haven't found any utility to make this easier. I also use a program called IObit uninstaller in order to remove all of the windows bloatware, including Windows store apps like Candy Crush. To keep the computer running as fast as possible I also disable Cortana and windows search because they simply don't work very well and bog down the system. I use a different utility for searching the computer called Everything. It's a free program, quickly indexes the contents of your computer, and you can even make a keyboard shortcut to pop up a window and search for whatever you want.

"Cumbersome Start customizations", check. Moving and positioning tiles is a burden, but likewise on Android.
"Can't unpin in Edge", I don't care, what is there is useful to me and I have sufficient screen real estate (24").
"Bloatware galore", ongoing complaint of many, I don't care, I delete what I don't need. Still worse when pre-installed on an OEM machine.
"Cortana", check. More Cortana please and have it take over Notifications!
Hold up for different markets is likely that attention goes elsewhere, like all those under the hood changes of Windows, i.e. OneCore and Cshell.
What I dislike is the f**king UI/UX inconsistency in Windows and first party apps. E.g. order of OK/Cancel and the likes. This used to be consistent in the Windows ecosystem for decades, but is off since Win 10 or so. And this is just 1 stupid example. You should write about that.
Oh, and the barebones of My People. Would prefer to see advanced Live Tiles for individual people.

Advanced people tile. That's to do with lack of Facebook app integration on PC.

Please fix that infantile Photos live tile that can by design (sic) only repeat the same 5 photos ad nauseam over and over again.

I just had a look at edge, I do not use it, but there is no share icon or ink button, so I have no idea what I done to get rid of it.
Bloat yes i agree is over the top and what is worse is that when Windows update it comes back. I get around the problems with the start menu by using a thrid party start menu. i have disabled cortana, but it is annying that to do so I have tro use grou policies. lack of control over upodates and not being able to stop the telemetry is annoying and also over bloated replacing software that was in Windows 8 and below that did the job they was made to do. Example is the photo app, way over the top, the origianl photo viewer is far better.

The one thing for me that is high on my list of why not in Edge, is that 1: as in I.E. one could right click and alphabetized the favorites instead of having to drag and drop them, 2: also in I.E. the ability to set it to close one favorite folder when you open another.And last but not least is the ability to freely arrange the Edge extensions.

I really miss right click to organize favorites.

what!!!, IE still there isn't?

"by possibly allowing users to pin apps to Start by just right-clicking or highlighting an empty-space in the menu and choosing from a list of frequently or suggested apps" No please don't suggest Microsoft to put suggested content anywhere. Suggested things are ads and I don't want ads especially in a place that's going to be very small and requires us to scroll. But instead they should list recently installed apps.

My biggest issue is the removal of start menu syncing. I know it is a problem with having different apps installed but Microsoft have to find a solution. May be they can let us create multiple start menu layout profiles that get synced to cloud and we could switch between them at any time. Any missing apps would have greyed tiles (like they used to) and clicking on them would install the app. We could use it to quickly install those apps too.

Windows really should be smarter about looking at your installed apps and setting up an automatic Start Menu that isn't terrible looking. Currently you end up with way too many big tiles and an absurd amount of empty space, and it looks amateurish. It's never going to automatically make something beautiful, and yes, you need to leave *some* empty space as a hint to the user to customize it, but I agree with Zac - this should be worked on.

I would suggest doing a complete remake of the tiles. Make them like the launcher on Android. Most developers don't even utilize the power of tiles and I often have difficulty finding the app when the tile shows the picture and no description.

I dislike that years later we still dont have Skype SMS Relay. At the very least take the Cortana functionality and let it store text messages for long enough that we can read and respond to them.

Or make the Messaging app actually useful by syncing Cortana SMS messages with it

Maybe if they made Cortana more available outside the US it would get more traction?

Was there any fundamental reason why Favorites has been renamed to "Bookmarks"? I kind of liked the difference between browser terminology.

Show battery percentage in the icon

Can't drag and drop links from one Edge browser window to another. You know, the thing that you can do in virtually all other web browsers...

For me UI & UX is the problem. The fluent design is just a dress for a horrible looking & acting person. The baldness, inconsistence & lack of personality is overwhelming in the whole experience. I feel just because of this multi-billion user base they don't feel & want to fix the entire thing. This thing is not just for today this design flaws is the best friend of entire this OS history. The bad thing is there are no considerable alternatives for Windows. Linux moves to the server & cloud side mostly all of its distributions moves out of the normal users market. Apple's with their overall more consistent experience lack the proper software support & also suffer from a budget hardware offering. Please Just Fix It!

They have been working on apps' design, but not on the OS's own UI. I think this is because they're going to entirely replace it with Andromeda or some of those secret projects

Something I need in the Photos App : the possibility to add and edit geotags of my pictures !

They rely too much on those right clic/long press menus. They need to focus on tablet mode or iPad will end up having a better tablet UI

When is a problem not a problem? It is exceedingly easy to get a tile onto the start menu. Press or click windows start button, start typing the name of the programme, right click when the one you want shows, click on Pin to Start. This works whether you show apps list or not.

I agree with the Microsoft bloatware. It has to stop.

I agree fully with Zac's suggestions. To be honest I have less time lately to focus on the insiders program in redstone 4. Have been trying to be productive and enjoy official windows 10 cerators fall update on my surface pro. I enjoy tablet mode, the imporved inking experience and the updated photo's app. After 3 years I still think the tablet experience is poor and can be much better, despite extensive feedback in the insinders program. I think with a slogan of being in mobility and cloud, the tablet experience is still an unexplored potential in windows 10, that is sadly overshadowed by business and a main focus of a desktop experience. I even notice this in my daily business usecase on my surface pro. The pen and tablet experience UI and UX on the job and in being mobility is highly unappreciated, but could help being more productive effectively and efficiently in everyday work. I hope redstone 4 and 5 will adress this further.

I spent a happy half yesterday installing a classic shell so I now have the look and feel of Windows 7 without all the associated pointless **** like Cortana and live tiles that comes with Windows 10. Much better place now.

3D Builder, Mixed Marketplace, Paint 3D - My Surface Pro 4 isn't capable of running any VR hardware, but Win10 won't let me uninstall these items. Please let me opt-out!

Not using a laptop here but yes I agree, specialist apps should be opt-in/downloadable from the store if required

Zac, I keep telling you guys, not just to "point it out", but also link your woes to the feedback in Feedback Hub. That way it can have a more direct impact for those who care enough about it. Like when your co-worker, Jez linked his feedback to items in Feedbak Hub... I went to each item I agreed on and upvoted that. Making an impact. So... include those links to the Feedback Hub, do not just complain about it :D!

Where is Zac????? I want to kiss him for including the last item! The WTF white space!
Windows Central Newsletter