5 intriguing apps for Windows 8.1: March 13, 2015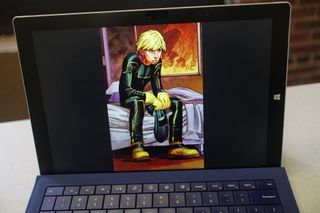 With the ever-growing number of apps and games in the Windows Store, it is becoming increasingly difficult to keep up with what's out there.
For that reason, every Friday we showcase some apps that have piqued our interest for one reason or another. They are the 5 Intriguing Apps of the Week.
PayPal Here
PayPal Here is a point-of-sale credit card service, much like Square. Back in November PayPal announce that they would be releasing apps for both Windows and Windows Phone in early 2015. They made good on the Windows part with this app.
People who have a PayPal Here credit card reader can now plug it into their Windows 8 computer and receive credit card payments on the spot. There is no commitment or contract to sign, just a 2.7% fee for each transaction. PayPal offers financial reporting and 24/7 live support.
If you are a private contractor or small business owner, this is a great way to begin accepting credit cards.
We are still waiting on the Windows Phone app that was announced, but this is a promising start. The PayPal Here SDK was released to the public in January, so hopefully that means it isn't far behind.
Comics++
Comics++ is one of many comic book readers in the Windows Store, but it also appears to be one of the better ones. Programmed in C++/CX (hence, the name), Comics++ is fast and fluid.
It also offers a bunch of features, like support for several file types (ZIP, CBZ,RAR, CBR, 7z, CB7, PDF), directory browsing, left-to-right and right-to-left reading, bookmarking, and continuous reading between books.
Comics++ also sports a pretty sweet page scroll bar that shows you a thumbnail of every page and lets you jump directly to any of them. When reopening the app, you are immediately transported to the last viewed page of the last book you read.
Comics++ performs as great as it looks. And it is free of charge, so there is no risk of giving it a whirl.
Huetro for Hue
We reported on newly-redesigned Huetro for Hue a few days ago. It's an unofficial universal app for controlling Phillips Hue Lights (opens in new tab), as there is currently no official one.
With Huetro for Hue, you can control your Hue light bulb colors and schemes. You can also program the buttons on your Hue Tap device. Even more exciting is the addition of geofencing, which can trigger your lights to turn off or on, depending on whether or not the system detects the presence of your smartphone. If you are a Hue user, rejoice! If you are not currently, this may be a good time to check it out.
MinimaList
MinimaList is the shrewdly-named streamlined list maker app. It is designed to be touch-friendly, making it easy to create or delete lists, or add, remove, and reorder items.
Whether to-do lists or a grocery lists, you can create as many as you want and manage them with a press or swipe of a finger. You can scroll through your lists or view a list of your lists (Listception!). There is also a search field to find individual items.
And even though MinimaList is focused on touch controls, it is just as convenient to use a keyboard and mouse. For a no-frills approach to getting things done, check out MinimaList.
Fotor
Photo editing apps are a dime a dozen in the Windows Store and each one has its appeal. Fotor is a free app that not only offers just about any editing tool you would want, but also has a wide variety of options for jazzing up your photos.
With over ninety editing tools, you can crop, rotate, resize, touch-up and adjust your photos to make them near-perfect. There are a ton of presets, too, like standard aspect ratios for social media or scenes that use preset brightness and contrast settings. If you don't feel like spending much time on your photo, there is also a one-touch enhancement button.
But Fotor is not just good for editing. It comes preloaded with a ton photo effects and borders. You will even find the ability to tilt shift your pictures. And once everything is picture perfect, Fotor can help you arrange them all into a collage and share them with friends and family.
Be sure to check out our other selections from previous weeks. Have a great weekend!
Do you have an app you want us to highlight? Drop us an email at tips@windowscentral.com with "5 Intriguing Apps" in the subject line.
Windows Central Newsletter
Get the best of Windows Central in your inbox, every day!
Why do these lists usually have an app or two specific to a certain appliance or accessory (PayPal Here and Huetro)? If someone has one these devices, wouldn't they search for an appropriate app? For everyone else, they don't help in the discovery of new apps. (Huetro could be an exception, being third-party.)

Many people are not aware that the PayPal app for Windows is even available. They were only recently announced as "coming" and in testing. By your rationale, we should never mention official apps for hardware as it is just wasting our time?

I was waiting on an article about it. Glad to see it though

Well I'm not saying they shouldn't be mentioned. It just seemed to me that these articles were more about discovering useful but less known apps. You usually give first-party apps their own articles, which seems appropriate.

I actually do social media for a restaurant chain, and the Paypal Here is a lower rate than what we're currently paying another company for, hahah, I had no idea it existed prior to this post.

I sure hope we start to see some decent apps with Windows 10. The Windows Store is horrible right now.

We were concerned about the store when we had RT, now not so much. If you want to talk about windows phone, however....

Excited to see Paypal Here in the store. Just signed up for an account for my business.

Guys check out Touchme Gesture Studio. I use it since forever on my SP2. You'll thank me later.

I feel first sentence of the article is not reachable.....

Fotor is already really old I think, isn't it?

Yes, Fotor has been around since launch (or at least shortly thereafter) and it's still the best editor out there.