5 key features every laptop should have in 2020
After reviewing dozens of laptops, here are five things that all PC makers should be doing to make their laptops better.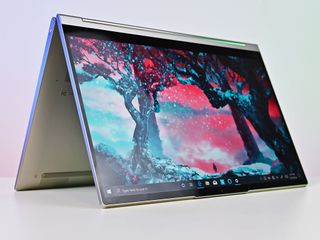 (Image credit: Daniel Rubino/Windows Central)
Spring is upon us, which means I'm cleaning and packing up laptop review units to send back. In the process, I've been reminiscing about what trends and features I like, and what I think some PC makers are missing.
While there is no perfect laptop, Dell's recent XPS 13 (9300) comes the closest, thanks to a combination of some features other PC makers could stand to implement. Here are five things that all laptop makers should be doing, and a few they should be considering in 2020.
Display aspect: 16:10
Years ago, Microsoft brought the 3:2 aspect ratio back from the dead in its Surface line. It started with Surface Pro 3 and it has since expanded it to all its PCs, including the massive Surface Studio.
A 16:10 aspect falls between traditional 16:9 and 3:2 but leans more towards the latter. With the taller aspect, viewing web pages is more satisfying because you see more information. The same applies to using Word.
I've been banging the drum on this topic for a while, including in this article from 2018. That piece goes more in-depth on the reasons why a taller aspect is preferred.
The only exception for this advice should be gaming laptops, where 16:9 is still favored due to the default resolution of those games. Gaming on 16:10 or 3:2 is possible, but it gets problematic on older titles.
But I don't care if it's 3:2 or 16:10, either one is a win for getting a larger display without a bigger laptop.
Silver keys? Pick a better backlight.
There are still quite a few silver (or white) laptops on the market. While some lament the color scheme as being "too Apple," the color has many benefits. For one, it hides fingerprints, hand grease, and general dust better than a black laptop (Lenovo ThinkPads are the worst offender here).
The use of silver or white keys looks excellent right up until nighttime when the lights go down. Using a white LED to act as a backlight on silver keys? Big fail.
But the solution is more divisive: use a different color LED. Red, green, blue pick your color, they all look better than white. The issue is, we all can't agree on what tint would look OK. Razer solves this with its Chroma RGB zone lighting, but this solution drives up the cost of a laptop.
PC makers can resolve this by merely using extremely high quality and bright white LED lights. Many do not.
Amp those speakers
Going after Windows laptops for having mediocre sound is low-hanging fruit. Apple still does some of the best audio around, but that's been changing since 2019. HP has invested a lot into its Bang & Olufsen partnership by adding separately amplified quad-speakers (the company has fallen back to dual speakers in 2020, but they are still amped).
Amps drive more power to the speaker and let them achieve more without side effects. They do add some hidden costs to laptops, and HP is quick to note they use more power too (HP has different battery estimates based on headphone or speaker use).
The tradeoffs are worth it. Companies like Samsung, HP, and even Dell have become particularly good at audio. Lenovo also added quad speakers to its ThinkPad X1 Carbon, which is a significant improvement. And let's not forget Lenovo's creative Yoga C930/C940 "soundbar."
While speakers are getting better on Windows laptops, they still have some room to gain on Apple. Let's see that get corrected.
HDR, anti-reflective, fast refresh displays
I felt so strongly about displays having an anti-reflective (not matte) coating that I recently wrote an entire article on the topic. Microsoft and Samsung are the worst offenders here. However, Lenovo still has some too-glossy ThinkPads and Yogas that could use some fixing too.
The use of high-dynamic-range (HDR) display technology gets tricky. Technically, an actual HDR display would hit 1,000 nits of peak brightness, but instead, we see a few laptops that "only" hit 500+ nits for an HDR400 certification. Dolby Vision is also a proprietary version that promises deep blacks and brighter peaks.
I do not care what it is called or how bright it gets. If a display can peak over 500 nits (average is 300-400 nits) and it can give a greater dynamic range, I am all for it. Movies and images look better, and that is all that matters.
And while almost all laptop displays are 60Hz, there is now a push towards higher refresh rates, including Razer's latest Blade Stealth, which does 120Hz. High refresh rates make using Windows a much better experience with smoother animations and a higher frames per second gaming.
The downside of higher refresh rates is a hit on battery life and cost. But it sure would be cool to see 90 or 120Hz become standard if companies can solve that problem using a variable-refresh.
Ginormous trackpads: Do it
Apple released its MacBook Pro in 2016 with a comically gigantic touchpad. But when combined with excellent palm rejection and its smart Force Touch technology, it became the envy of the industry.
Windows PC makers have been slowly enlarging their offerings, including Microsoft, which not long ago bumped its trackpad size in Surface Laptop 3 and Surface Pro X. Dell is doing it too with the XPS 13 and rumored XPS 15.
Part of the solution to this challenge is the larger display aspect ratio mentioned earlier. By making a display taller, PC makers must make the keyboard deck longer. Consequently, they can put in a taller trackpad.
It's a win-win, folks.
All PC makers need to know is this: there is no such thing as a trackpad that is too big. Use all that space up and put in a high-quality one with Microsoft Precision drivers. Better yet, someone should invent a non-physical clicking trackpad like Apple.
Other considerations…
For this list, I left off 4G LTE and 5G. I think all premium laptops should at least offer the option for a configuration with an LTE modem, but I also understand the consumer market in the US is more finicky on this tech. But HP gets credit here for going that extra mile and putting it in its Spectre line.
Better web cameras were something not demanded by many in 2019. In 2020, it is suddenly a highly valued feature due to the surge of people now working from home. Microsoft never lost sight of this feature, though. Surface PCs have the best native web cameras available. Indeed, the Surface Pro X is the king, with some of the brightest and sharpest images yet.
Meanwhile, companies like HP and Dell have been so focused on "micro" cams to fit thin bezels they sacrificed quality. Huawei didn't even care and put it in the keyboard, and ASUS flat out omits webcams in some of its gaming laptops. That needs to change.
Another neat trick I'd like to see more of is lifting hinges. ASUS has its ErgoLift, and HP uses it on the ENVY 13. This design raises the back of the Laptop higher than the front. The result is more air under the Laptop to keep it cooler. It also allows angled typing, which is more ergonomic than using a flat keyboard. A lifting hinge is a smarter choice than the current lay-flat designs.
Is anyone still using MicroSD cards in 2020? I'll leave that open-ended, but I'm using Microsoft's Your Phone to wirelessly transfer photos to my PC, or I shoot using an SD card or newer XQD.
Thunderbolt 3 is excellent, but it is also overhyped. Most people who bring up external GPUs (eGPU) never actually buy one. Sure, Thunderbolt 3 has its place, but forthcoming USB4 is much more interesting even if still confusing (it can vary on data speeds).
Finally, let's hear it for more AMD options. AMD's Ryzen 4000 U-series could upend Intel while bringing lower cost and better performance to Ultrabooks. If the hype is real, PC makers should begin offering more of its premium light laptops with the new processors.
Anything else I missed? Let me know in comments what you want to see in premium laptops. And be sure to check out our best Windows laptop picks for a bunch of great options.
Windows Central Newsletter
Get the best of Windows Central in in your inbox, every day!
Daniel Rubino is the Editor-in-chief of Windows Central, head reviewer, podcast co-host, and analyst. He has been covering Microsoft since 2007 when this site was called WMExperts (and later Windows Phone Central). His interests include Windows, laptops, next-gen computing, and for some reason, watches. Before all this tech stuff, he worked on a Ph.D. in linguistics, watched people sleep (for medical purposes!), and ran the projectors at movie theaters because it was fun.
Thunderbolt 3 is the biggest thing for me. And more USB-C ports in general. Laptops without TB3 that don't work on pretty much any docking station out in the wild means I can't travel with it for work. USB4 won't be adopted for many more years, so we can forget about that for the time being.

Its time they brought back the Home, End, Page Up and Page Down keys in a column for intuitive navigation. I'd also like to see full sized up and down arrow keys shaped like an upside down T and the Del key belongs on the top right of the keyboard.

Fn + arrow keys instead of Home/End/PgUp/PgDn works well if you don't have room for a full sized keyboard.

But its a two handed job and requires looking away from the screen, those few split seconds can be a massive break from concertation and thought processes

How about 8gb ram standard? 4gb option on a new xps13 is blasphemous

8GB is standard. They offer 4GB merely to drop the price even further. I don't see that as a problem. If they remove the $999 4GB offering and just sell the $1,199 8GB model, the pricing does not change at all. You just get what you pay for with 8GB today. That 4GB is not even available right now. I also disagree with it being blasphemous. I have many laptops and I have run Snapdragon 835 and 850 laptops with 4GB of RAM as daily drivers when traveling. Surely, if I can be happy with those then a regular consumer with not a lot of demand can be OK with it too. I think options are good, but sure, buyer beware. That always applies though, whether i3, i7, RAM, storage, or fHD vs 4k.

Have to disagree. Memory is cheap. The $999 model should have 8GB. There shouldn't be a 4GB model. Yes of course you can make do with 4GB but it's not enough really for Windows 10. Consumers shouldn't have to make do with subpar. OEMs have a responsibility to make the low end decent too.

"The $999 model should have 8GB."

No offense, but neither of us are in a position to Dell what it's BOM is on an XPS 13 and what its profit margin should be either. They have set the price for $1,199 (with room for sale pricing) and that is what the market seems OK with considering they do quite well with this line. You may not like it, but that doesn't mean Dell needs to change. I don't agree with the "it should be priced to match what I think is fair" as the right critique to make in this article.

Touch screen is always welcomed

True, but we're past that already in that nearly every laptop now offers a touch option. Very few do not, so I feel that war is mostly won.

How often is it really used on a clamshell laptop though? Occasionally by most. It cannot be made into a Tablet/Tablet like device I wouldn't pay extra for it. The irony, Apple used to create Advs lamenting Windows for doing this and have only just released a Magic keyboard addressing the need to do just the same on iPad Pros.

I know quite a few people who insist on touch in a clamshell laptop, especially for scrolling. I'm not one of those people, but it is in demand as the market has reflected (see Dell who now has a touch full HD model for the XPS 13).

>How often is it really used on a clamshell laptop though? I think if you haven't used it you don't "miss it" but that's just a lack of imagination. When I do support work on the laptops of others I am forever touching the screen for selections :) I would never buy one without it now. On the flip side, I find a stylus mostly useless unless it docks (I haven't seen/used the SPX to comment on that innovation). I have no idea where the one is for my SP, bottom of a bag somewhere, my friend lost his on Day 3. I can see how its a boon for artists but for day to day i use like I actual docking (not some mag thing that comes unstuck in a bag) I just do all my inking on my Galaxy Note 9 now.

Daniel, unfortunately, gaming laptops with touchscreens are extremely rare. Although you don't touch the screen while gaming, when you are not gaming you do touch the screen, even if you are using a clamshell form factor.

It's a premium feature in gaming laptops, just like Windows Hello was for a while. It's changing, but this article is mostly concerned with Ultrabooks, not so much pure gaming machines, which have a whole other set of requirements/things that could be fixed (I find most gaming laptops pretty hideous looking, as one example).

As long as gamers want "gamer looming" devices, we'll continue to see "gaming laptops". I'd much rather have a premium looking gaming capable laptop, but for that I just look to standard higher end laptops from dell, ho, and hopefully in the future Microsoft if they embrace Ryzen 4000. Technically Razer has the closest thing to premium laptops, but imo they still have too much of a "gaming" flare to them. I don't want my laptop to look like a toy.

There is also the 15 inch Spectre, that one has models with a Ci7-9750H and a GF GTX 1650 and pen/touch support. Its rather expensive though for a gaming laptop, but good priced for a heavy work + gaming.
The new MSI gs66 Stealth also looks like a non-gaming laptop (better than the Razer).

I would like to see lower weight for 2-1 laptops, especially in the midrange models and some premium models. Since the top models usually have bigger batteries so they cannot be really light, but for the midrange models this easier and it also cuts in costs. I think the 3:2 ratio can also help here, since a 13.5 screen has practically the same amount of vertical space as a 15.6 screen (which for productivity like Office or Photoshop/Drawing etc is almost a must in my opinion and programs usually can benefit from an active pen so that works together well). More laptops with Ryzen cpu's would also be nice or just better gpu's.

16:10 or 3:2 - Yes, Yes, Yes! 16:9 is an atrocious aspect ratio except for Gaming devices and TVs.

Windows touchpads, except Huawei, still aren't big enough. Okay so we don't need them as big as modern Macbooks which have gone too far but come on tiny one urgh. There should be next to no gap between the touchpad and keyboard. It's wasted space.

"There should be next to no gap between the touchpad and keyboard. It's wasted space."

Mostly, yes, but tbf, it's mechanics. Having a physical clicking trackpad requires a bit of a boarder. Apple avoids this b/c it's touchpad doesn't actually move, it's all haptics.

There's a big "NO" from me on Apple style "comically large" and non-physically clicking trackpads.

TB missed the boat, it needed to be in the SP4 or at least the SP5. TB is also about fast access to storage and expansion ease e.g one cable. I was stunned when the SP4 had no USB C and basically gave up on MS after that. Then they threw recent;y through out some rubbish about security concerns, like USB isn't ? Someone did point out these are business machines sold to consumers, which is a fair point that generational stability is needed but then we'd still be using 3.5" FDDs and CD's if that was the case.

I've gone full circle and have come back to prefer 16:9 for productivity work. Rising use of split-screen makes a wider aspect ratio better for that use case. I couple that with WQHD, which renders text incredibly well compared to 1080p, and makes split-screen work better. I like 3:2 for my small convertible Surface Pro, but for mainstream, all-day creation, a wide format meets the needs of anyone using split-screen a lot, including most financial workers using Excel or anyone who is pulling info from multiple sources in order to analyze, compose or otherwise create. In other words, please don't project your own use case onto everyone else in recommending a taller aspect ratio for everyone.

That is for desktop monitors though. For laptops 3:2 or 16:10 is better since practically your not losing anything, just gaining something extra vertical screen space (in combination with either a bigger touchpad or small screen bezel chin). Its a win win.

to ochhanz: I get the point, but hands-on with the actual laptops I've used, 3:2 for a given screen size is less useful to me than 16:9. Taller and narrower is taller and narrower; I'm not sure 3:2 gets you the same width and just adds height. E.g. Surface Laptop or Book vs Thinkpad. If I were doing video or photography a lot, I'd use 3:2 hands-down; it depends on use case. (For desktop, I much prefer dual monitors, not split screen. I put one in portrait orientation for documents and websites, and the other in landscape orientation for spreadsheets, word, etc. It works fantastically well, though I get funny looks ...)

Problem with Surface is that they don't have the smallest bezels (MS tends to lag behind with thin bezels). I am not a fan of Huawei as a company but they did get the bezels super thin on their 3:2 matebook pro x + a big touchpad.

Thunderbolt is an expensive dead-end technology. It's not really needed now (it's not required for a decent external monitor), and future versions of USB will make it obsolete anyway. USB-C with power delivery *is* essential. 16x9 is the optimum screen aspect ratio. It's what TVs use, and therefore it's what most media (or streaming TV) on a PC will use. It's also wider than 3:2, which means wider space for a better keyboard (for a given screen size). 16x9 is also what external monitors use, so it's easier to use that on the laptop as well for app scaling and dual-screen setups. Lapability is a nonsense discussion. A PC used for more than 15 minutes is used at a desk or a table, sitting in a chair. I want ergonomics that work well in that situation, not juggling a PC on my lap while riding in a train. Battery life of "all day" use is also a waste of money and weight for the same reason. If I'm working "all day", I'll plug in. I'm always surprised at the lack of a genuinely large screen laptop as an option. How about a 20 inch laptop. It would have a screen that doesn't need an external monitor for 'real work' use, and the keyboard would be large too. Why not? Touch screen is essential. It's excellent for scrolling and zooming. A screen that folds 360 degrees is useful for signing documents. It's not every day I do that, but when you need to do it, it's the only way. It's good for annotating documents, and drawing and diagrams as well, but I'm not artistic enough to do serious artwork (I know that many others clearly are!). Finally - it must be quiet. Very, very quiet. A loud laptop is annoying for everyone close by, not just the owner. Loud keyboards are even more annoying than loud fans.

And a webcam with Windows Hello.

Agree with most of your points except for 16:9. 3:2 gives bonus vertical screen space since it results in a thinner bottom screen bezel and/or bigger touchpad. That extra space is really helpful in e.g. Office or Photoshop etc.
Aspect ratio's between different type devices will continue to differ more anyway, look at phones they now are 18:9 or sometimes even wider.

Make Touch screen with 360 degree hinge as a new norm for the laptop. It's superuseful & makes it relatable for new generation kids who are brought up with convenience of touch interface & find it super odd to use non touch display.

It's definitely headed in that direction, but I will say that 2-in-1s are still technically heavier and have some engineering constraints that normal clamshells do not. Typically, a 2-in-1 design also increases cost over the same design sans convertible. See XPS 13 vs XPS 13 2-in-1. Those machines are 95% identical, but the latter is heavier and more expensive.
Windows Central Newsletter
Thank you for signing up to Windows Central. You will receive a verification email shortly.
There was a problem. Please refresh the page and try again.